We were so lucky to have a gorgeous, sunny day for our visit to the Giant's Causeway, Northern Ireland's first UNESCO Heritage Site.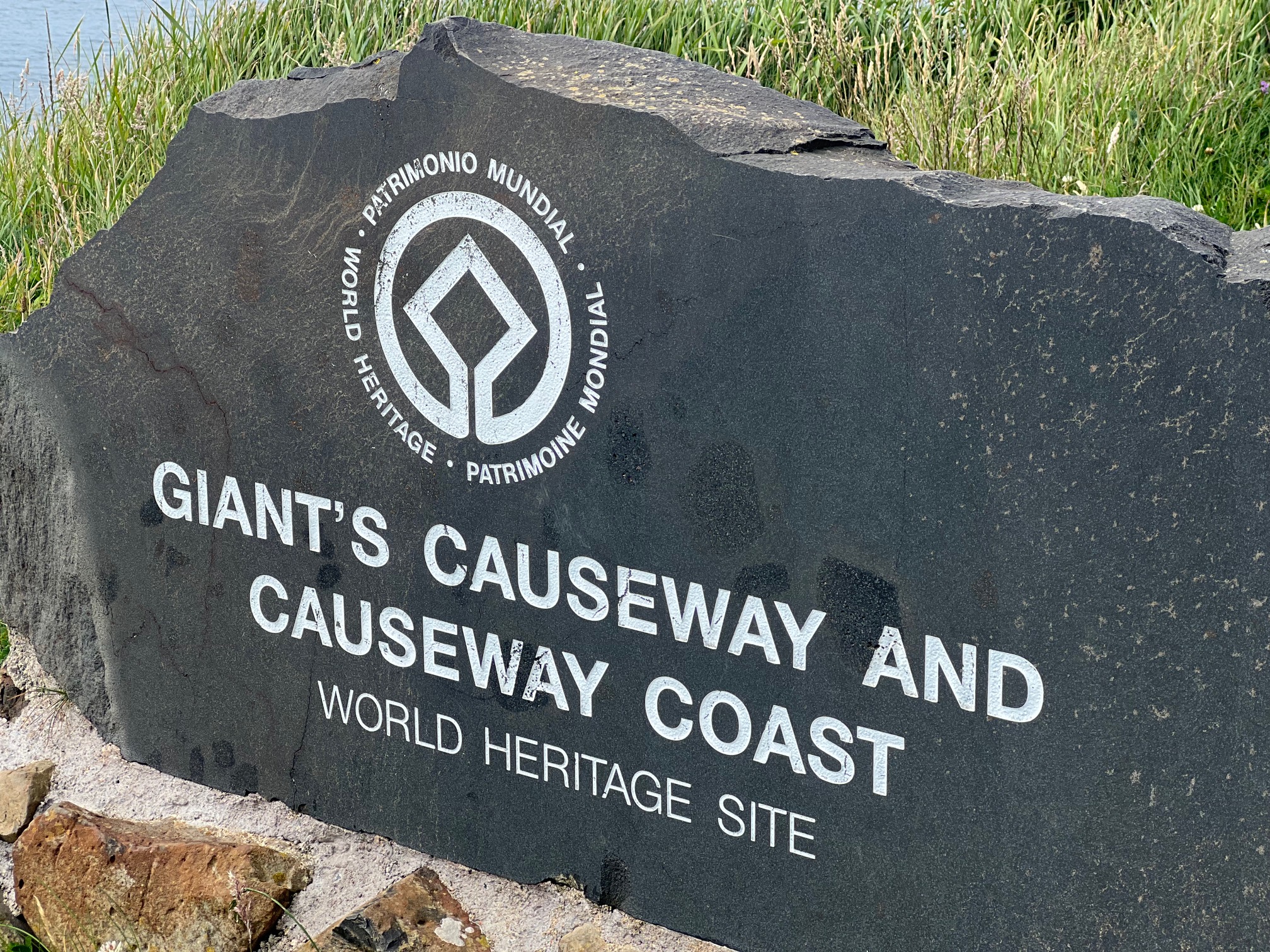 Designed to blend into the environment, the Visitor Center is set into a hillside. The dark stone front is the only visible part.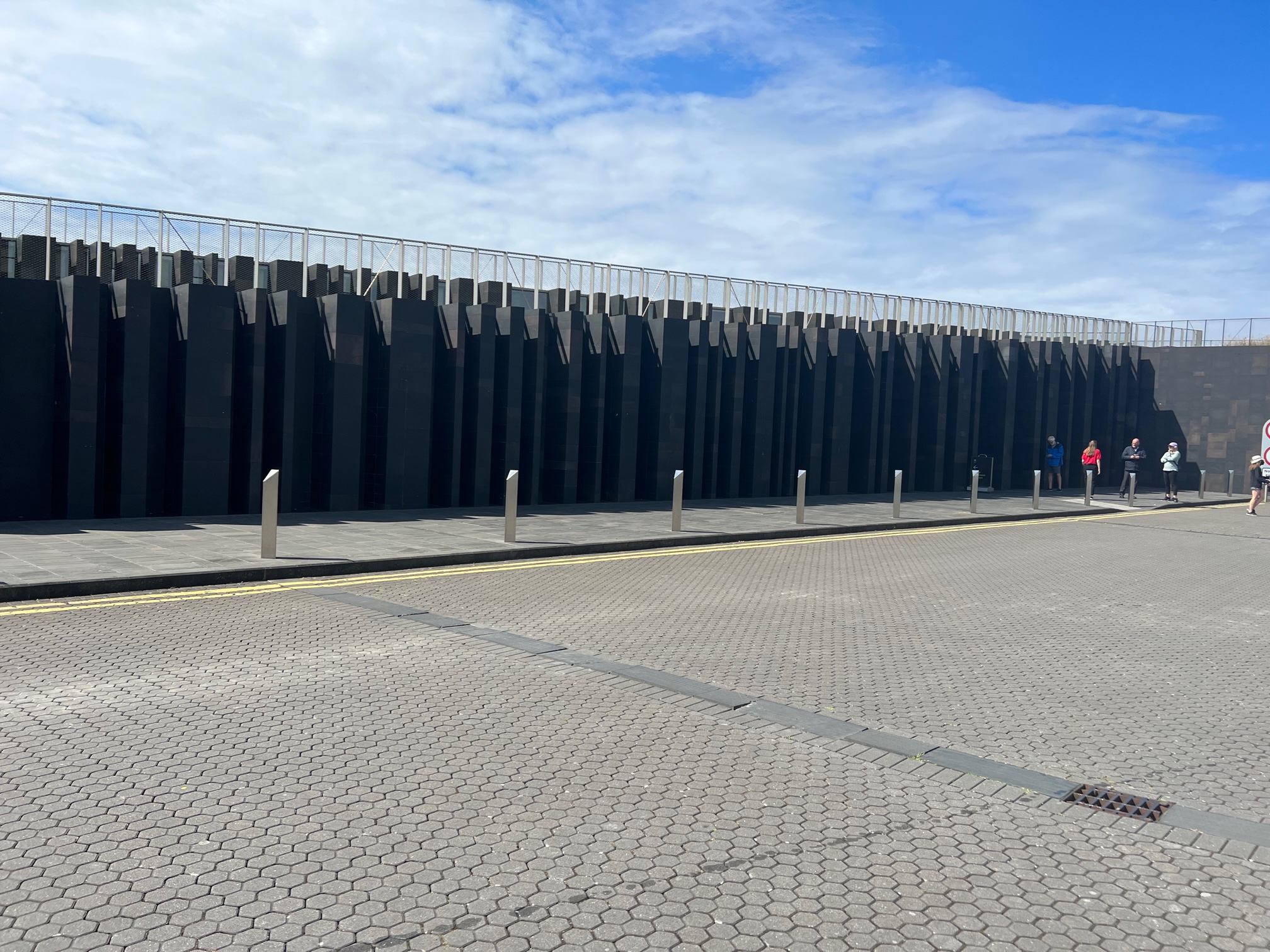 After passing through the Visitor Center, we began walking toward the Causeway. As we walked down the path, it was exciting to anticipate when the Causeway would appear and what it would look like.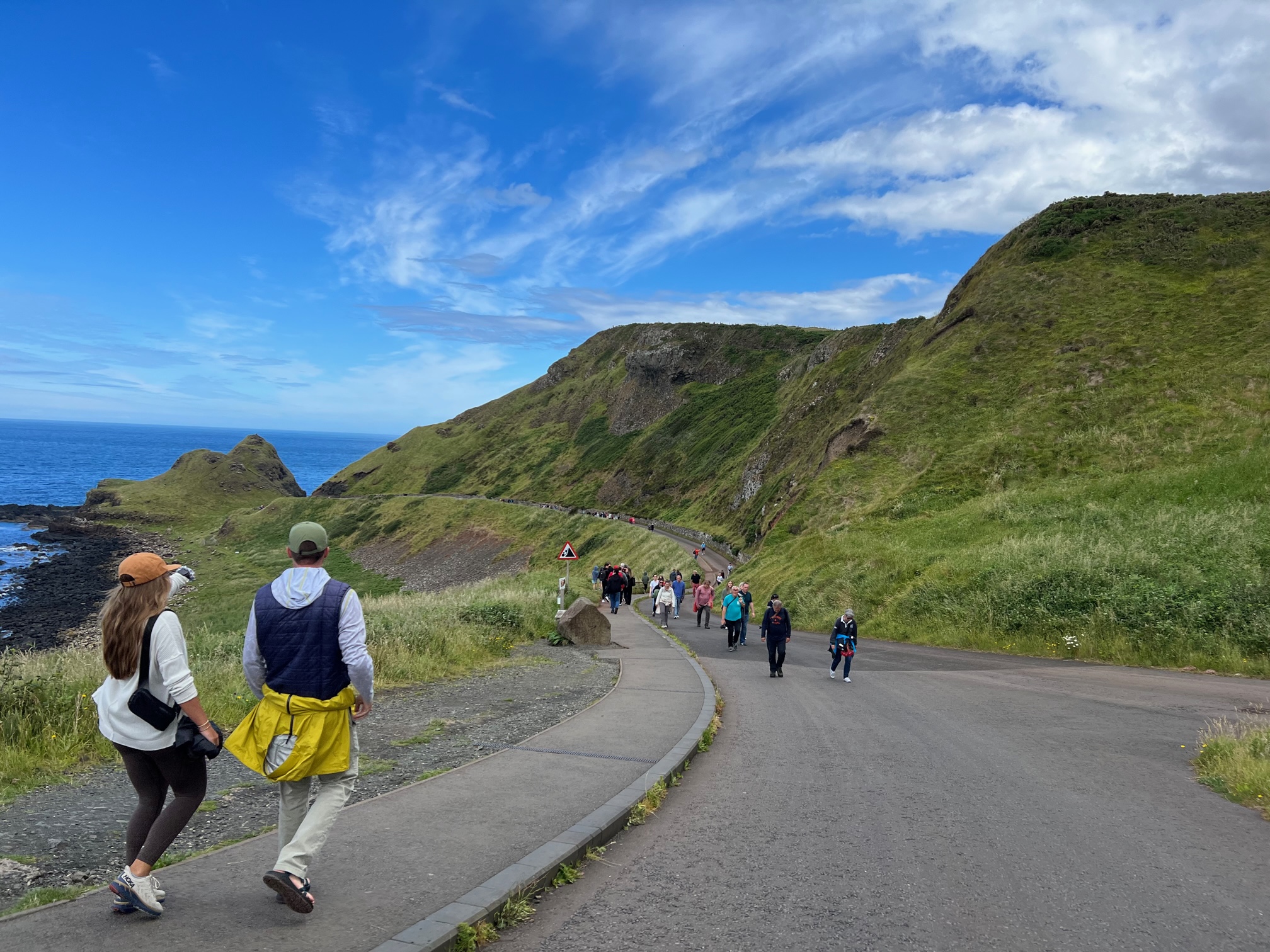 As we rounded the corner, we got our first view of the stunning Causeway.
According to legend, an Irish giant named Fionn McCool built the Giant's Causeway as a way to cross the sea of Moyle to challenge a Scottish giant named Benandonner. But of course, science, not legend, explains how it was really formed. 50 to 60 million years ago a geological event created the Causeway when lava and molten rock flowed into the sea and rapidly cooled to form hexagonal columns.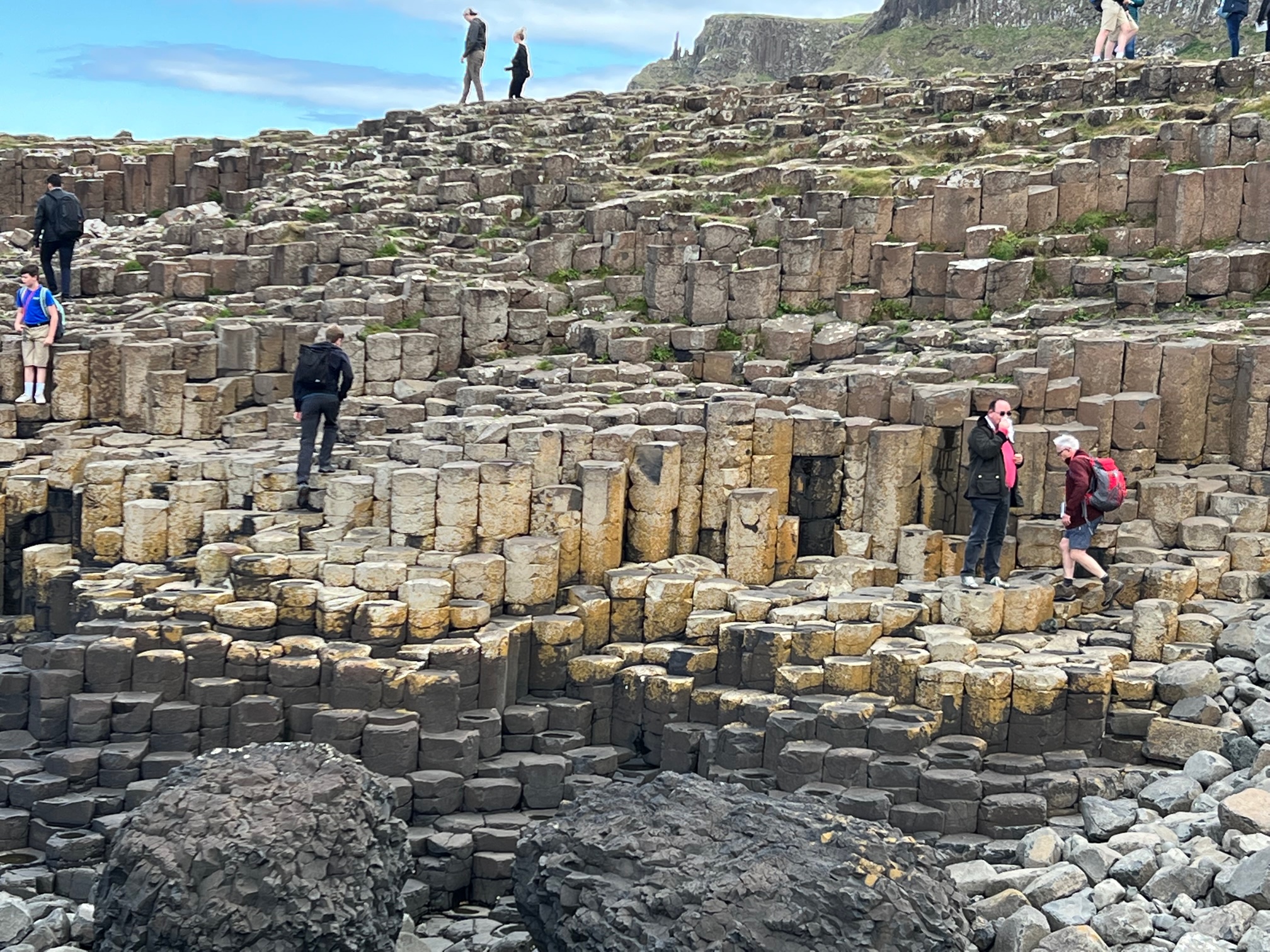 The rocks looked more like logs than stones.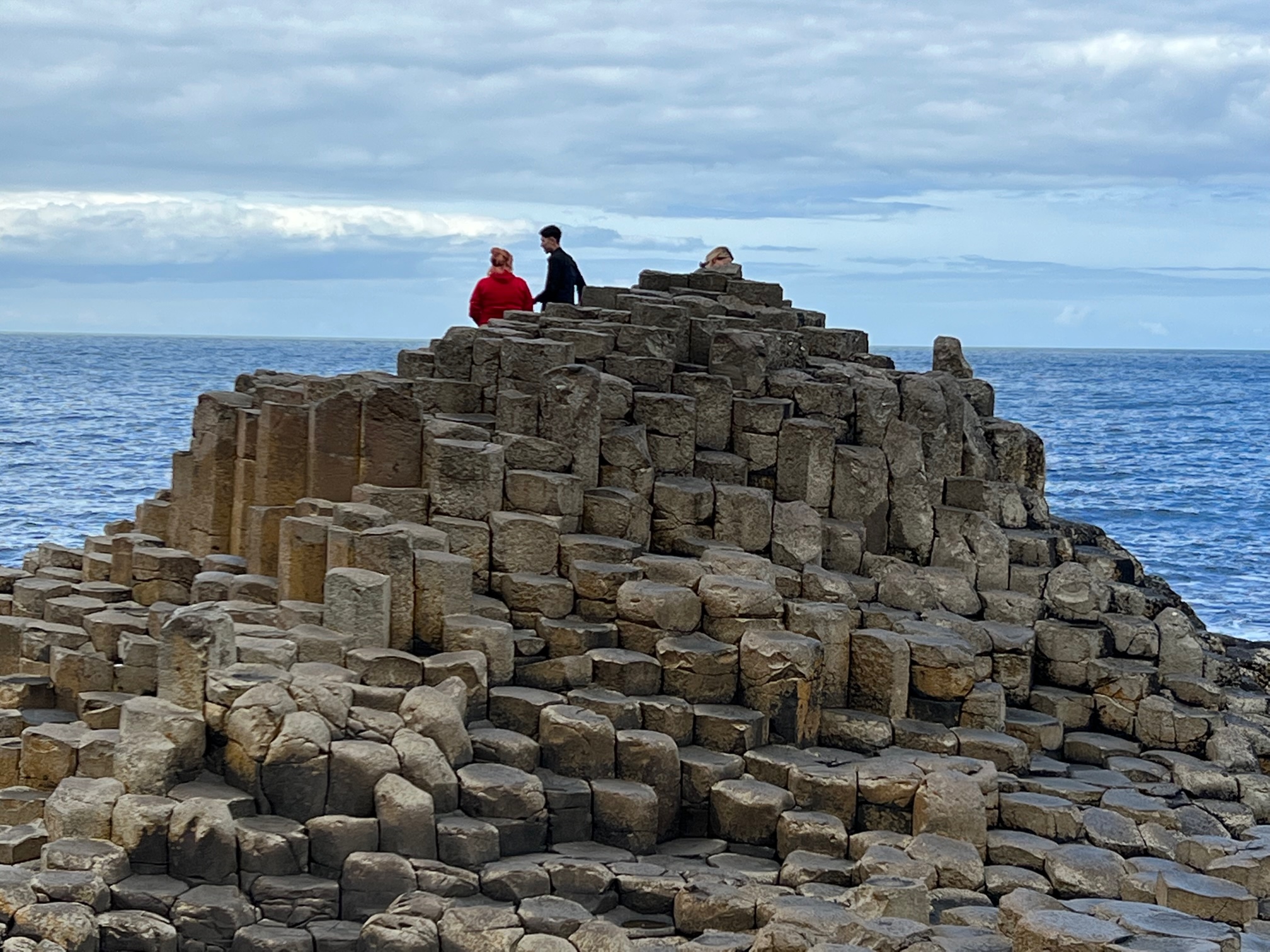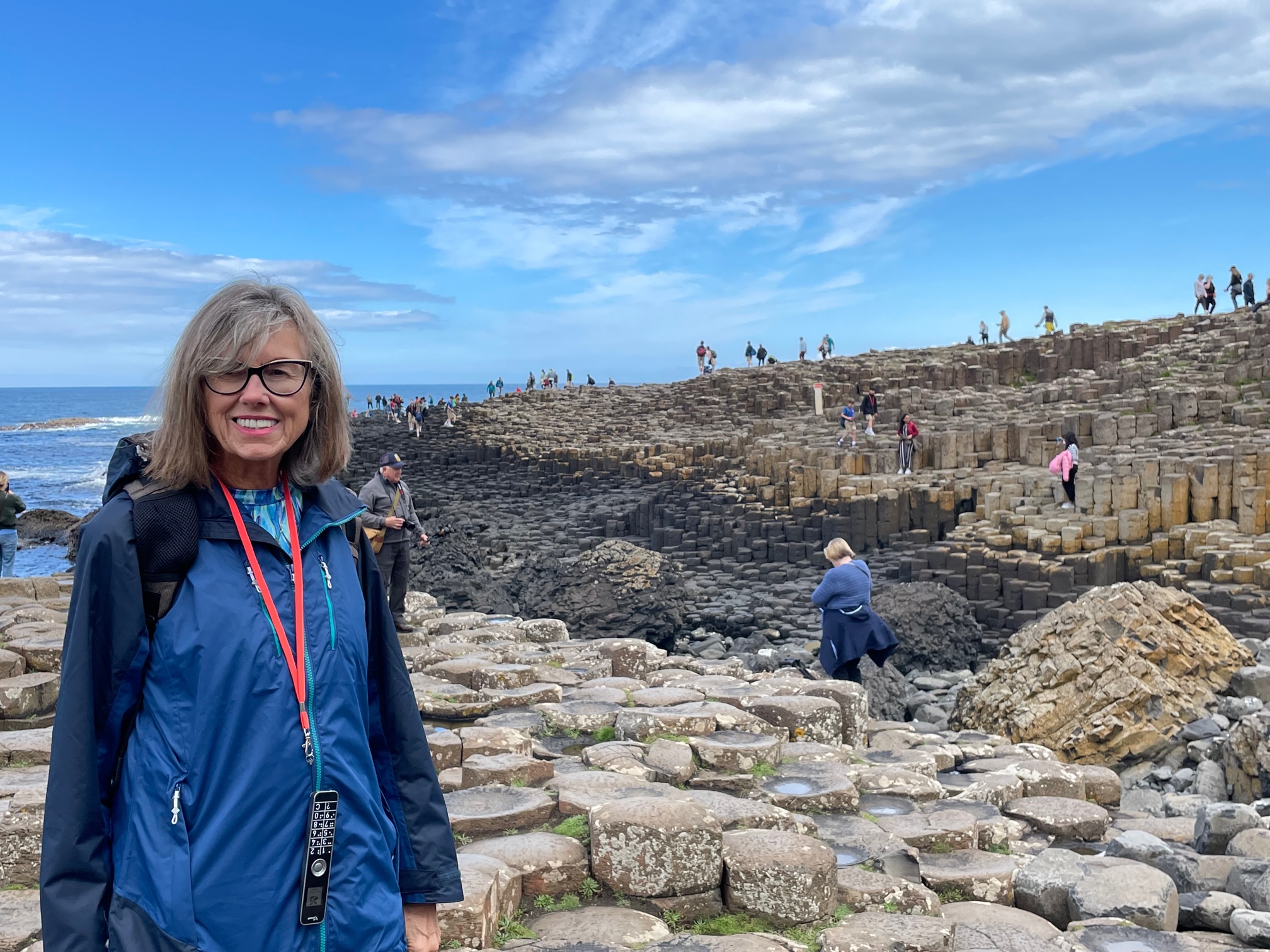 It's a Small World
Since I know only one person in all of Ireland, I never expected to see anyone we knew at the Giant's Causeway. So, we were surprised and delighted to see Ruth, our Bushmills Distillery guide in the Visitor Center cafe. After remarking about the serendipity of it all, she joined us for lunch. We spent a delightful two hours talking about Northern Ireland, recommendations for our Belfast visit and life.
Ruth talked about Philip Coulter, one of her favorite Northern Ireland musicians. Since I wasn't familiar with him, I did some research when we got home and learned he has had a long and distinguished career. She talked about a very special song he wrote, "The Town I Love So Well" that is about his childhood in Derry/Londonderry. According to Ruth, it is not uncommon in pubs to hear someone singing this song at the end of the night. She told us how his recent version of the song that reflected his hope for peace moved her to tears. I found this version on YouTube and fell in love with its emotional beauty.
An Afternoon Hike
After lunch we took a little hike on one of the four hiking paths that begin at the Giant's Causeway. Hiking away from the Causeway, we enjoyed great views of the Causeway from a different angle.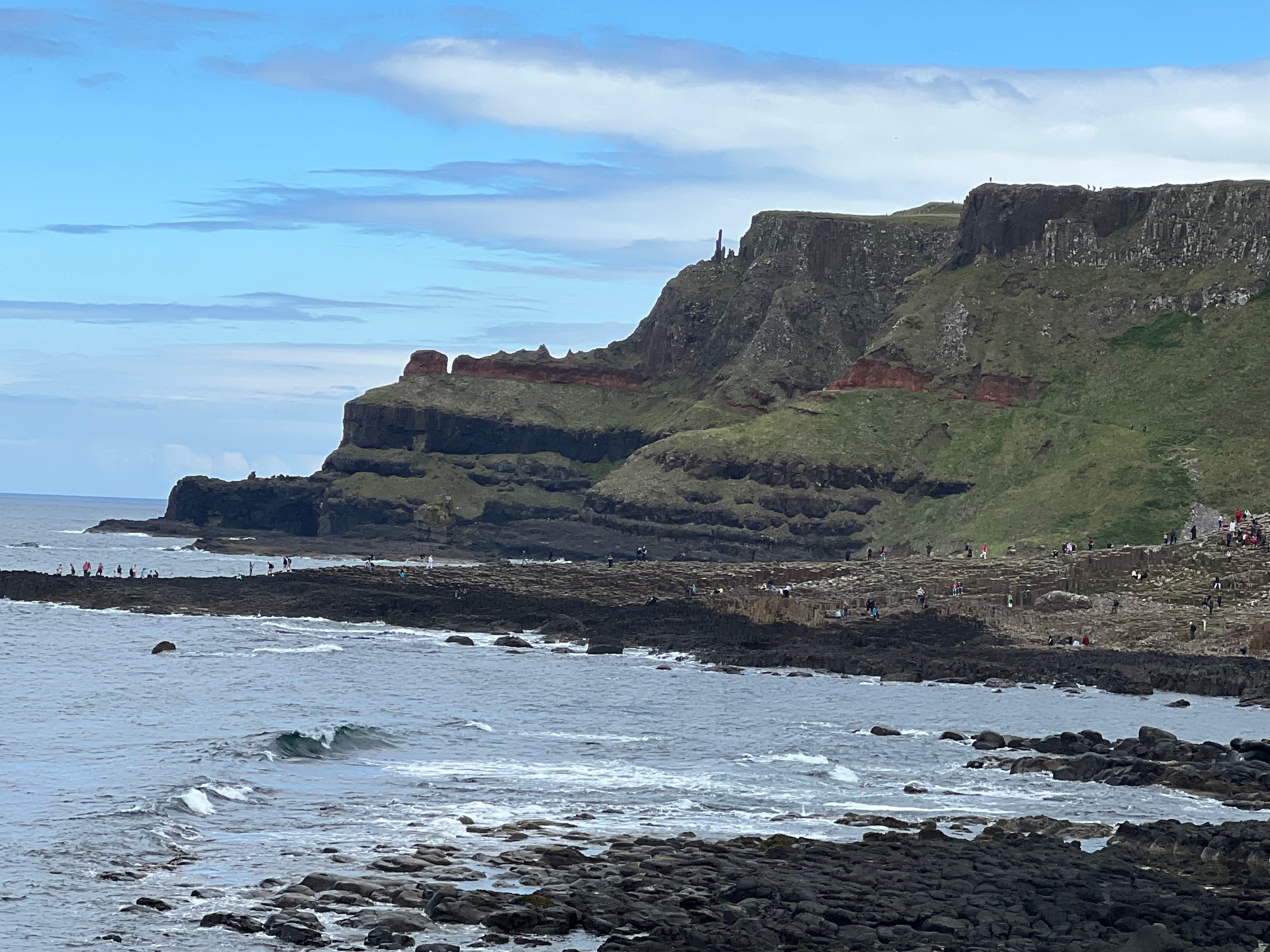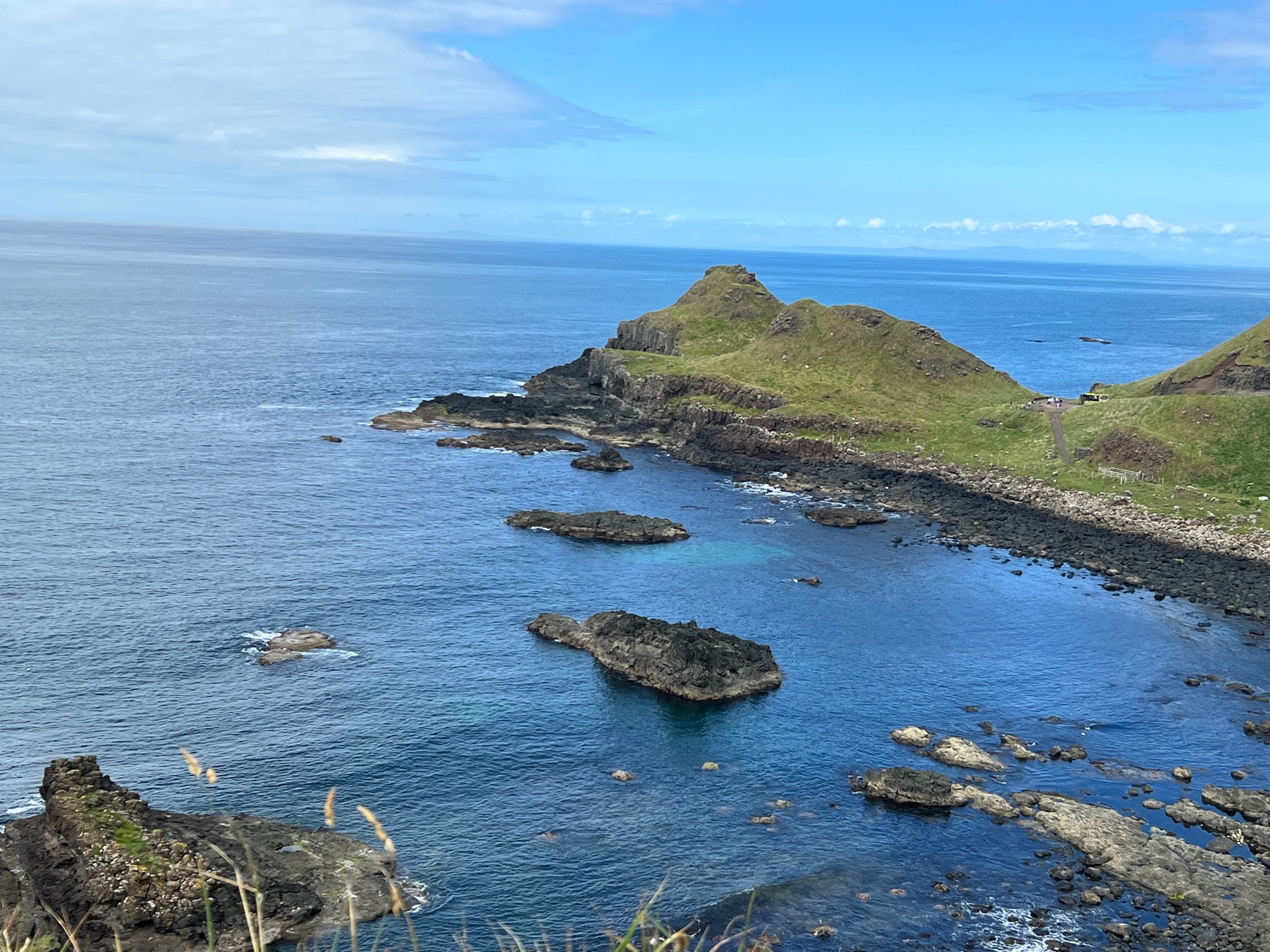 We chose a route that started as a moderate hike and merged with a challenging hike. As we approached the challenging point of the trail, we really didn't notice much difference. So we hiked a little farther. Almost immediately, we noticed what made the trail challenging-the edge of the cliff was much closer. We made the "wise for us" decision to turn around.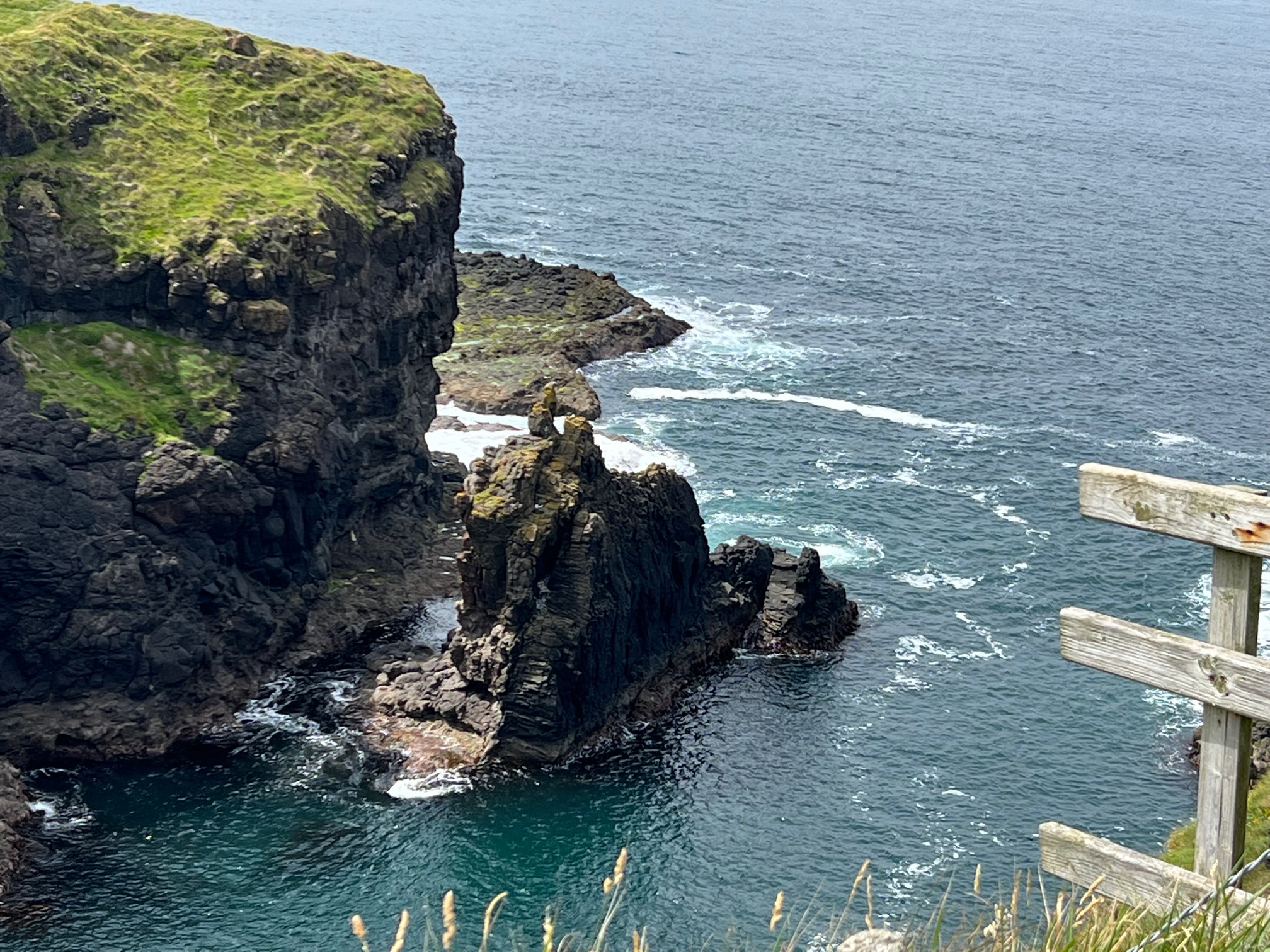 Returning to the moderate trail with the raised edge between us and the cliff, we felt much safer.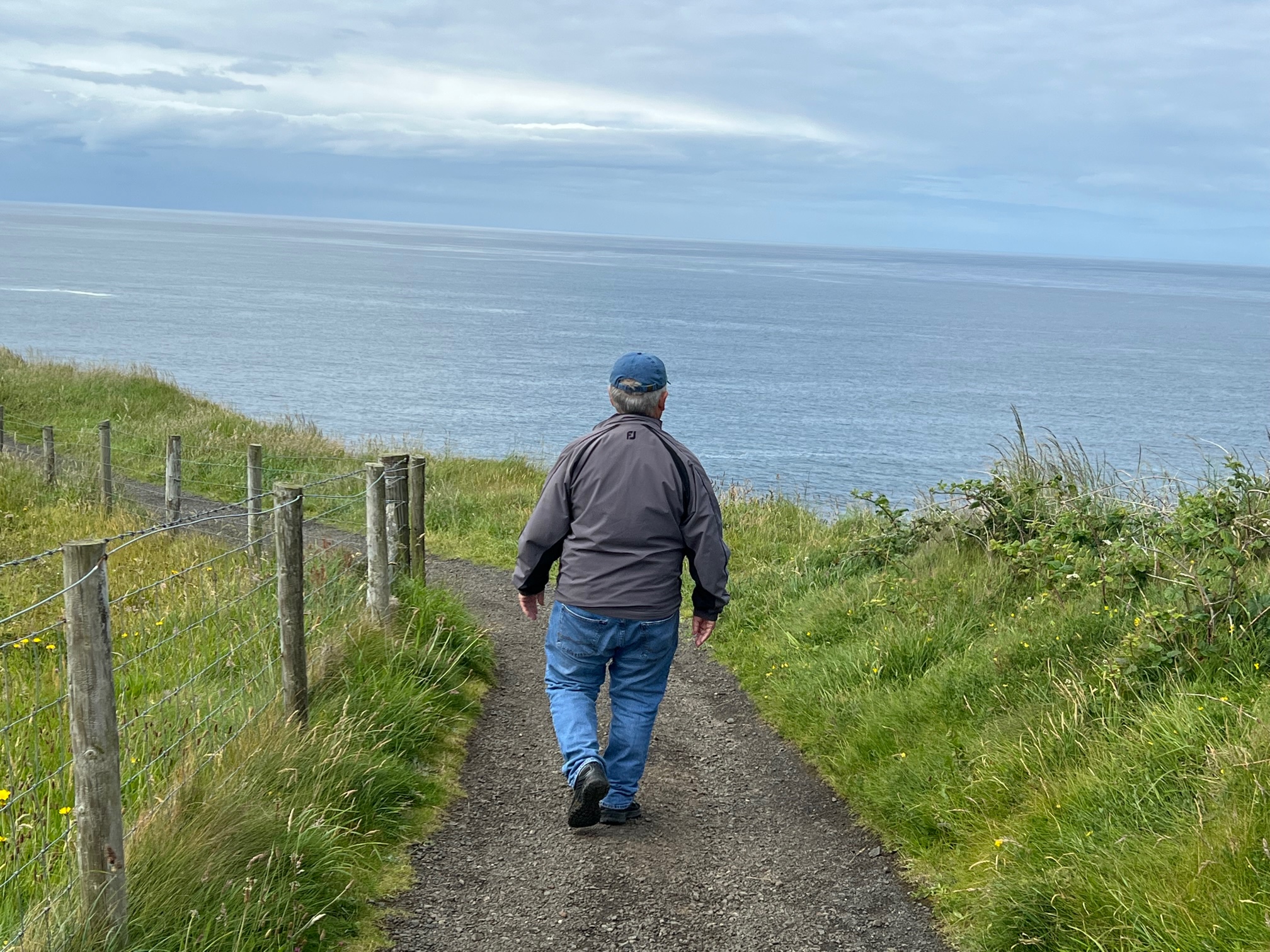 It was truly a special day in a special place in a special country.