Today I took a Moroccan cooking class that was much more than a cooking class. It was also an opportunity to spend time with an interesting and friendly Moroccan family.
Amina, our Moroccan cooking instructor, met us at our riad, and we went to the market together.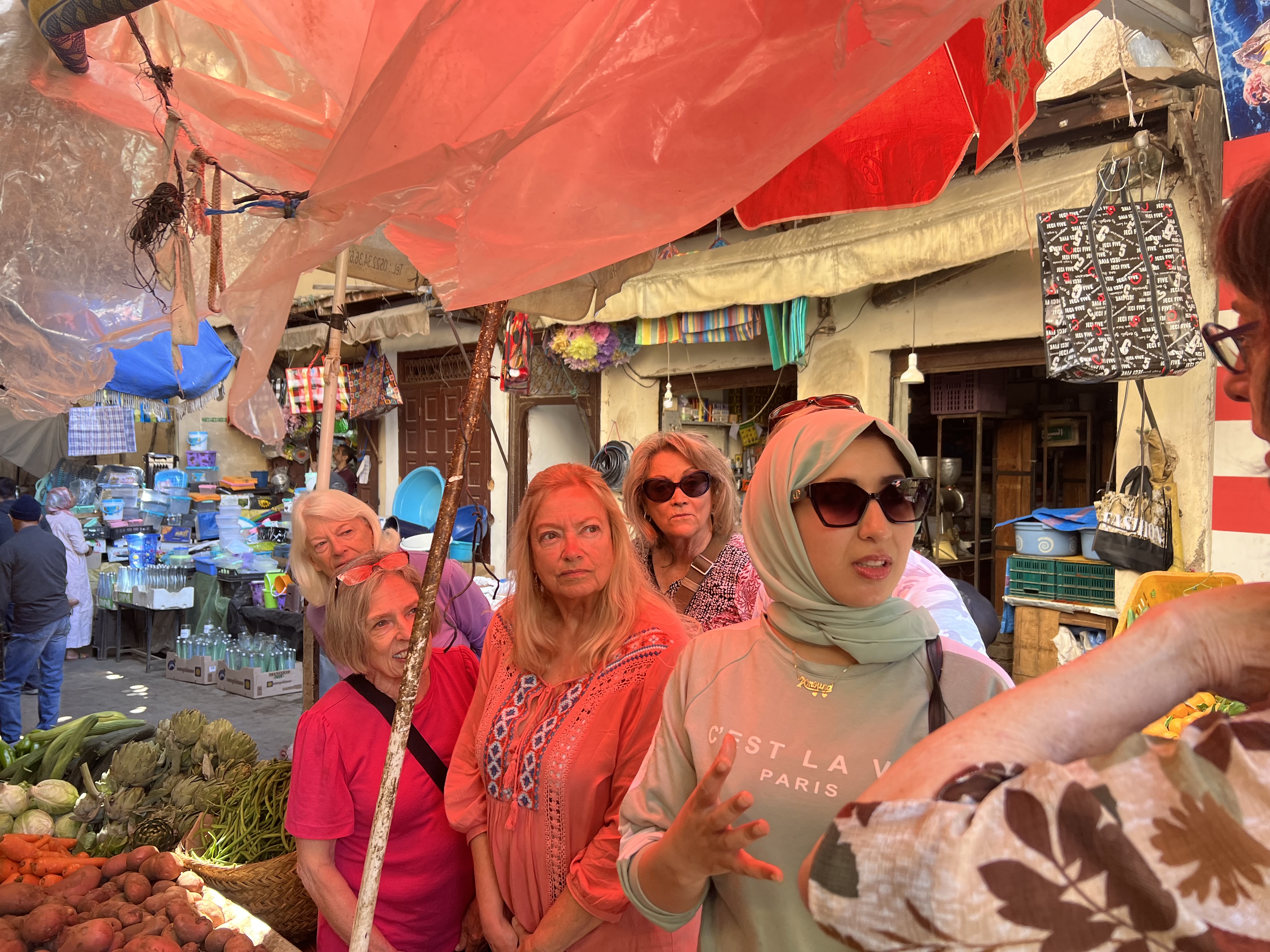 The produce was beautiful and it was fun to watch her confidently choose what we needed to make our meal.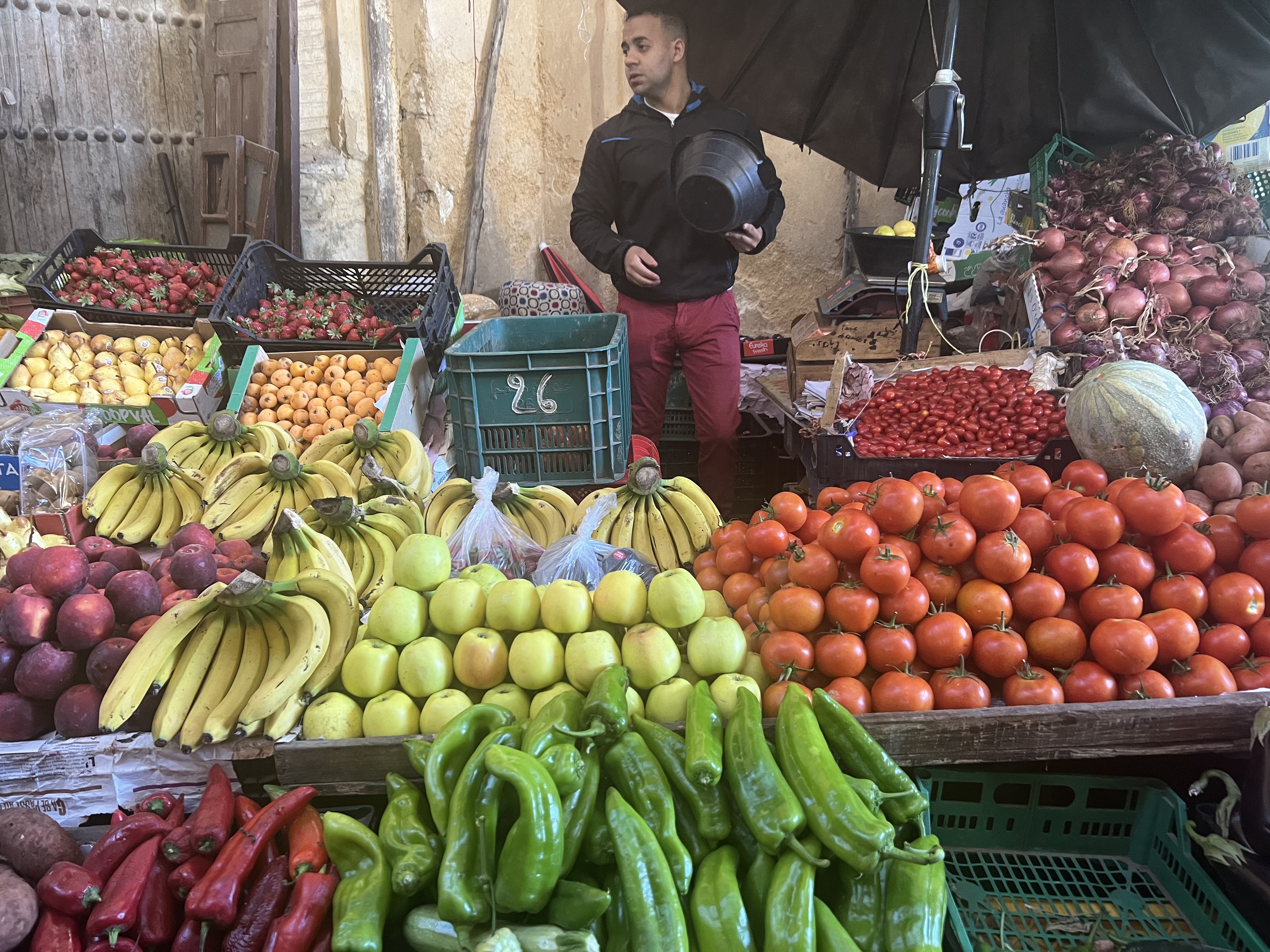 Preparing the Tagine
After buying what we needed, we walked back to her apartment where she lives with her parents and four younger brothers.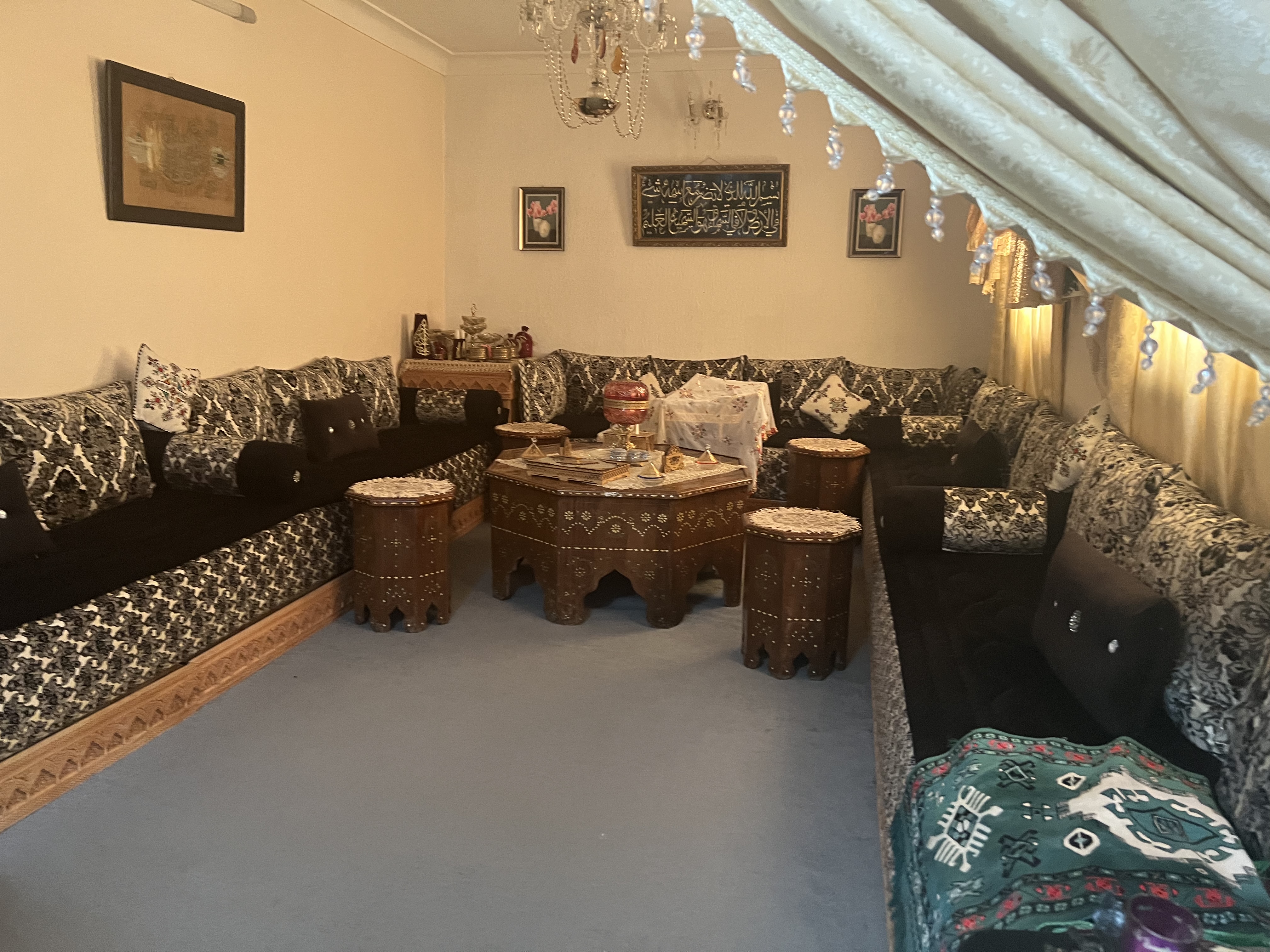 Soon after we gathered in her living room, Amina emerged in her adorable at-home cooking outfit.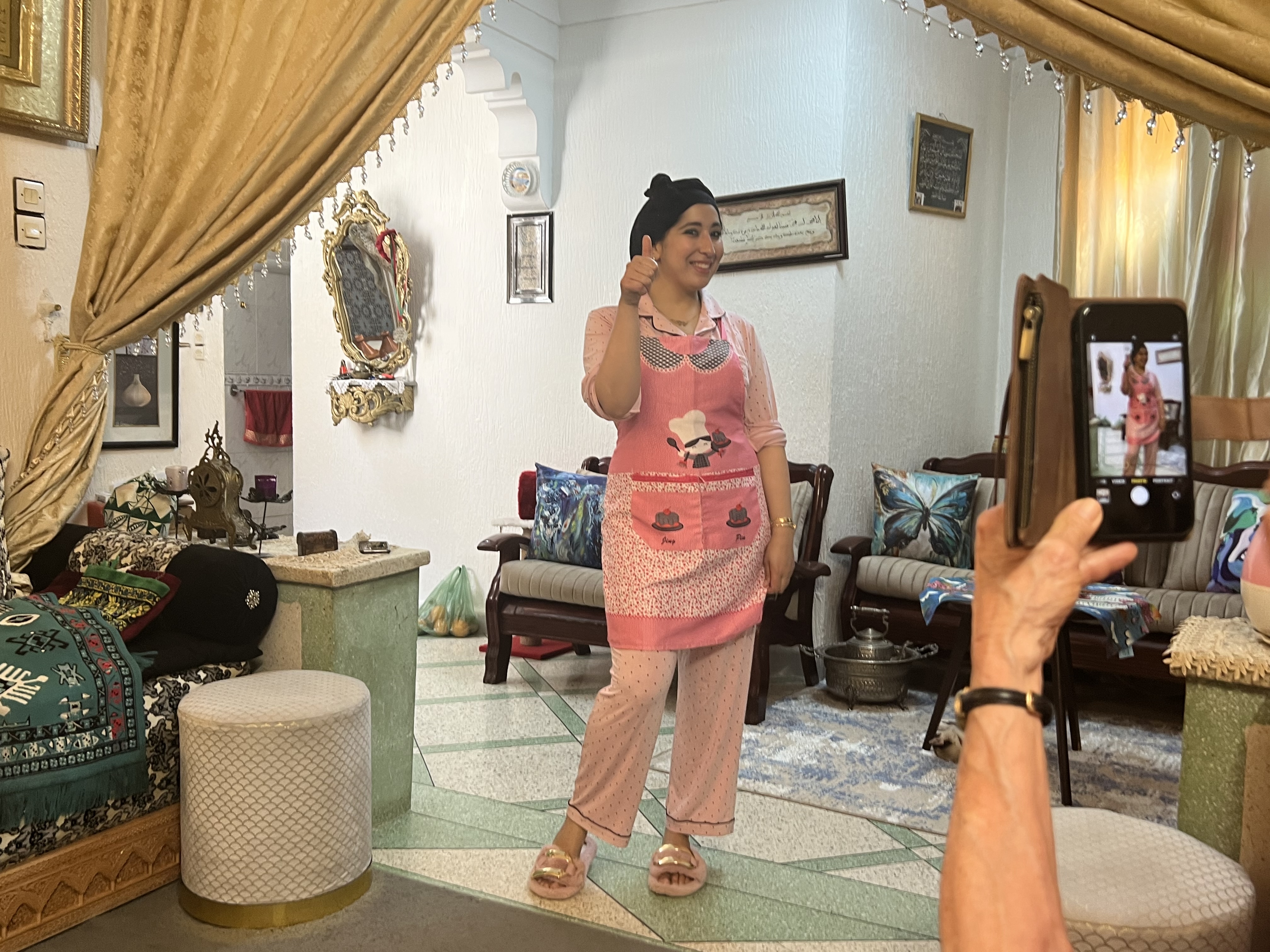 We sat around the table and Amina directed us through the process of making beef, chicken or vegetarian tagine. After we had diced the vegetables for the bottom of the tagine and added them to the oil and spices, Amina gave us the secret, and most important ingredient. It is Saman, butter that is salted and aged for at least forty days in a dark spot. We used saman that had been aged for two years. We then layered meat (if we were using it) and vegetables and added more spice.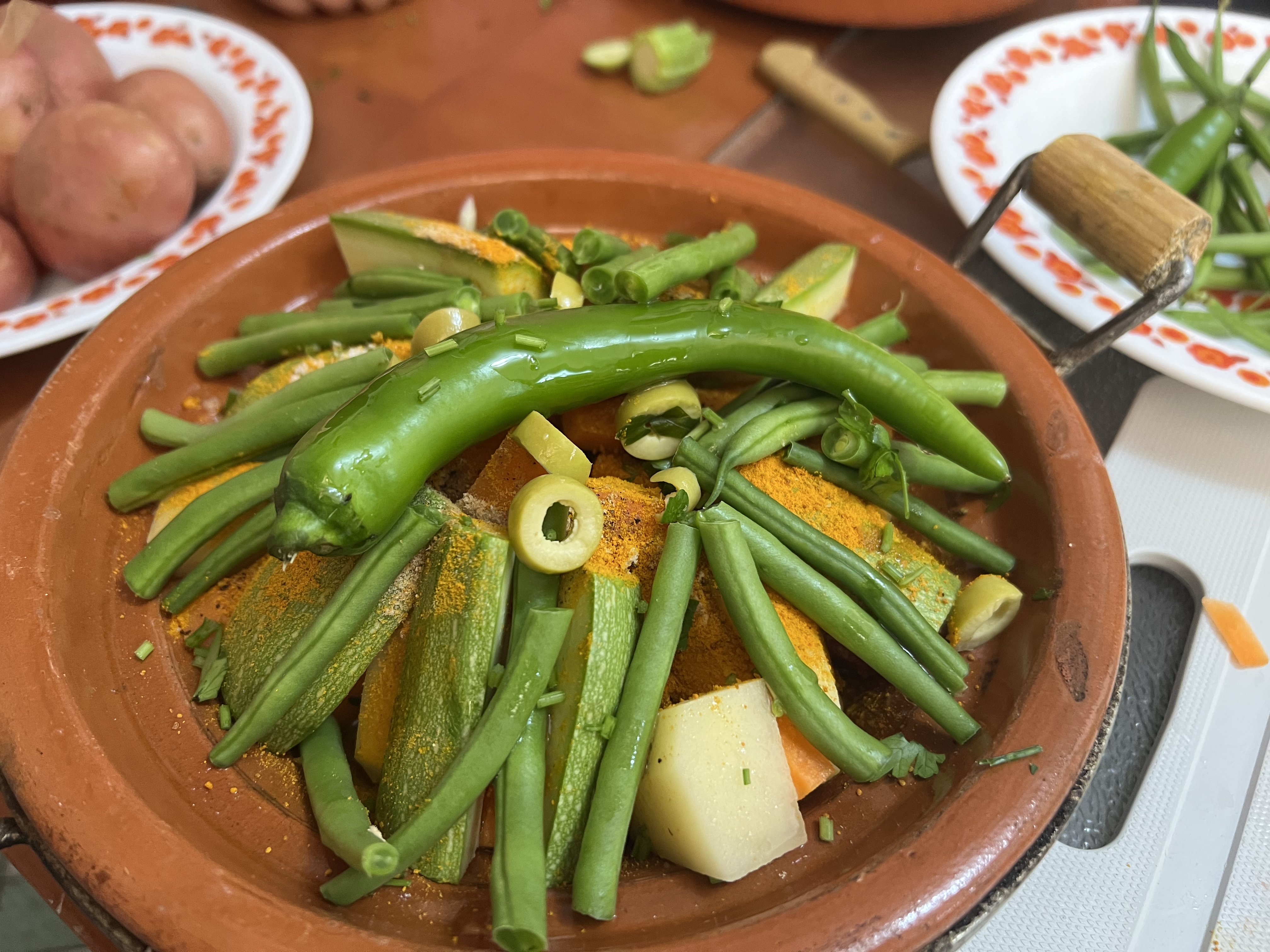 Before cooking the tagines, we showed off our beautiful preparations. Mine looks flatter than the others because there isn't any meat in the middle.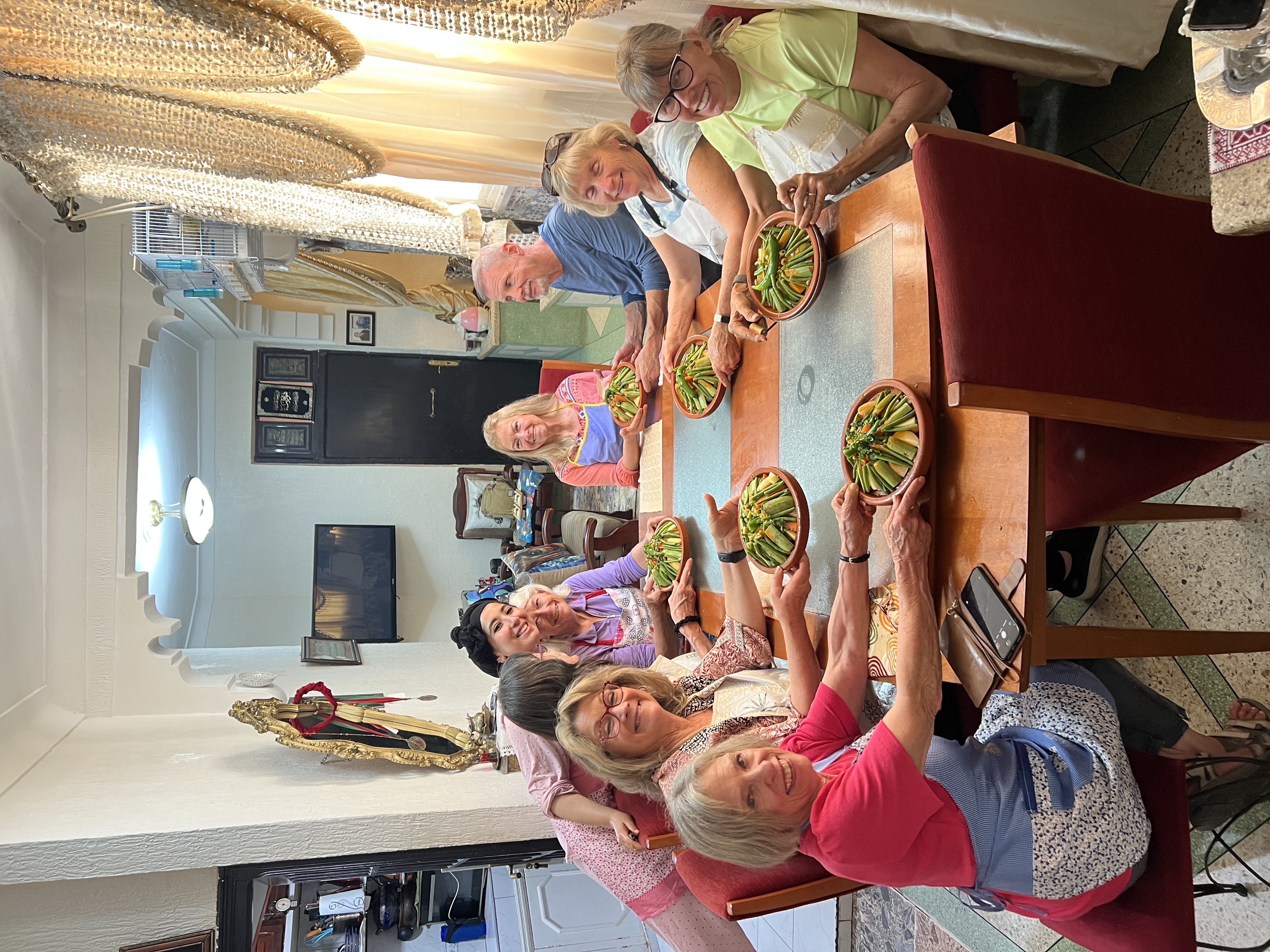 We put on the cone-shaped tops and placed the four meat tagines on the stove and my vegetarian one on a little gas burner in the hallway,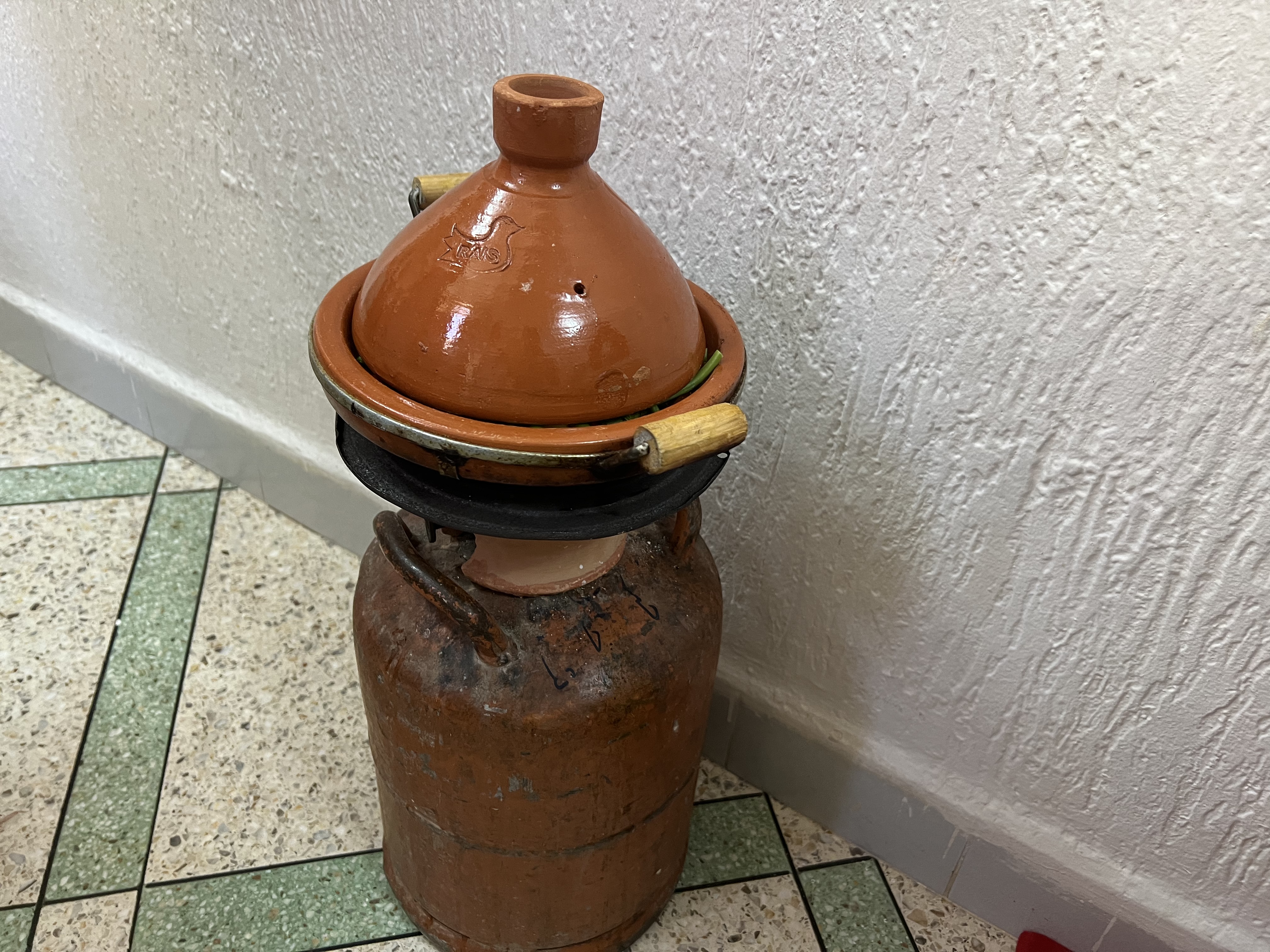 Tea Time
Amina's brother Yessine arrived home about half way through the tagine preparation.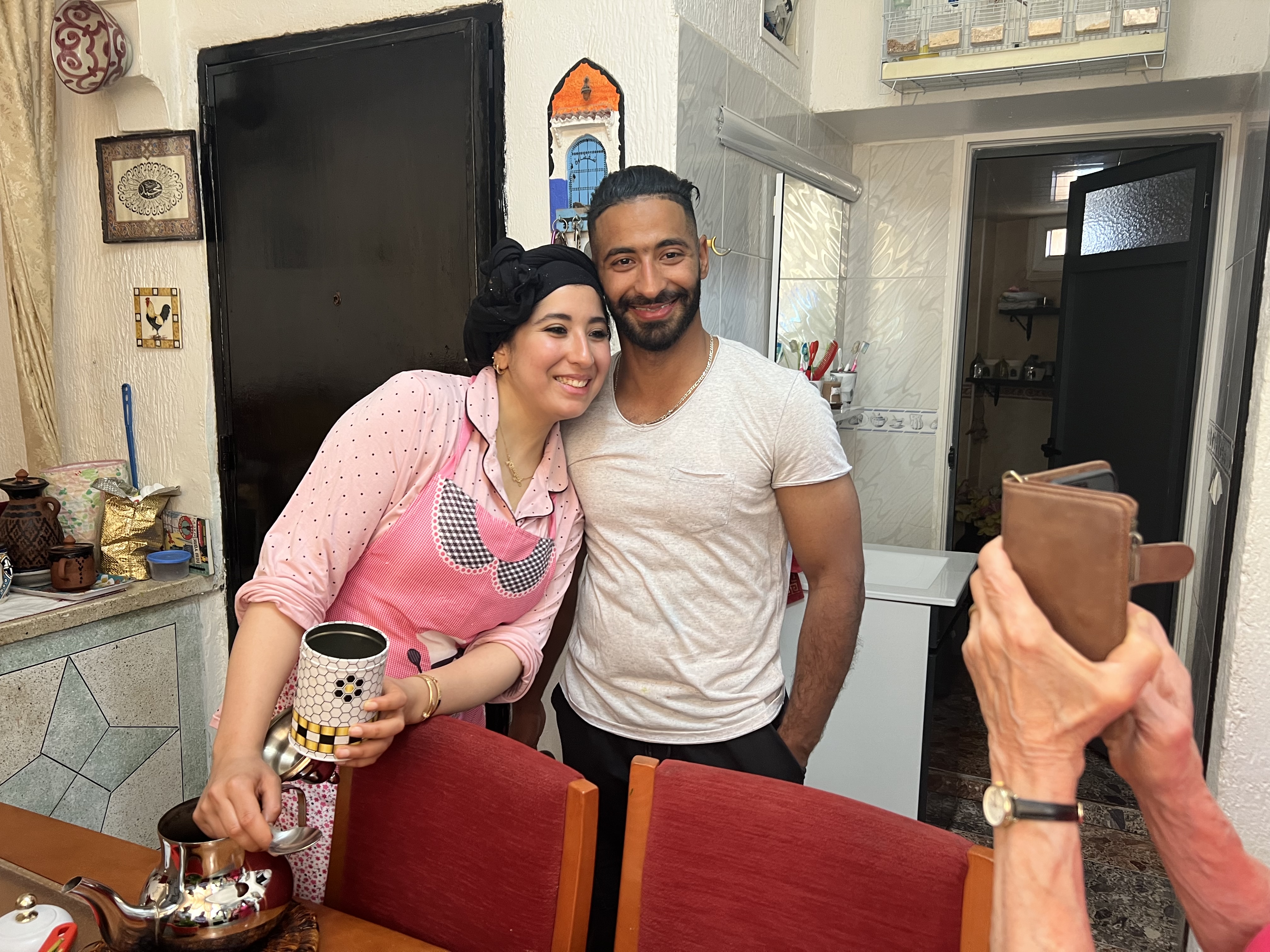 Amina and Yessine taught us how to make Moroccan mint tea. In addition to the Moroccan tea and lots of fresh mint, they added a little spring of absinthe. Amina stressed the importance of tea quality and told us what number tea she used. Her father brought out the tea box, so we could take a picture and find the tea in the market.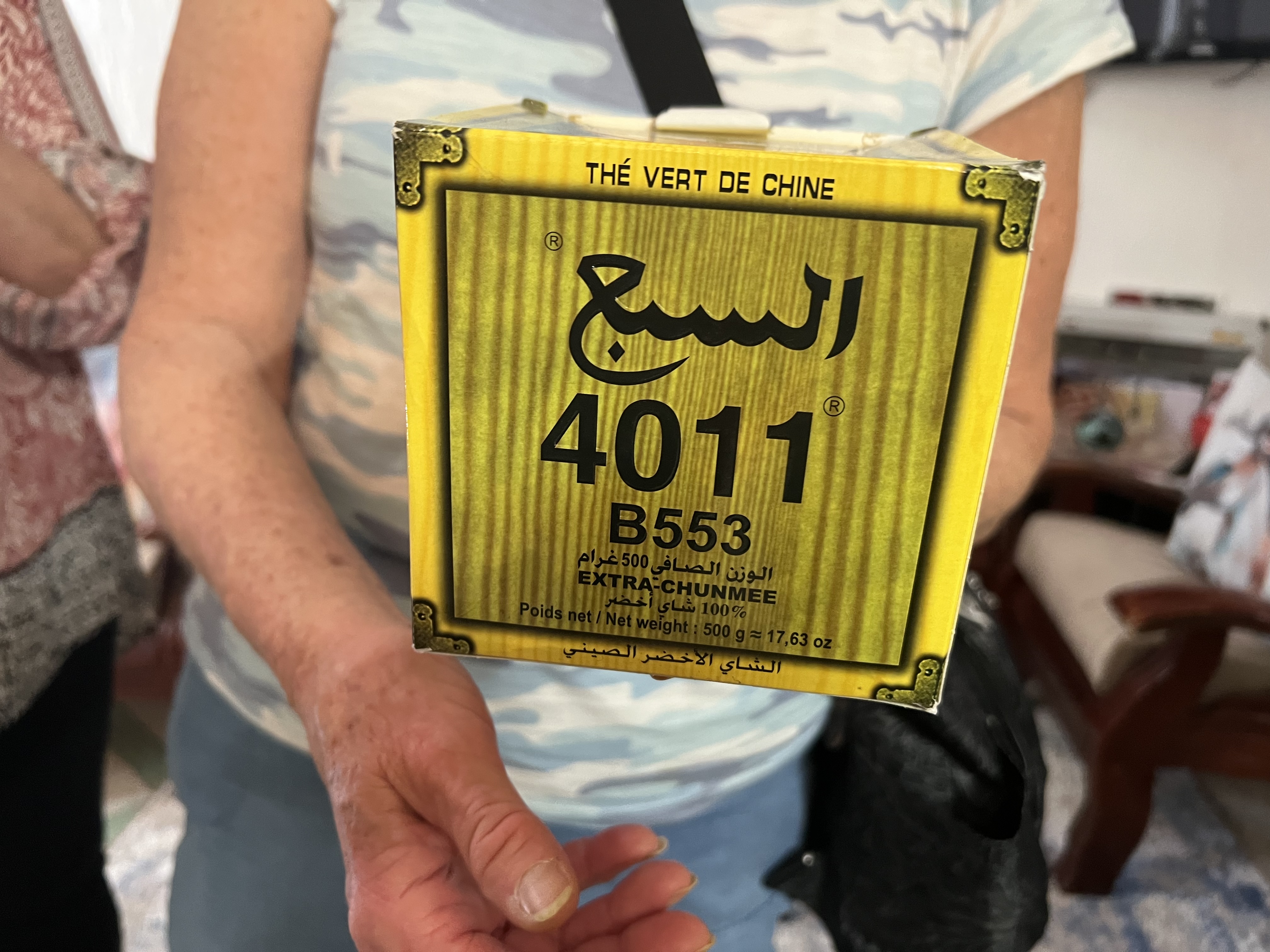 Yessine served the tea and little cookies. Beautiful, shear fabric covered the cart until it was time for tea when Yessine removed it with a flourish. A similar cloth covered the dining table until we were ready to sit down for lunch.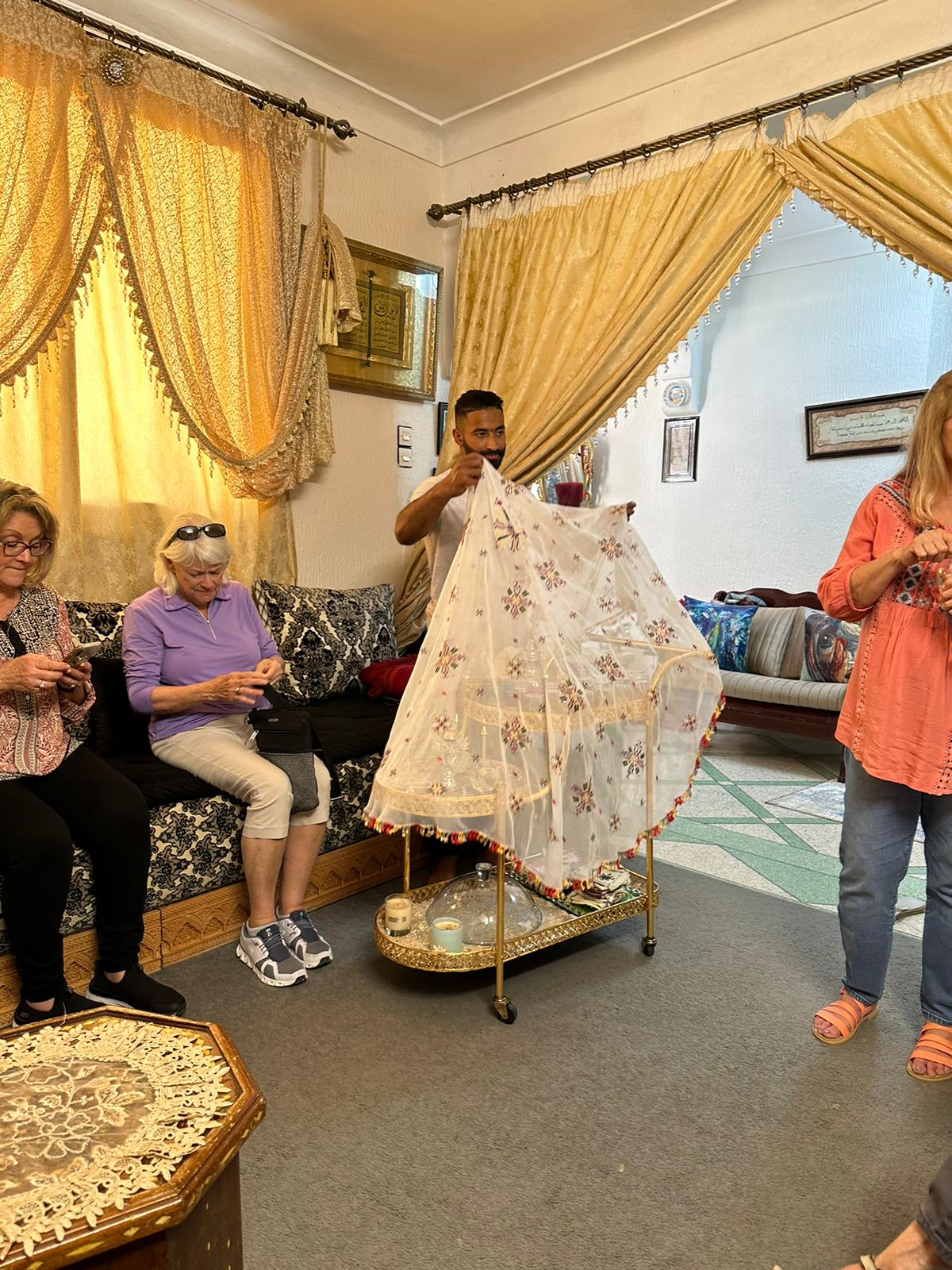 He taught us to say bosaha, the Moroccan equivalent of cheers and engaged us in delightful conversation. After asking us all where we lived and what we did, he told us that he is a professional soccer player for the Fes soccer team.
Two hours went by in a flash and it was time to sit down and enjoy our tagines. This was by far the best tagine I have eaten in Morocco. Perhaps it was the spices, perhaps it was the secret ingredient or perhaps it was having prepared it in the home of such a charming Moroccan family.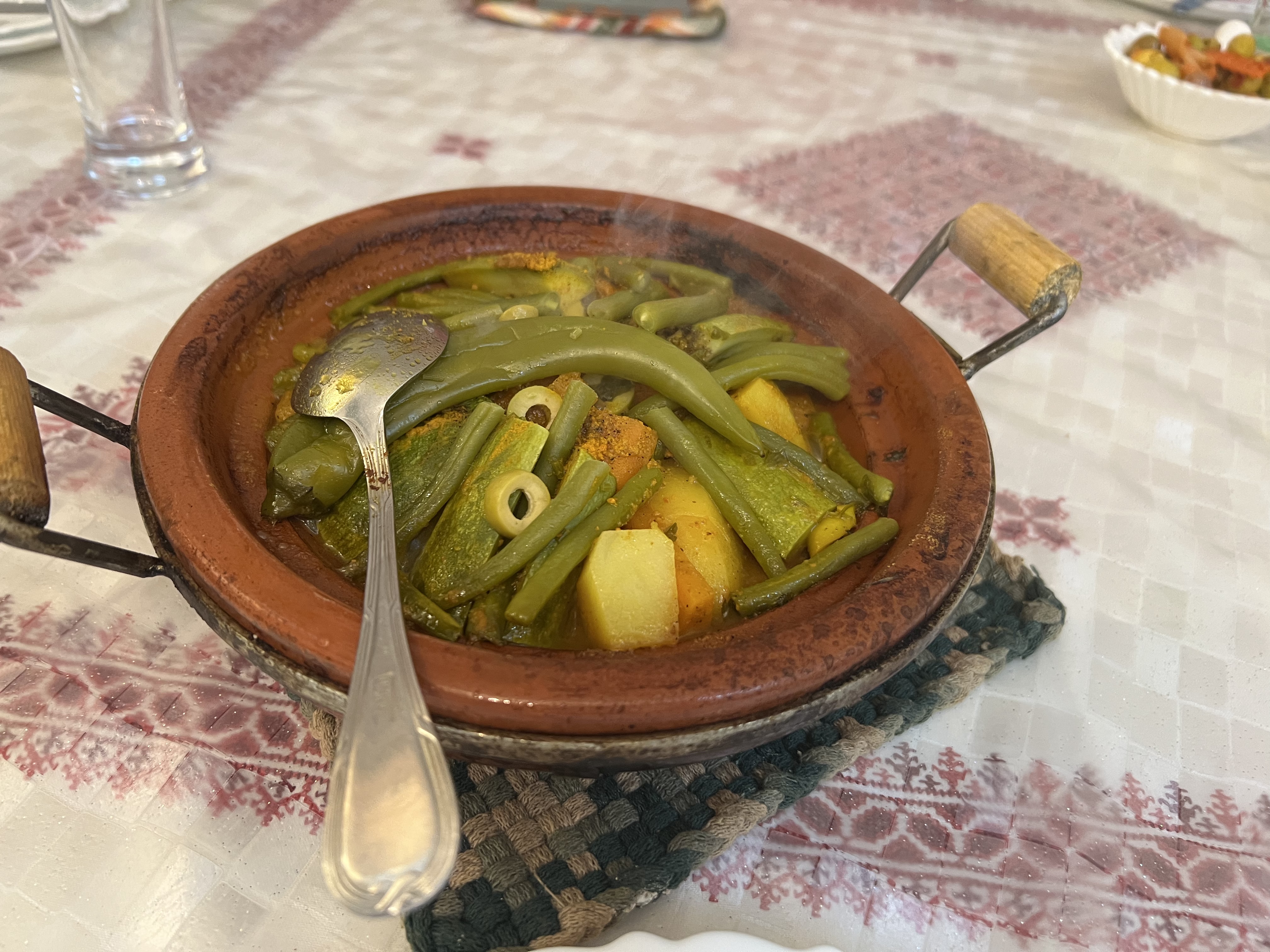 Our meal ended, as most Moroccan meals do, with a lovely platter of cut fruit. Amina served oranges with cinnamon (a new secret ingredient for me), strawberries and bananas from the market.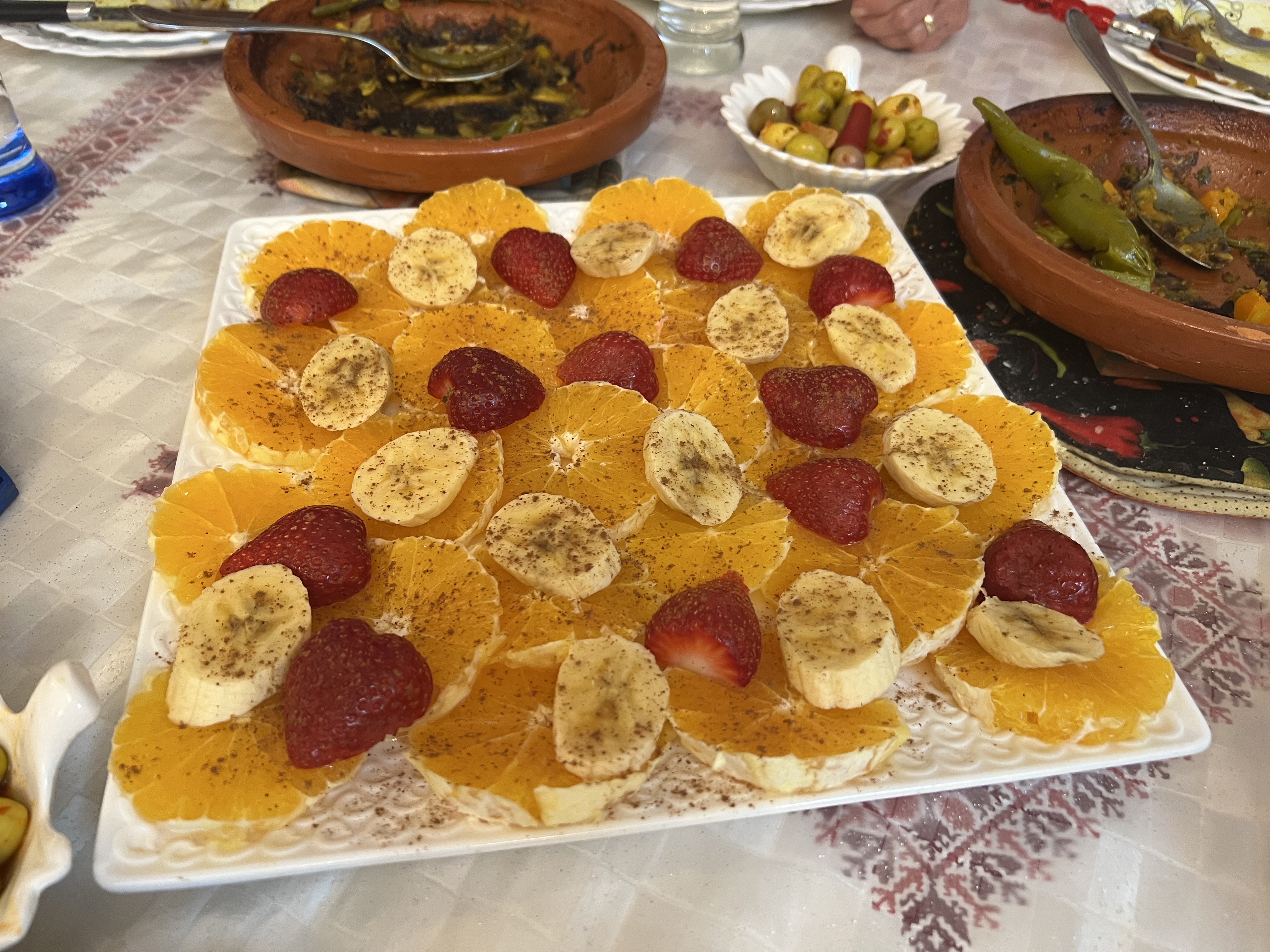 Before dinner was over, we all decided to get tagines when we got home.
Goodbye, Fes
Tomorrow we leave bright and early to begin our trek to the desert. We will drive through the Middle and High Atlas Mountain range to Erfoud. A small trading village that is the gateway to the Sahara Desert, Erfoud is our last stop before we begin our desert adventure.