The trip from our home in the Sahara Desert to our next home in Ouarzazate took about eight hours, including interesting stops along the way.
Khatarat
Our first stop was to learn about khatarat, a Persian system for collecting water dating from the 12th-14th century. We stopped at an area that was covered with mounds that looked like giant molehills. The mounds are the remains of the underground water system below.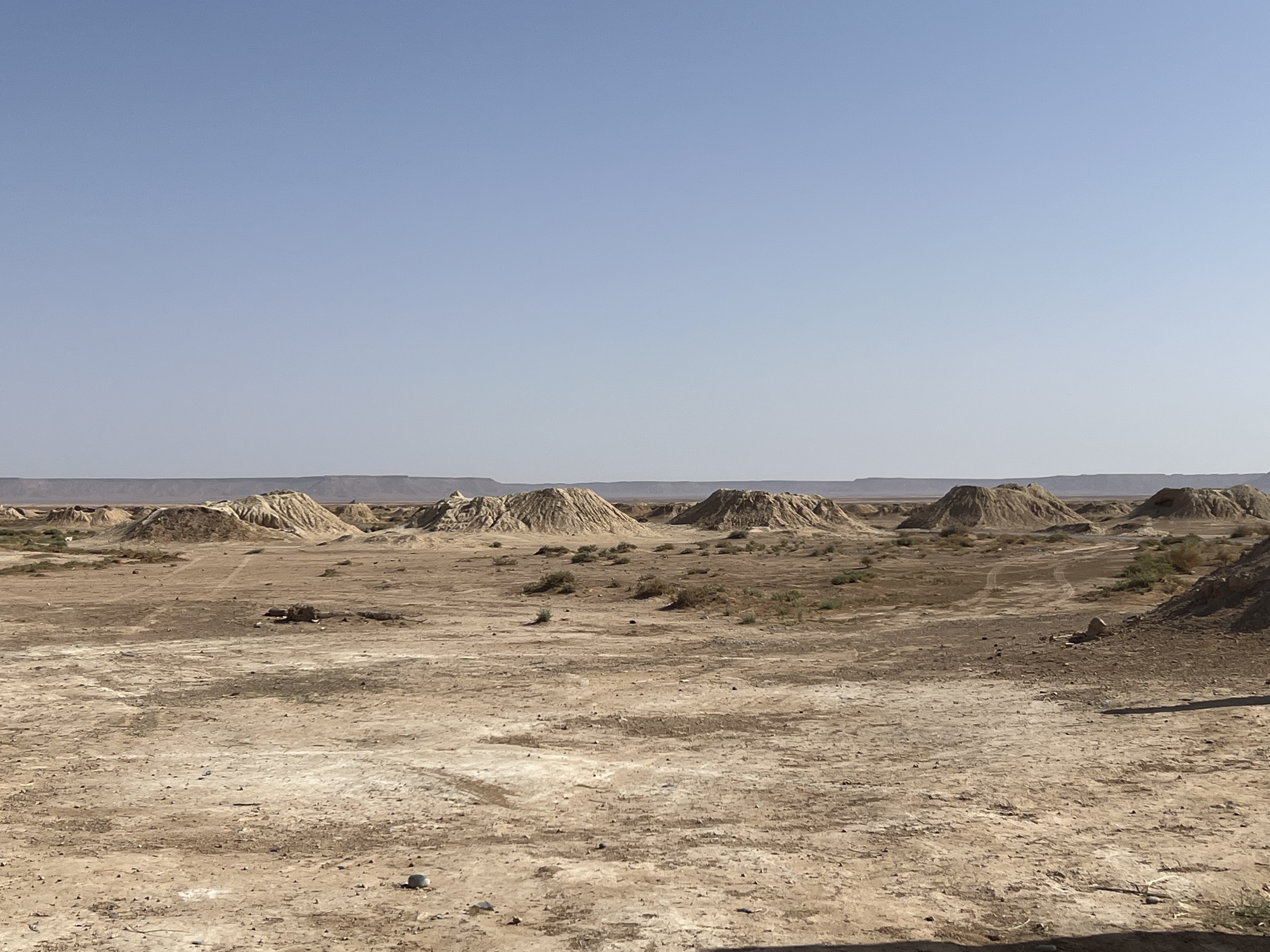 Although the system is no longer used, Karim, an entrepreneur and historian, has restored one of the wells to demonstrate how it worked. Basically, the khatarat is a system of underground wells that start on the side of a mountain and link together to move water down the mountain to the wells.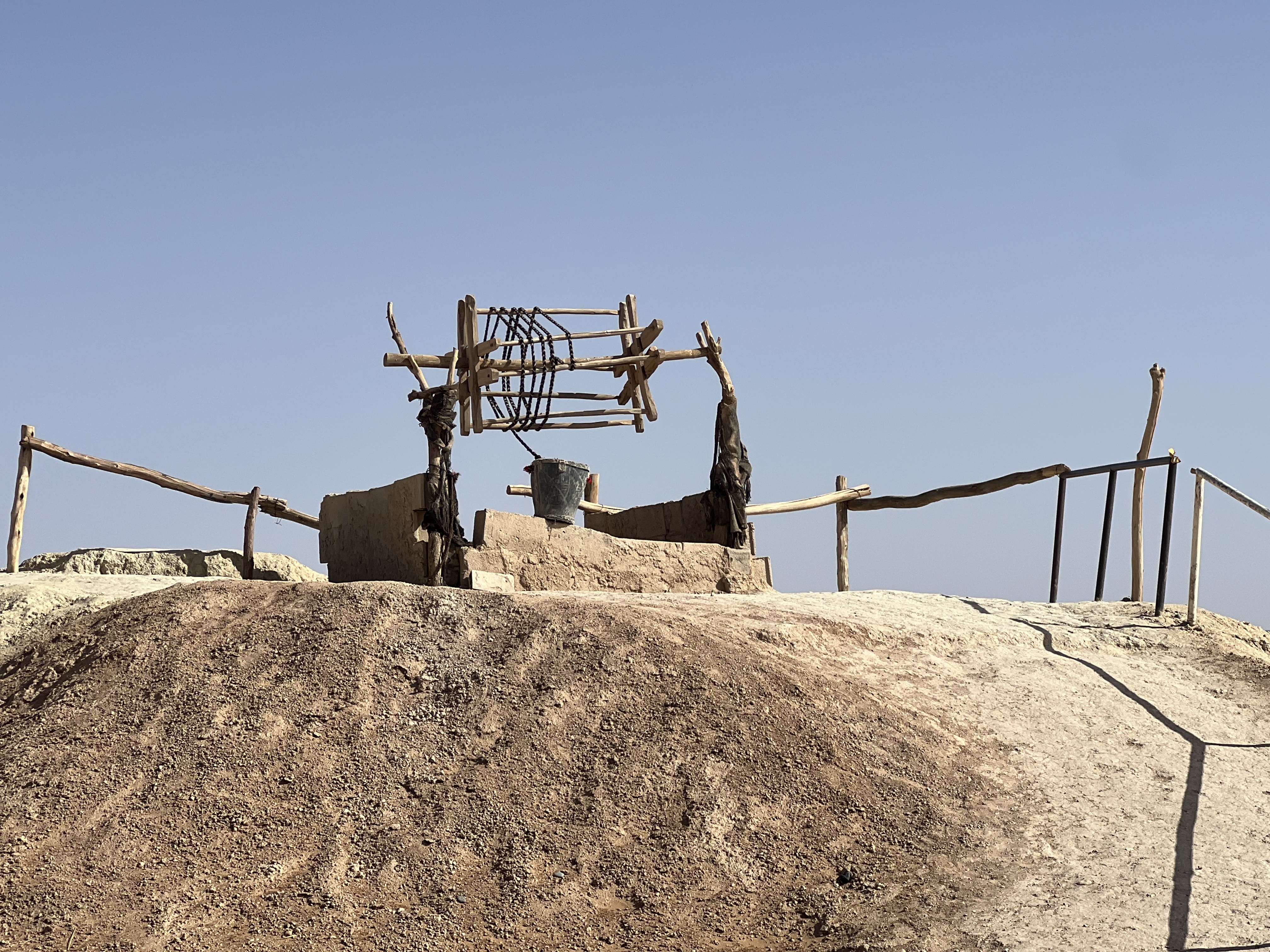 He dug a tunnel so people could walk to the bottom of the well.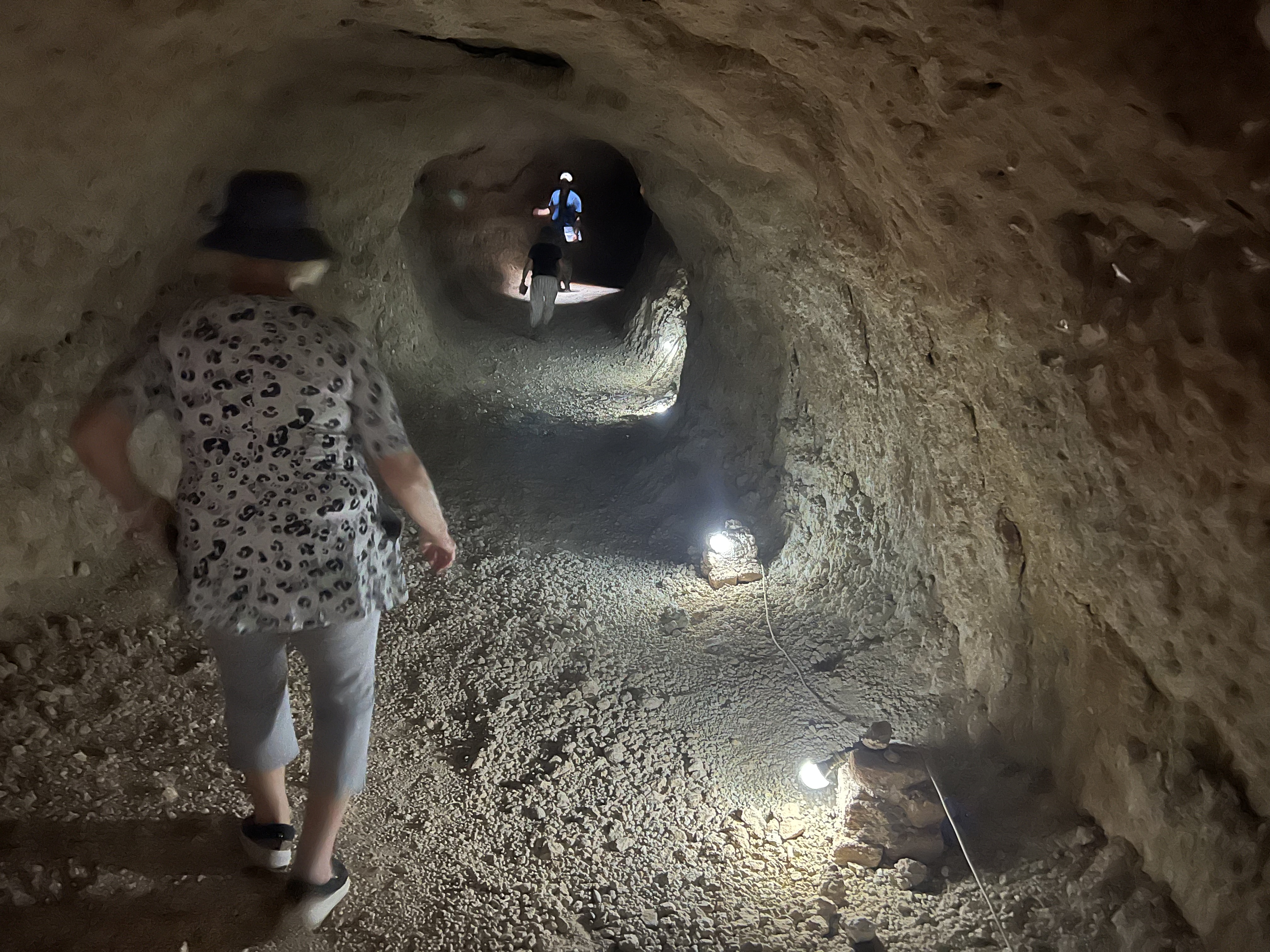 Once we got to the bottom, we could look up and see the top of the well.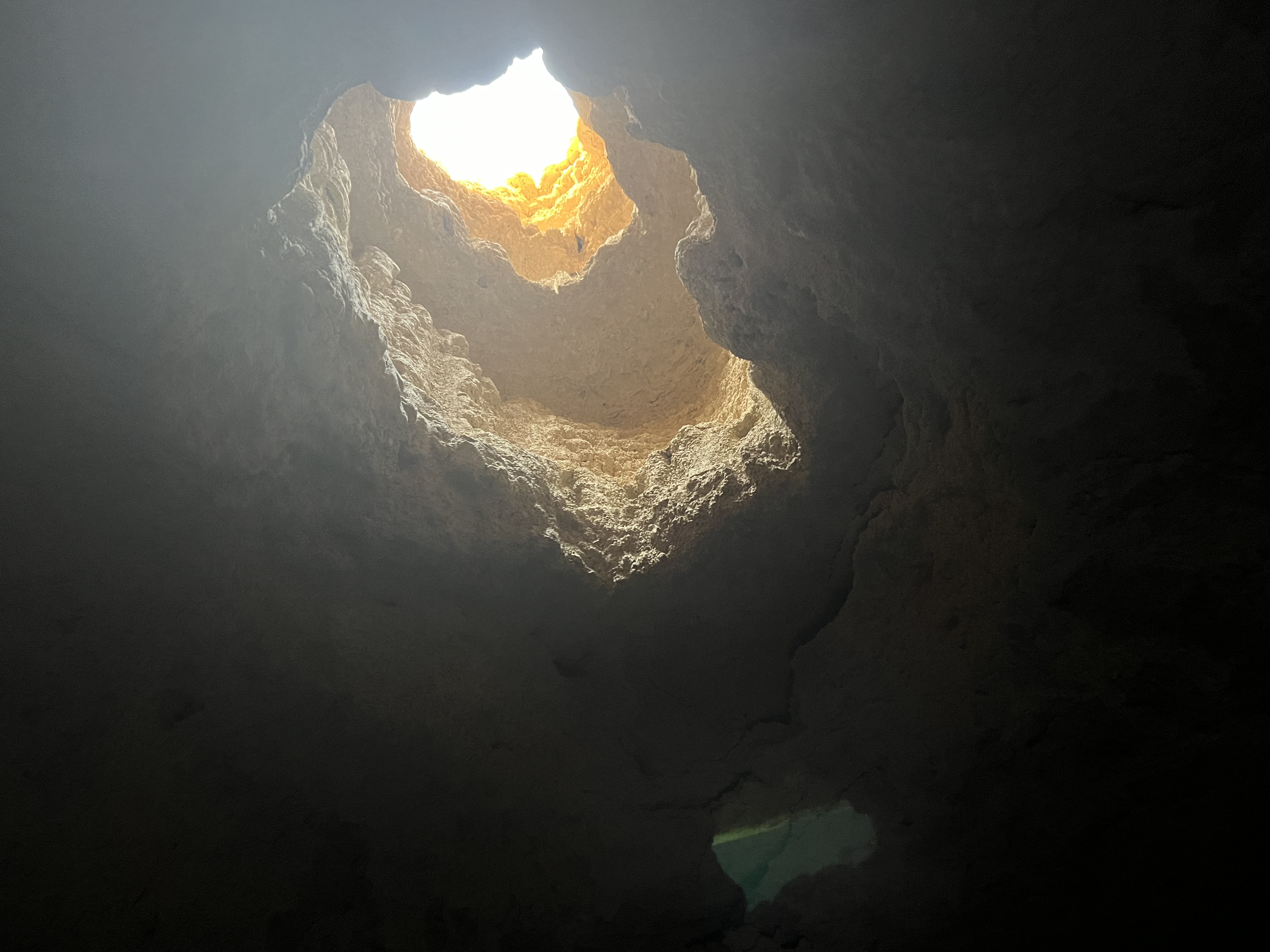 180 Camels
Some of our most interesting stops are spontaneous. Abdou saw a large herd of camels moving across the desert and said we had to get off the bus and see this amazing sight. He is great at making connections with people and getting them to talk with us. He introduced himself to Faska, the lead camel herder and asked if we could watch the camels come to the watering spot.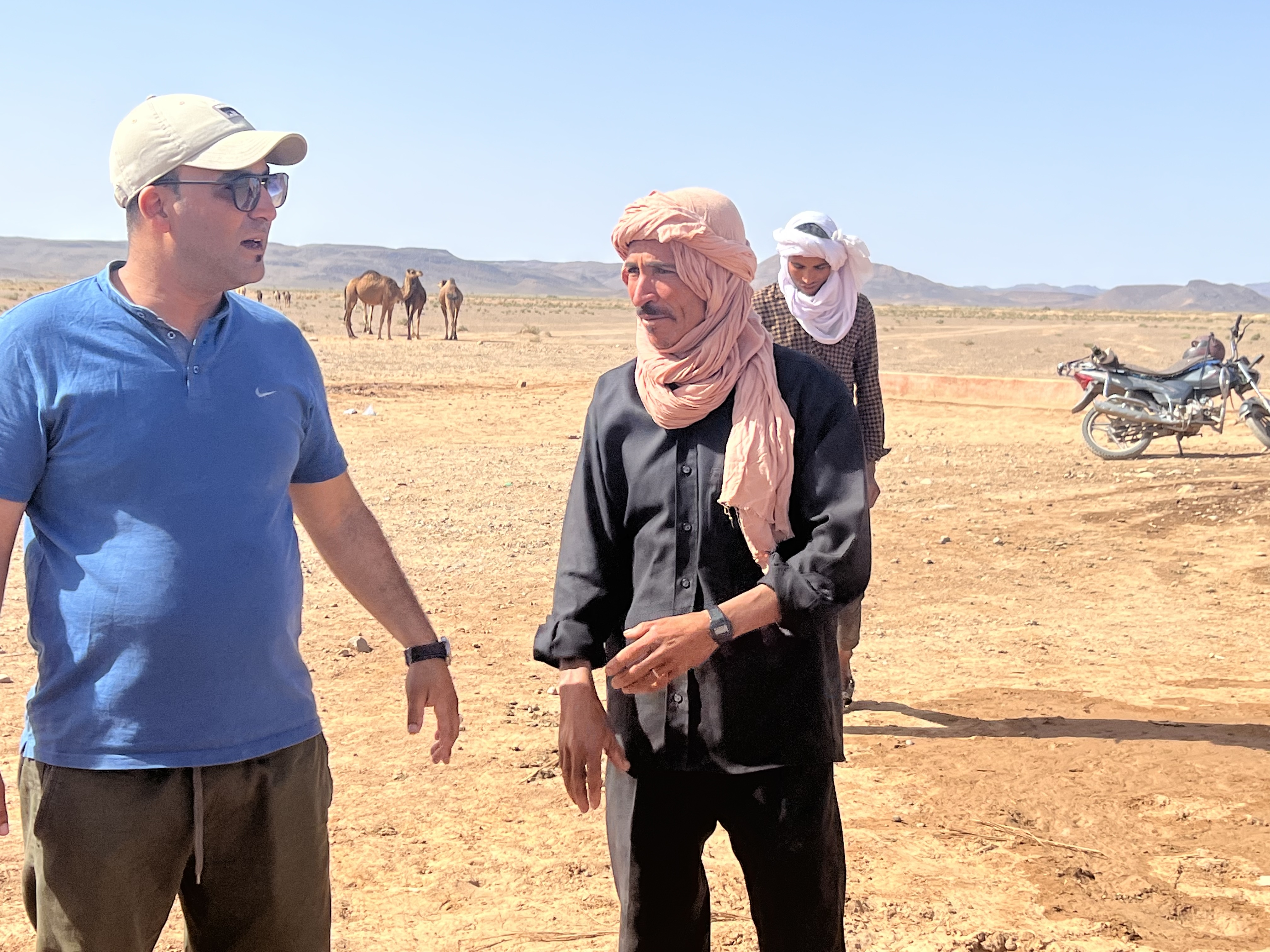 Faska is a nomad who herds camels for a number of owners. He was so kind to answer our questions. It was an amazing sight to see 180 camels cross the highway and head to the watering trough.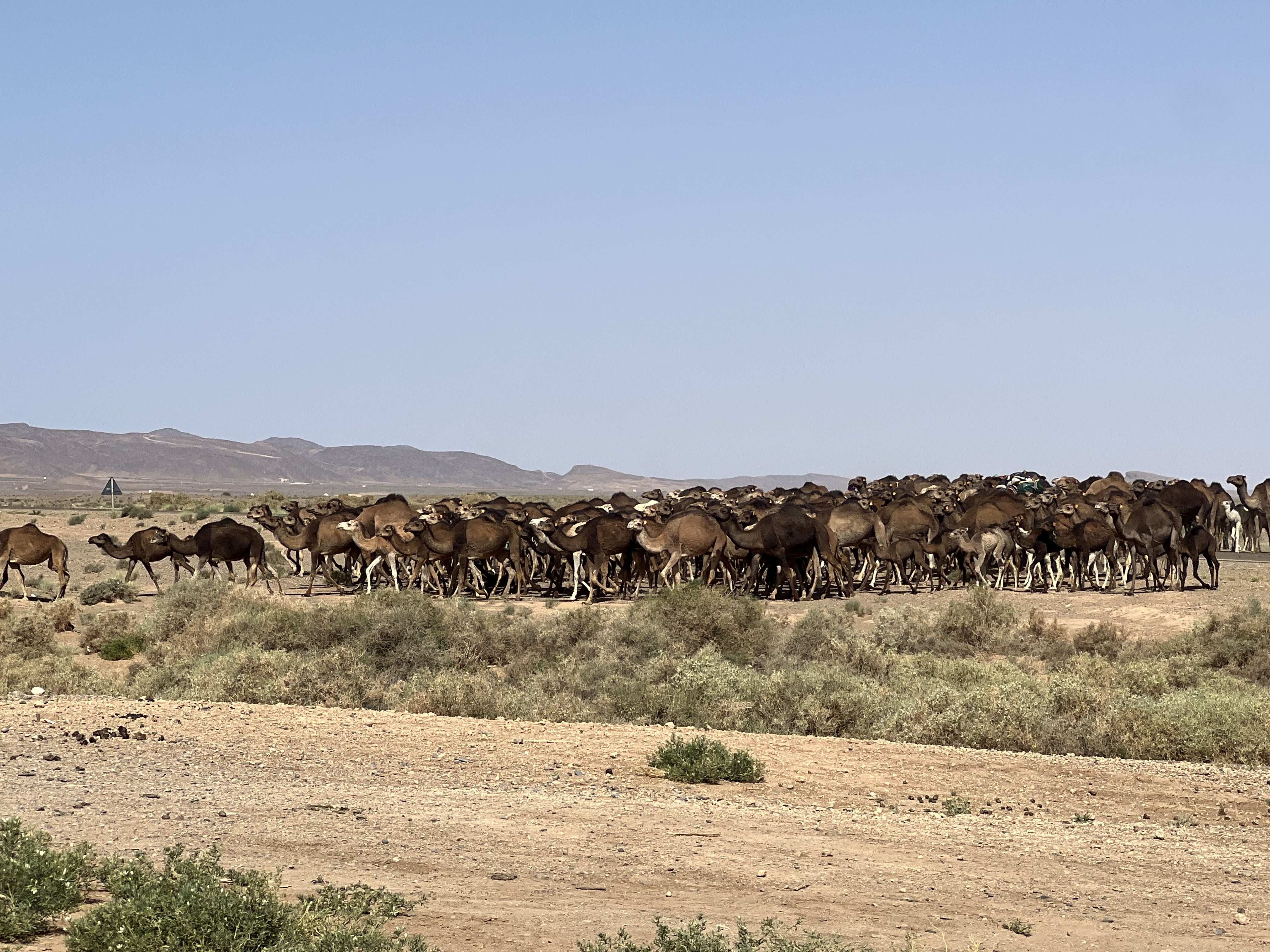 It was pretty exciting to be so close to so many camels. Abdou said he had never had this experience.
Tinejdad
Reluctantly leaving the camels, we continued on to Tinejdad, an ancient fortified ksar and visited a class of adorable first graders. They sang songs in Arabic for us and we sang songs in English for them.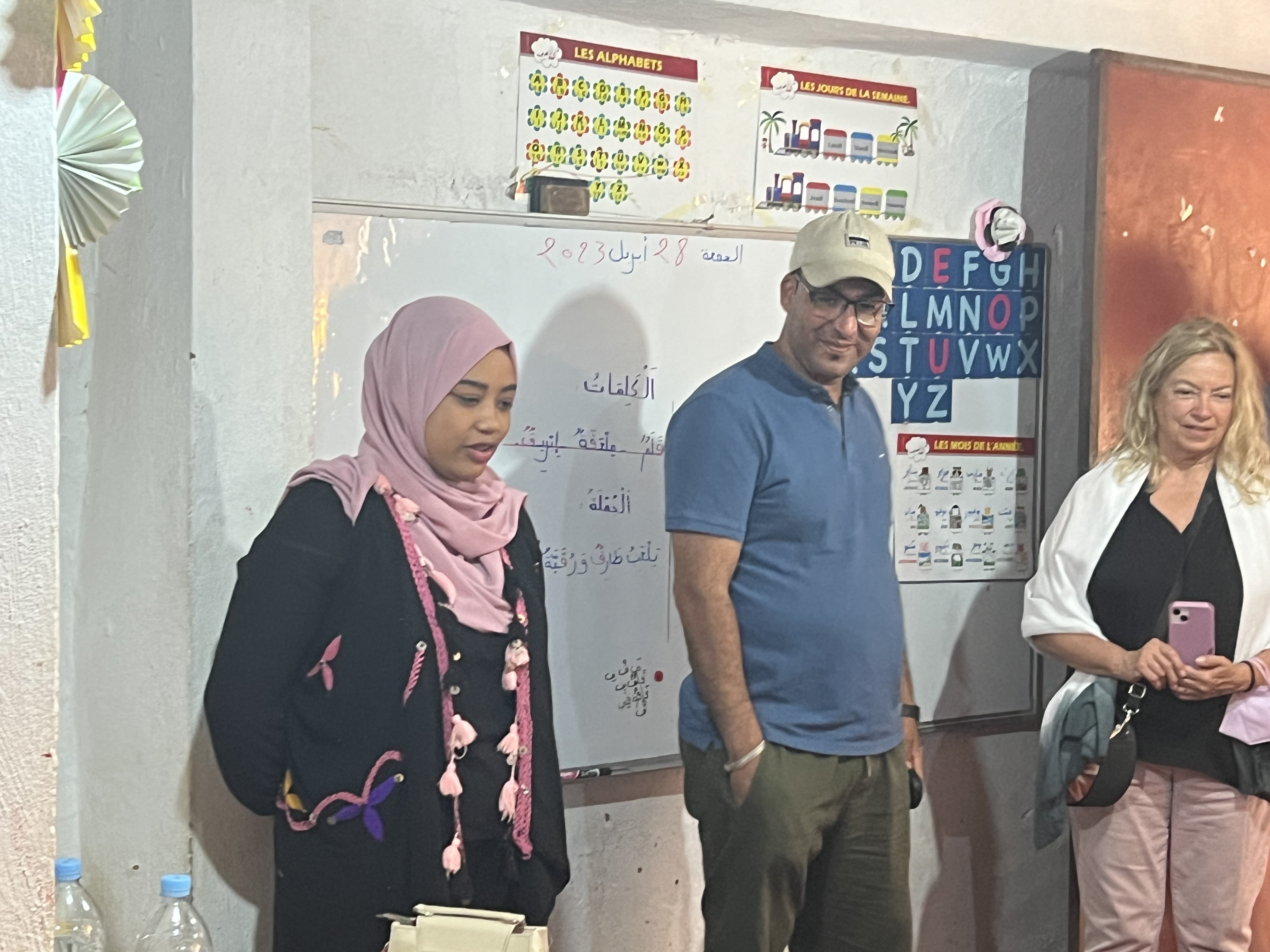 We explored the ancient Berber walled city and visited a Berber museum founded by a local Jewish activist. Berbers are an indigenous ethnic population in Morocco and other North Africa countries.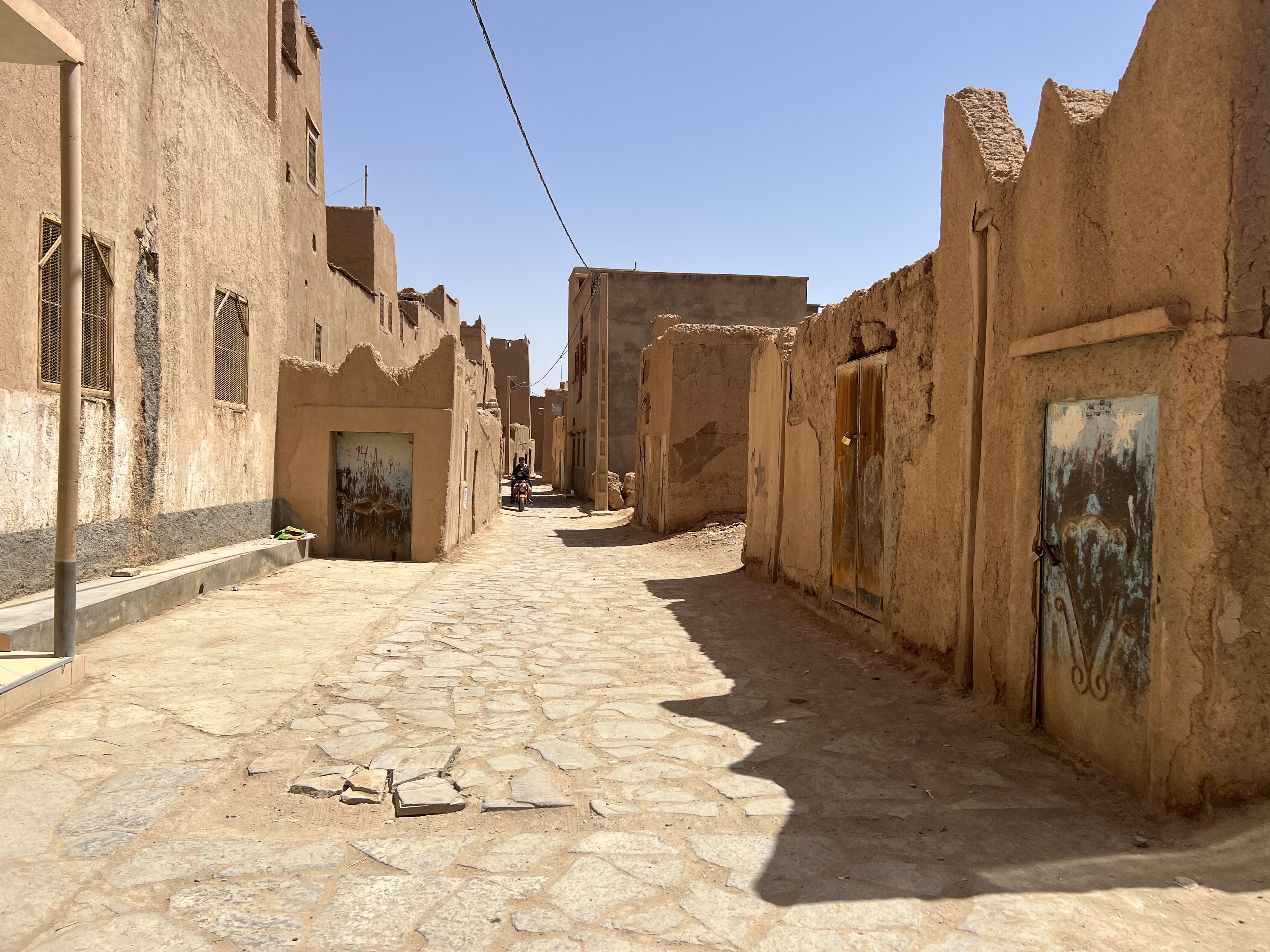 Aichaskou, a charming Berber woman, welcomed us to her restaurant for lunch. We could see the tattoo on her chin that all Berber women get at a young age.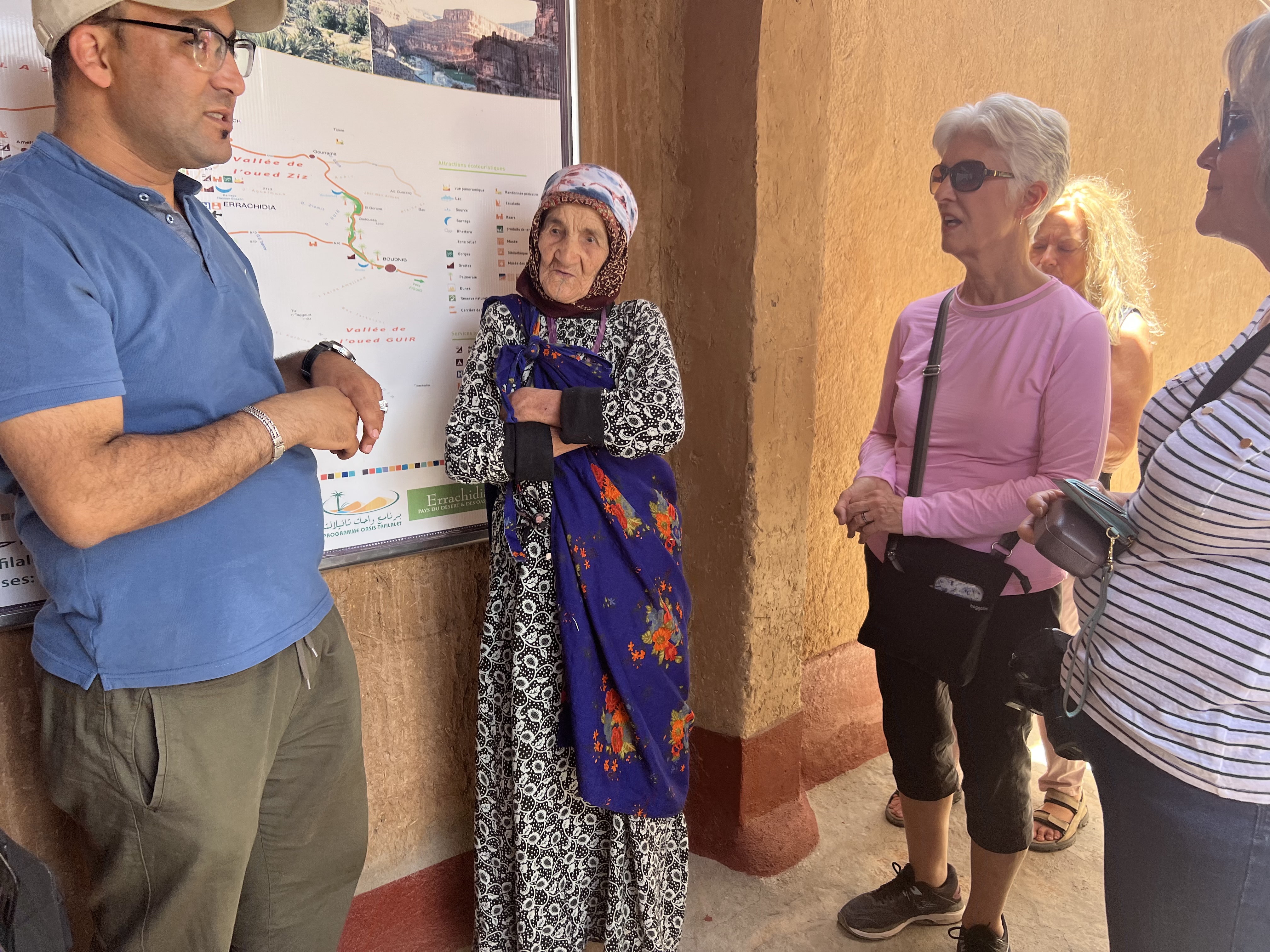 Ouarzazate Arrival
After two nights of desert camping and a long bus ride, we were so happy to arrive at our hotel in Ouarzazate. Some of us decided to wear our Moroccan caftans to dinner in celebration of being back in the land of air conditioning.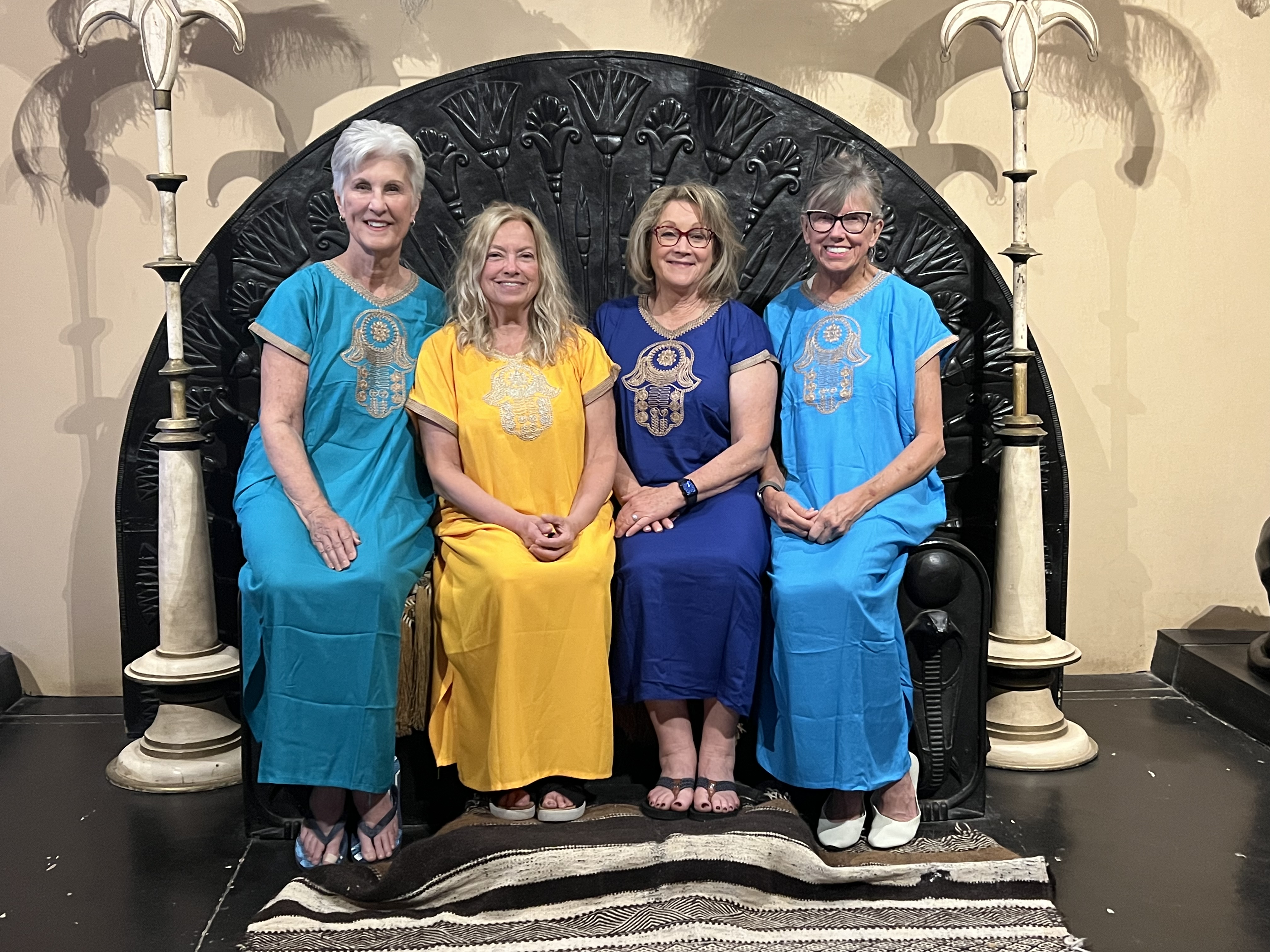 Ouarzazate is the oldest and largest film studio in Morocco and a major contributor to the local economy. American productions, such as Lawrence of Arabia, Gladiator (and soon Gladiator 2) and Game of Thrones, have been filmed here. Moroccan cities put centerpieces in their roundabouts that reflect what is important in the city, so it was no surprise to see the Ouarzazate roundabout centerpieces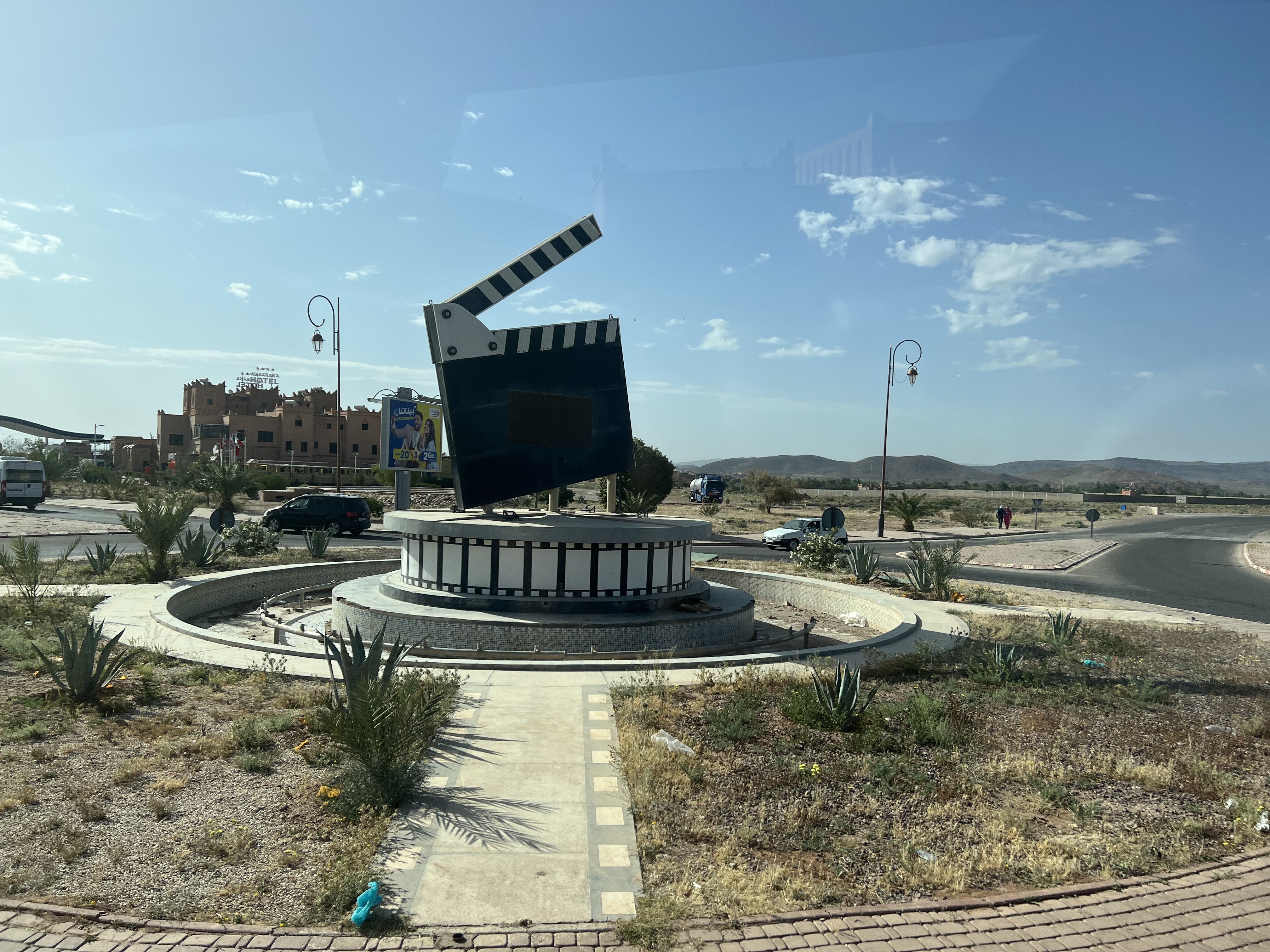 A Day in the Life of an Asfalou Village Family
Spending time with a Moroccan family in their home and learning about their lives is such a special part of our trip. On the way to visit with our family, we stopped to pick up Mohammed, our local guide for the home visit. He has acted in some of the films produced here and was a most entertaining guide.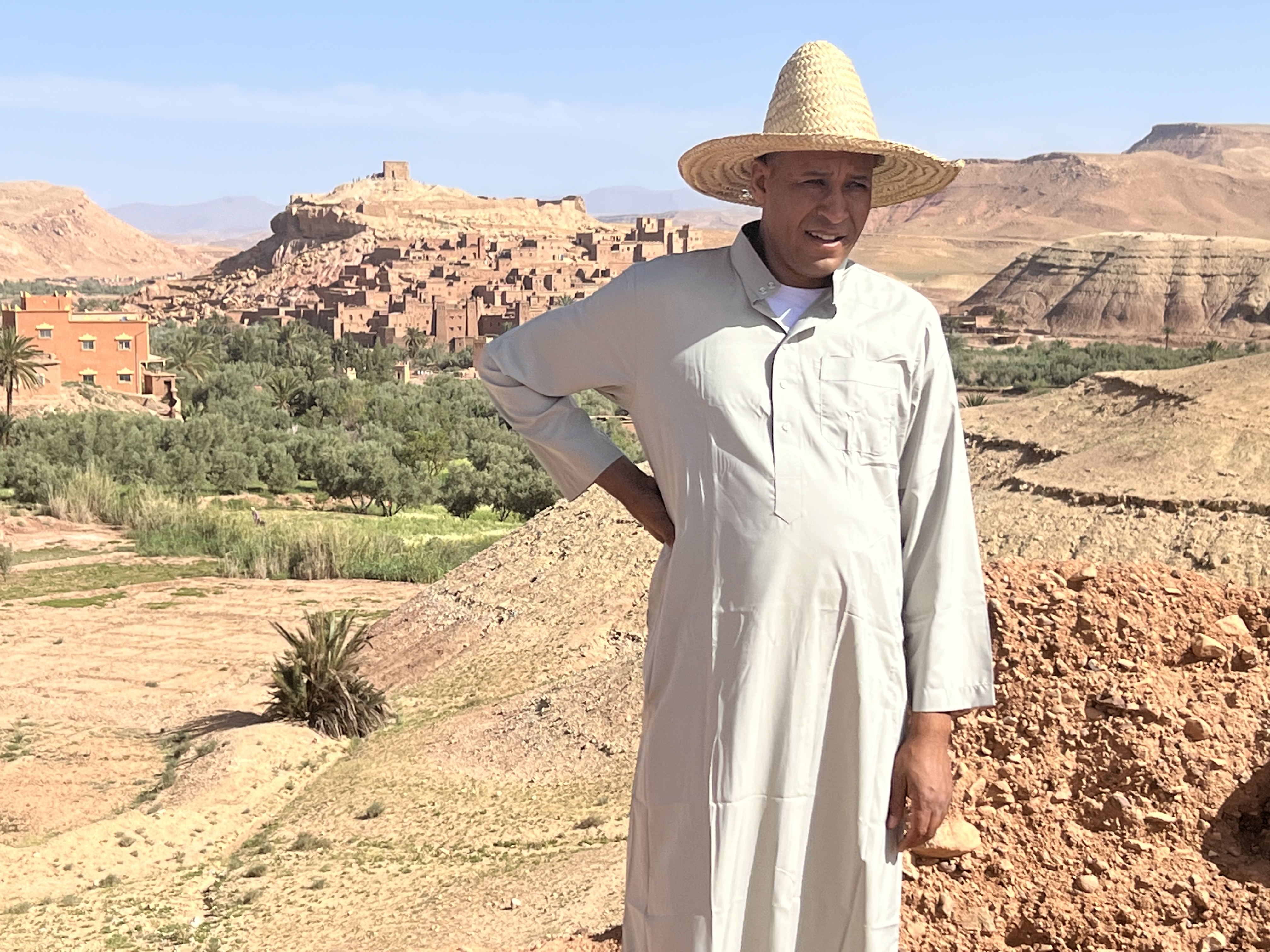 When we arrived at their home, Abraham, his wife Heckima and their two darling children greeted us at the front door. They invited us to tour their home, which included a room that is only used to entertain guests.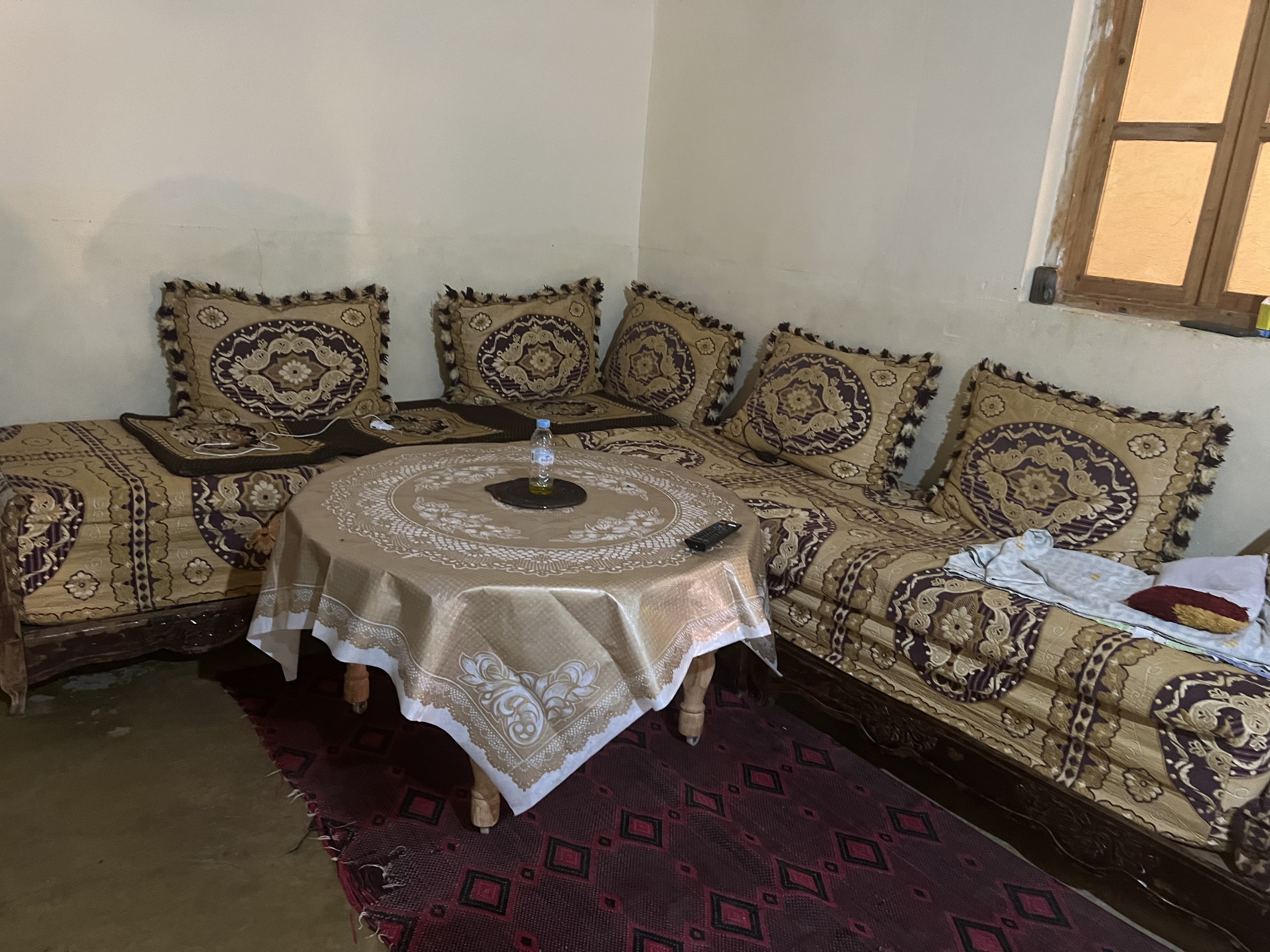 In the kitchen we met the auntie and their new baby.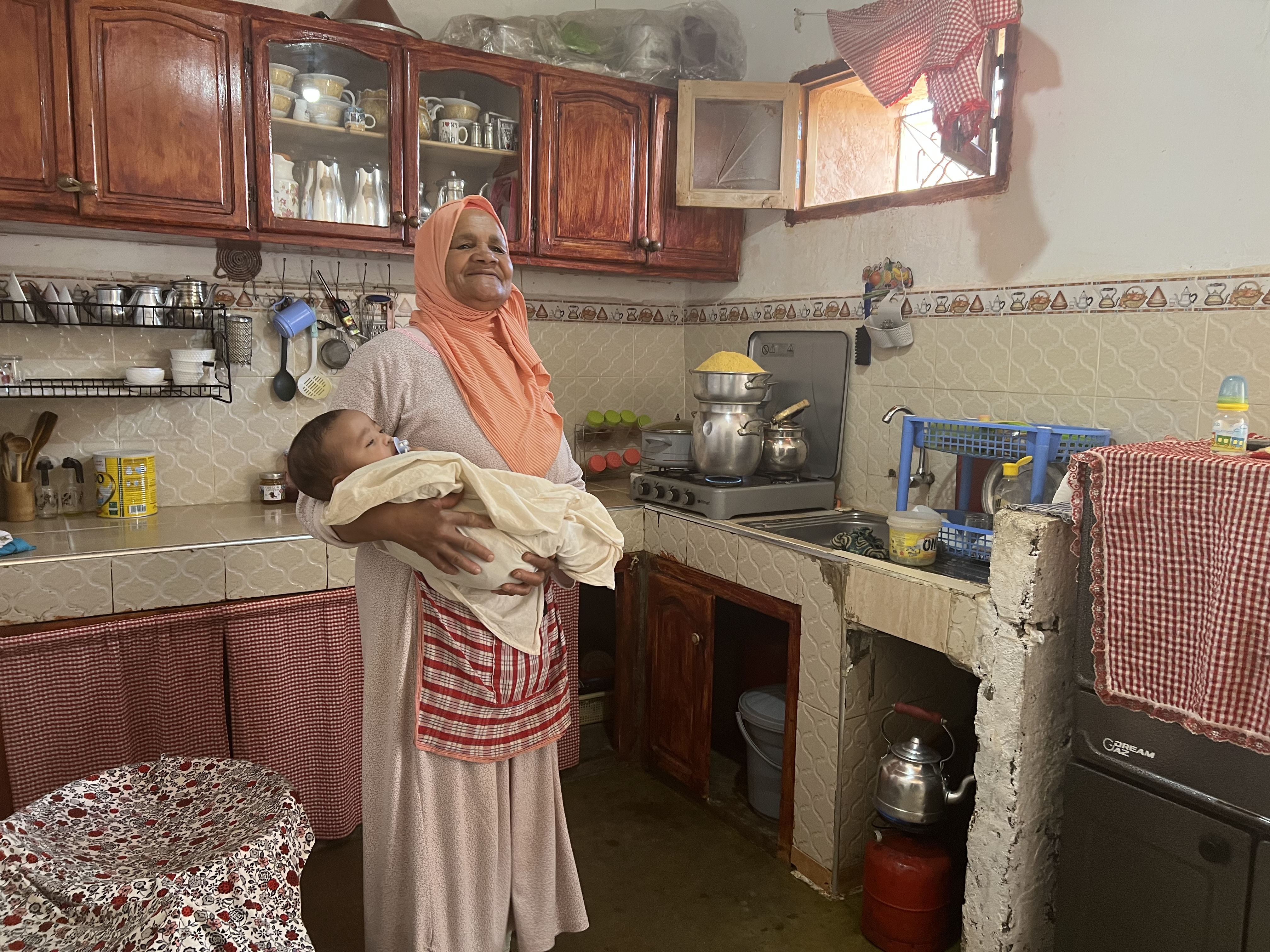 After "helping" to feed the animals, cut alfalfa, make adobe bricks and bake bread in an outside oven, we each carried a little stool to a shaded area in their field for tea and bread.
After tea in the beautiful shaded area, we returned to their house for lunch.They served us a fabulous meal of baddaz, Berber corn couscous.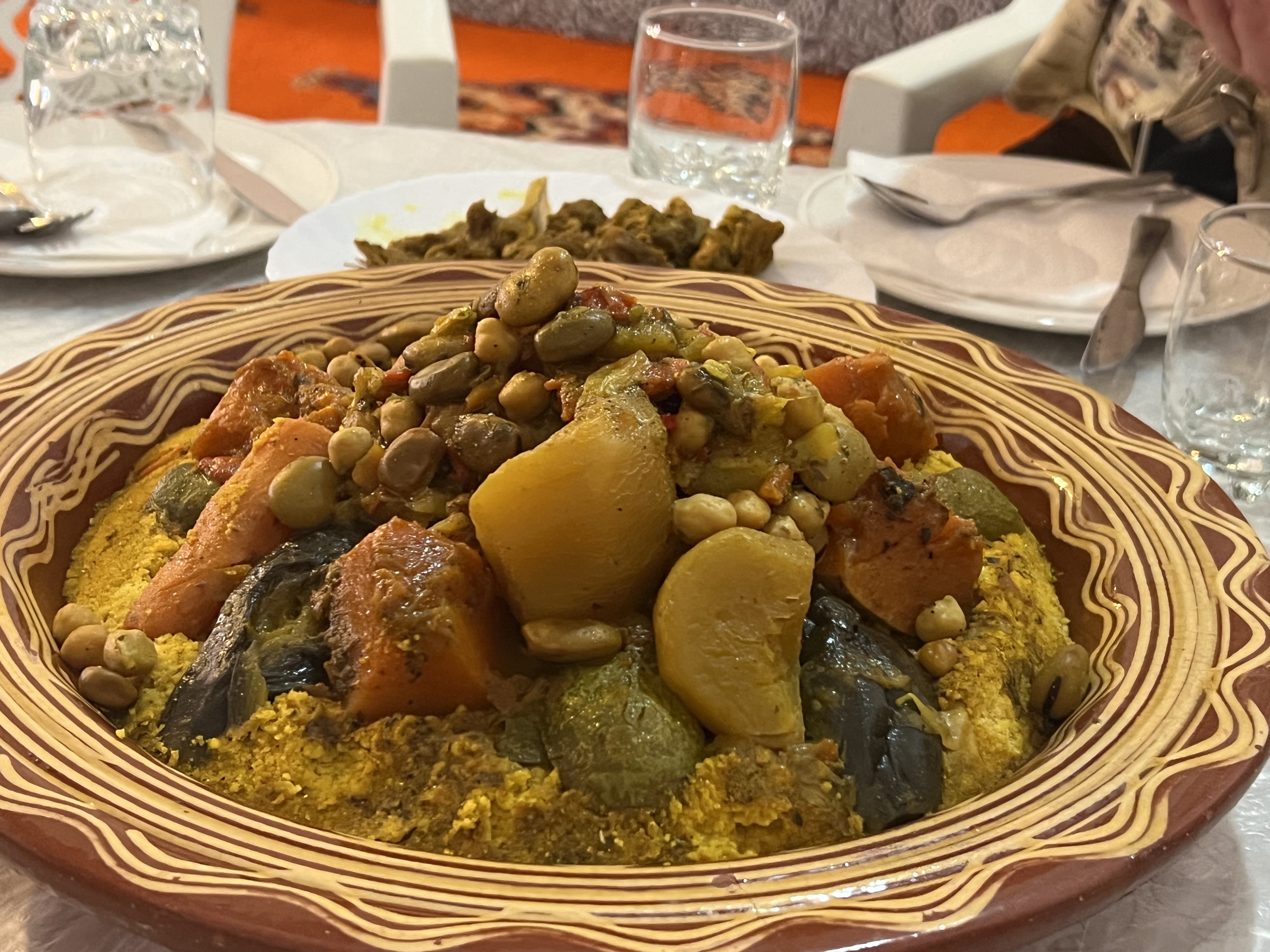 They openly discussed their lives and answered our questions. Heckima had lived in Marrakesh, the fourth largest city in Morocco, until she married Abraham and moved to his very tiny tribal village. She admitted it was a bigger change than she had anticipated.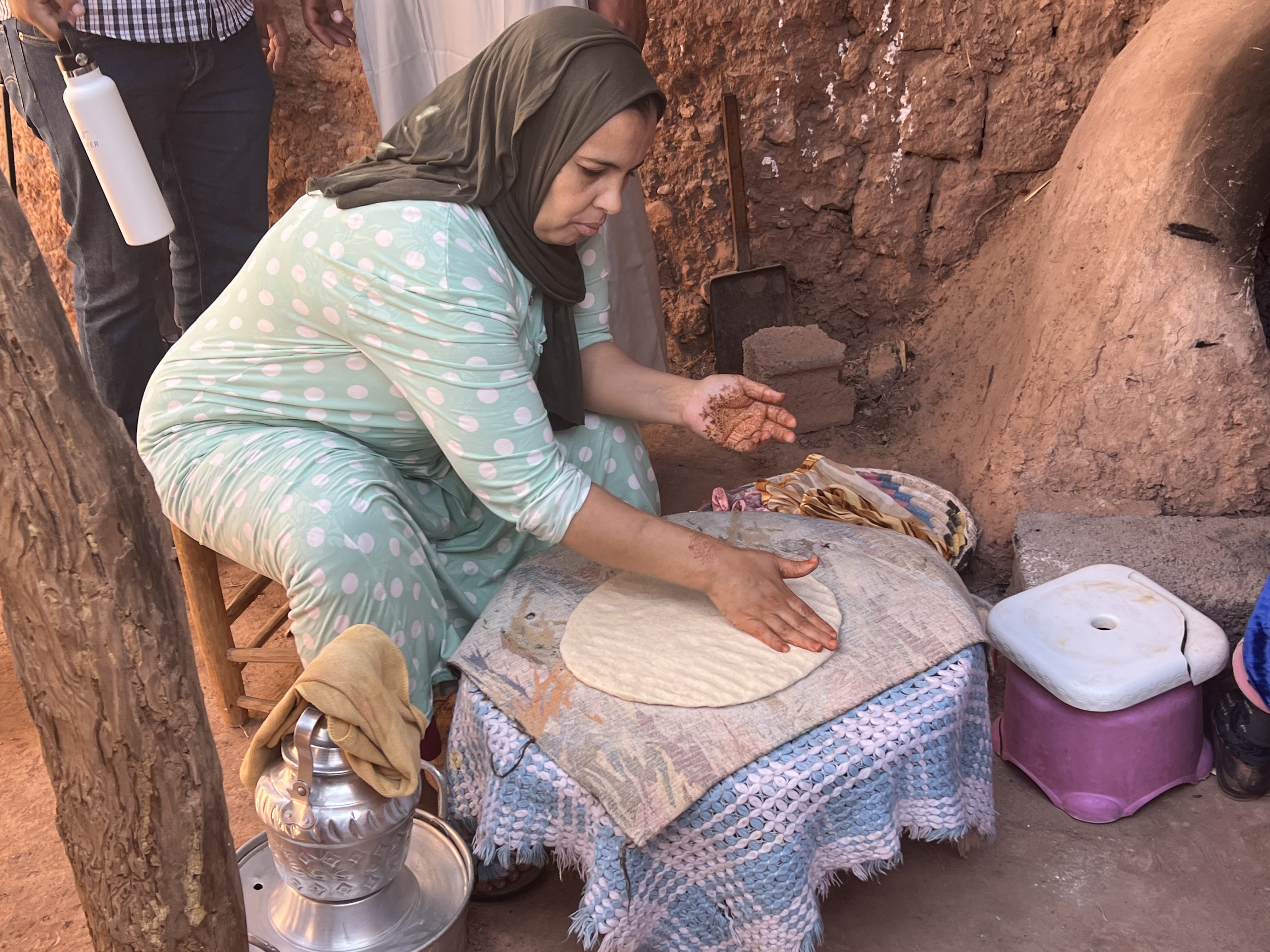 I had earlier learned how hospitable and caring Moroccan people are and how they take care of each other. We saw another beautiful example of this right before lunch. Hazziz, a local boy who is deaf, unexpectedly appeared and stayed for lunch. Abraham told us everyone in the village welcomes Hazziz and he often eats with one of the families.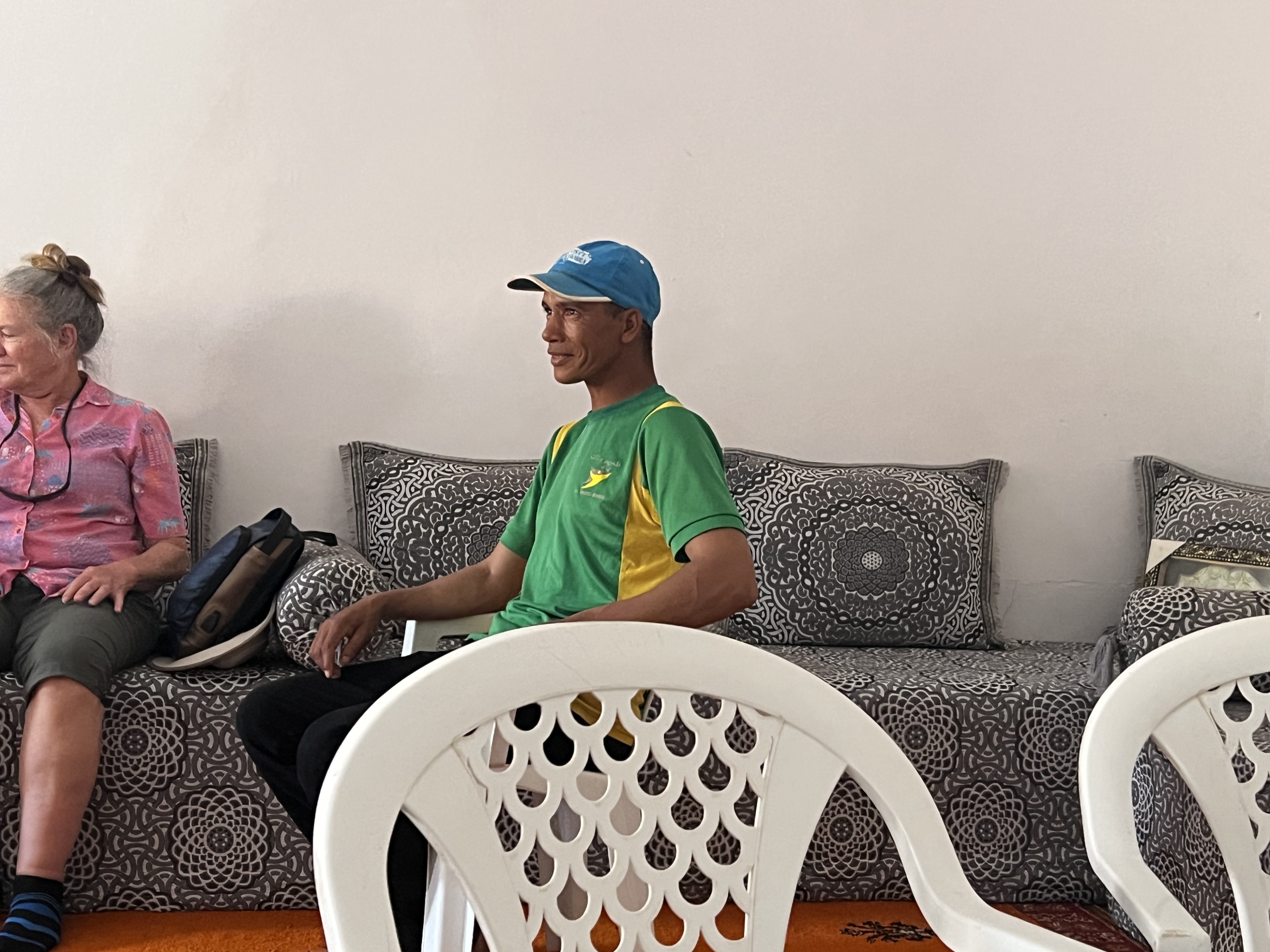 It was such a lovely day and another wonderful opportunity to connect with some Moroccan people.
Imik Simik Women's Association
Our great day got even better when we visited the Imik Simik Women's Association. This all-women organization helps to further the education and skills of women in this very traditional tribal area. The fifteen founding women started in a small garage in 2012. Just a few weeks ago they moved into a new facility partially sponsored by funds from the Grand Circle Foundation.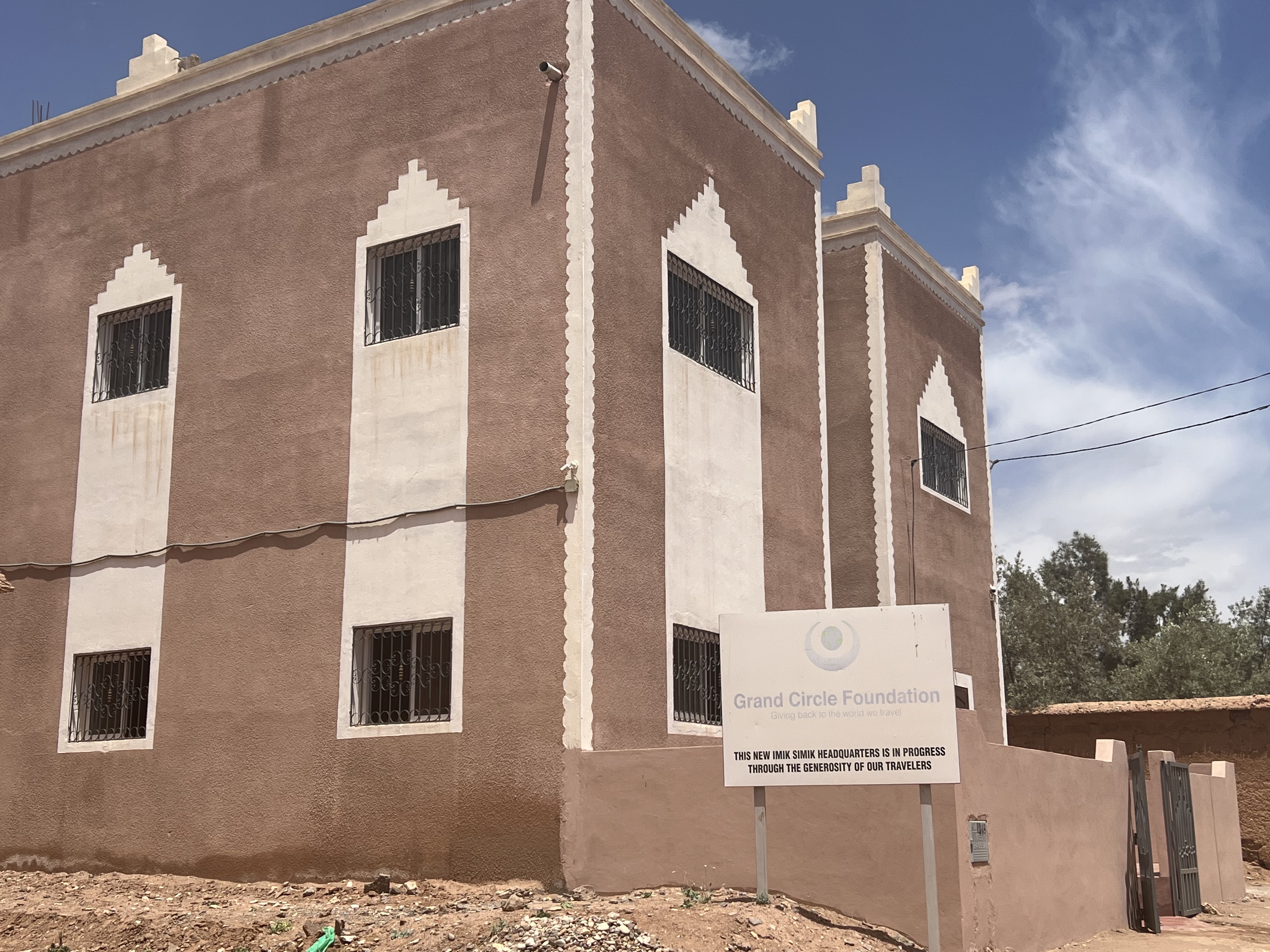 They had to fight the local tribal government for three years for the land because a near-by hotel also wanted the land to expand.
Their goal is to empower women in this male-dominated area to learn skills, and be independent, They make money by selling pastries to area restaurants. They want to expand their business and skills to include embroidery, rug making and sewing.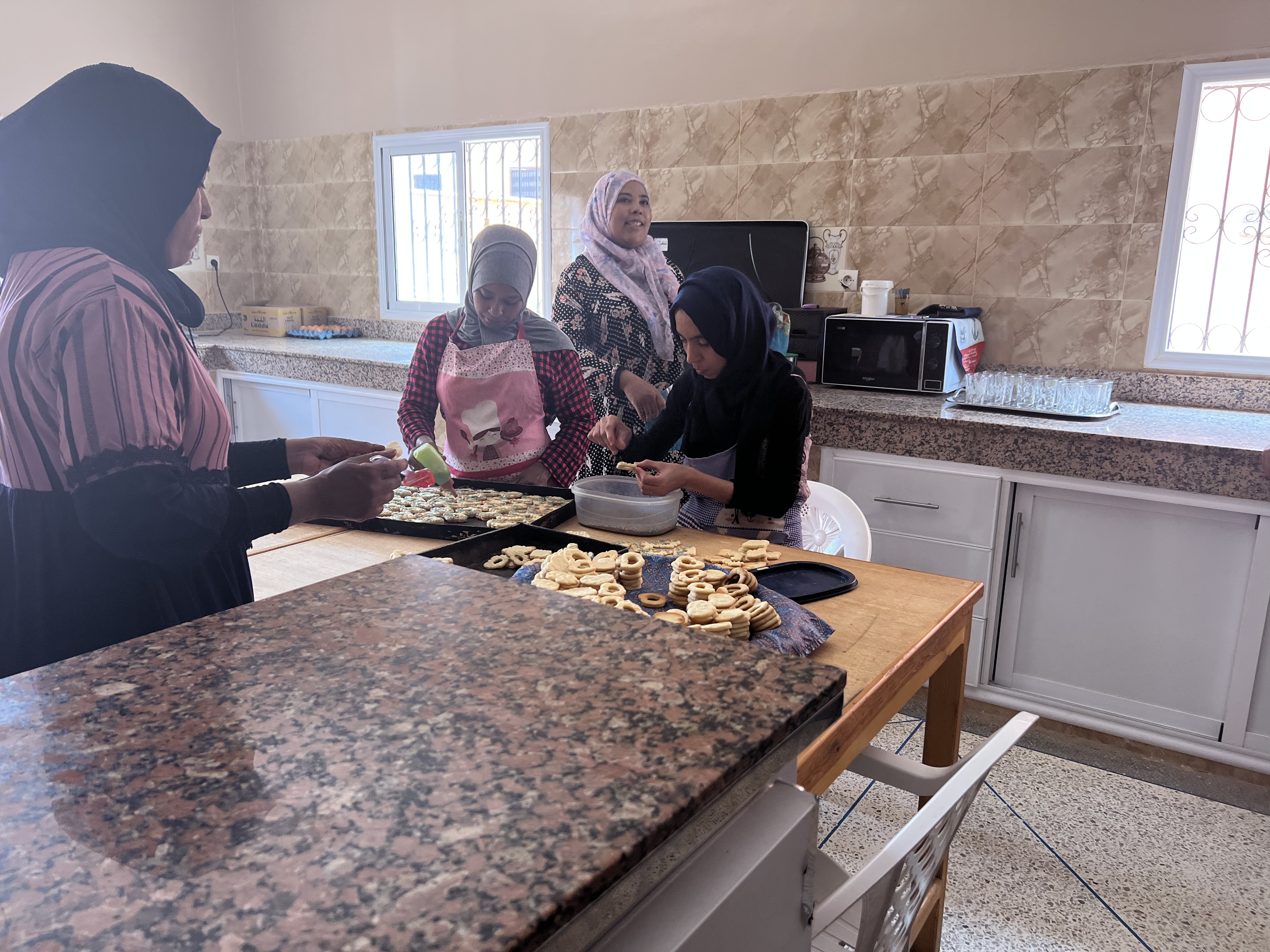 While talking with them in their kitchen, a group of men walked by. Abdou said he had never seen men in the building. We met them and learned they were the group that had worked to construct the building and support the program. I was so moved to meet men in this traditional male-dominated area that were supporting the growth and independence of these women.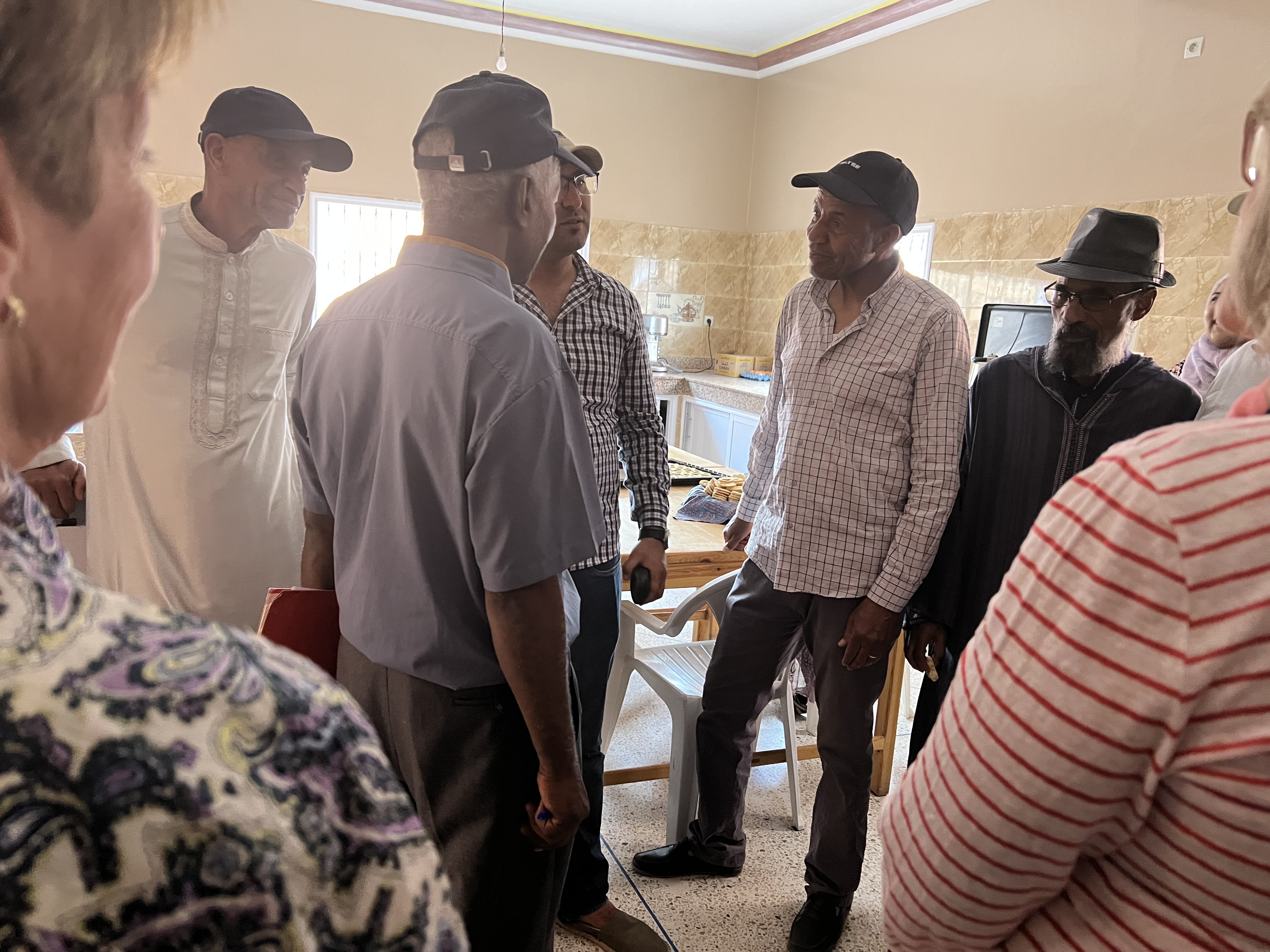 These women are successfully overcoming some pretty big challenges. Their new facility has a classroom, sewing room and nursery so women can bring their babies with them.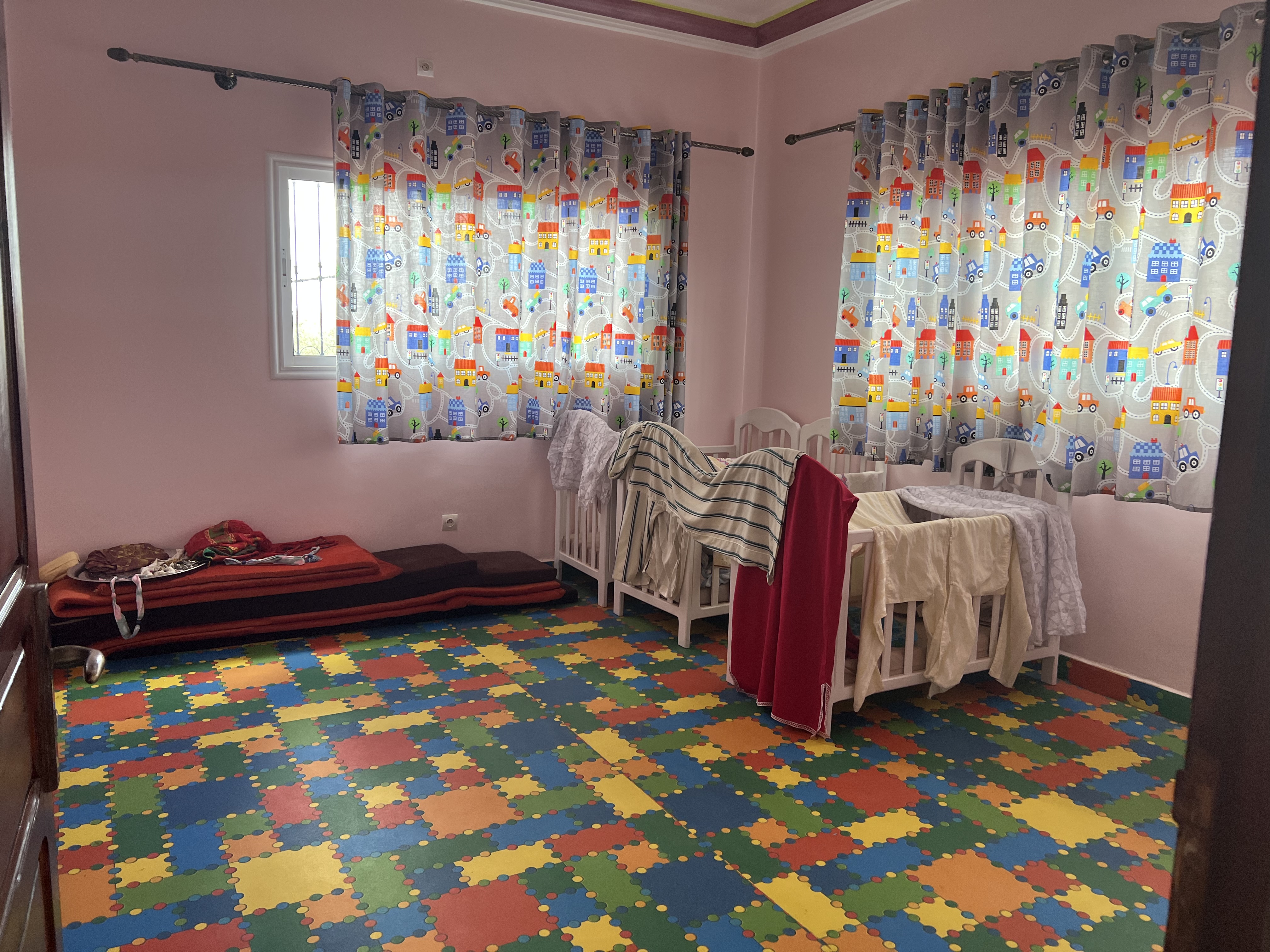 Over tea and some of their amazing pastries, we talked about their lives, goals and how the program has changed them.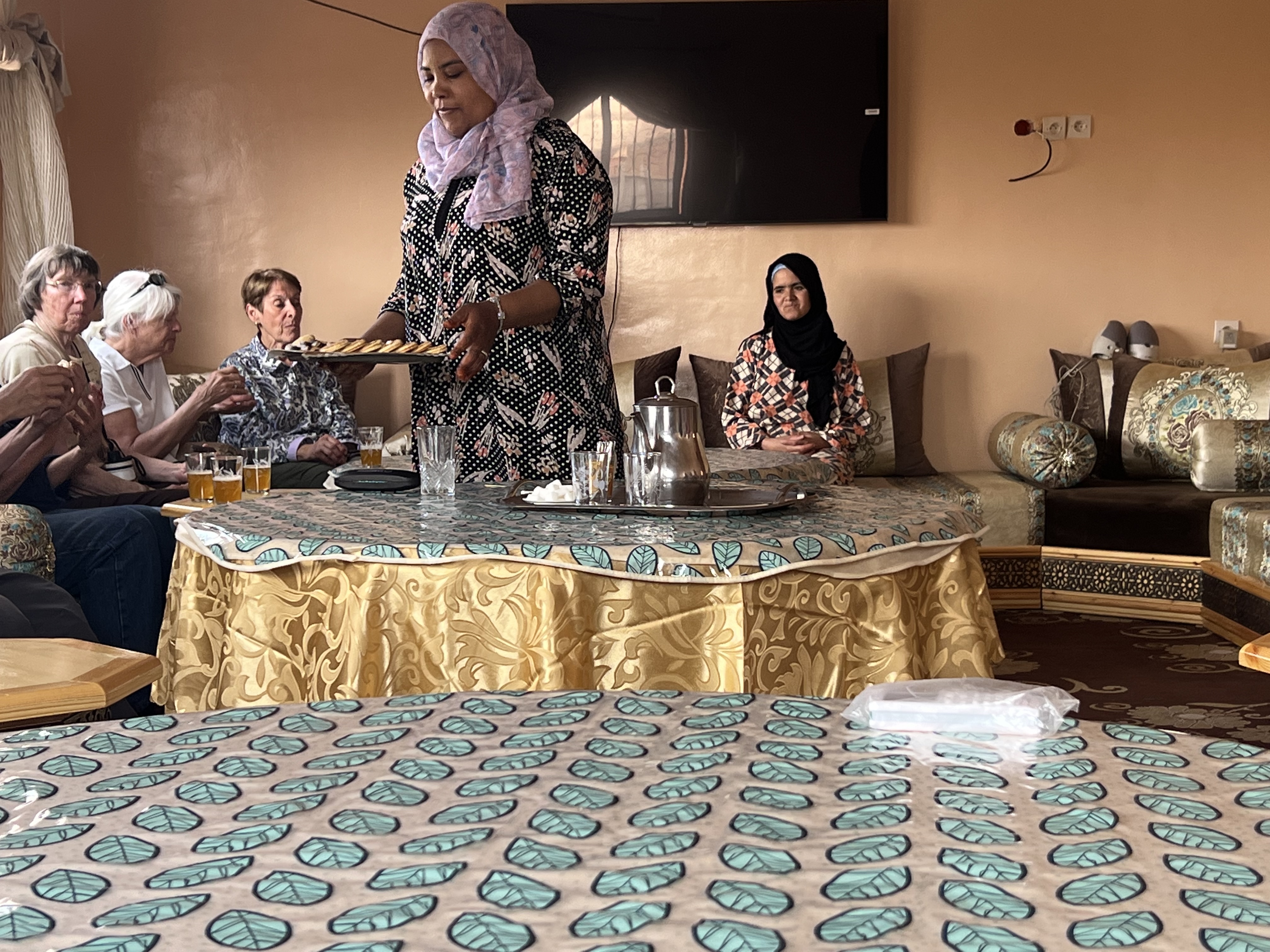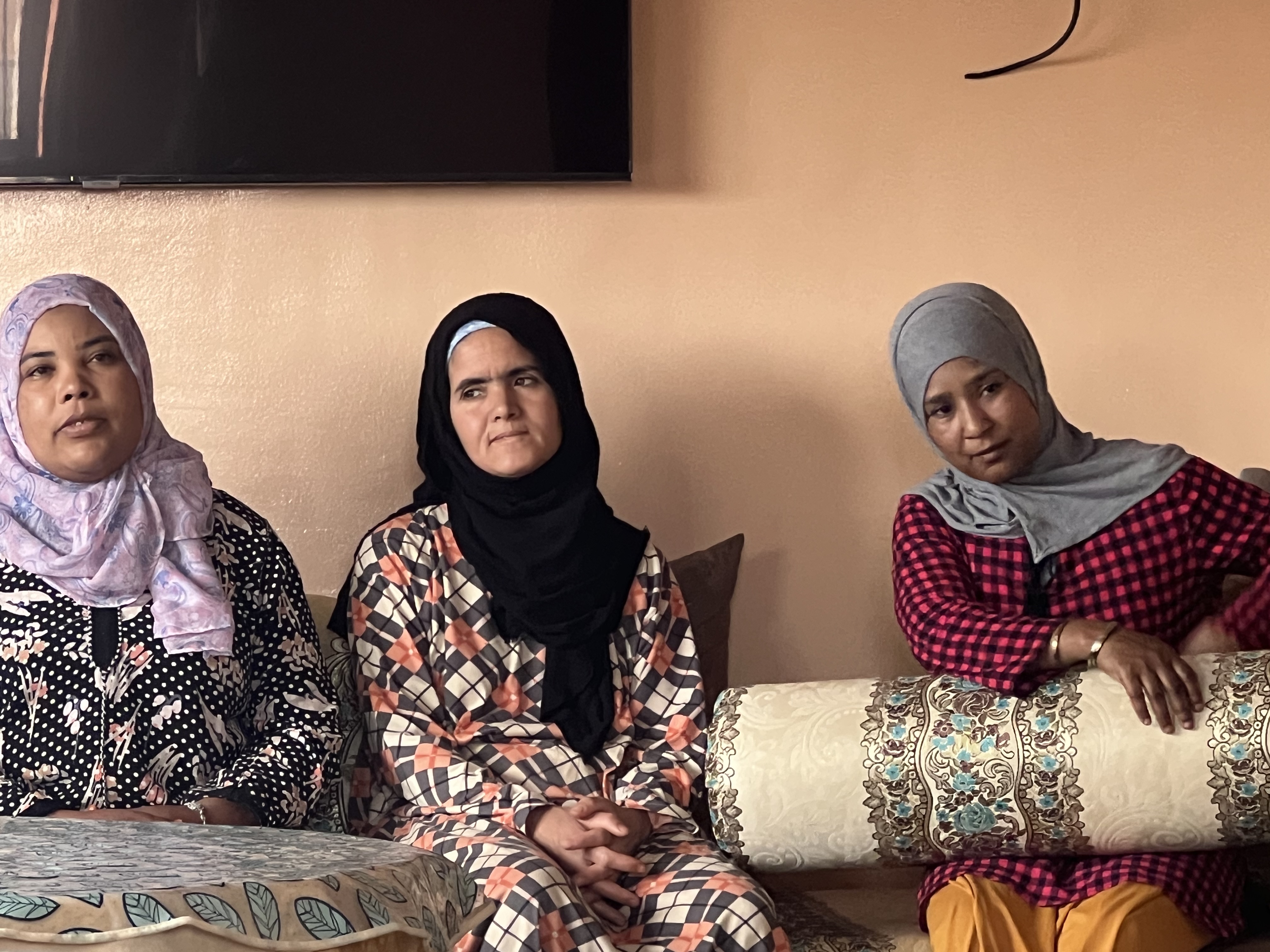 Before we left one of the women gave us henna tattoos.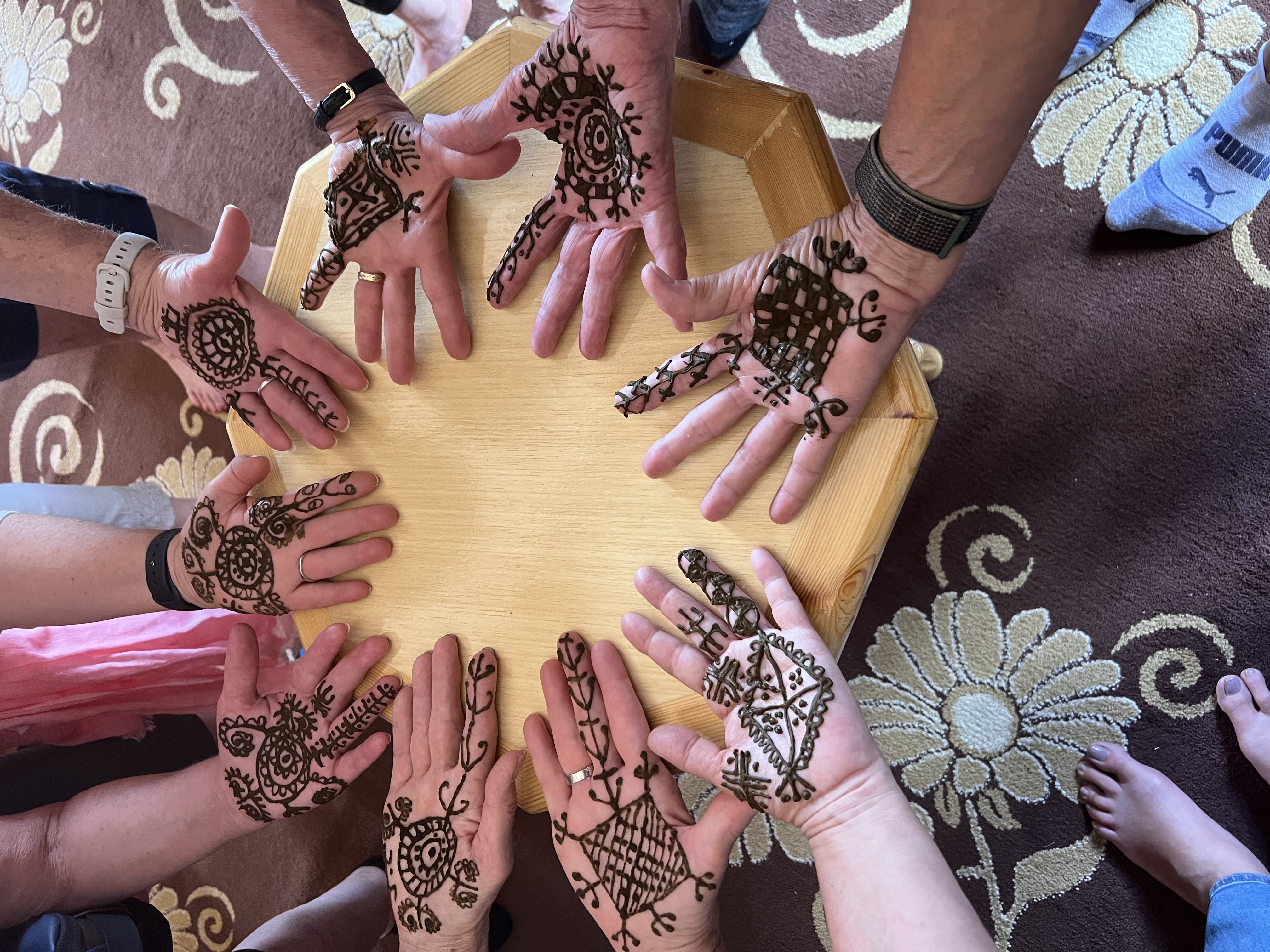 I left this amazing women's program feeling so inspired and hopeful for their futures. In spite of tremendous social pressure and cultural expectations, they are building a better future for themselves. I was also surprised and quite moved by the men we met who were supporting them.