My two days in the Sahara Desert showed me how magical it is-the light, the colors, the vistas. It is more spectacular than I ever imagined.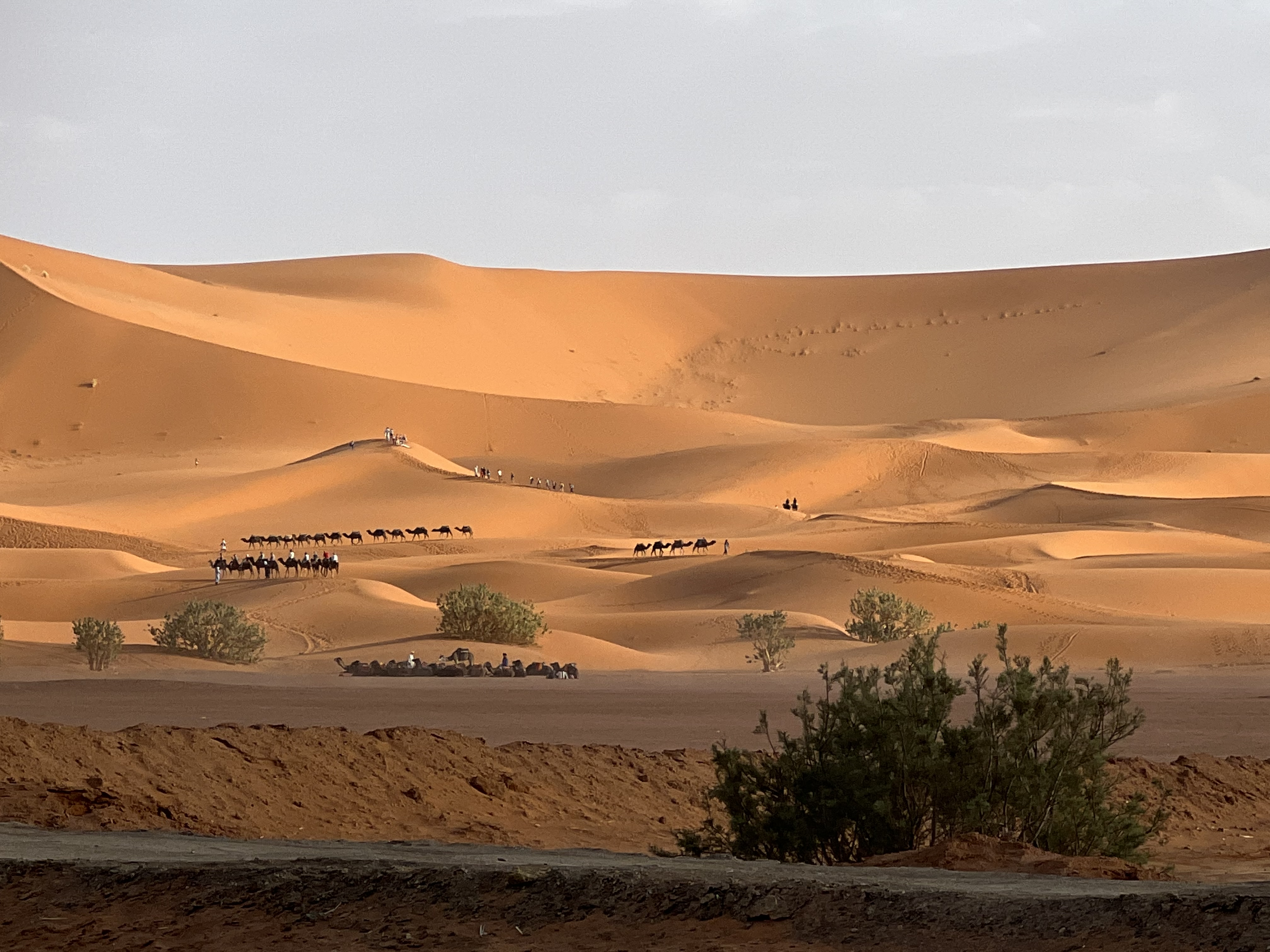 When we left our oasis hotel to board 4x4s and begin our journey to a tented camp in the Sahara Desert, little did I know what an amazing experience it would be.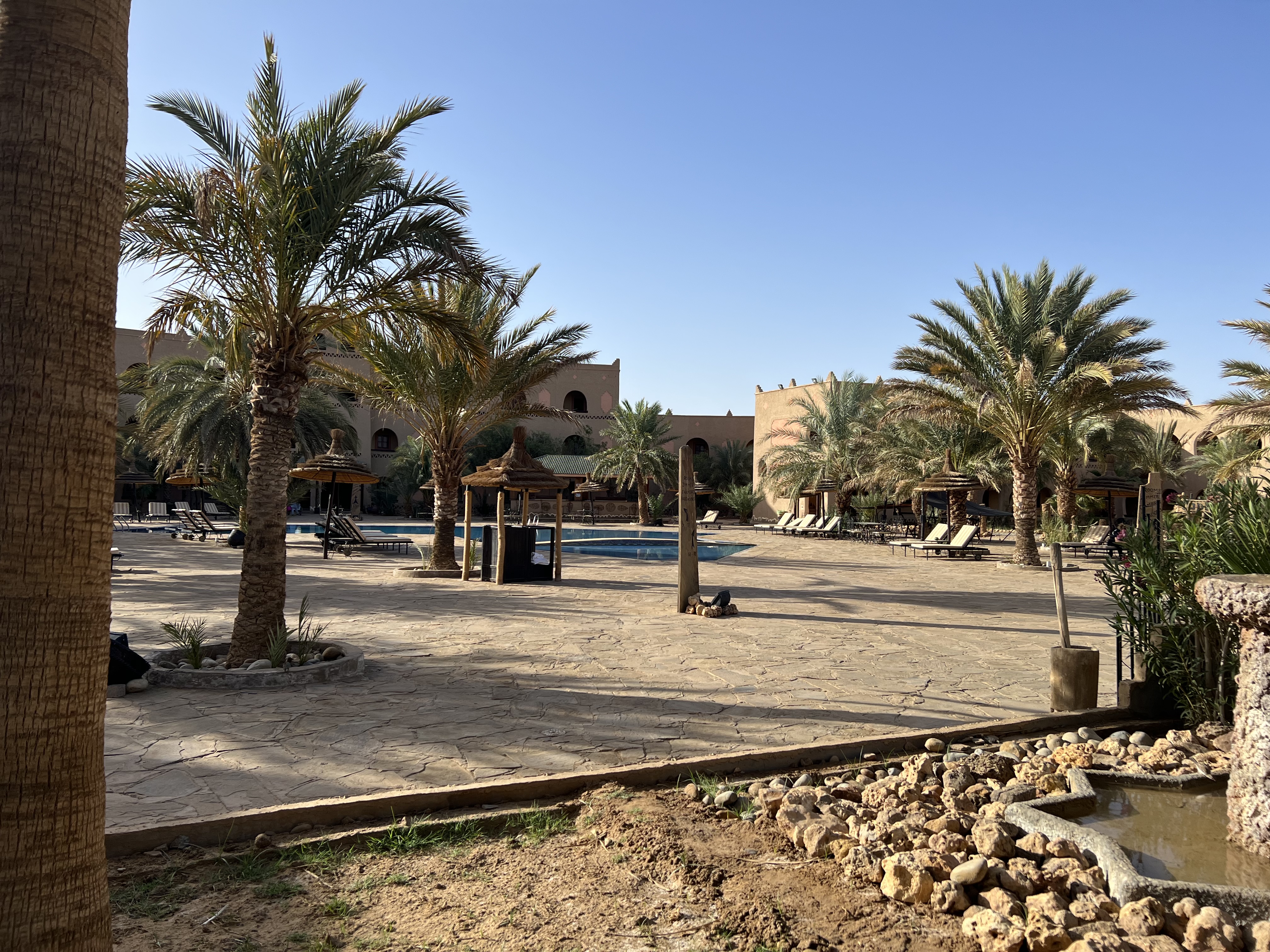 Yusef, our 4×4 driver, spoke French in addition to Arabic ,so Jeanne and I had a great time practicing our French with him. Between the two of us we were able to communicate with him fairly well.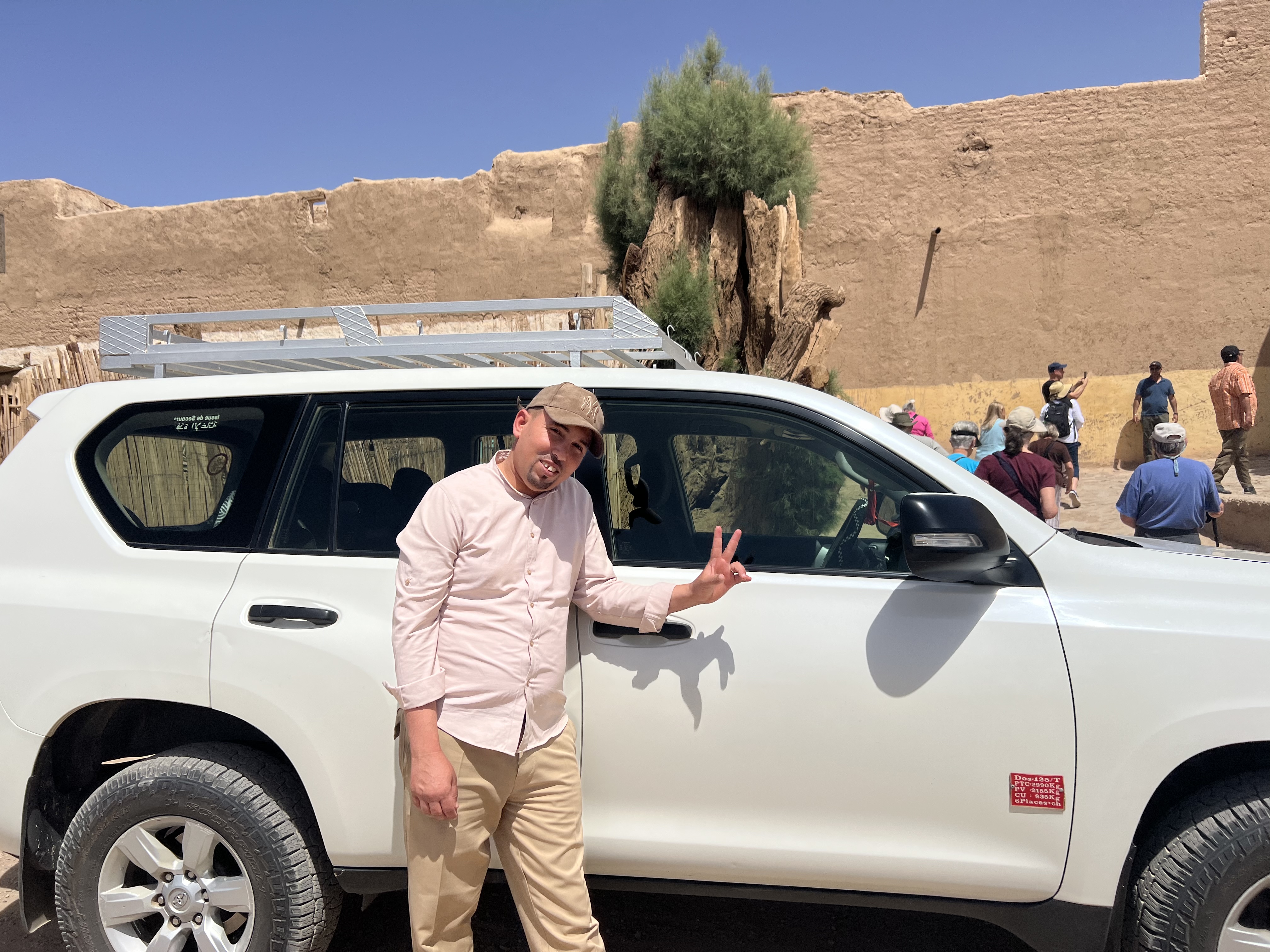 Fossils
Our first adventure on the road to the Sahara taught us about fossils in the area. Erfoud where we had spent the night is home to many fossils. We stopped at a fossil business to learn more about them.
Rafa, whose father discovered the fossils and founded the business in 1979, showed us fossils that are 320 million years old.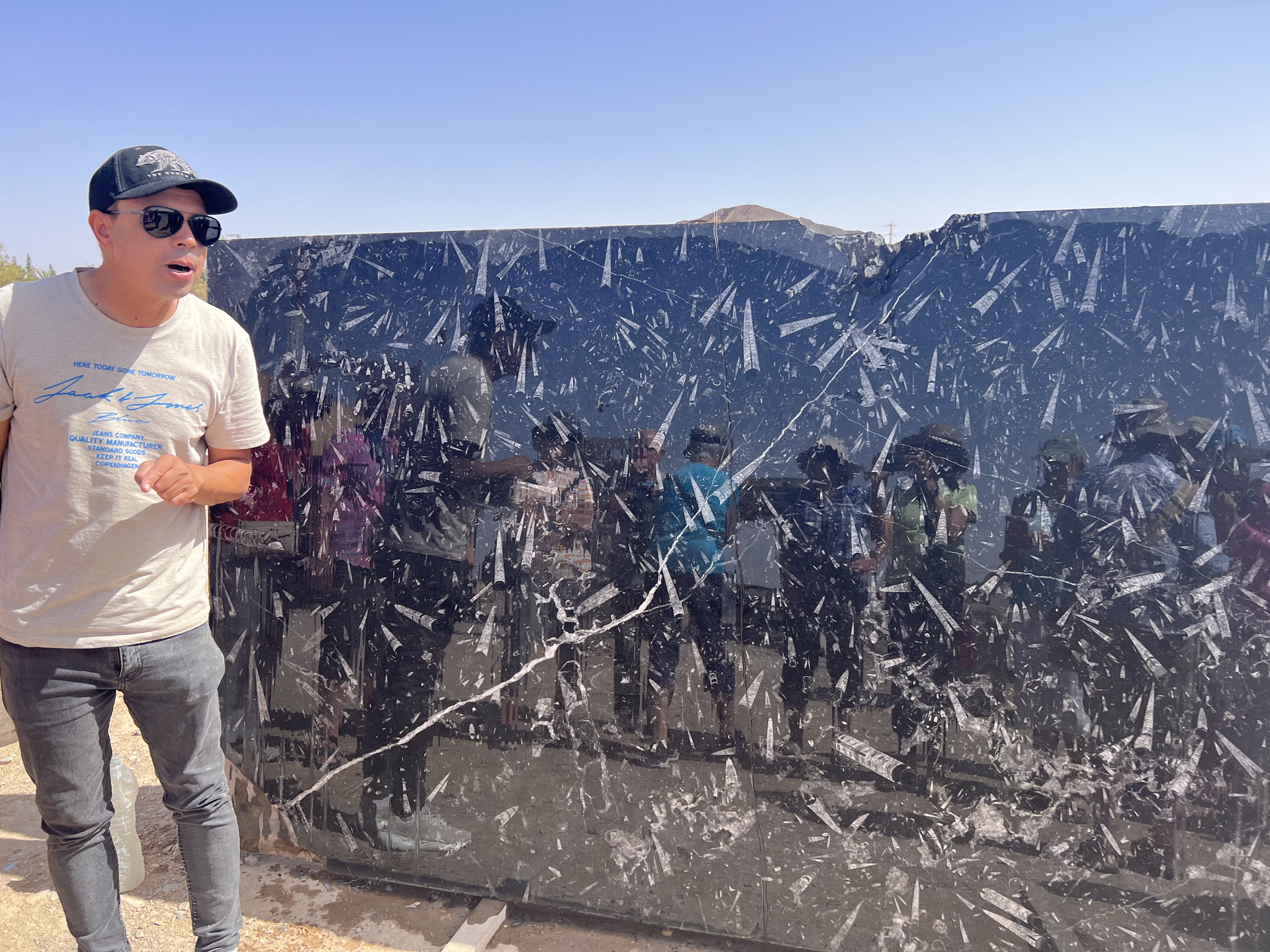 They find the fossils in rocks behind their business and the rocks into slabs. Sometimes they find amazing fossils and sometimes they find nothing. After slicing the slabs, they sand and polish them.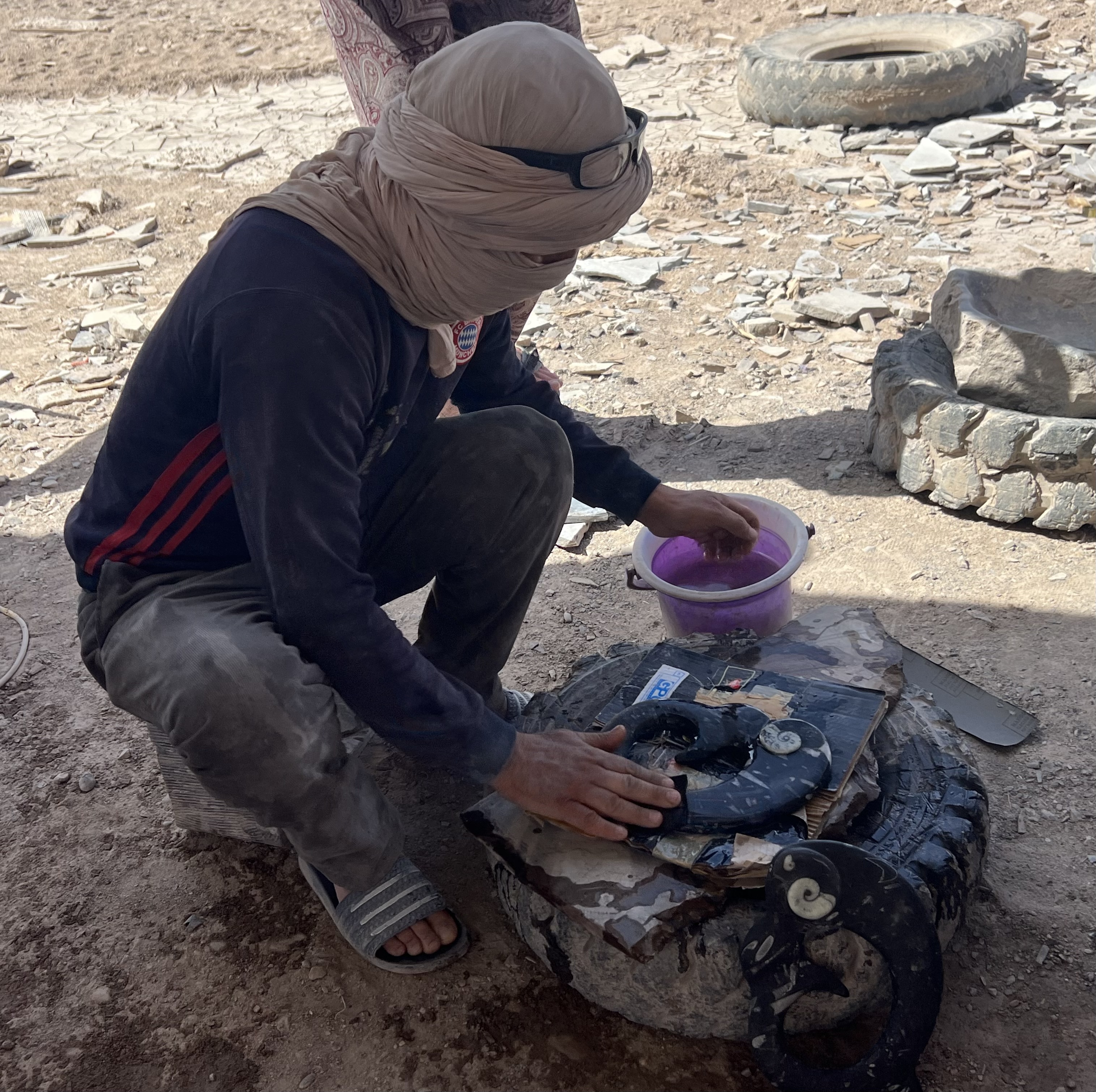 Craftsmen use the polished stone to make sinks, countertops, and tabletops, In addition to these functional items, artisans make beautiful sculptures.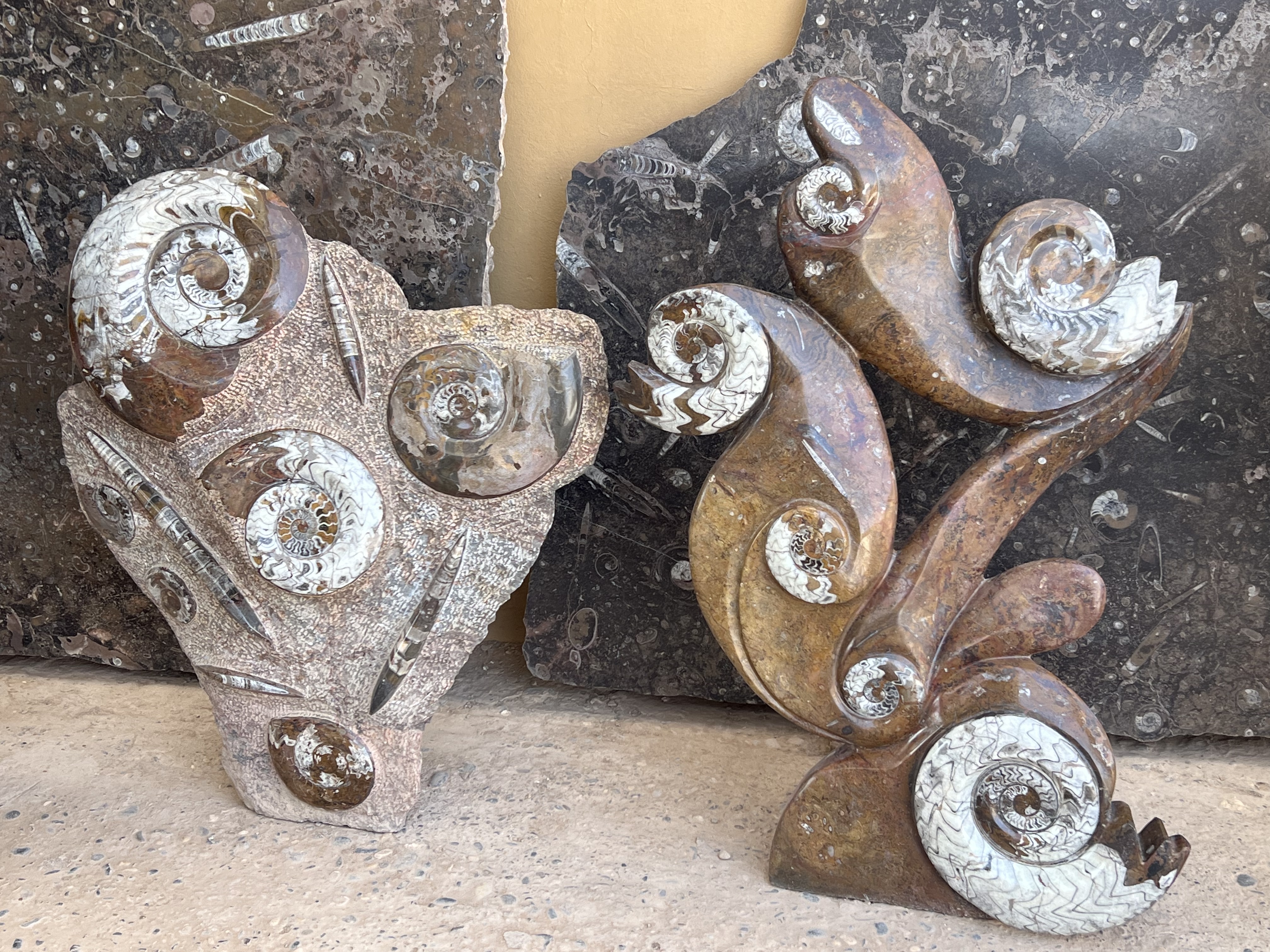 Ksar
We next stopped at a kasr, a fortified village, near the town of Rissani. Dating from the 19th century, the village was a trading stop on the route from Fes to Timbuktu.
Although much of the village is in ruins, thirty-seven families still live there. One of the gracious women who lives in an cave-like home there invited us to come in and visit.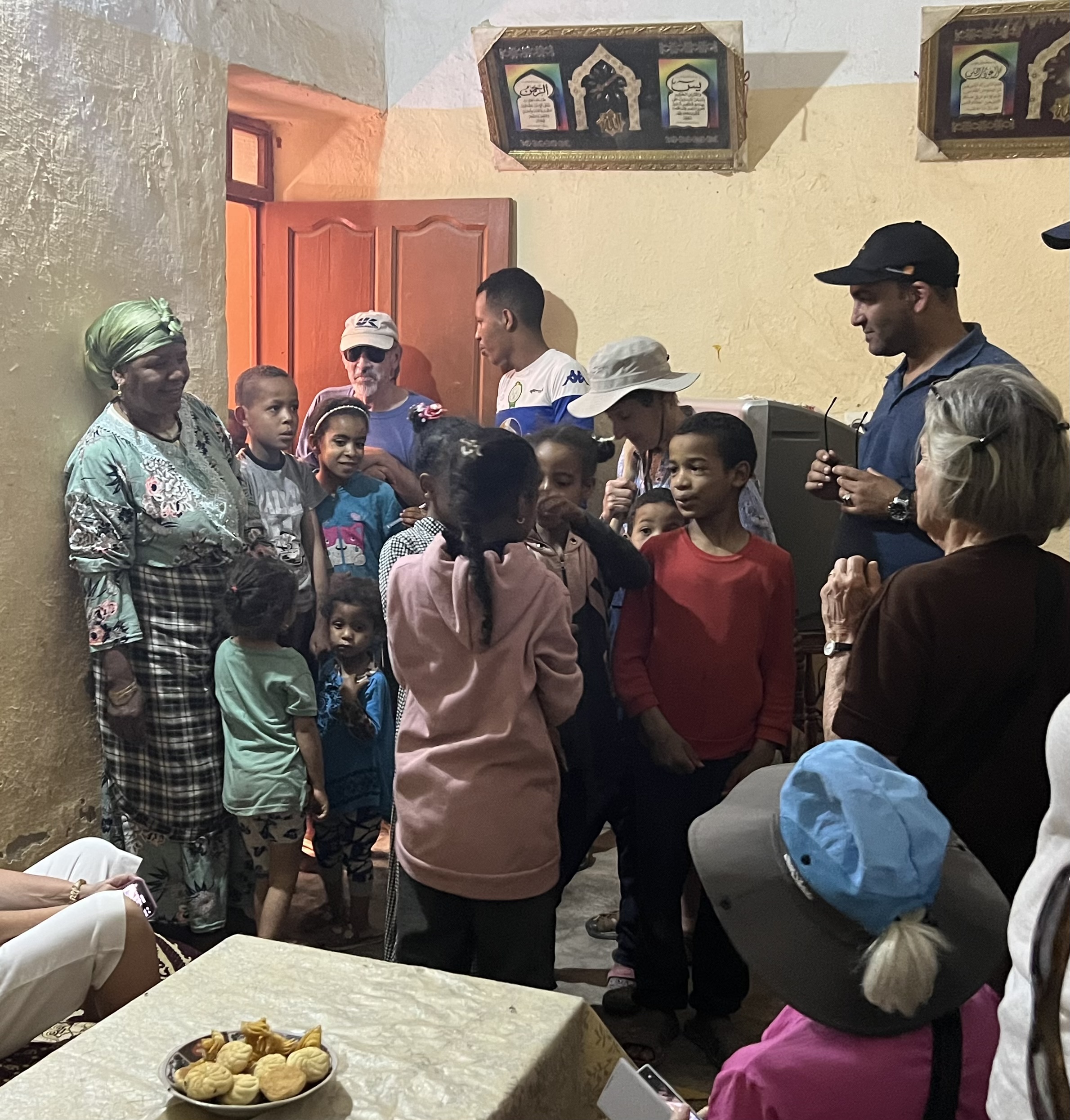 After leaving the ksar, Yusef, our driver gave us a lovely warning that we were about to get a "Berber massage." I thought, how lovely, Berber masseuses will be waiting for us at the camp if we want to get a massage. We soon learned that a "Berber massage" wasn't a spa treatment, it was the result of the jiggling the rough roads gave our backsides. Driving through the sand seemed a lot like driving through heavy snow on a frozen lake.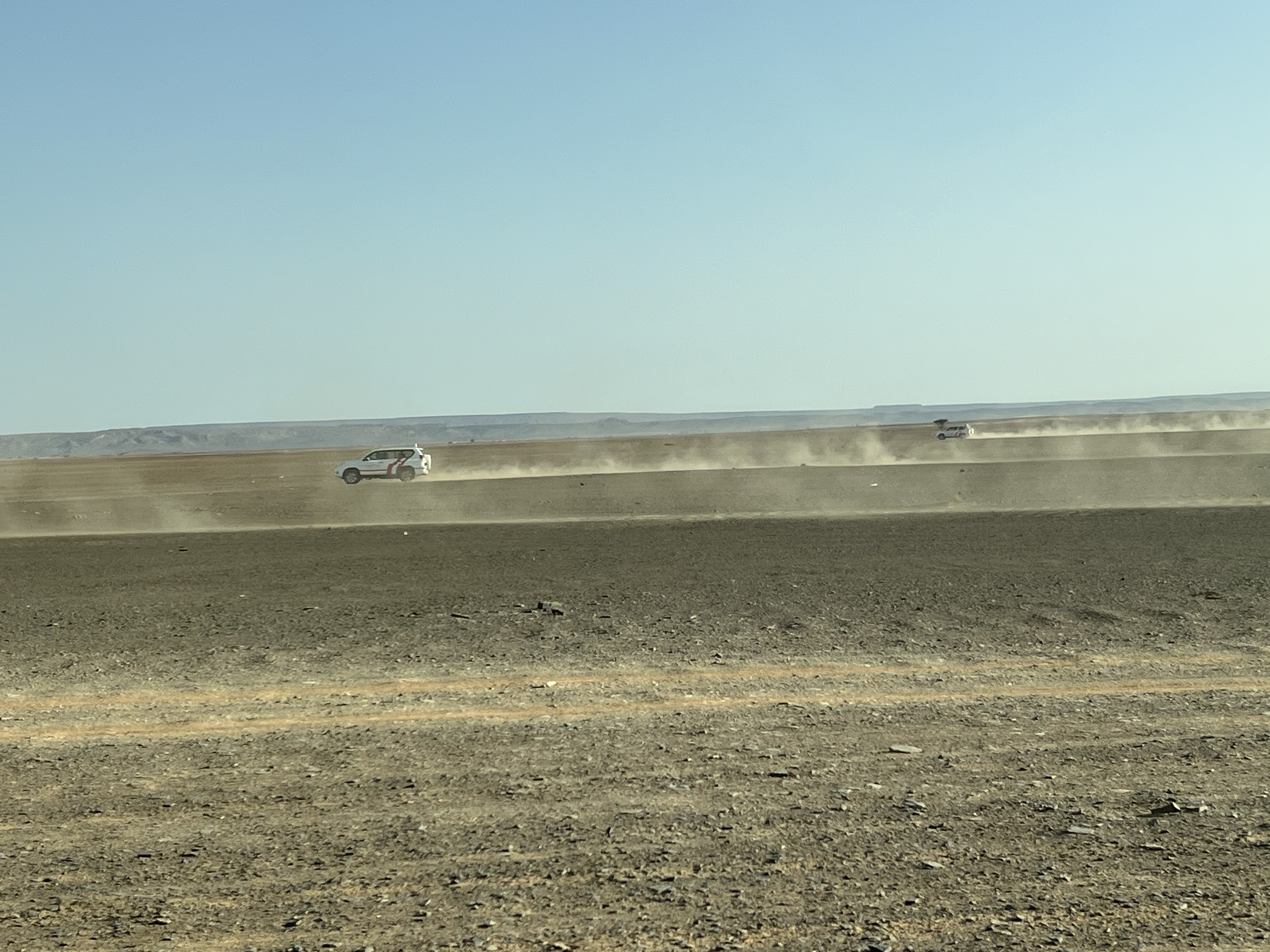 Desert Camp
We were so happy to arrive at our basic, but beautiful, solar-powered, tented camp in the Sahara Desert.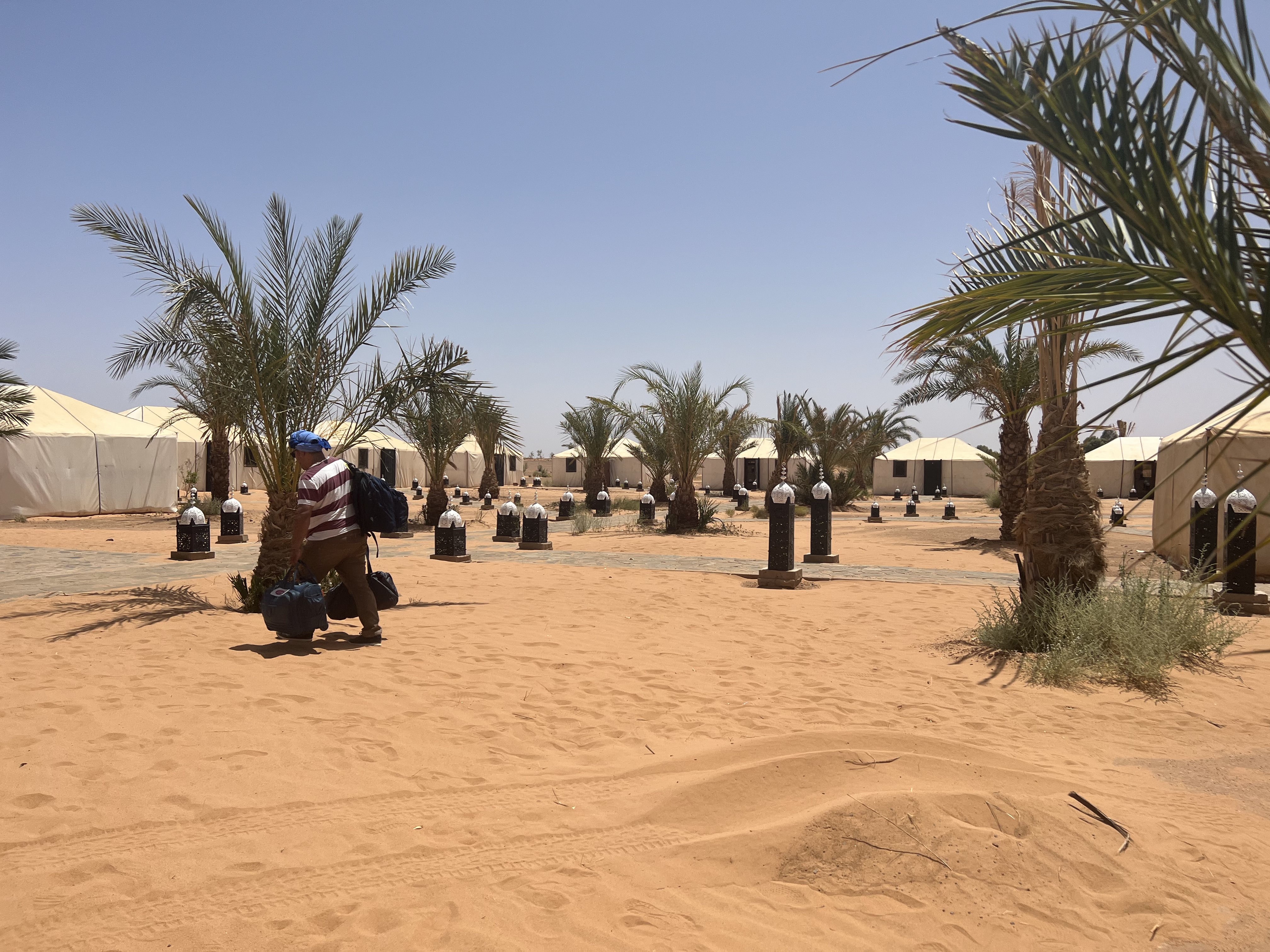 Even though the temperature reached 98 degrees, and we had no ac, glamping still may be a more appropriate description of our tent. We had running water, electricity, indoor facilities and beautiful mosquito netting.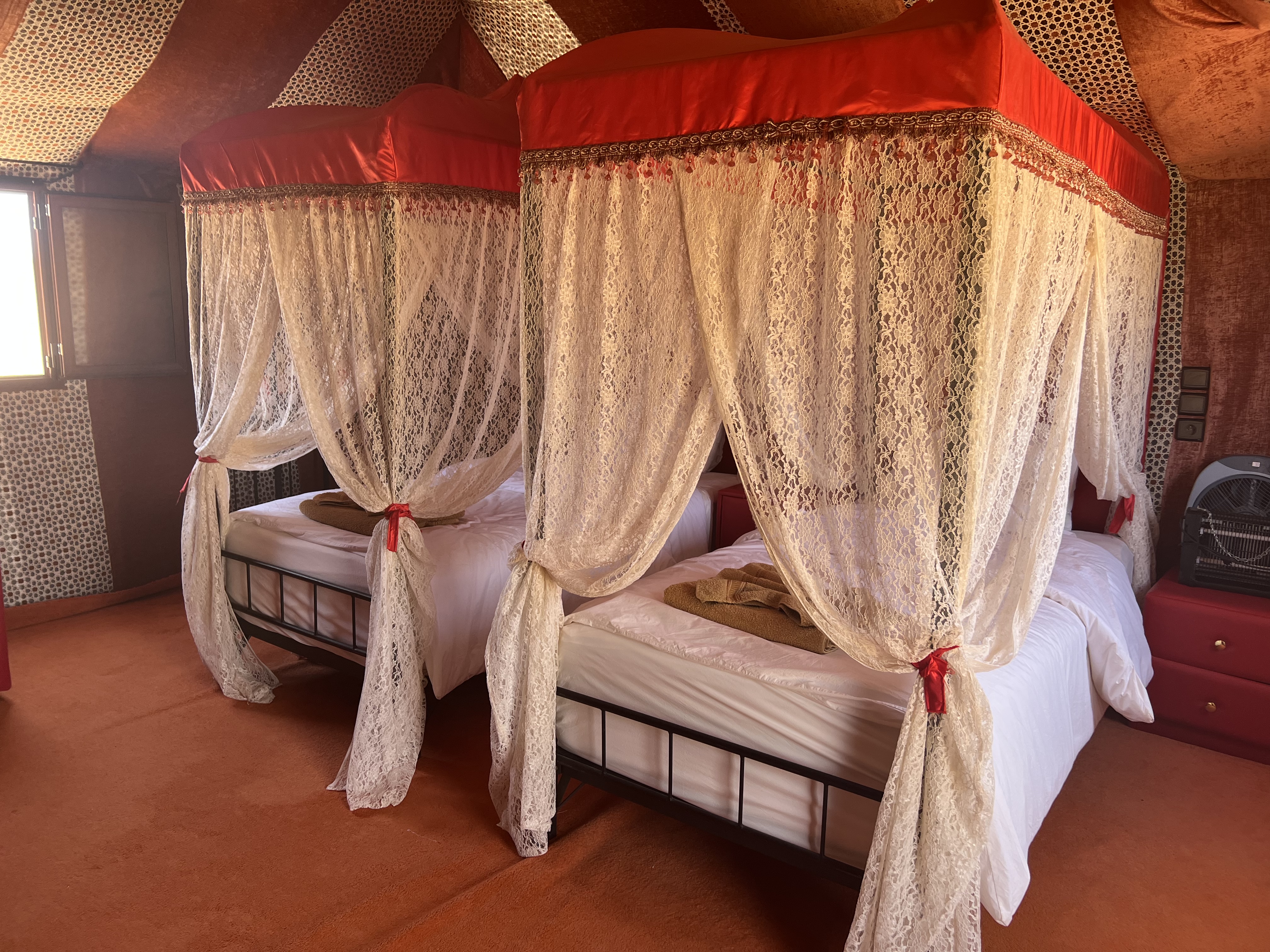 The young chef gave us a tour of the kitchen and a tagine cooking lesson. I soon learned what an amazing chef she was as she prepared one unique and tasty vegetarian dish after another for me. Just for me because I was the only vegetarian in the group.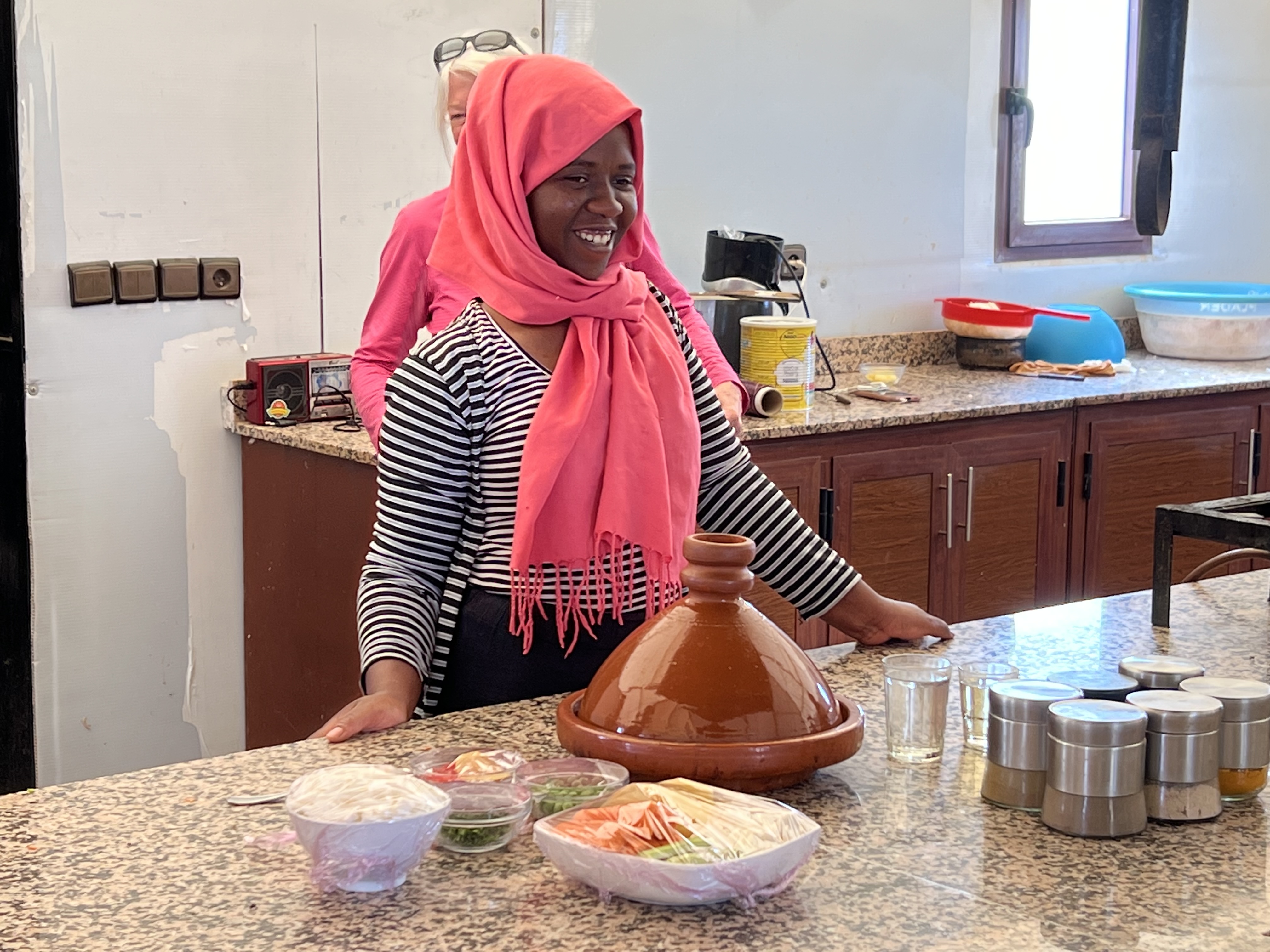 Farming in the Desert
Looking at the dry, sandy conditions in the desert, it is hard to imagine how anyone can grow anything. But we met a farmer who showed us how resilience, creativity and a green thumb can bring a thriving farm to the dry desert.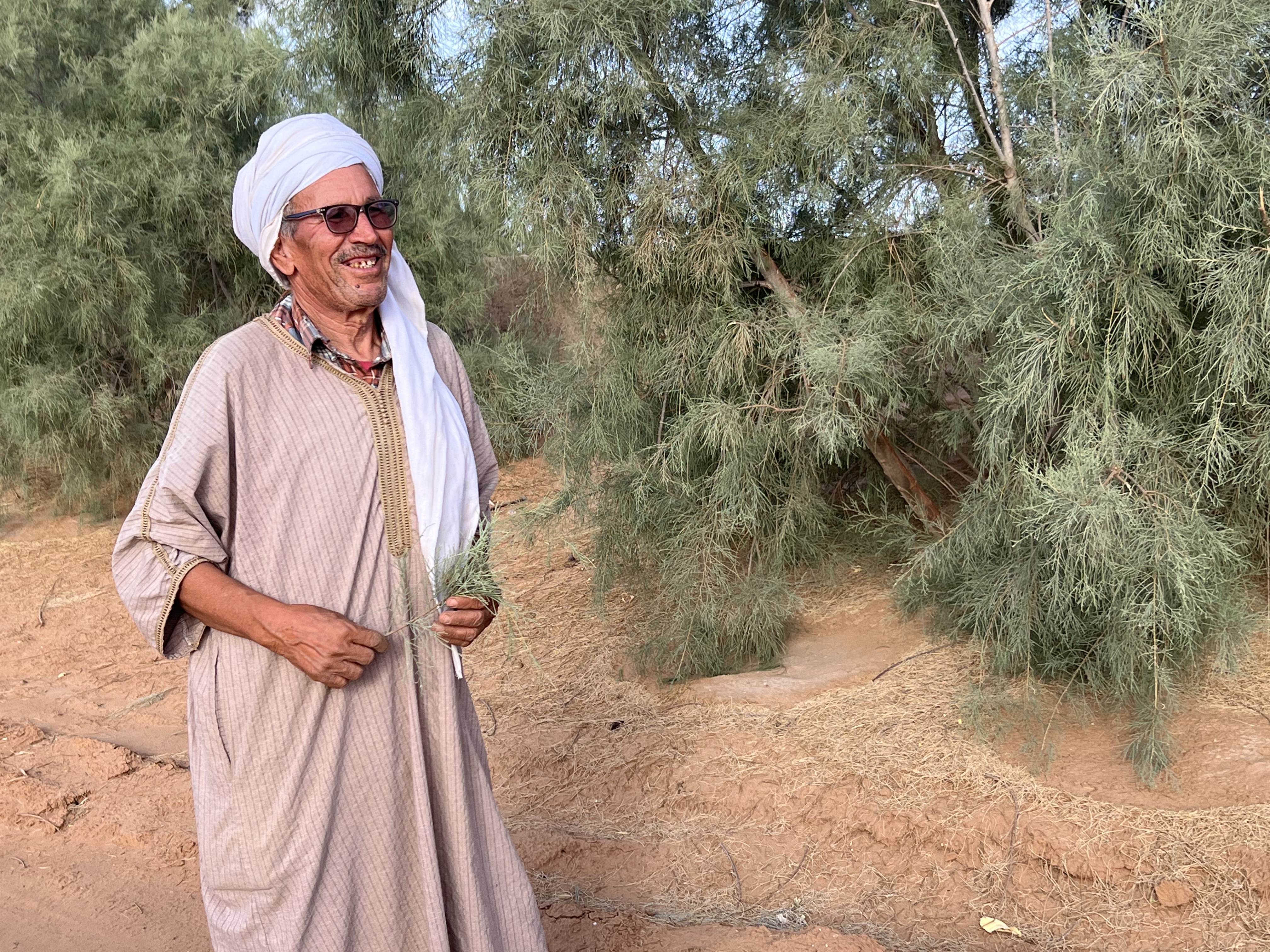 Mohammed continues the work started by his father in 1995 to turn a dry desert plot into farmland. Much like early homesteading programs in the US, in 1995 a Moroccan farmer who could produce crops in the desert could own his land after three successful years. Mohammed's father got his land this way and passed it on to his son.
Dates grown on the 150 female date trees fertilized by one male tree are his only cash crop. Everything else he grows-fruits, nuts and vegetables-are for his family. He loved showing us the various plants and asking us to guess what they were.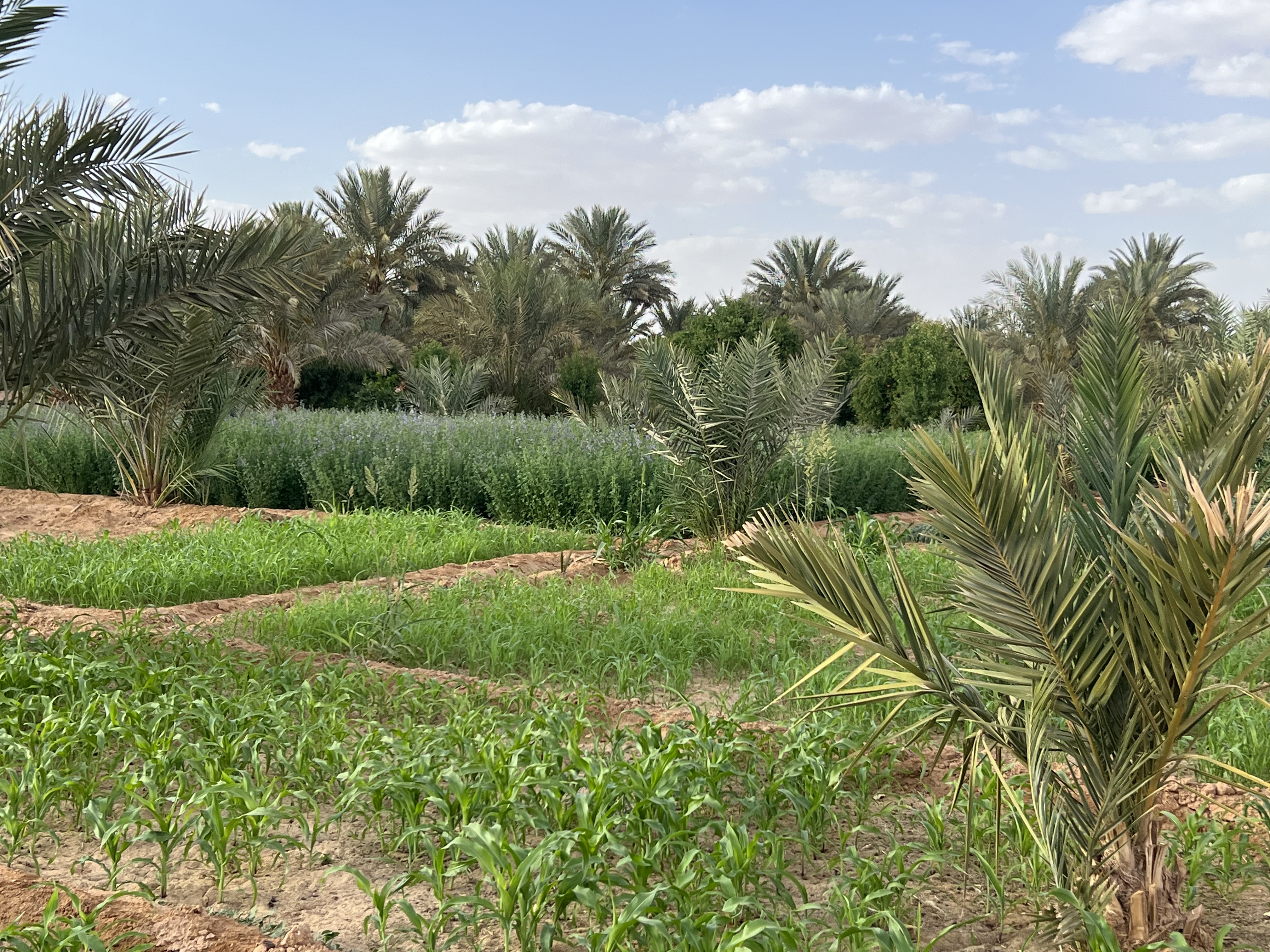 Mohammed showed us the area where his father used a divining rod to find water and dig a well in the early days of starting his farm. Now he has two wells and uses gravity to run water in the trenches he has built all over his farm.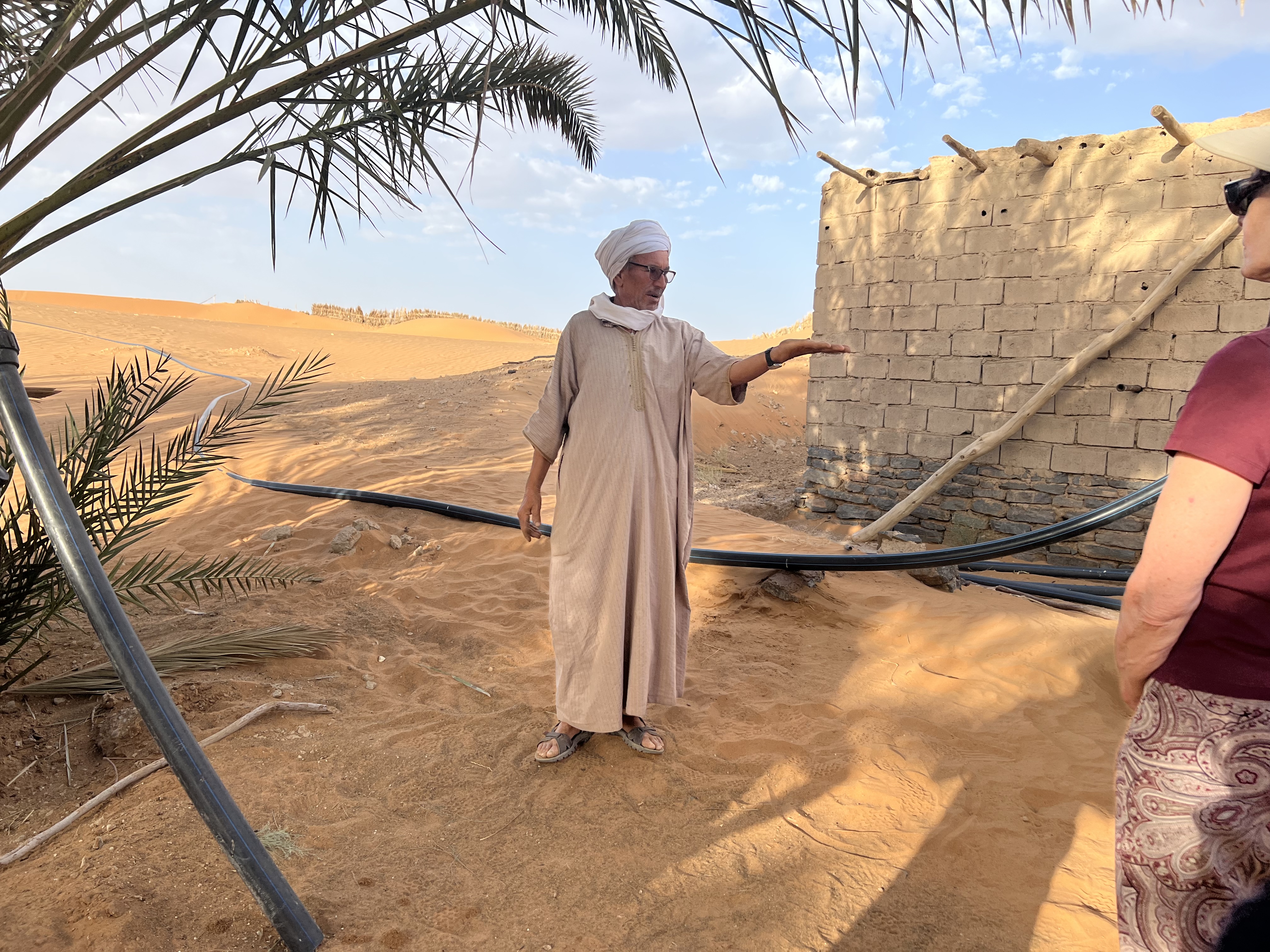 When we asked how one male tree can pollinate 150 female trees, Sixty-seven year-old Mohammed said, "I'll show you." In about five seconds he was at the top of a very big date tree showing us how he ties seeds from the male tree to each female tree.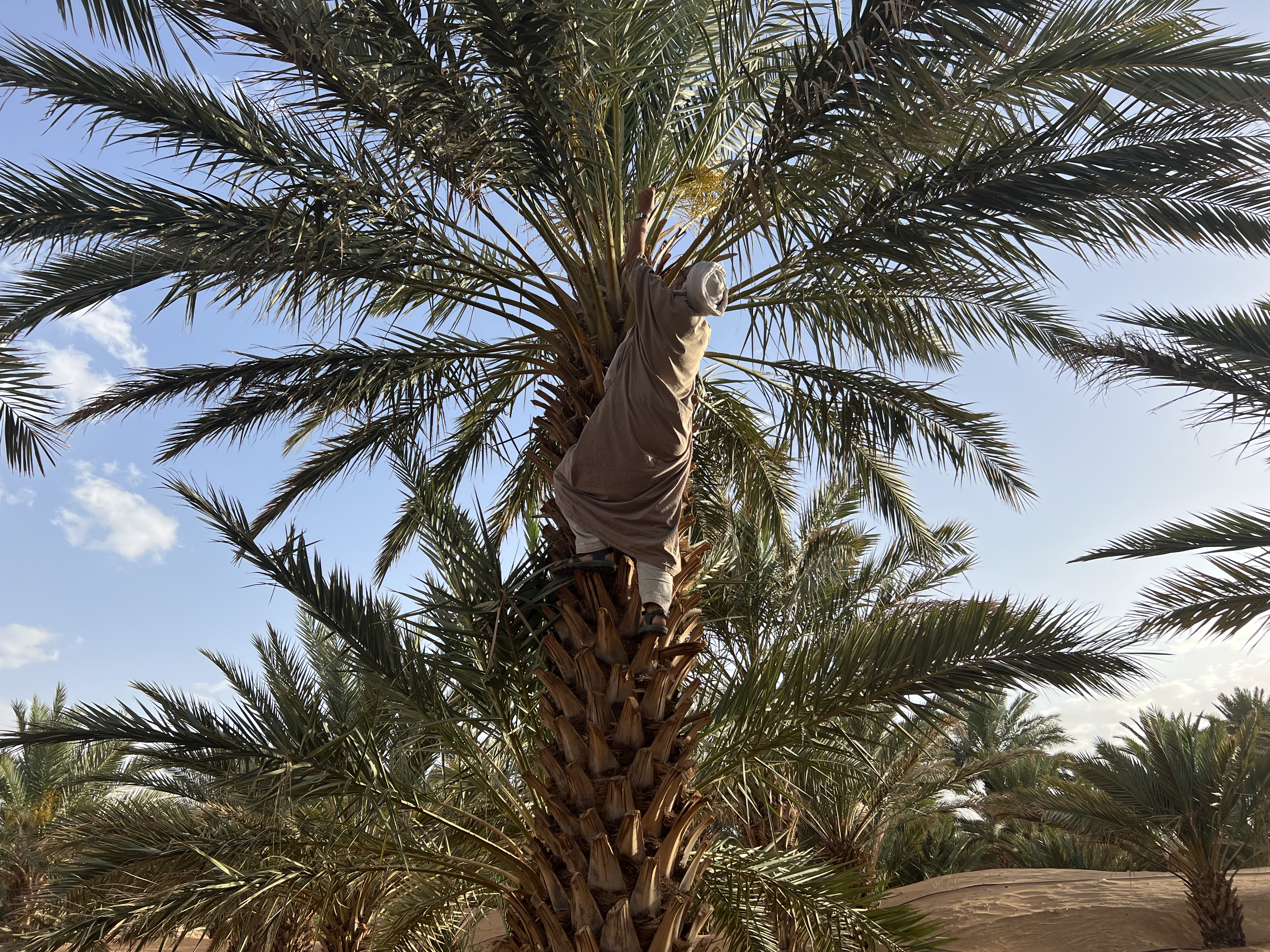 When asked about how he deals with birds who eat his fruit, he replied that his crops will not be good if he doesn't share with the birds. It is part of the circle of life.
Sunset and Sunrise on the Desert
On our first day in the Sahara, we saw the beautiful golden red sand dunes in the distance and hoped we we would get a chance to get closer. On our second day, we did. We drove to the base of one of the dunes and climbed to the top to watch the beautiful sunset.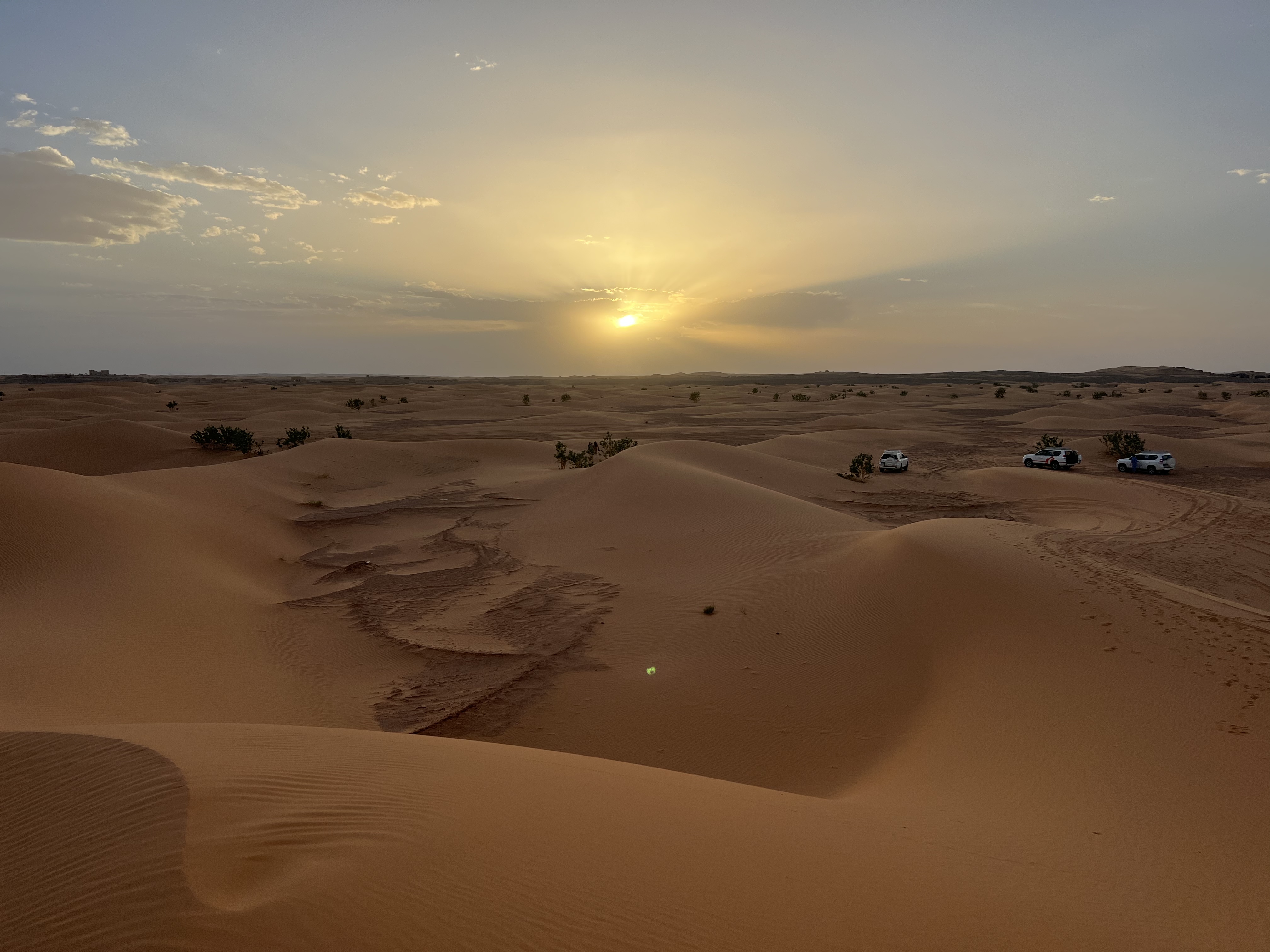 Jeanne and I had the best intentions of getting up to watch the desert sunrise on the first morning we were there but didn't quite get up early enough to join the sunrise watching group. But lucky for us, we had a room with an east-facing window and were able to watch the beautiful sunrise from our tent.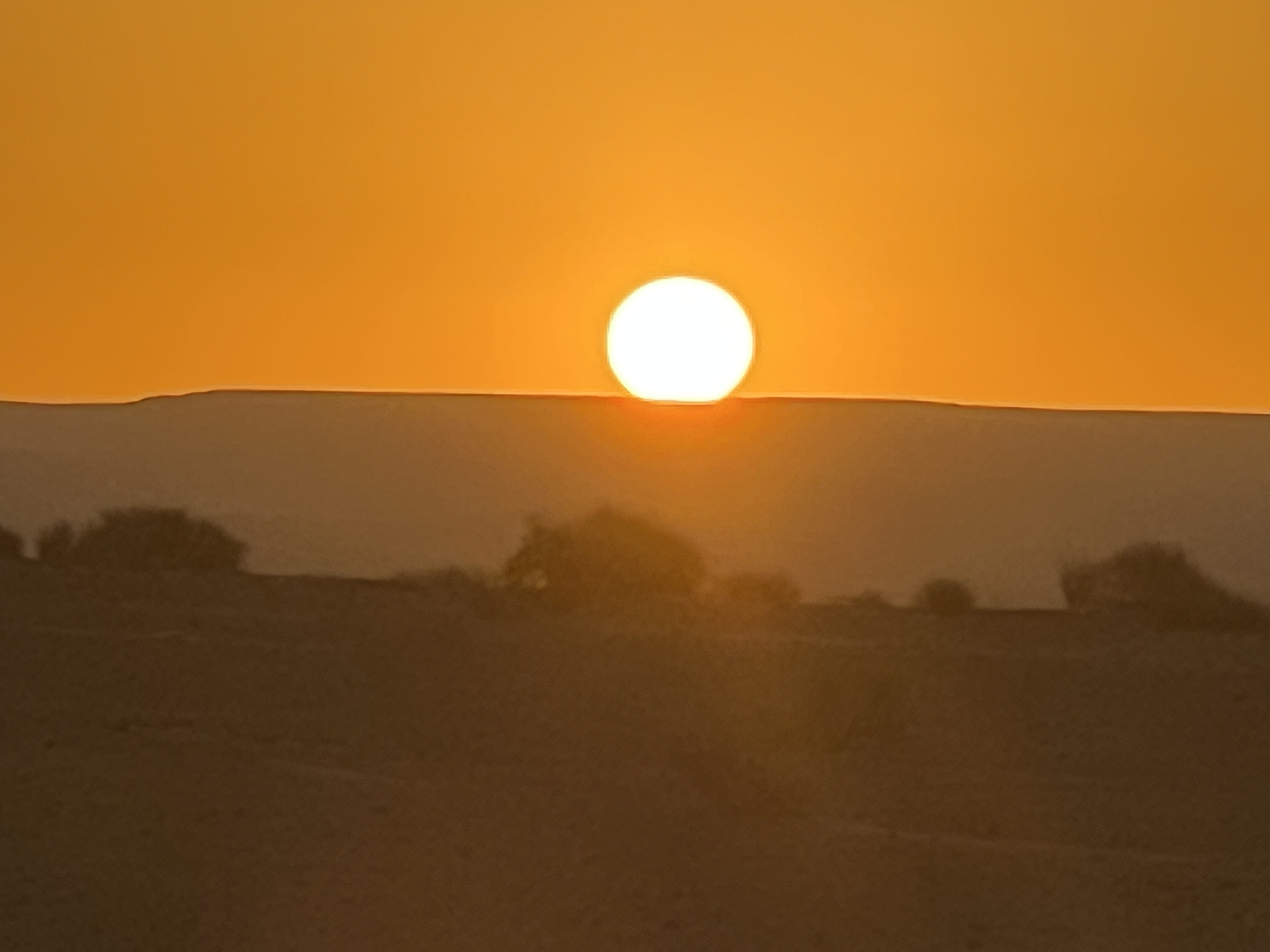 Another Camel Riding Adventure
After camel riding in Egypt, we really didn't think we needed to ride another camel, but I am so glad we did. The camels were clean, the desert beautiful and the morning delightful.
Abdou taught us how to wrap scarves around our heads and faces to protect ourselves from the wind and sand. Well, really he ended up wrapping them for us. Turban wrapping was more complicated than it looked.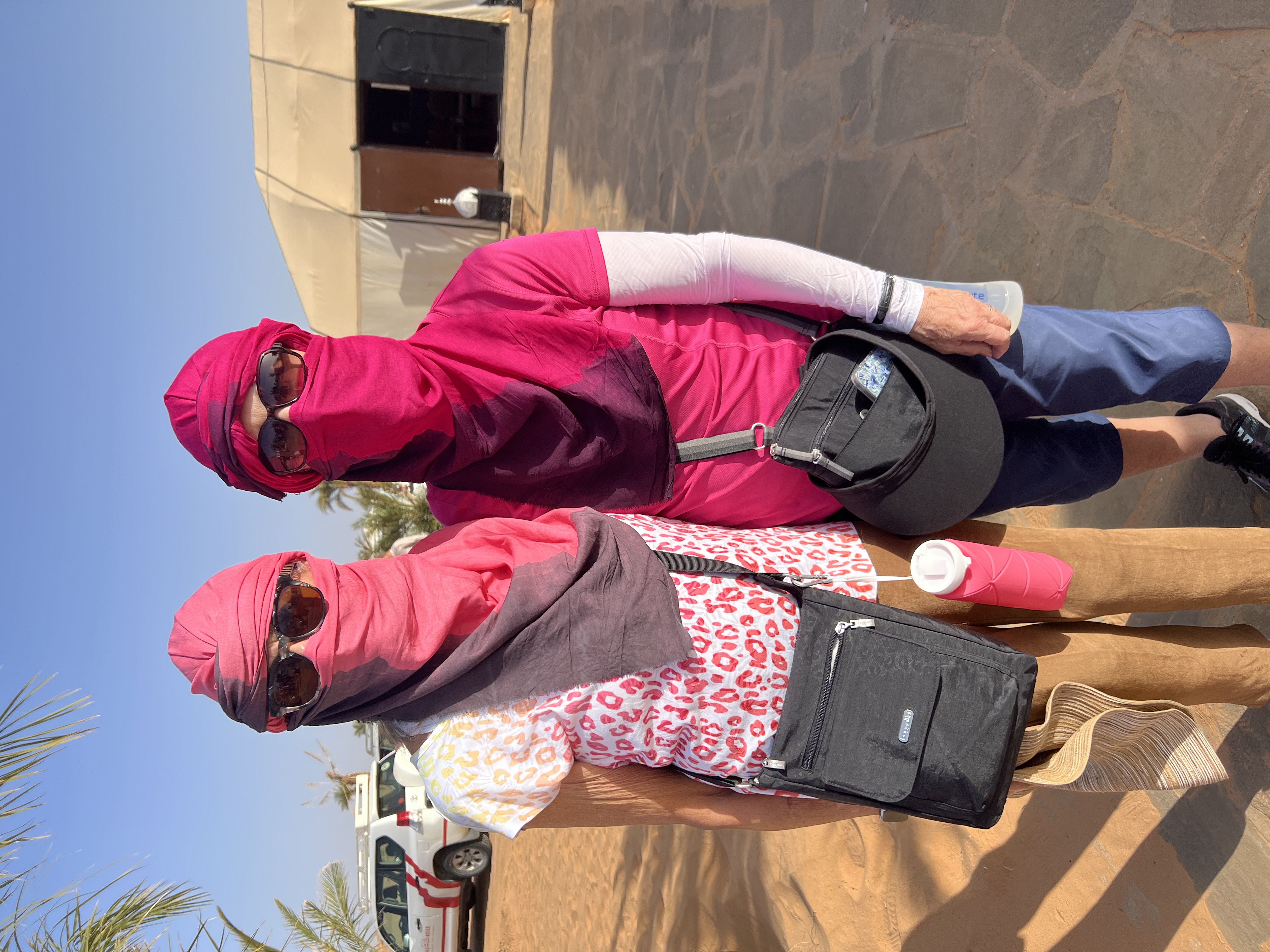 Thanks to our energetic camel drivers everyone on the ride got a video and photos of the ride on their phone.
My camel riding skills are definitely improving.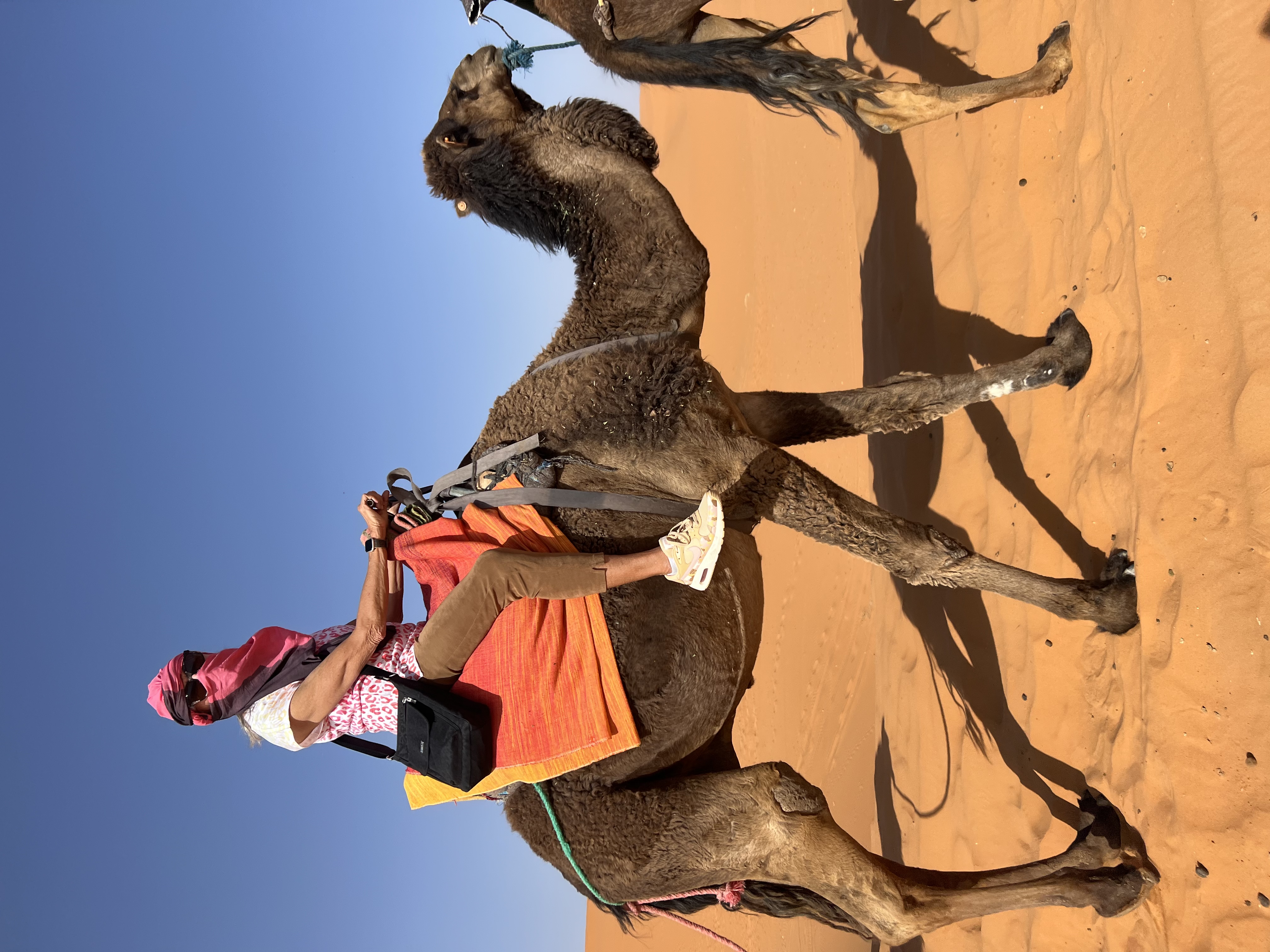 Gnaoua Music
After camel riding we went to Dar Gnaoua to learn about and enjoy gnaoua music.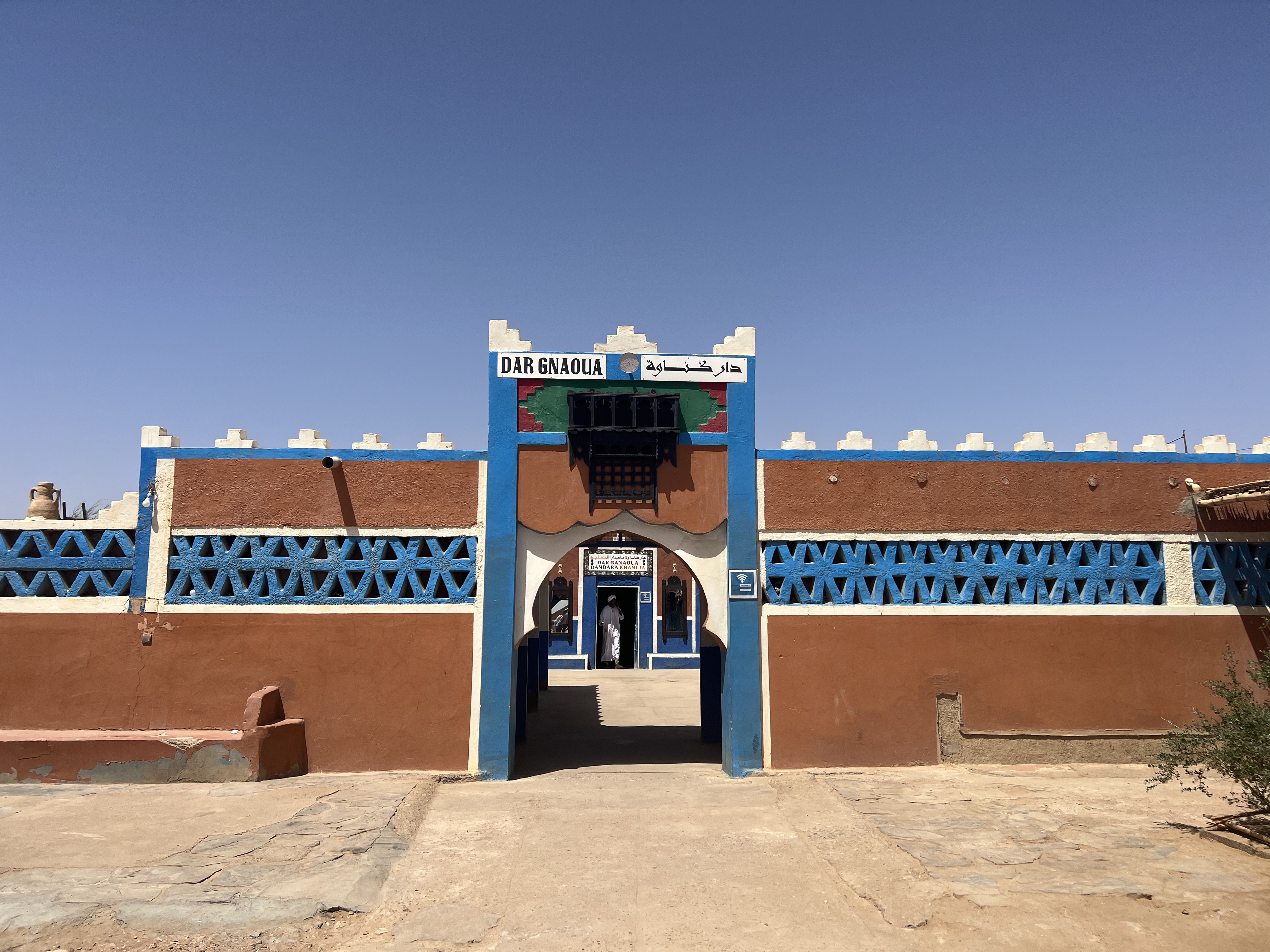 Gnaoua music originated in the Ghana empire in the 6th-12th century but has now become popular throughout Africa.
The director of the center told us about the music and played songs for us.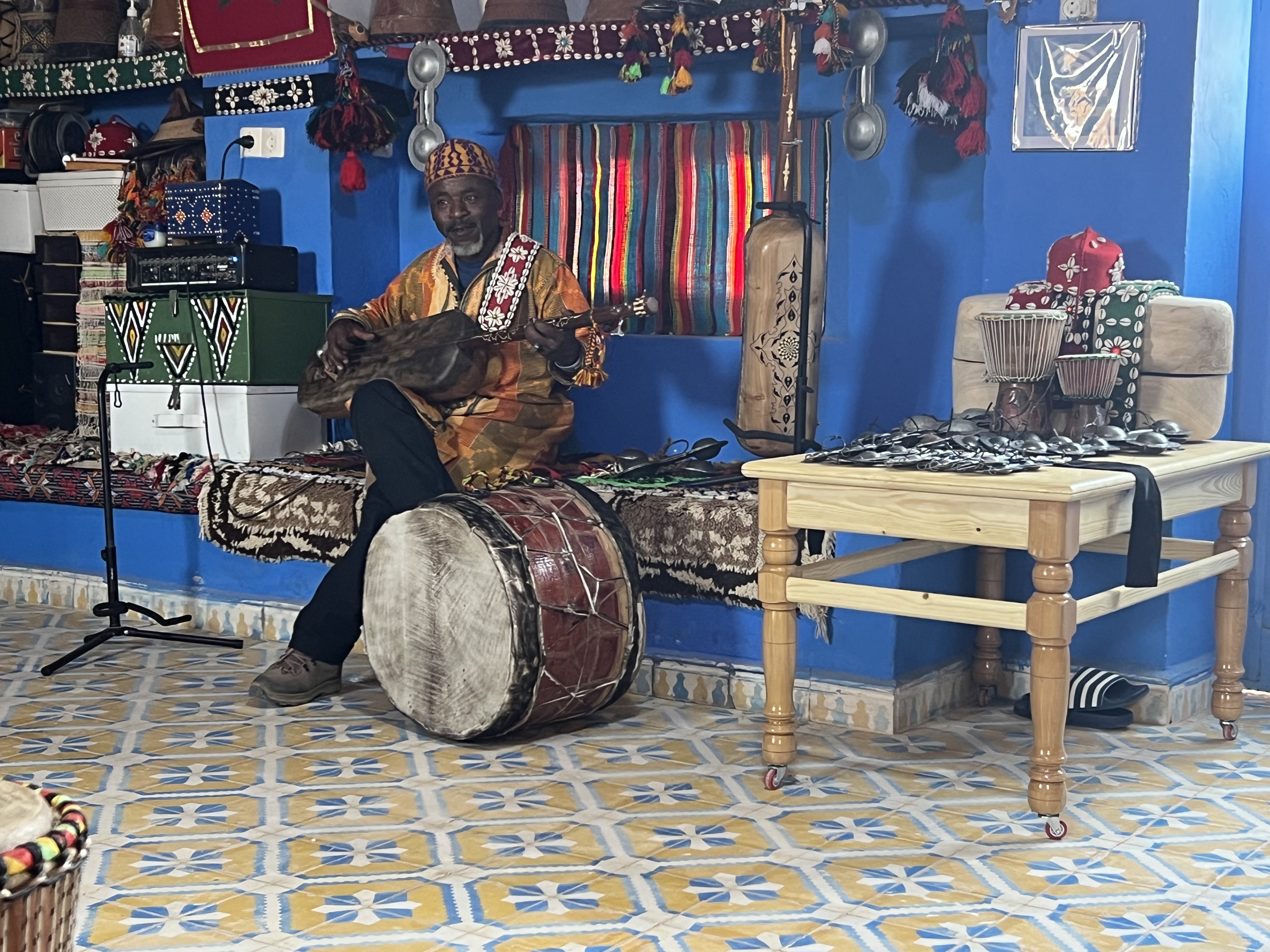 After he played some beautiful songs, he taught us some basic drumming and we got to play with him. The drumming was meditative, and I could have stayed and drummed with him all afternoon.
Nomadic Family
Meeting a nomadic family was one of the highlights of our time in the desert. Before going to their home, we went to a small market to get groceries to take to them. Abdou gave us ideas of what would be most needed.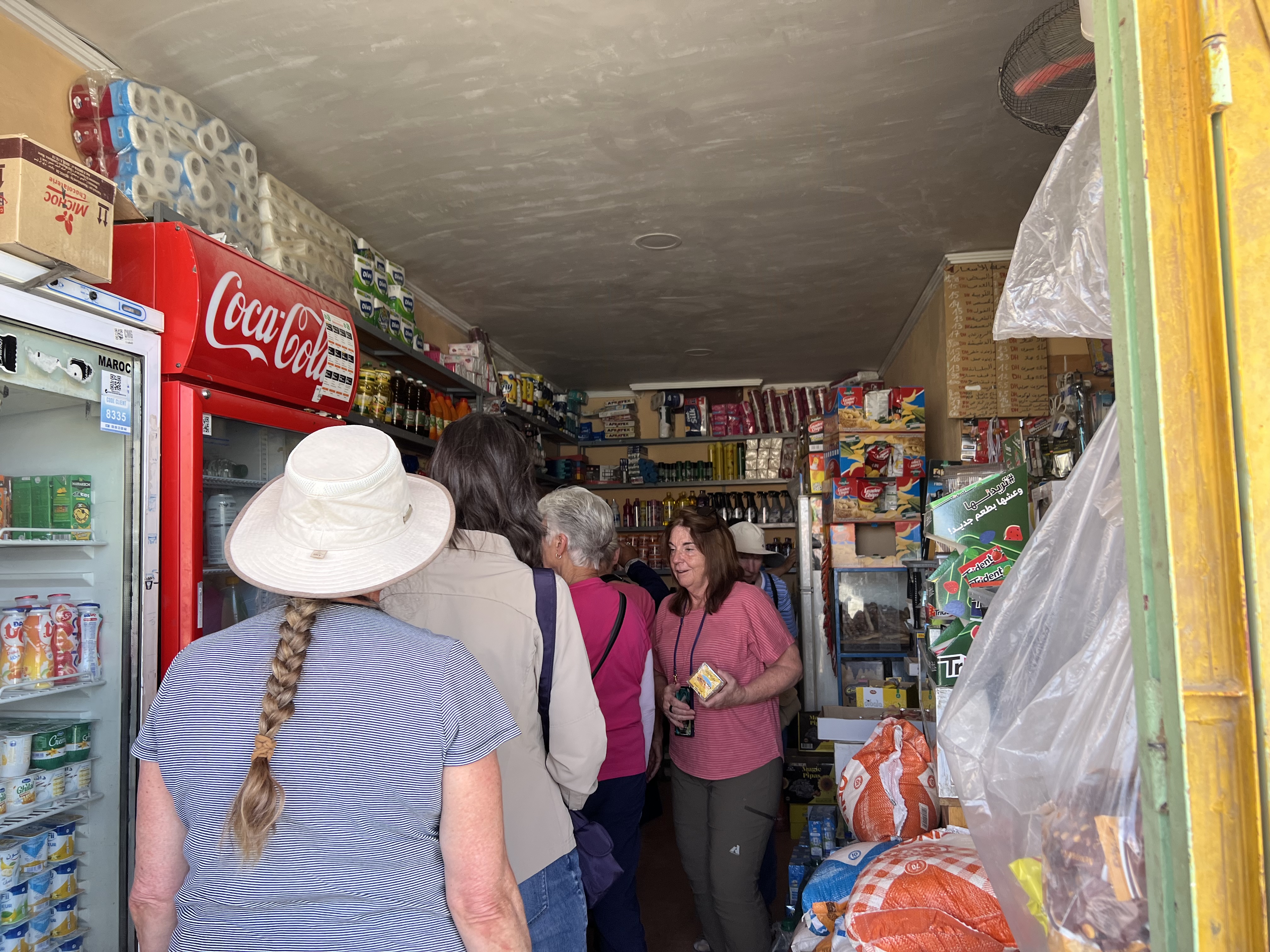 When we arrived at their home, Hassan came out of his tent to meet us. Abdou introduced himself and asked if he and his wife would talk with us.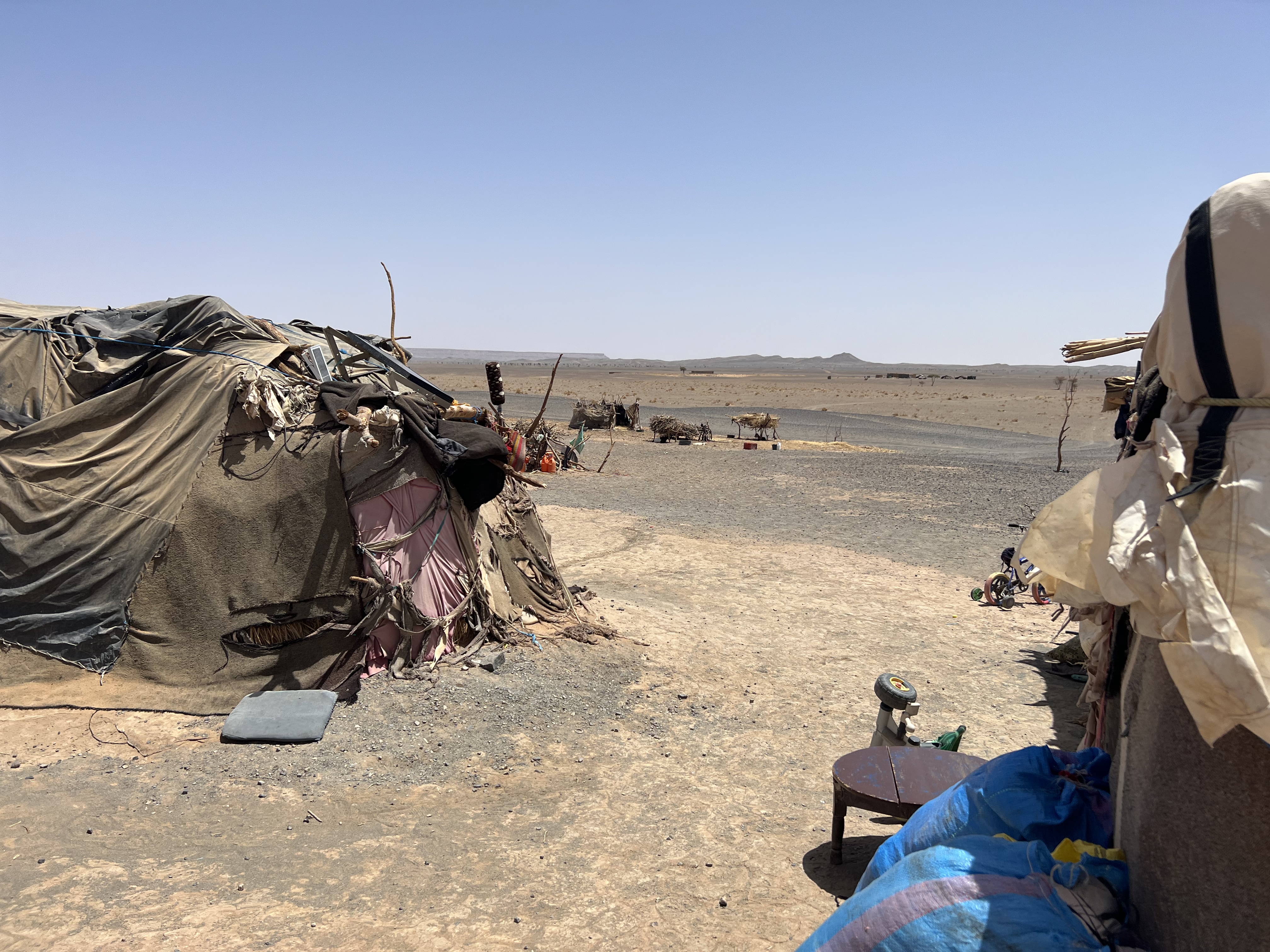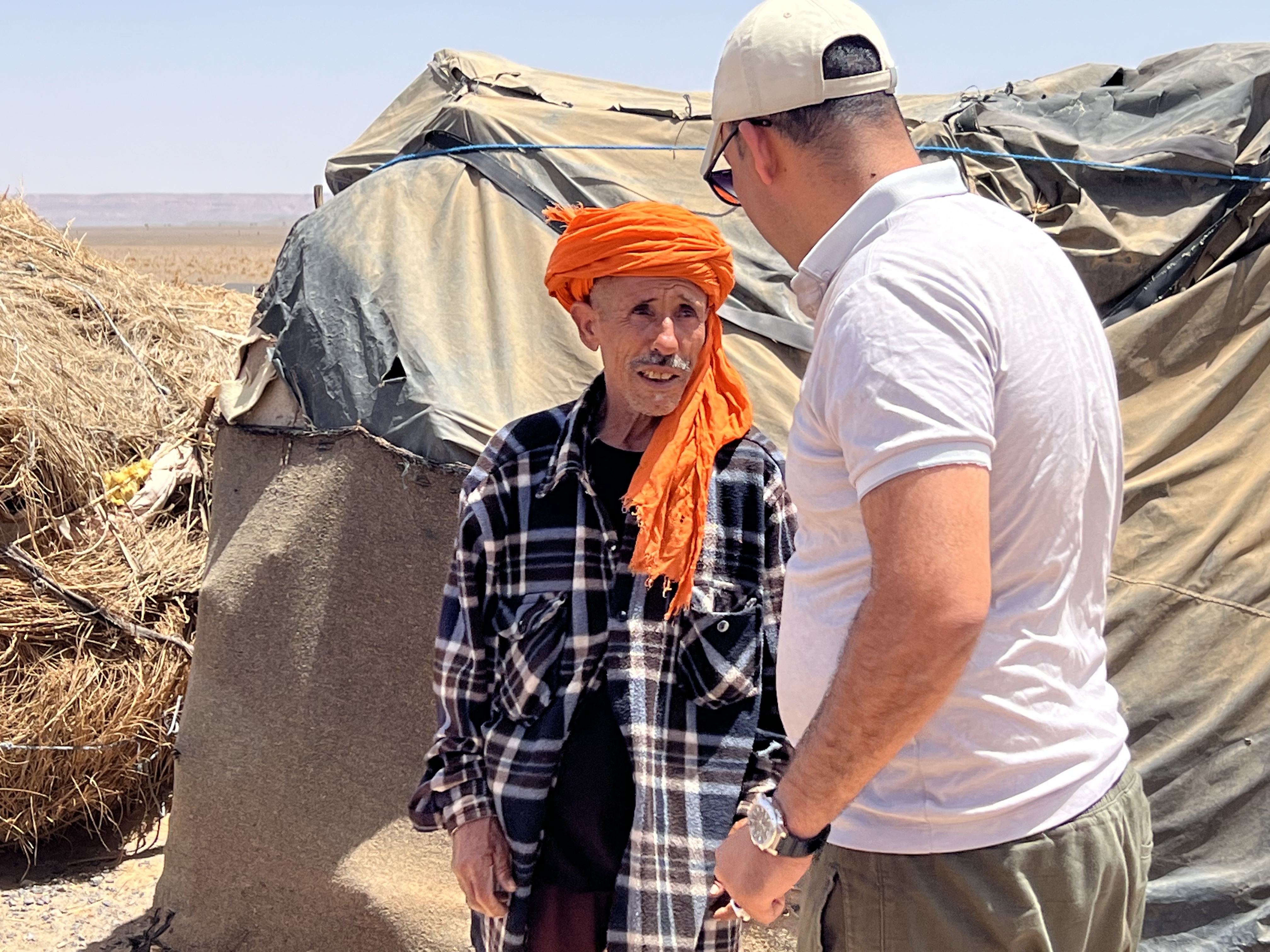 He was open to visitors and we were able to tour his home, ask questions and take pictures. Their living conditions are basic, but they have a solar panel on the roof of their cooking tent to provide light.
This family has so little, but Aicha, Hassan's wife, was so welcoming and invited us to stay for bread and tea.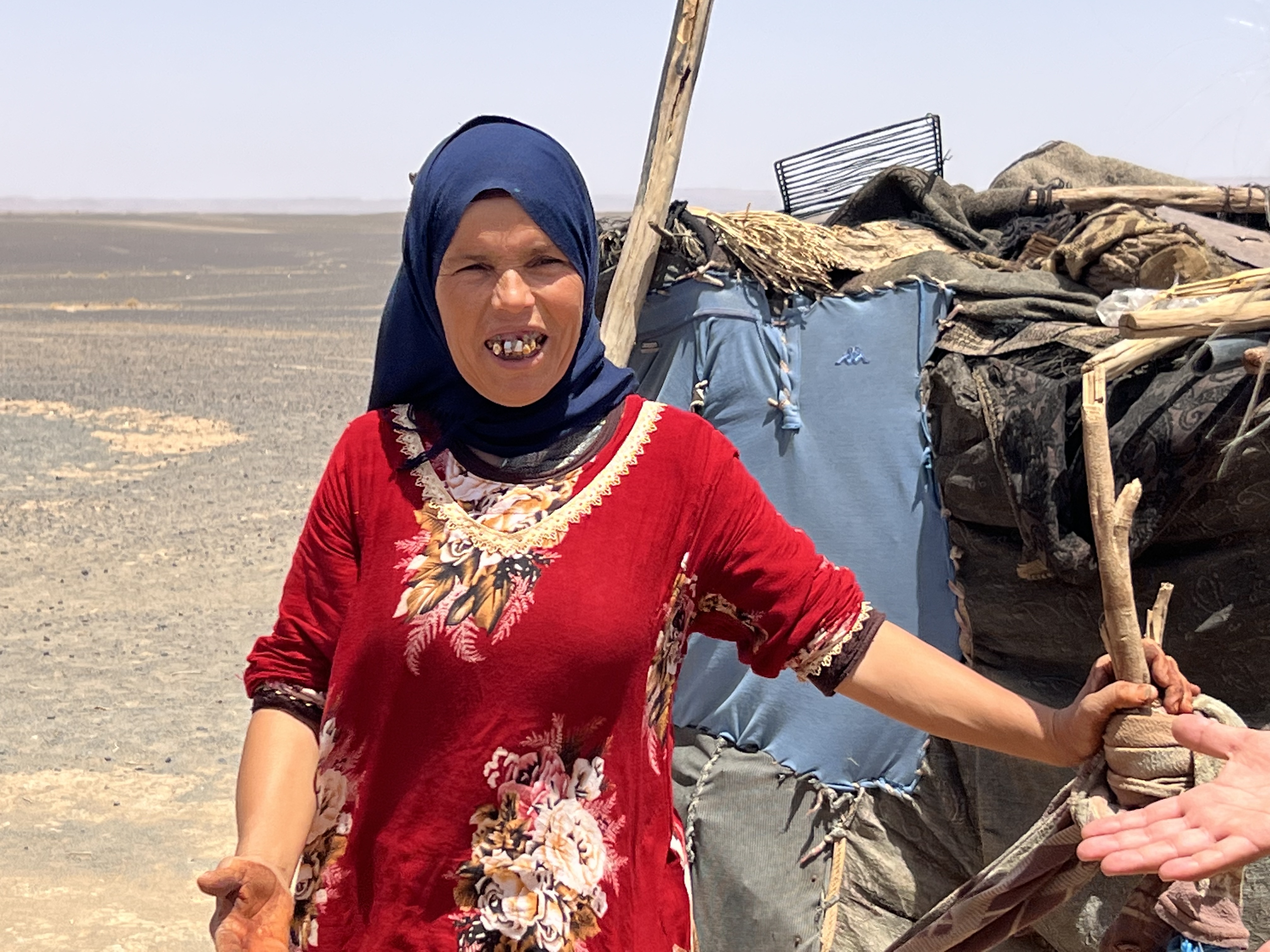 We told her we had just had lunch but would love to visit with her. She directed us to one of the shelters and joined us a bit later with a loaf of bread and date syrup she had made. It was so interesting to learn about her life and how hard she works.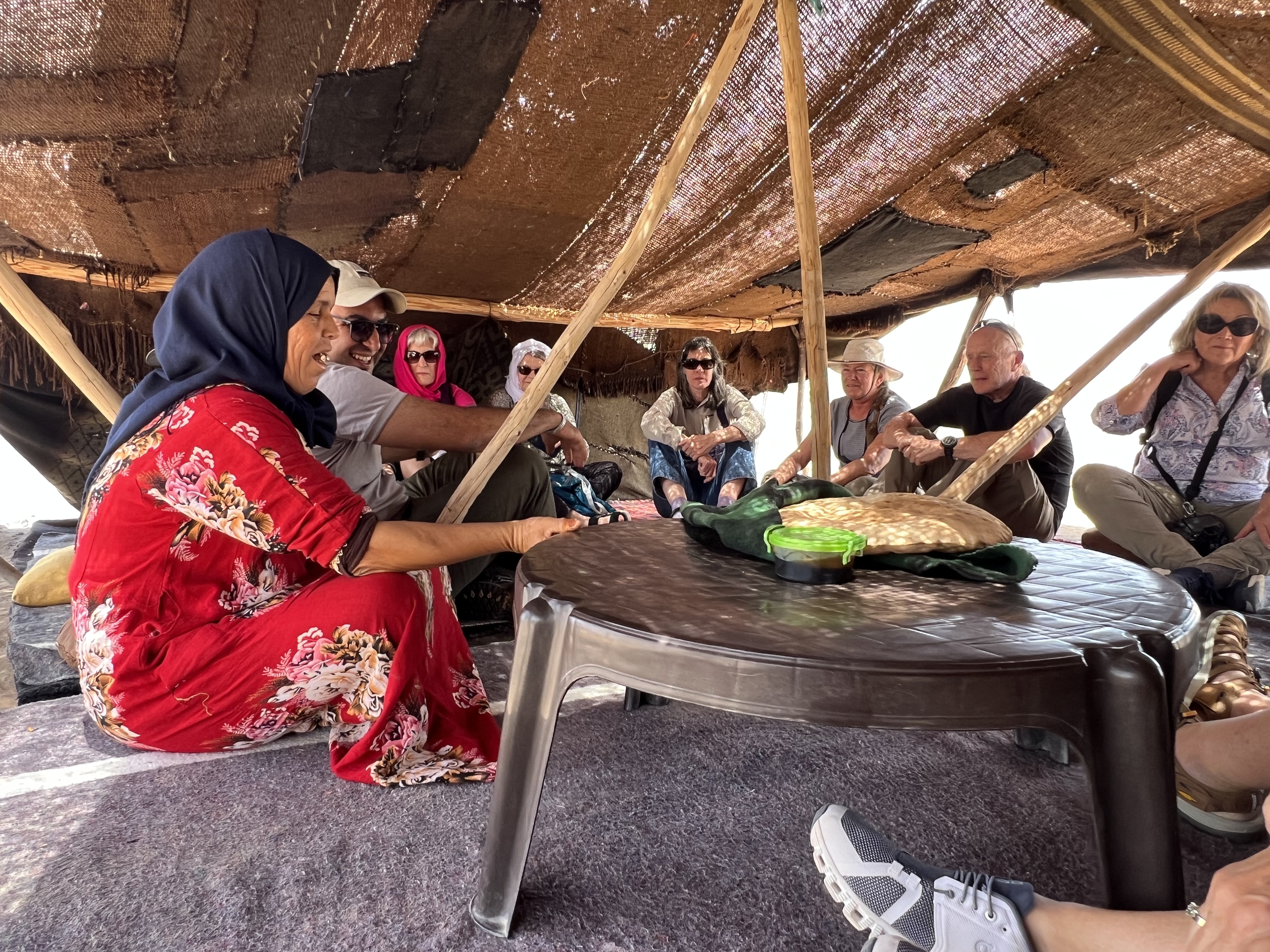 Farewell to the Sahara
On our last night in the Sahara, Abdou, our extraordinary guide, talked with us about Islam and Muslims. Islam is the faith and Muslims are those who practice the faith. He asked us about our main impressions of Muslims and then shared an introduction to Islam as well as his perspectives and personal experiences as a Muslim. I feel so thankful to have had this opportunity.