On the recommendation of two well-traveled friends, we chose to spend our six days in Sicily in the cities of Taormina and Siracusa. Great recommendation! After an afternoon in Taormina, a hilltop town on the east coast of Sicily, I fell in love with this charming city.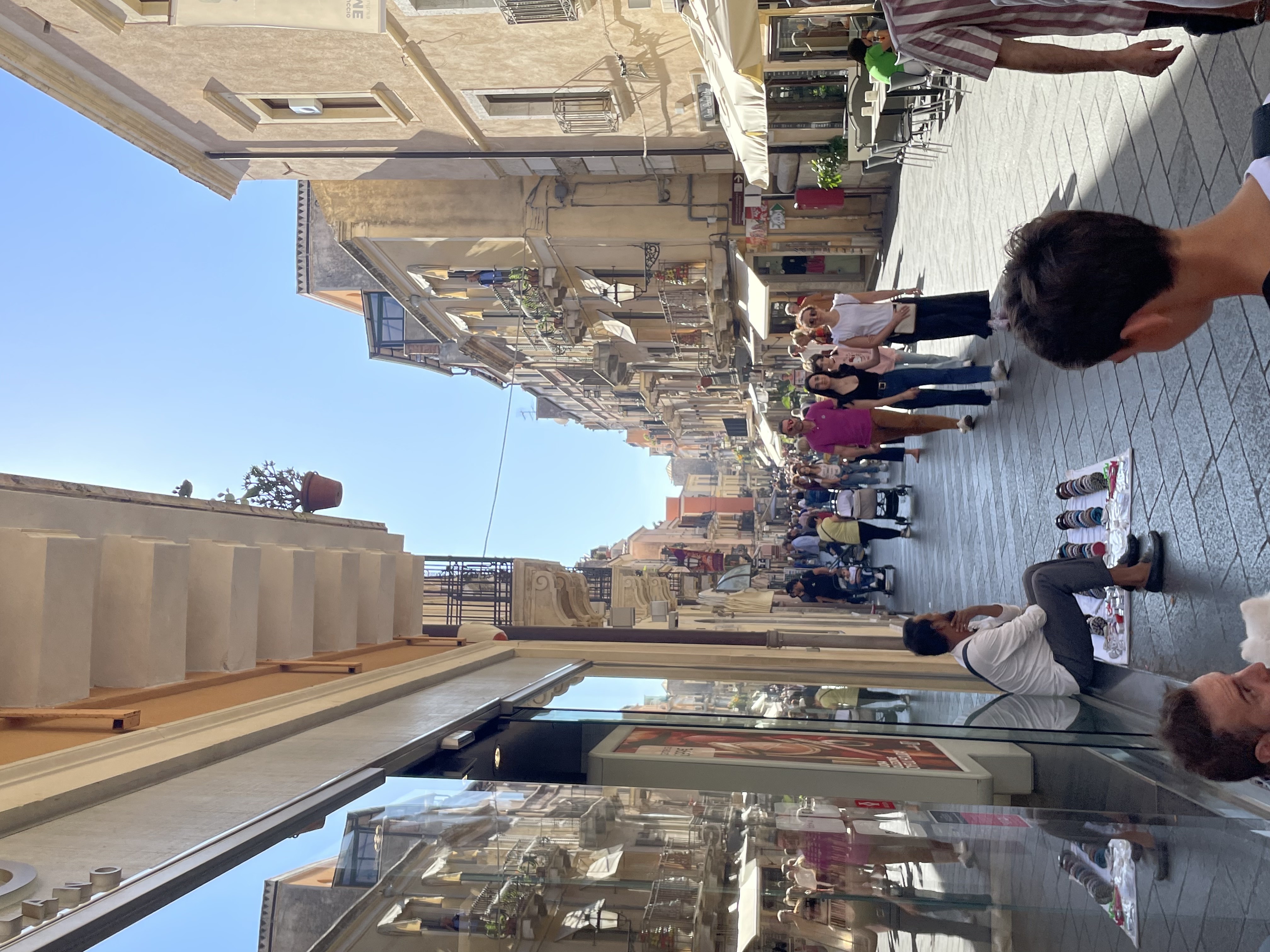 We were excited to arrive in Taormina and move in to our hillside apartment. Staying on a hillside means climbing steps, and our apartment has an impressive flight of steps.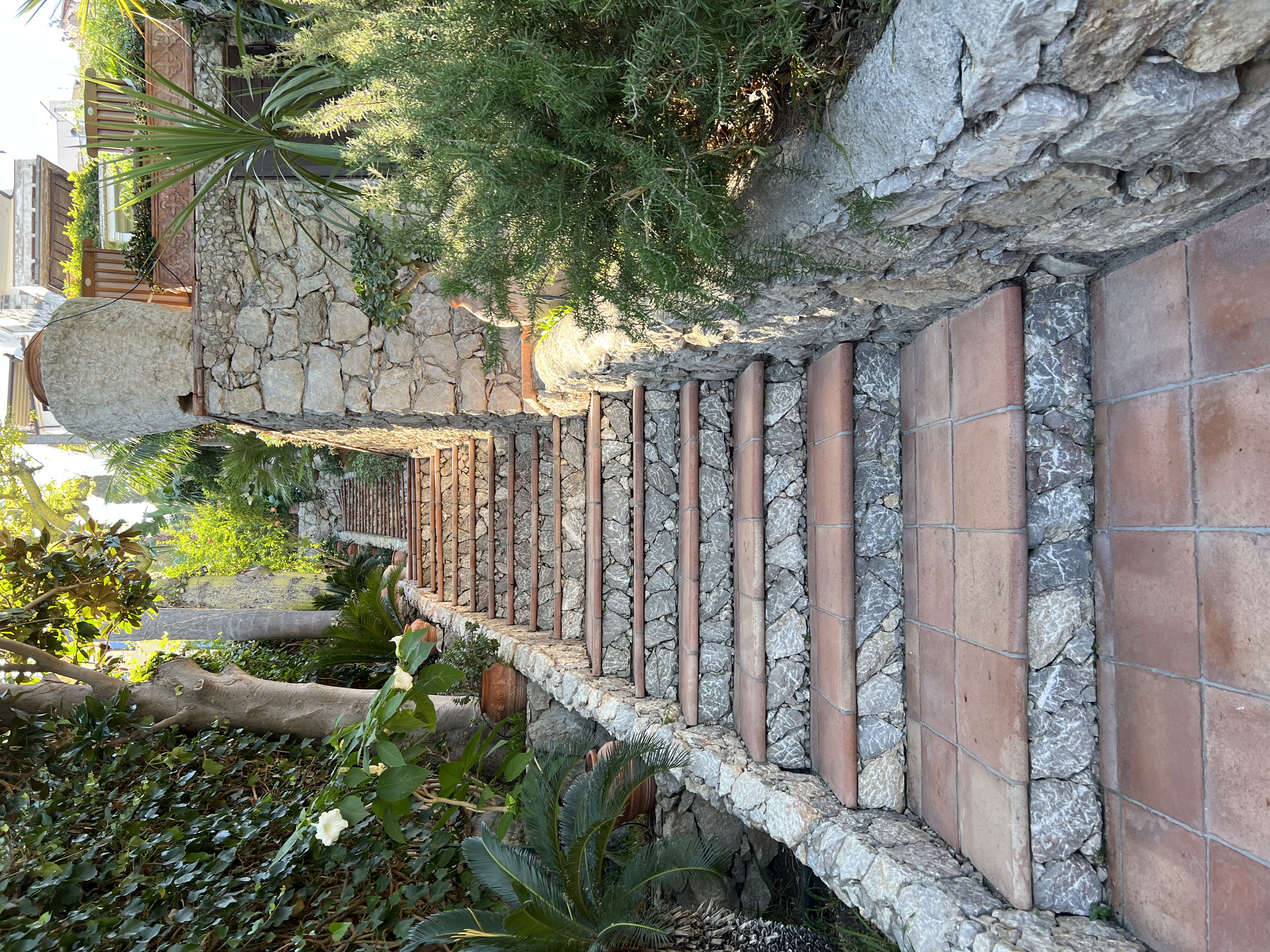 The stunning view from our windows captivated me the moment we walked in. I can easily see why Taormina is known as the Pearl of the Ionian Sea.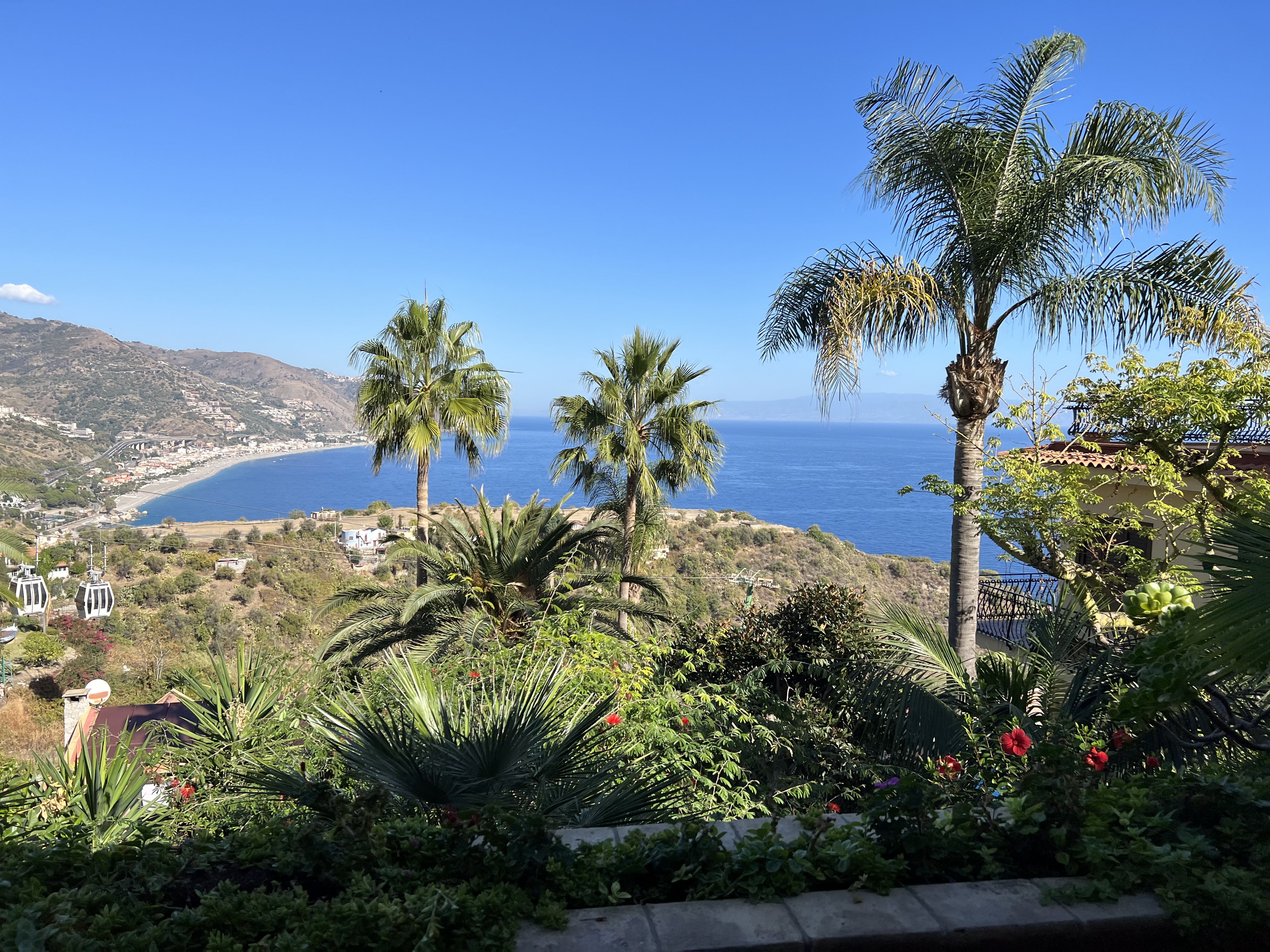 We spent the afternoon exploring the city and dining at Restaurant Badia.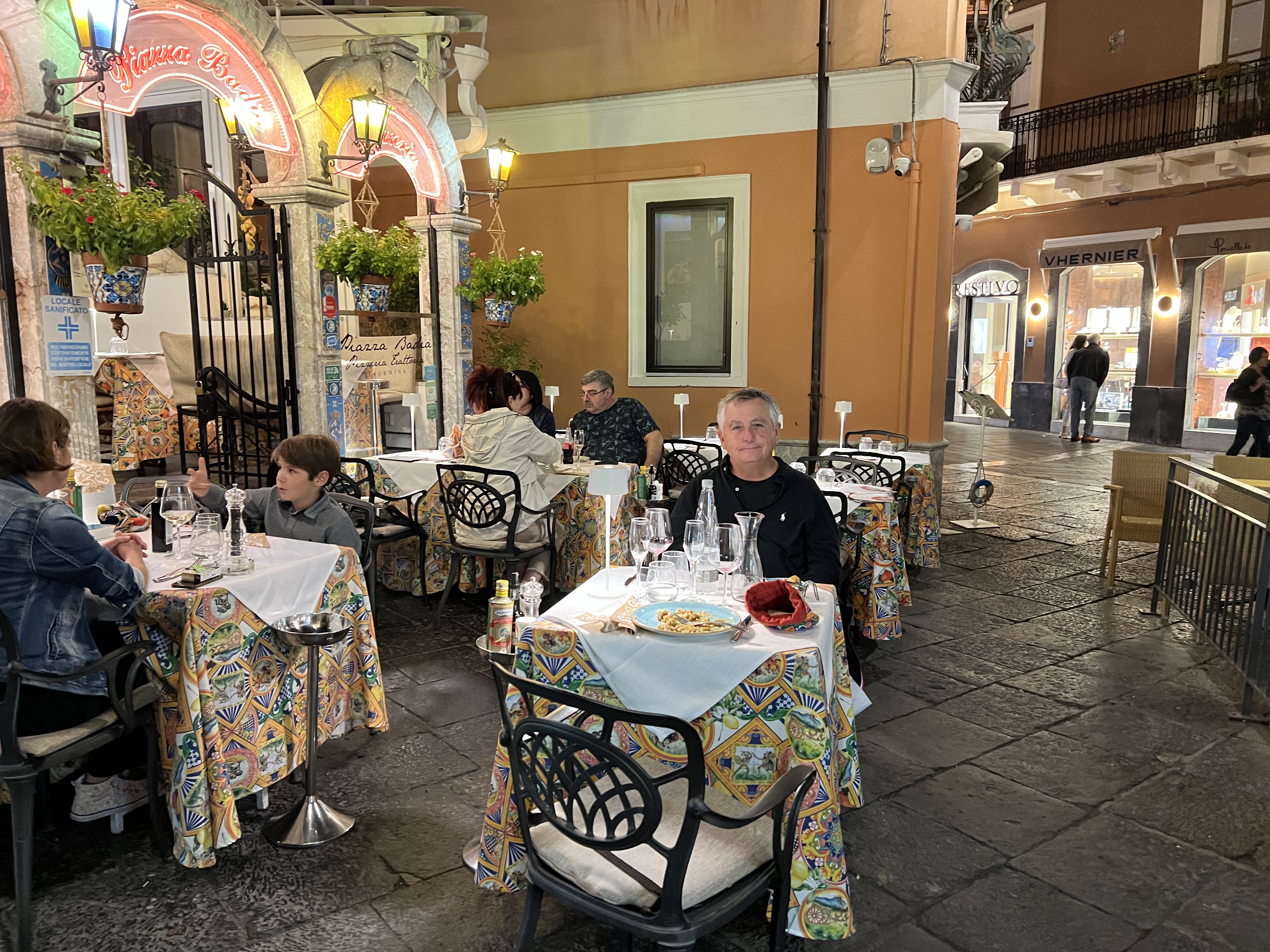 One of my favorite things about traveling is meeting people whose lives are different from mine. Our server at Restaurant Badia is from Morocco and spoke six languages. Nadia, our apartment host, is from Ukraine and has lived in Sicily for five years. We had a very sobering conversation about what is going on in her country. The owner of our apartment is from Wales and lives half the year in Taormina and half the year in India.
First Morning
Breakfast and meditation on the terrace overlooking the calm Ionian sea, beautiful clear sky, rooster crowing in the distance-a great start to our first full day in Taormina.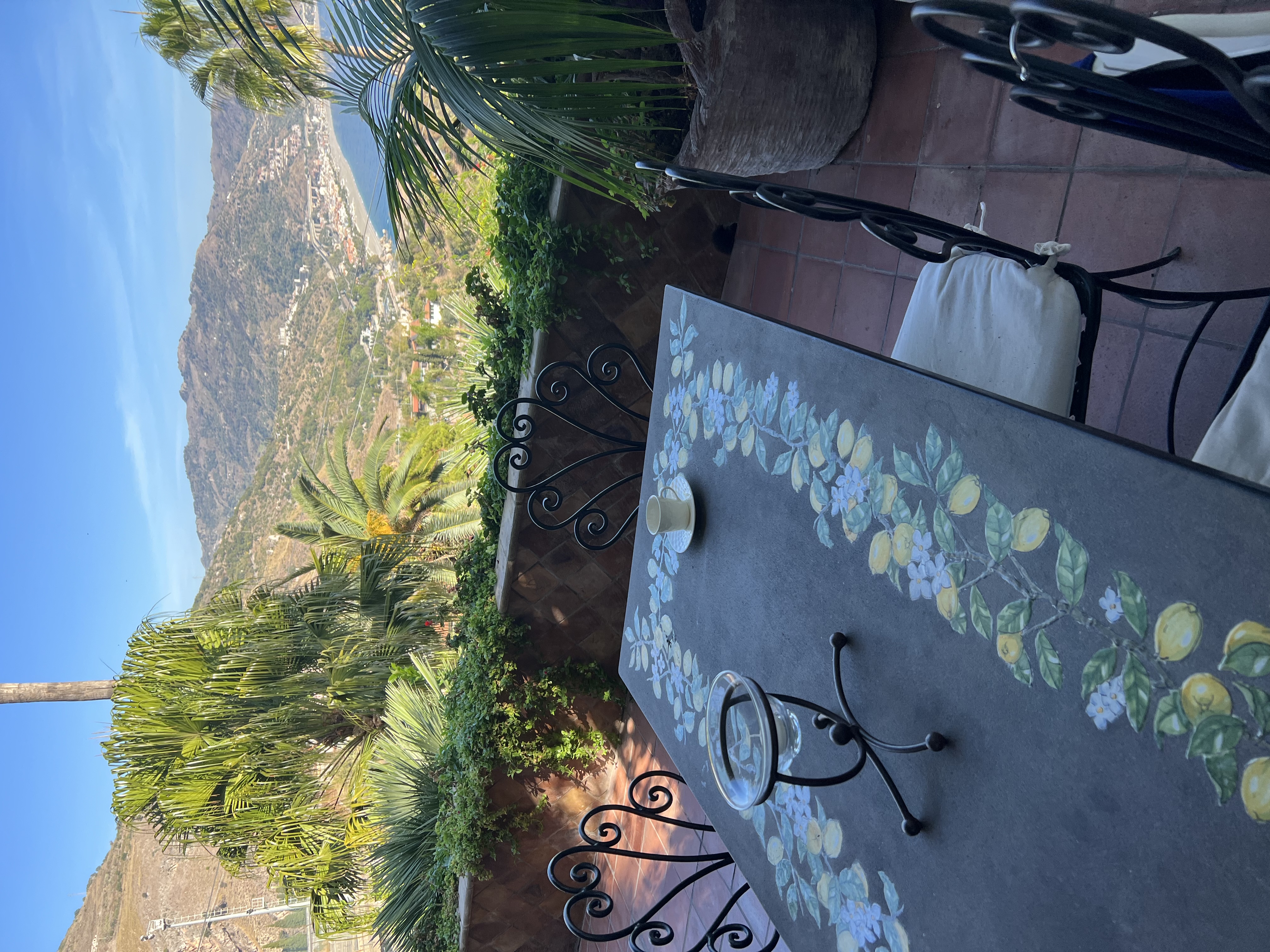 Figuring out the deceptively simple-looking Italian shower was the most challenging part of my day. Three knobs controlled water coming from five different spots. Lucky for Paul that I took my shower first and set all the knobs in the right place for him.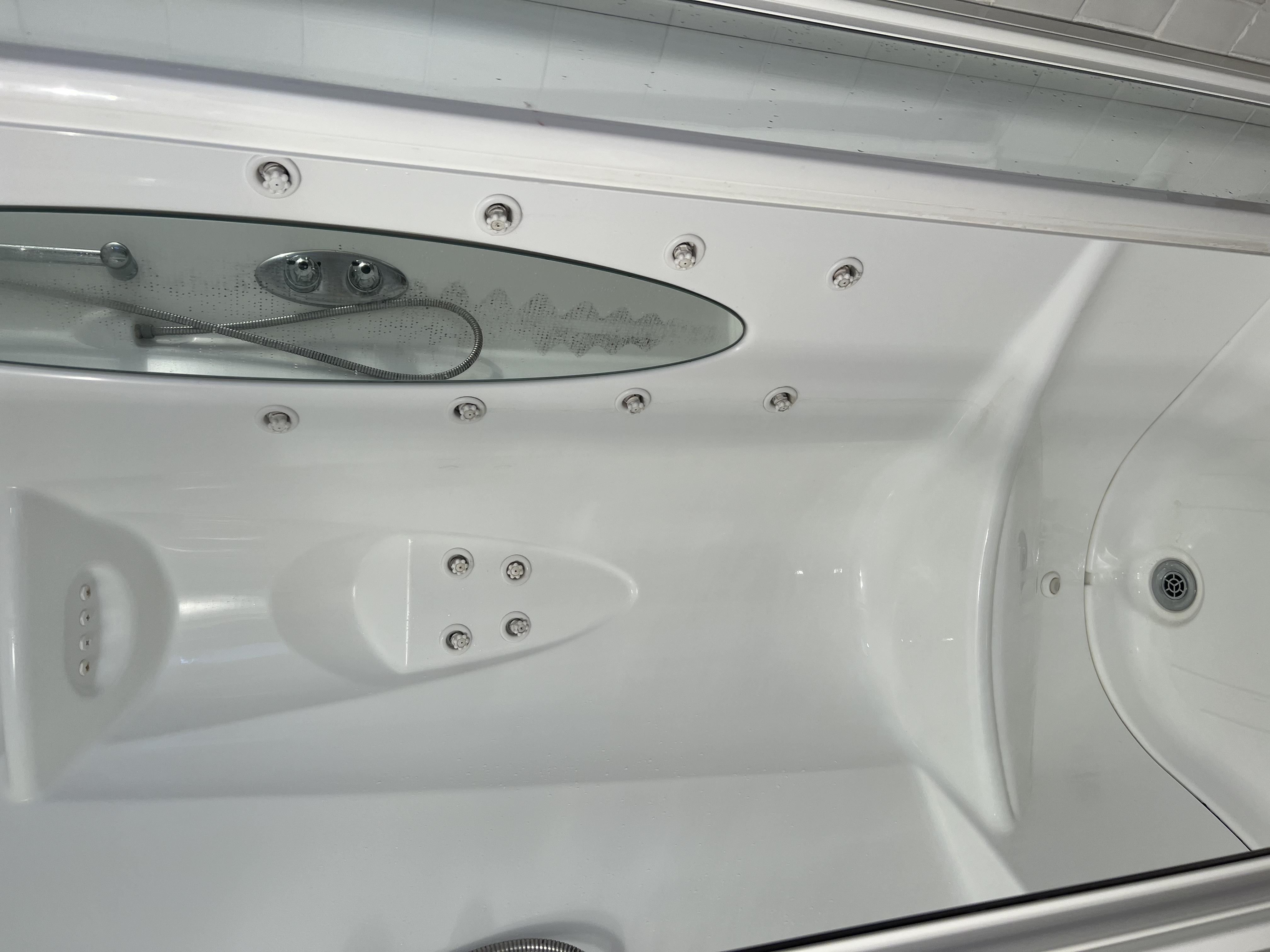 Ancient Greek Theater
Visiting ruins left by the many ancient cultures that inhabited Sicily was one of the main reasons I wanted to come here. And the ancient Greek theater, built more than 2,000 years ago, is one of the oldest.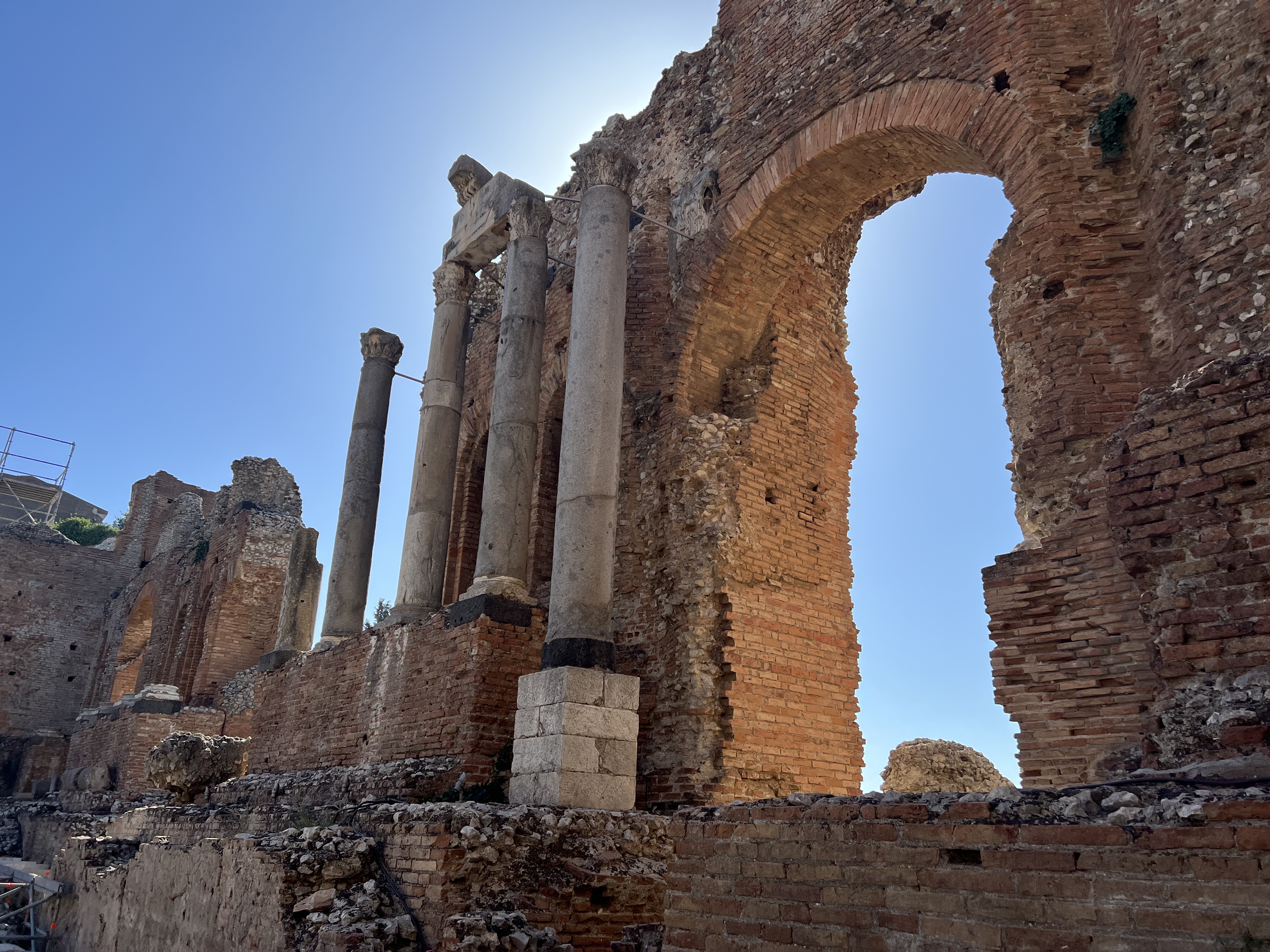 Originally constructed by the Greeks around the third century BC and later renovated and expanded by the Romans, it is the second largest theater in Sicily. The acoustics are great and it continues to host live performances today. Sting performed here in 2012. When we visited, workers were dismantling the stage. It was a bit of a disconnect to see modern construction materials and workers in the middle of the ancient theater.
The top of the theater offered spectacular views of the sea and Mt. Etna.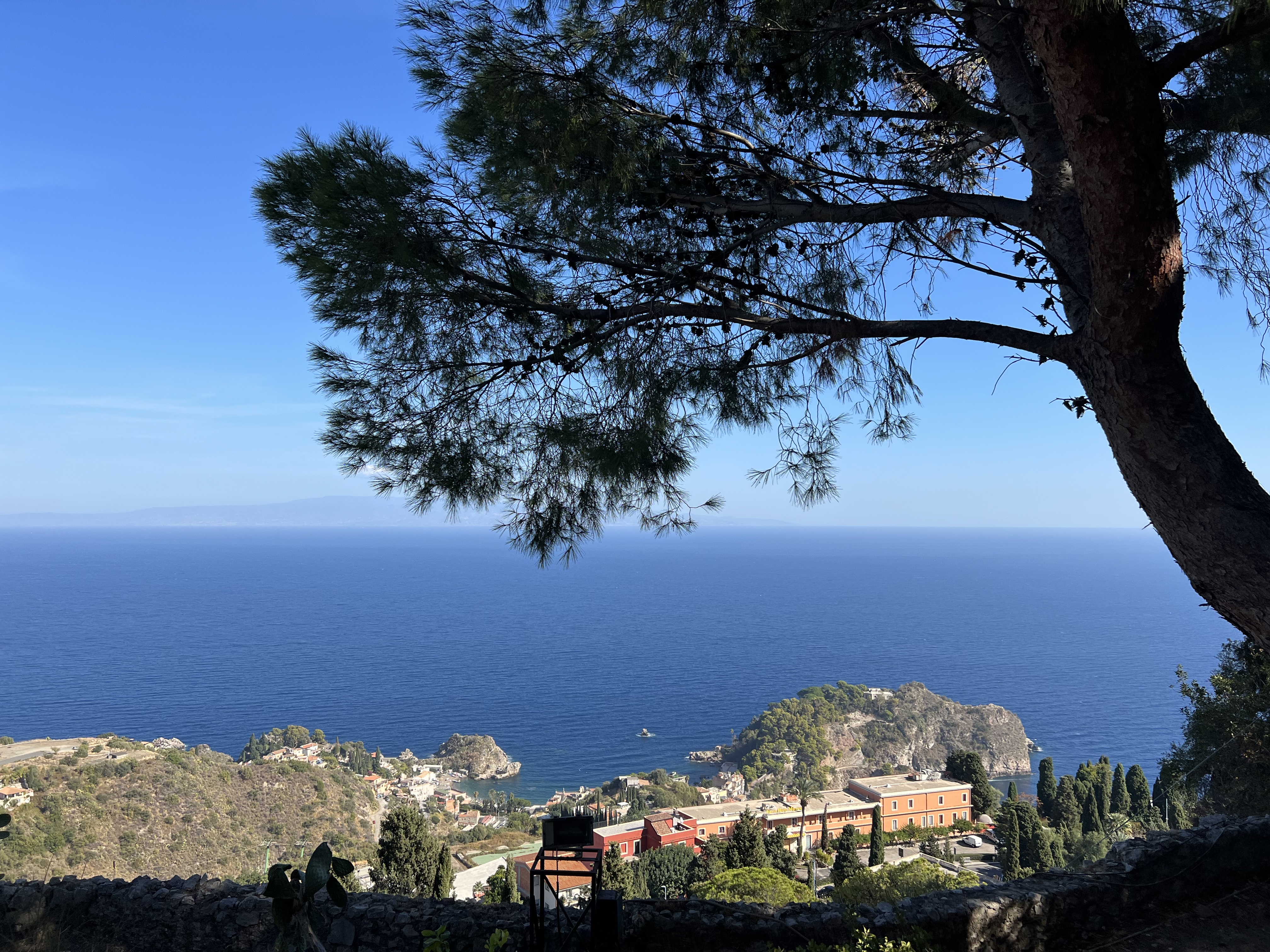 And it was a perfect spot for a selfie.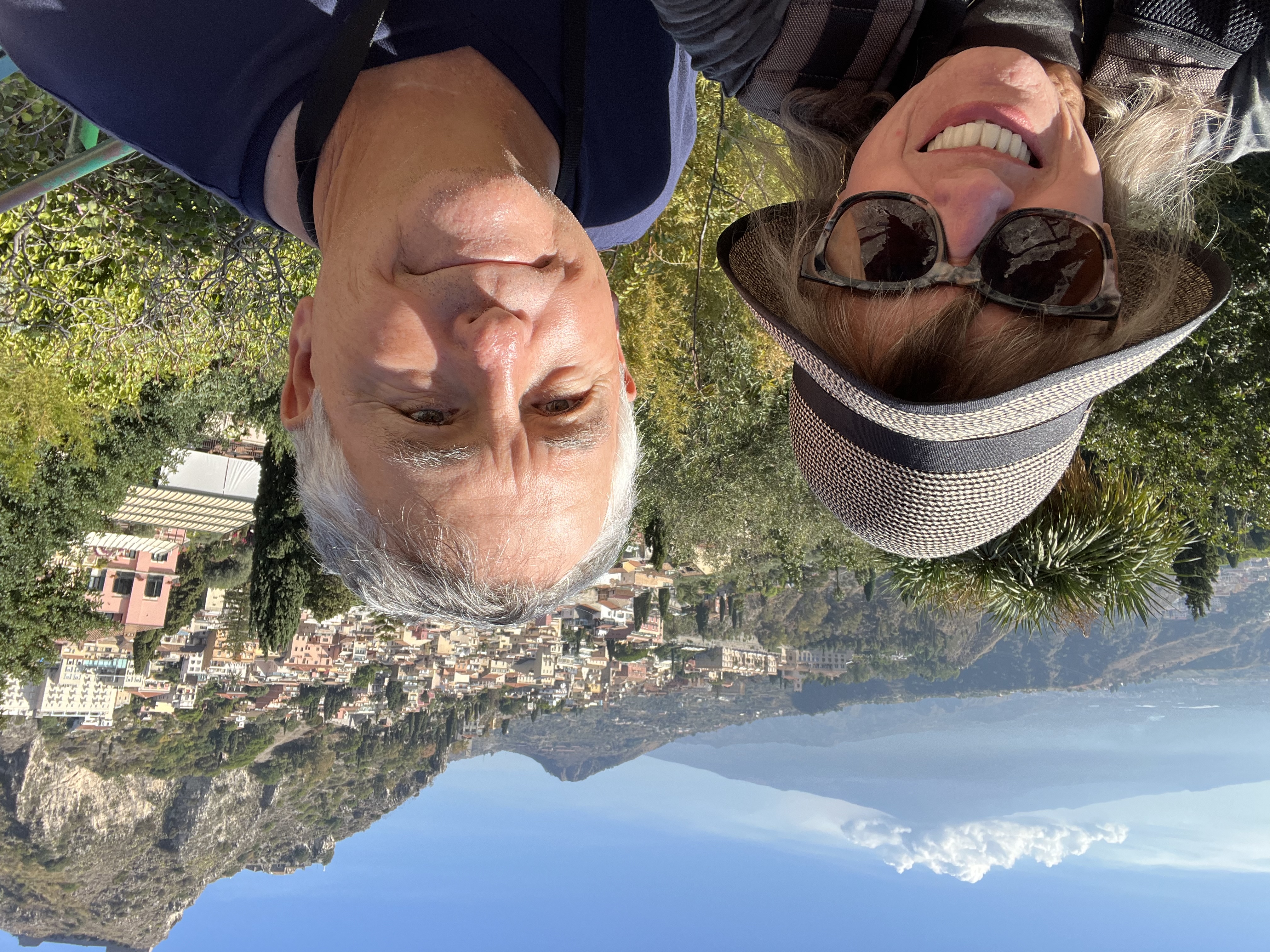 We had a hard time leaving this picture-perfect spot.
Lovely Lunch Break
After more than a week in Italy, I enjoyed an over-due Aperol spritz while sitting outside and watching the Italian world walk by.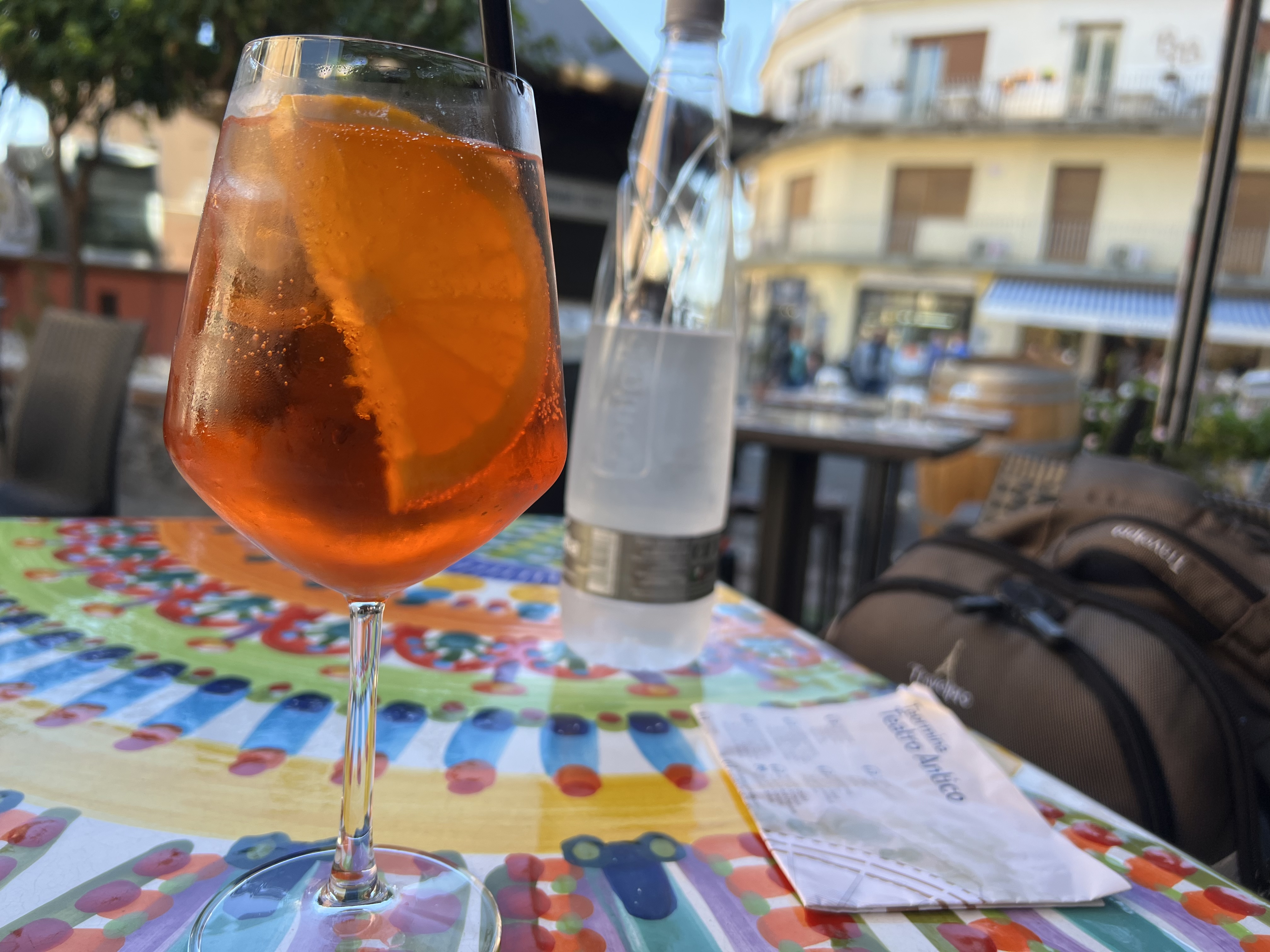 As in so many restaurants in Italy, before our meal arrived the chef sent out "a little gift", a wonderful arancini.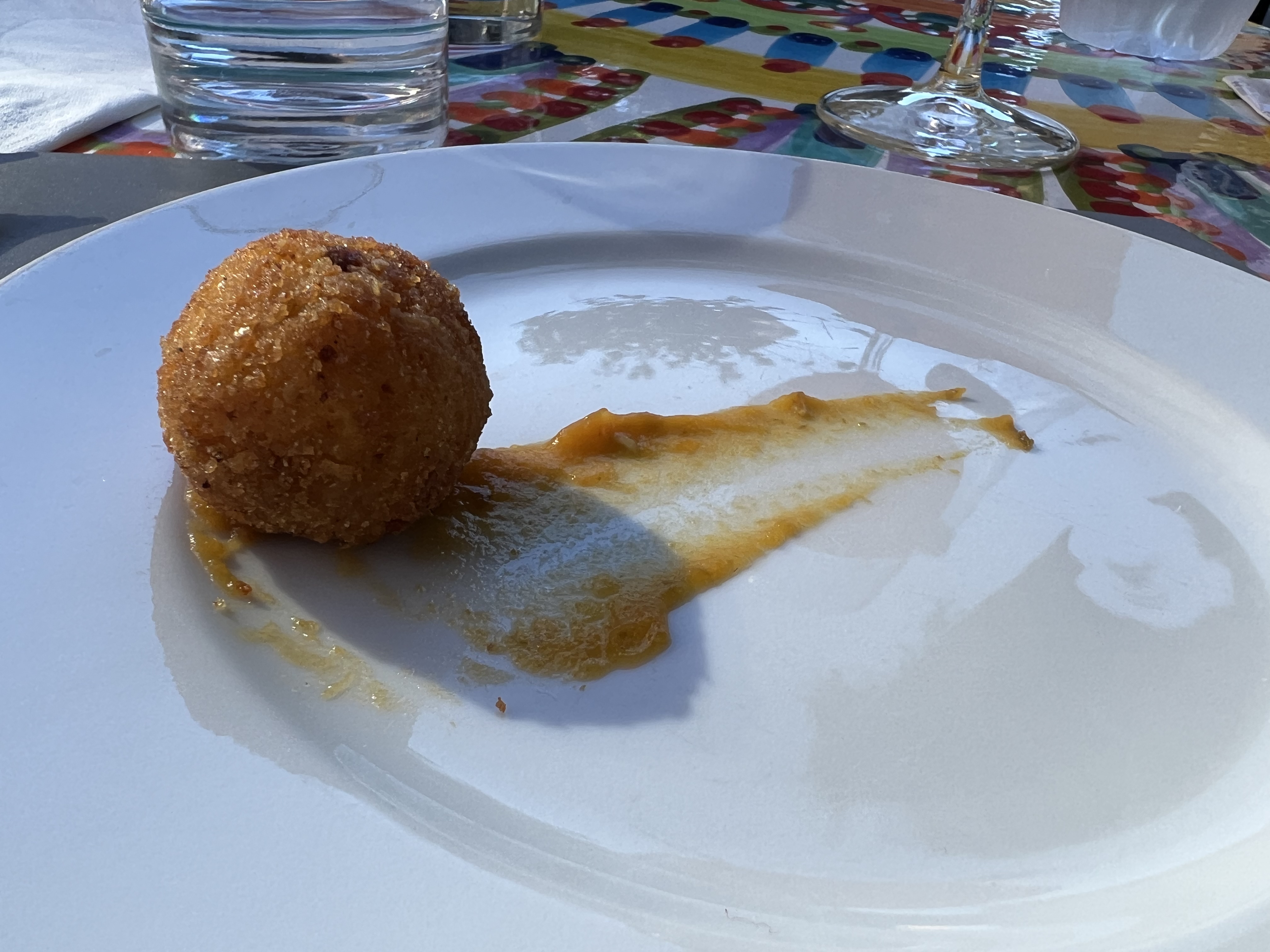 Villa Comunale di Taormina
After lunch we walked to Villa Comunale di Taormina, the beautiful Public Gardens.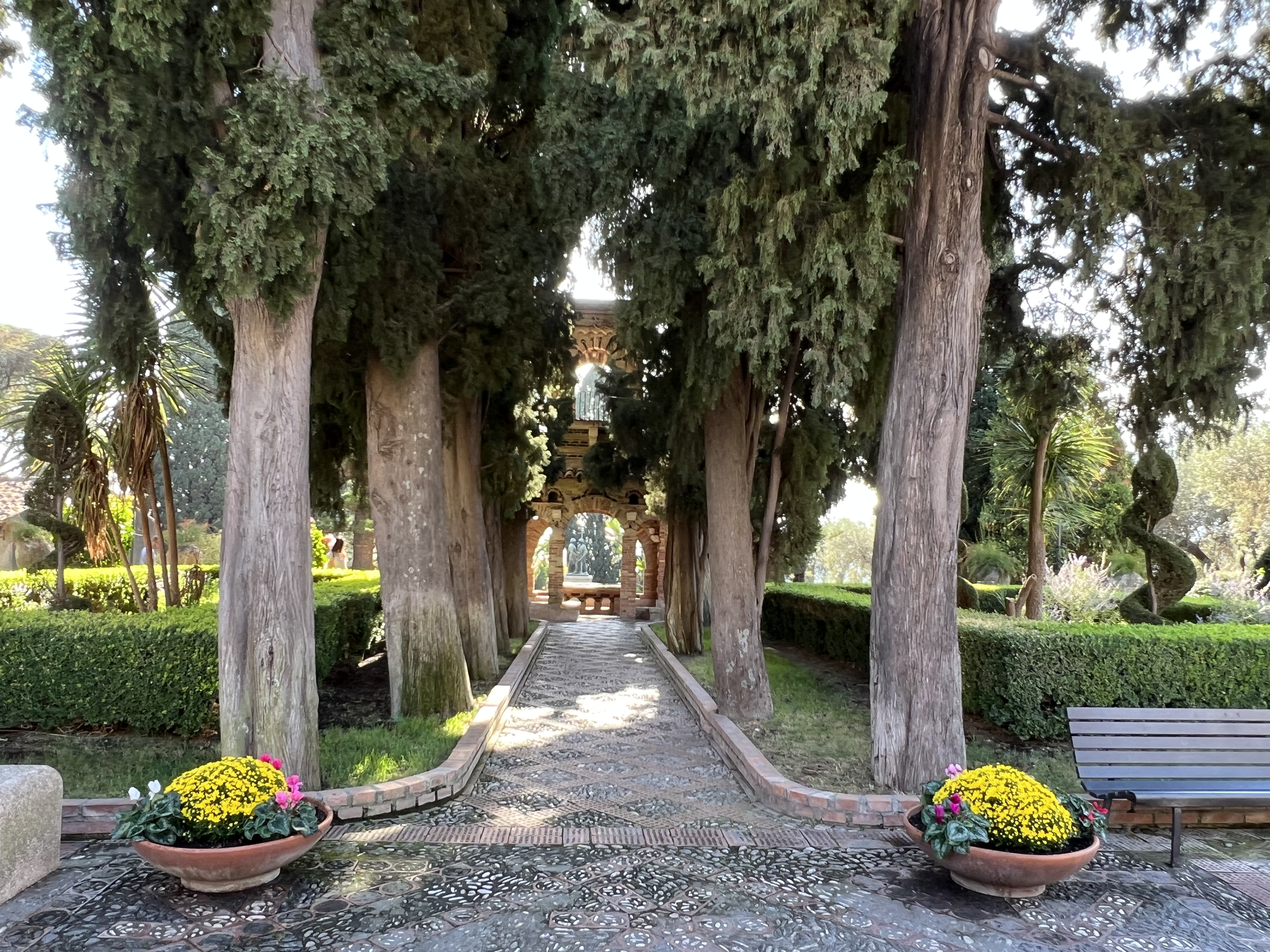 Lady Florence Trevelyan, a Scottish noblewoman who left her country after having an affair with Edward VII, established the garden. Lovely little buildings called Victorian follies are scattered throughout the gardens.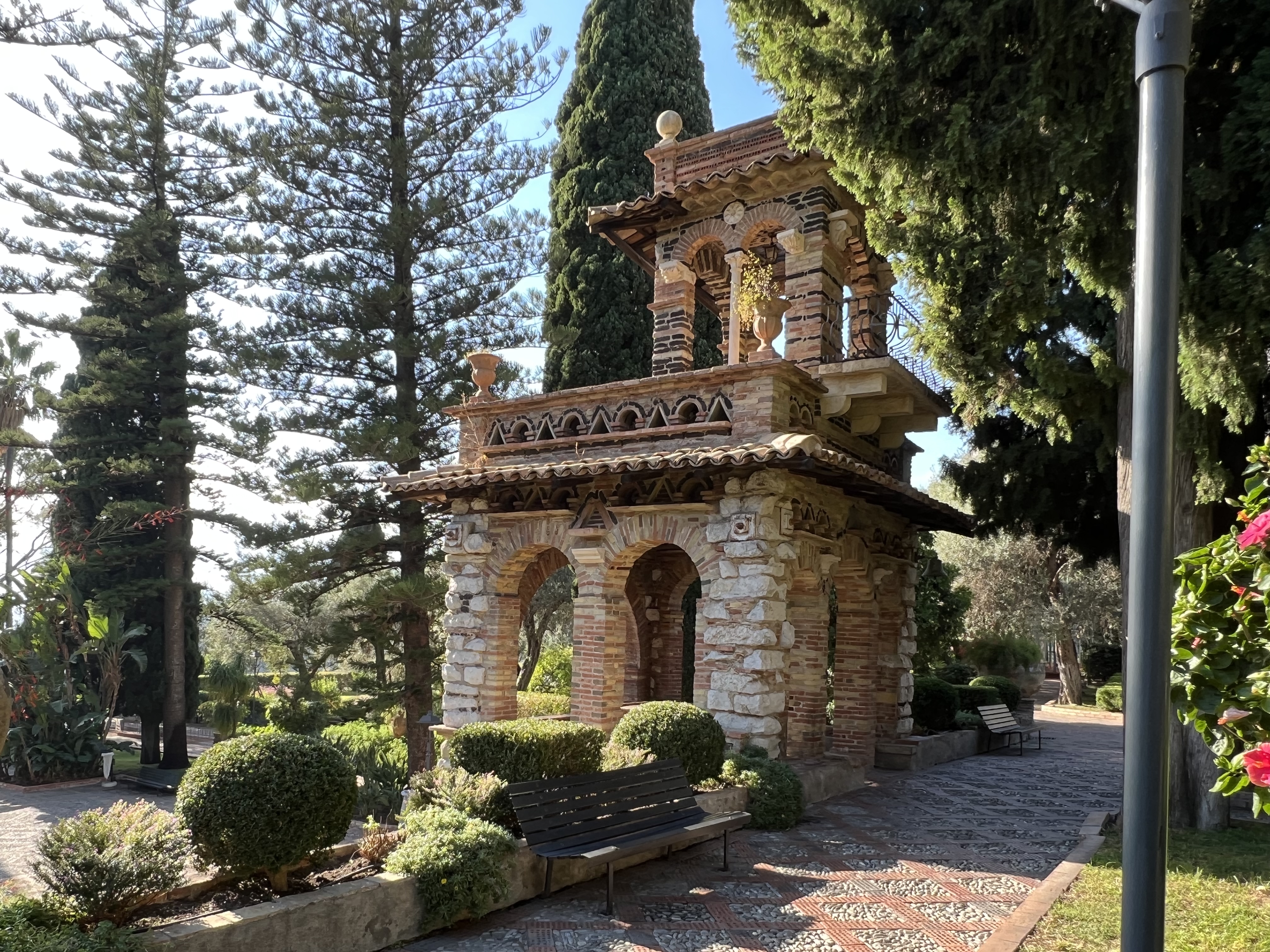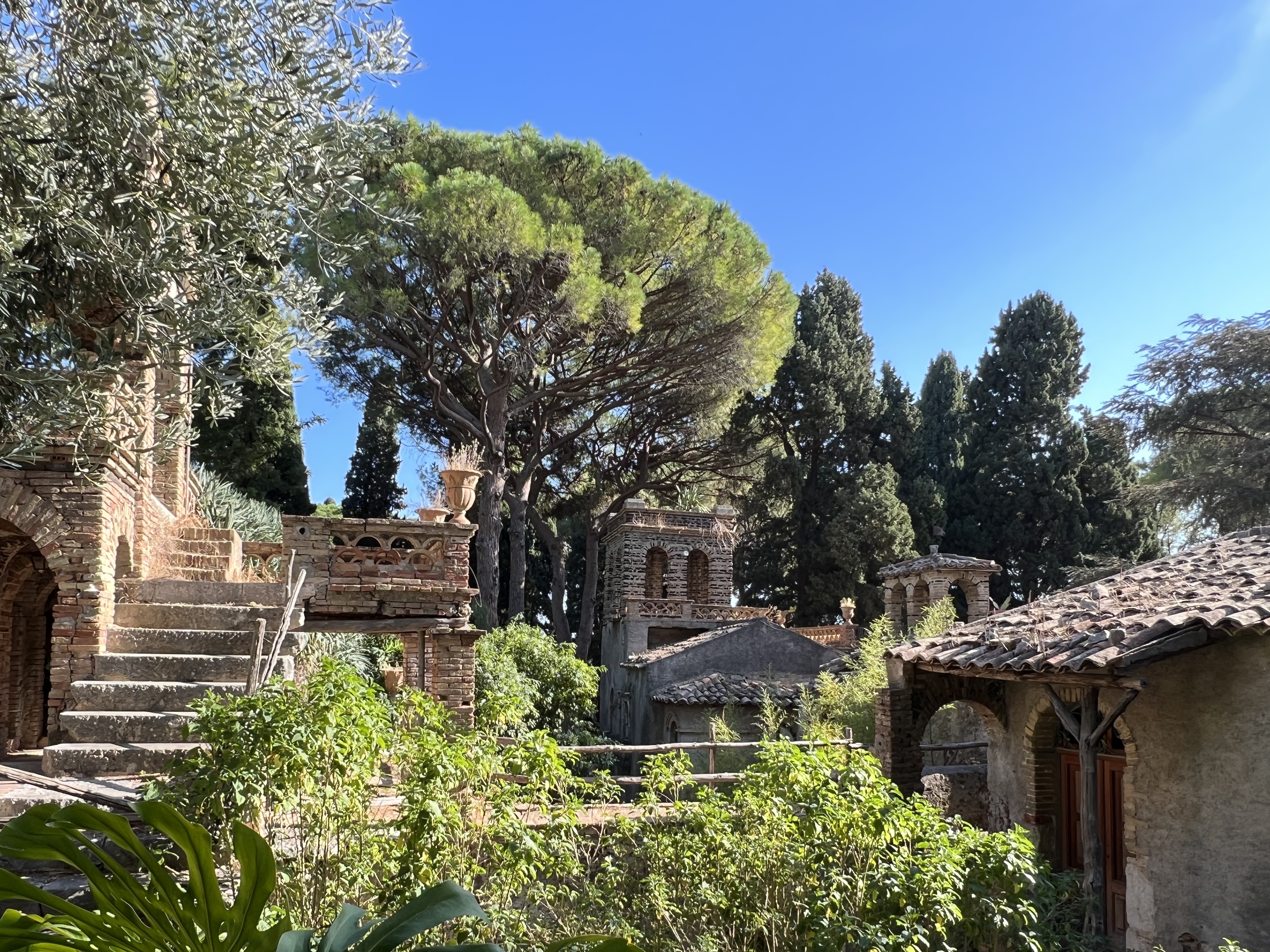 I love visiting gardens, and this one provided a peaceful break from sightseeing excitement.
Perfect Ending to a Perfect Day
Exploring the main street of Taormina we passed a charming looking restaurant and made a dinner reservation for the next night. About two hours before we left for dinner, Paul read the reviews for this restaurant and they were terrible. We decided to cancel that reservation and make another one at Restaurant Aranciara, a restaurant with much better reviews. It was a great decision. The service, food, and atmosphere were perfect.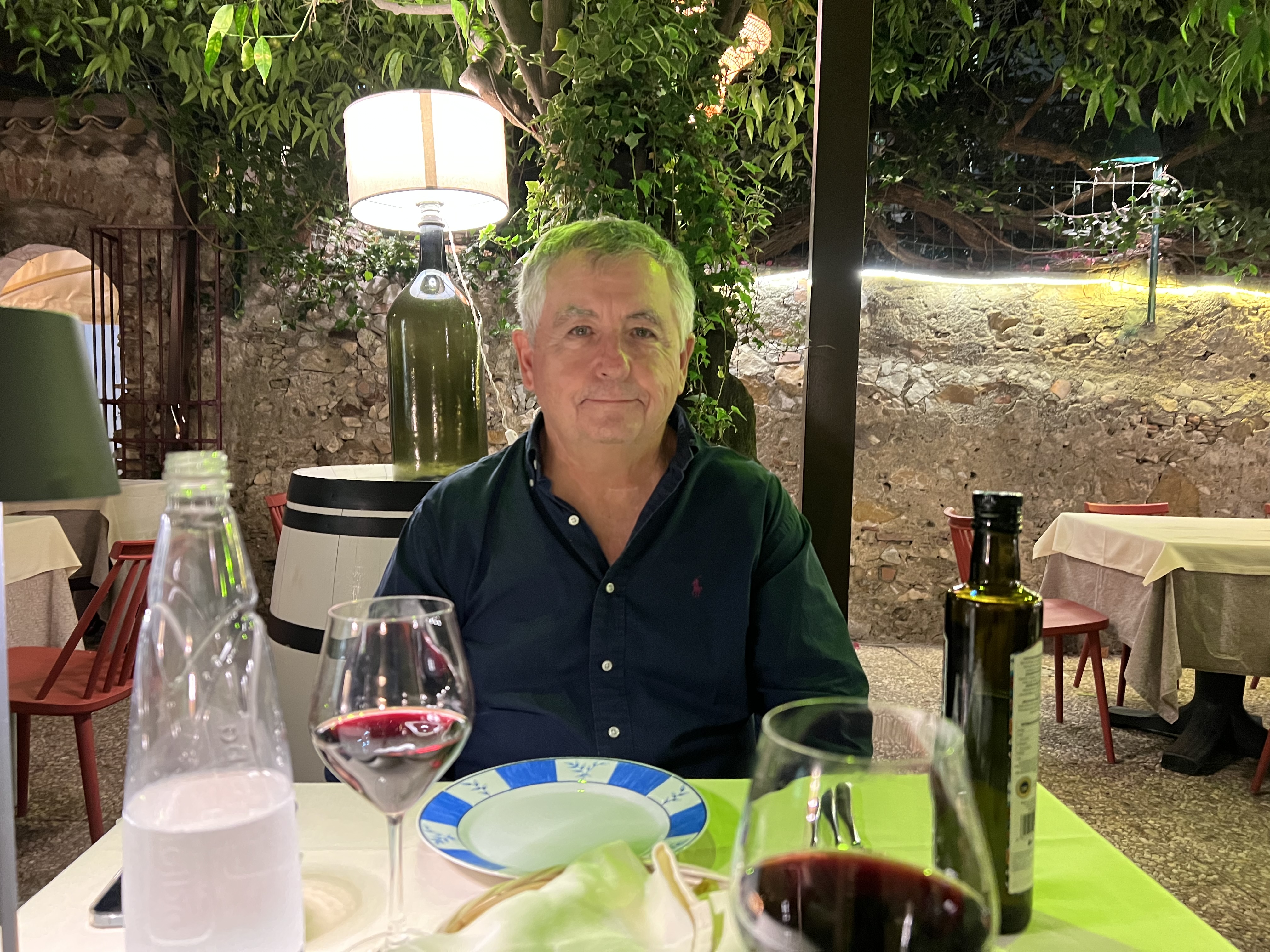 One of the reviews recommended going with the server's suggestion. I wanted seafood tonight and the server recommended Sicilian swordfish. He said if I didn't like it he would bring me something else. I loved trying a traditional Sicilian dish, and it was amazing.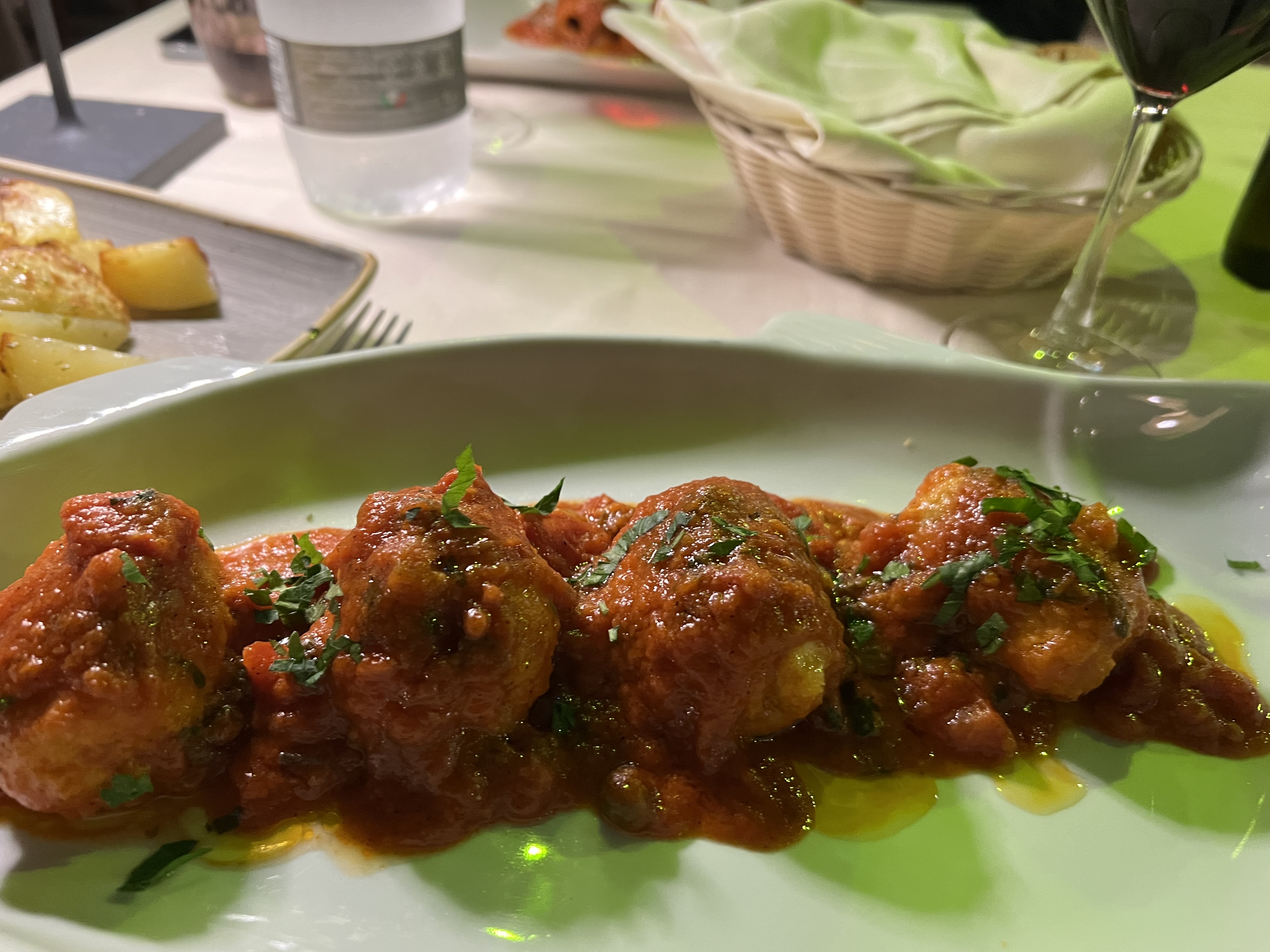 The grilled vegetables were a perfect contorni, sidedish.