Coffee on our terrace, watching the cable car traveling between the historic center of Taormina and the beach area of Mazzarò-another great start to a beautiful day in Taormina.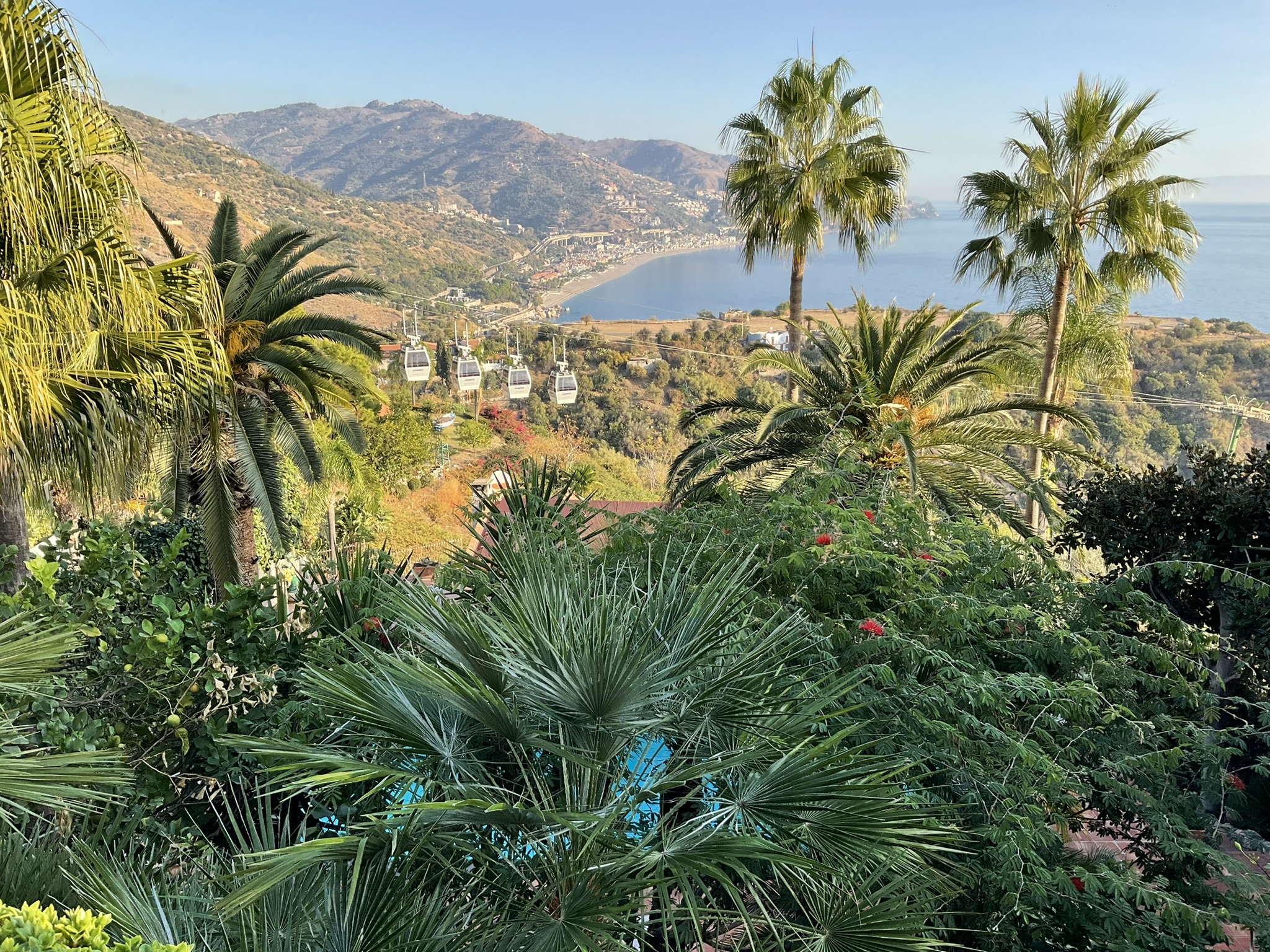 Sicilian Cooking
A good friend who has traveled to Italy many times recommended the Sicilian cooking class we took today. We are so glad she did! It was a great day of cooking, eating, learning about Sicilian food and culture and meeting fun people.
We met the chef at the Porto Messina Arch, and he directed us to a nearby restaurant we had visited twice. Jovi, our server both times we were there, remembered us and came over to visit. Since we were a little bit early, we had time to talk with him. He is from Argentina and is doing an eight-month internship here because his grandmother is from Sicily.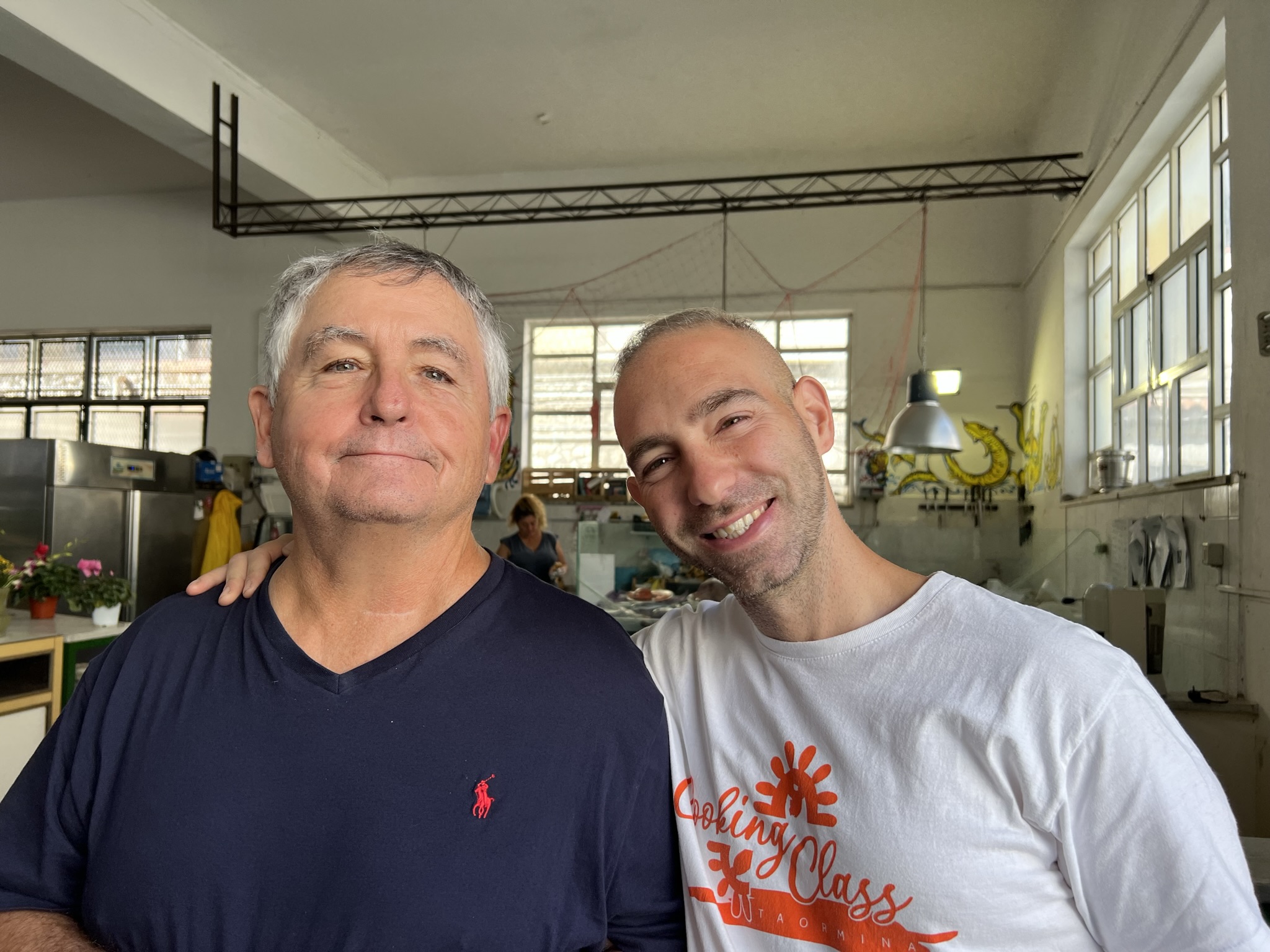 Chef Giovanni took us to the market where we learned about fish and tomatoes. He repeatedly stressed how Sicilians do not waste food. They find ways to use everything.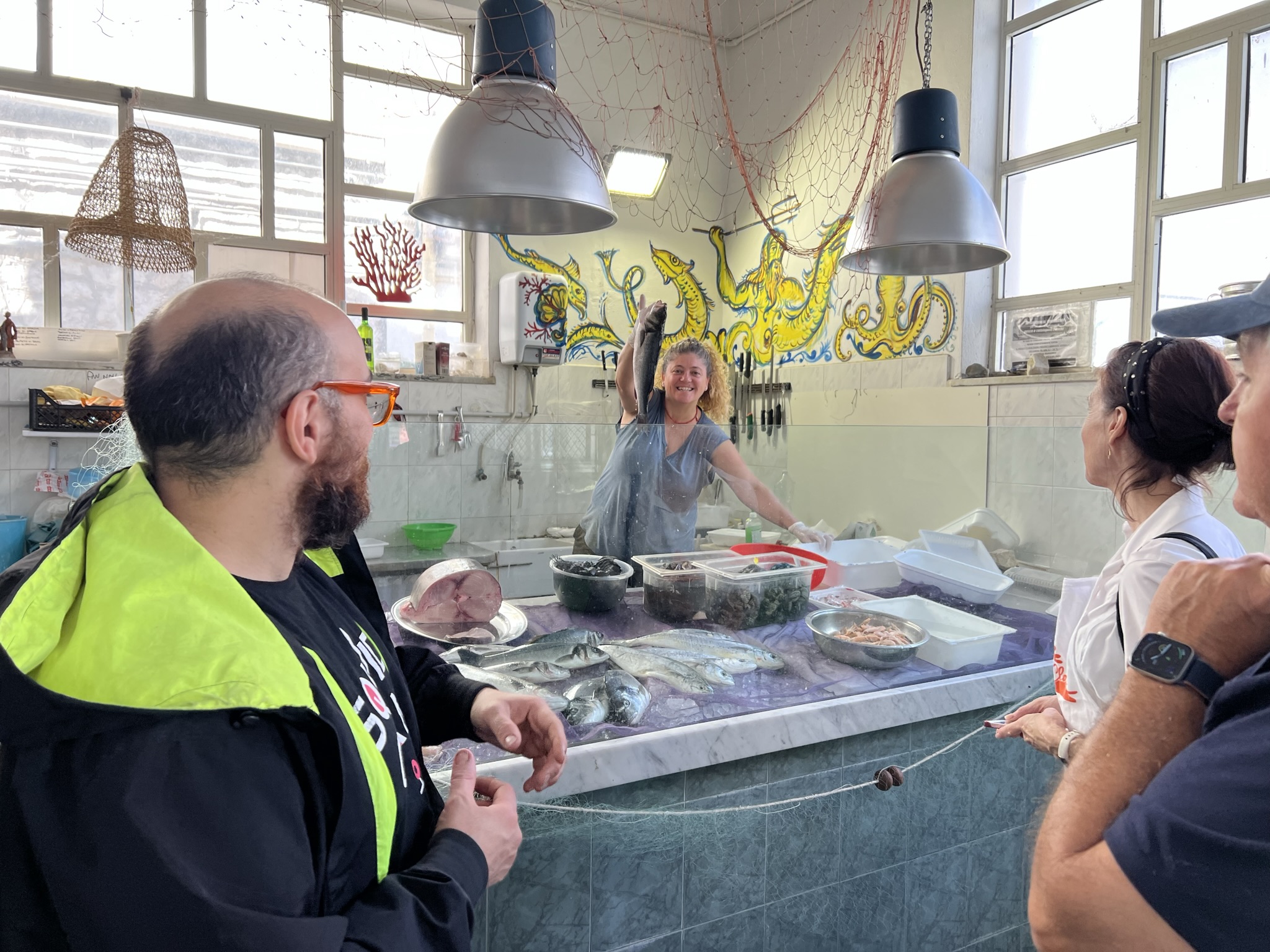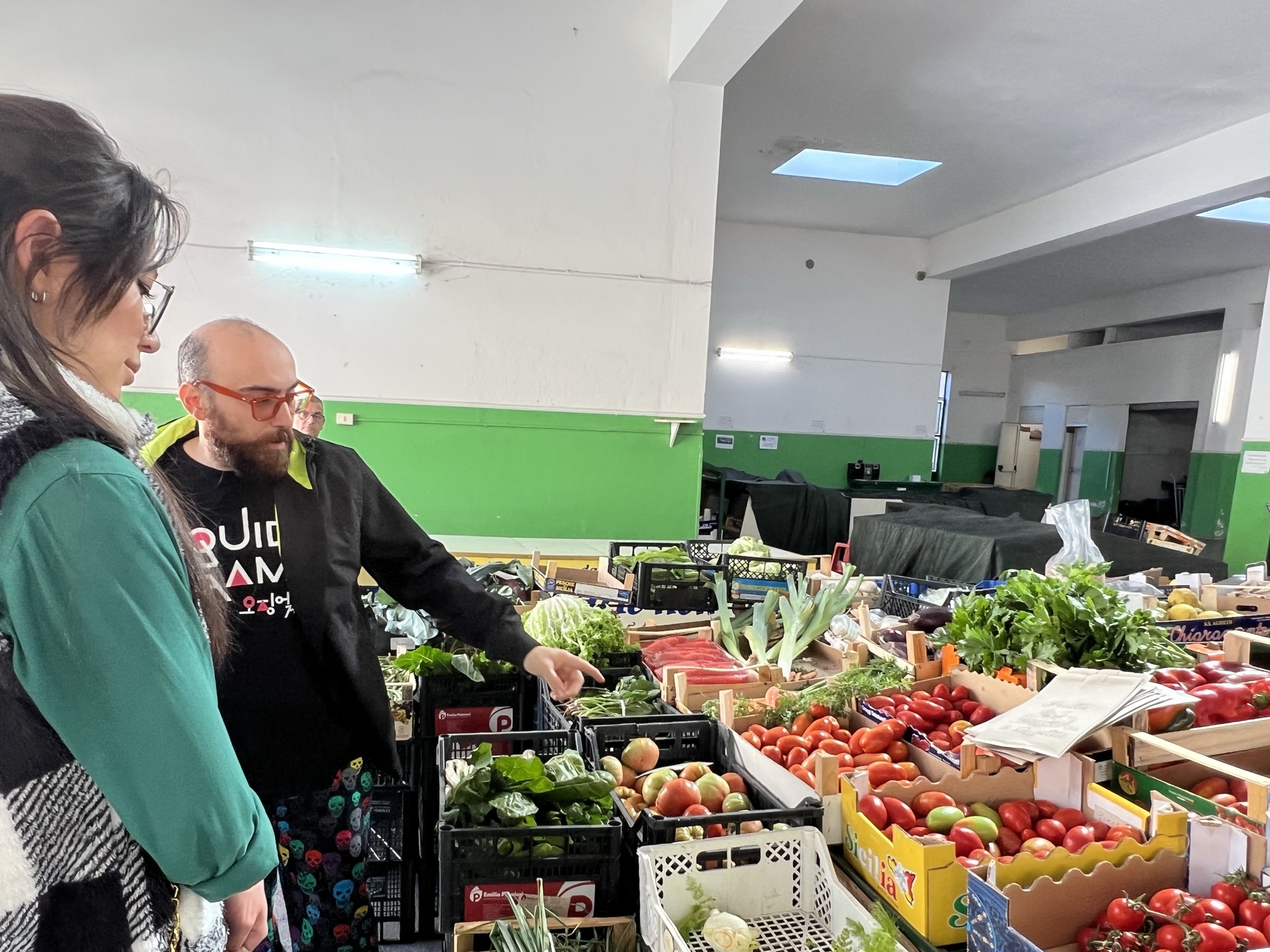 Prepping and Cooking
First we made pasta. Rolling the little macaronis was much easier than making the orecchiette we made in our other class.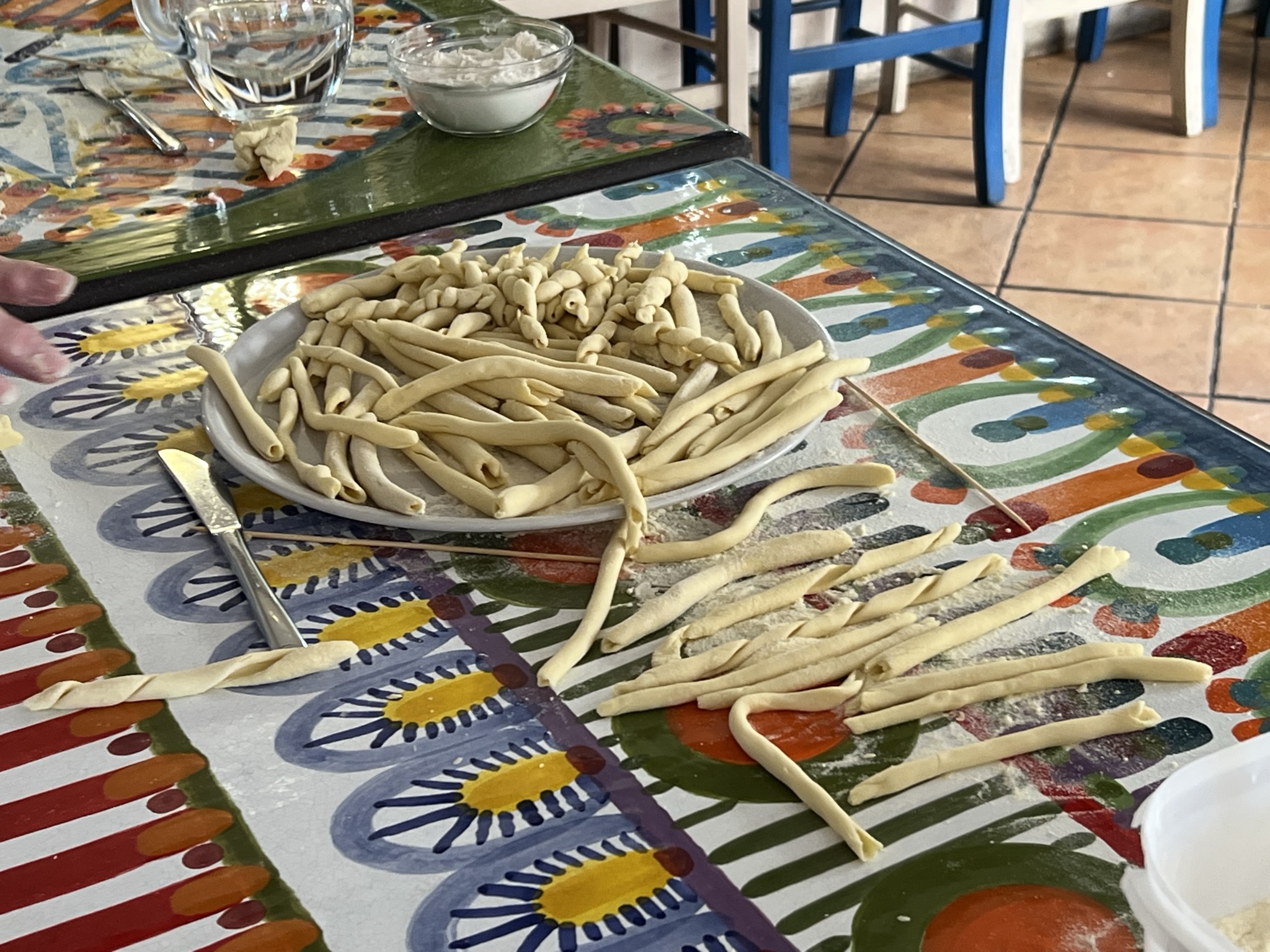 Then we made an eggplant dish with ingredients I would use for eggplant Parmesan. Giovanni told us it was different from eggplant Parmesan, but the explanation was lost in translation.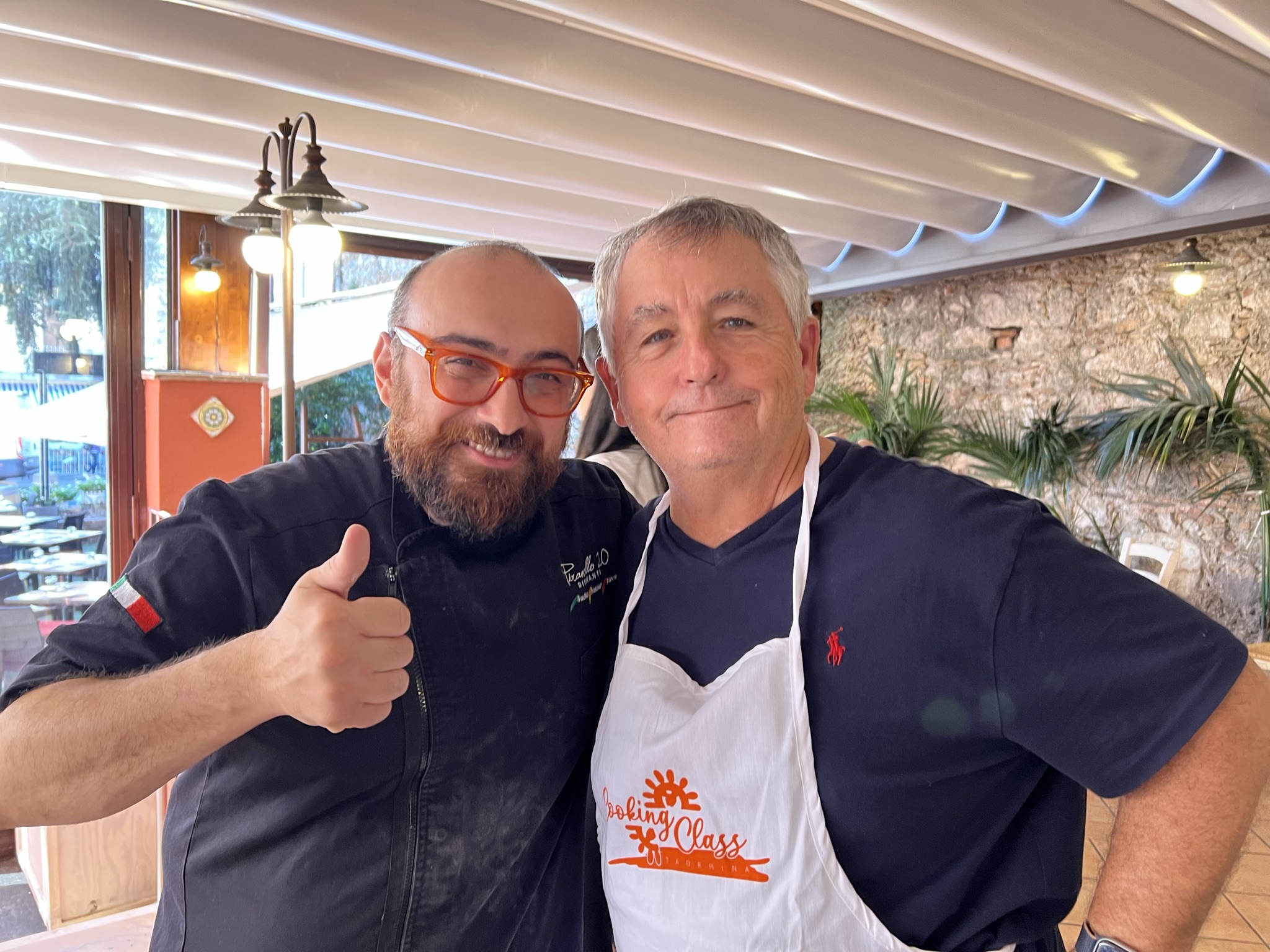 The grilled vegetables, including eggplant, here have been amazing. I especially enjoyed Giovanni's lesson about eggplant. I really expect to up my eggplant game when I get home.
After taking a little wine break, we made two kinds of anchovy dishes, rolled sword fish, and sea bass baked in salt.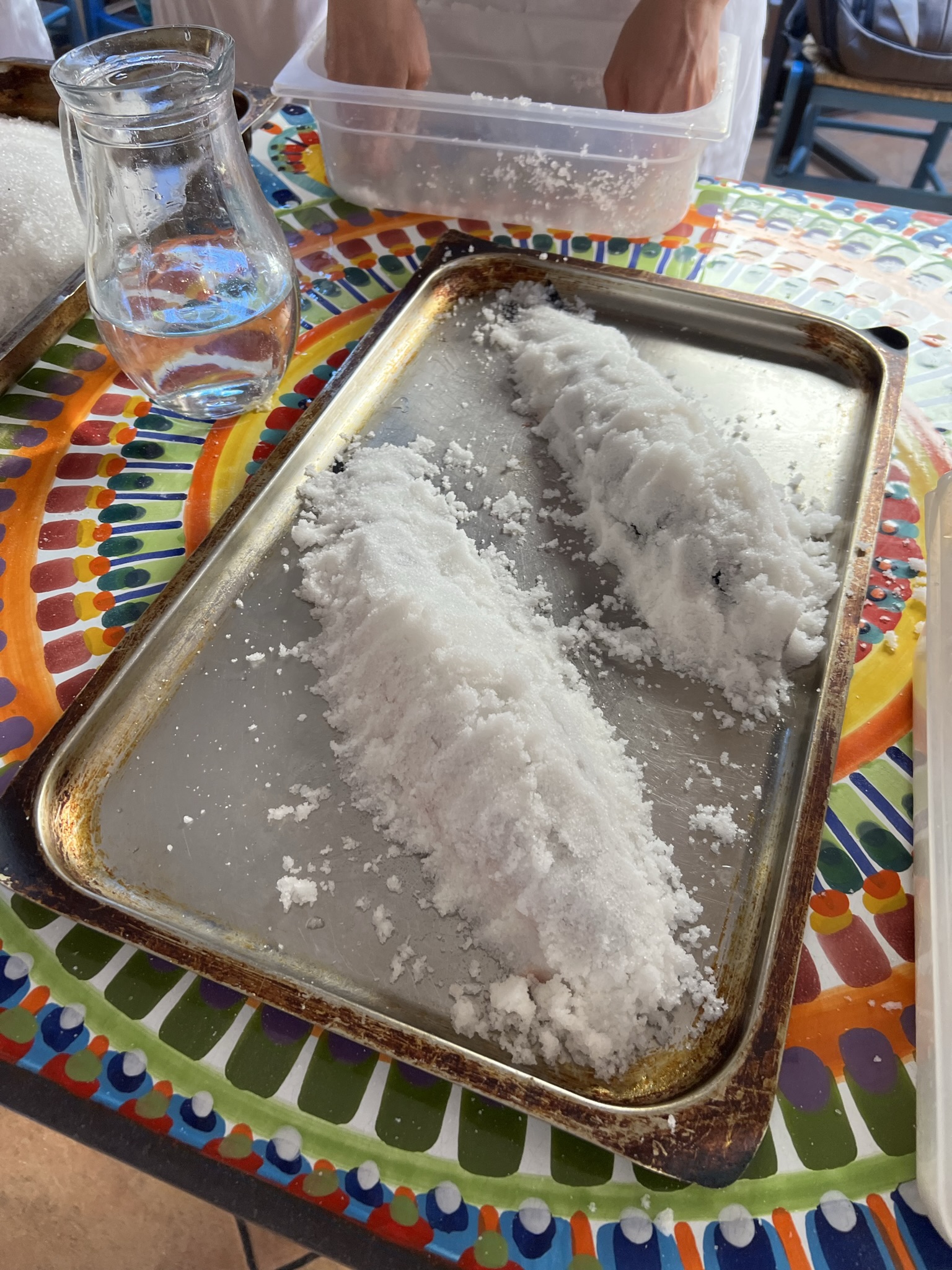 When the sea bass came out of the oven, the salt covering was rock hard and had to be cracked open with large spoons. After cracking the salt, we removed the heads, tails, skin and bones and retrieved the moist fish inside.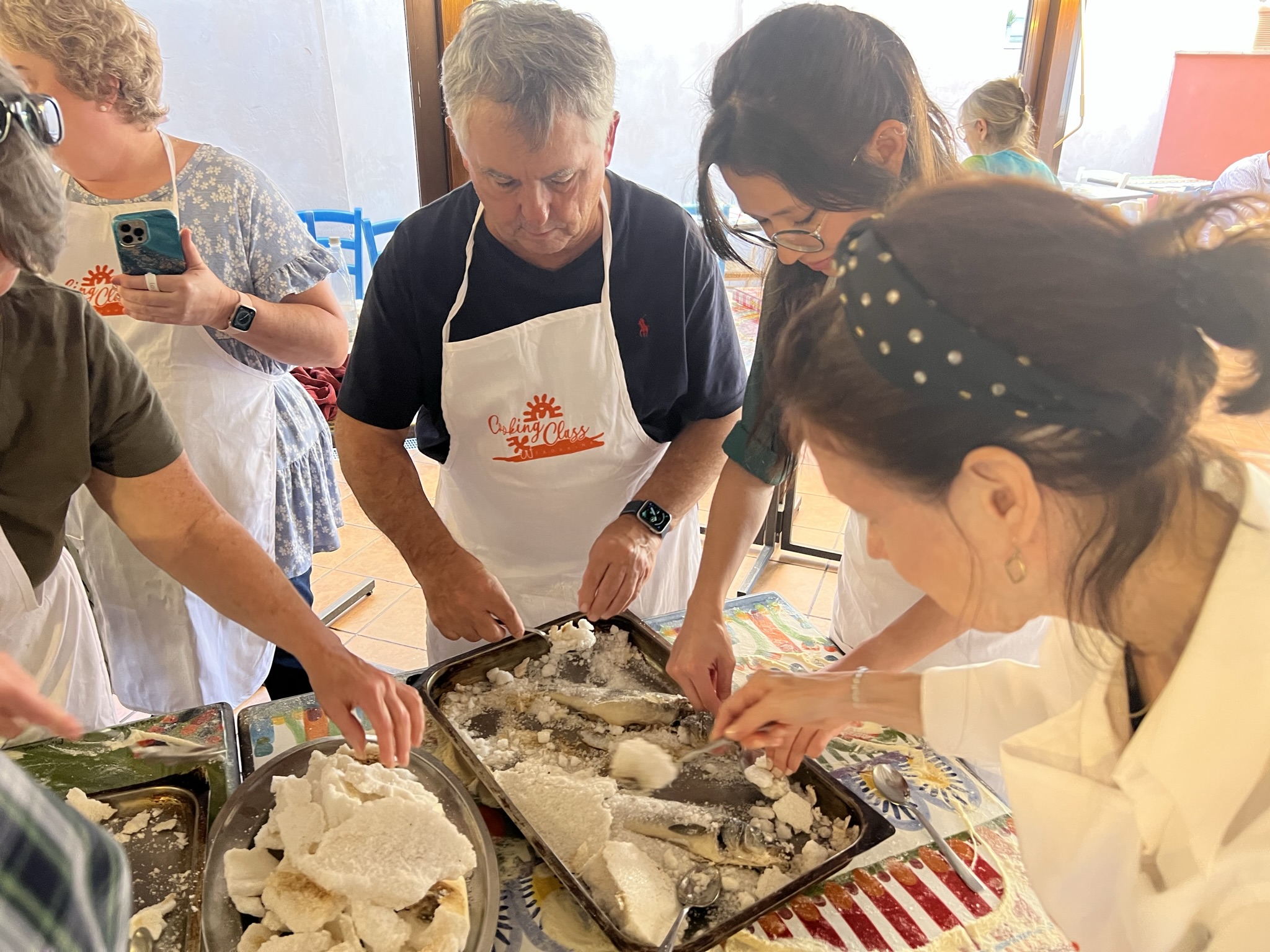 Feasting
After almost four hours of prepping and cooking, we sat down and enjoyed a beautiful and tasty feast.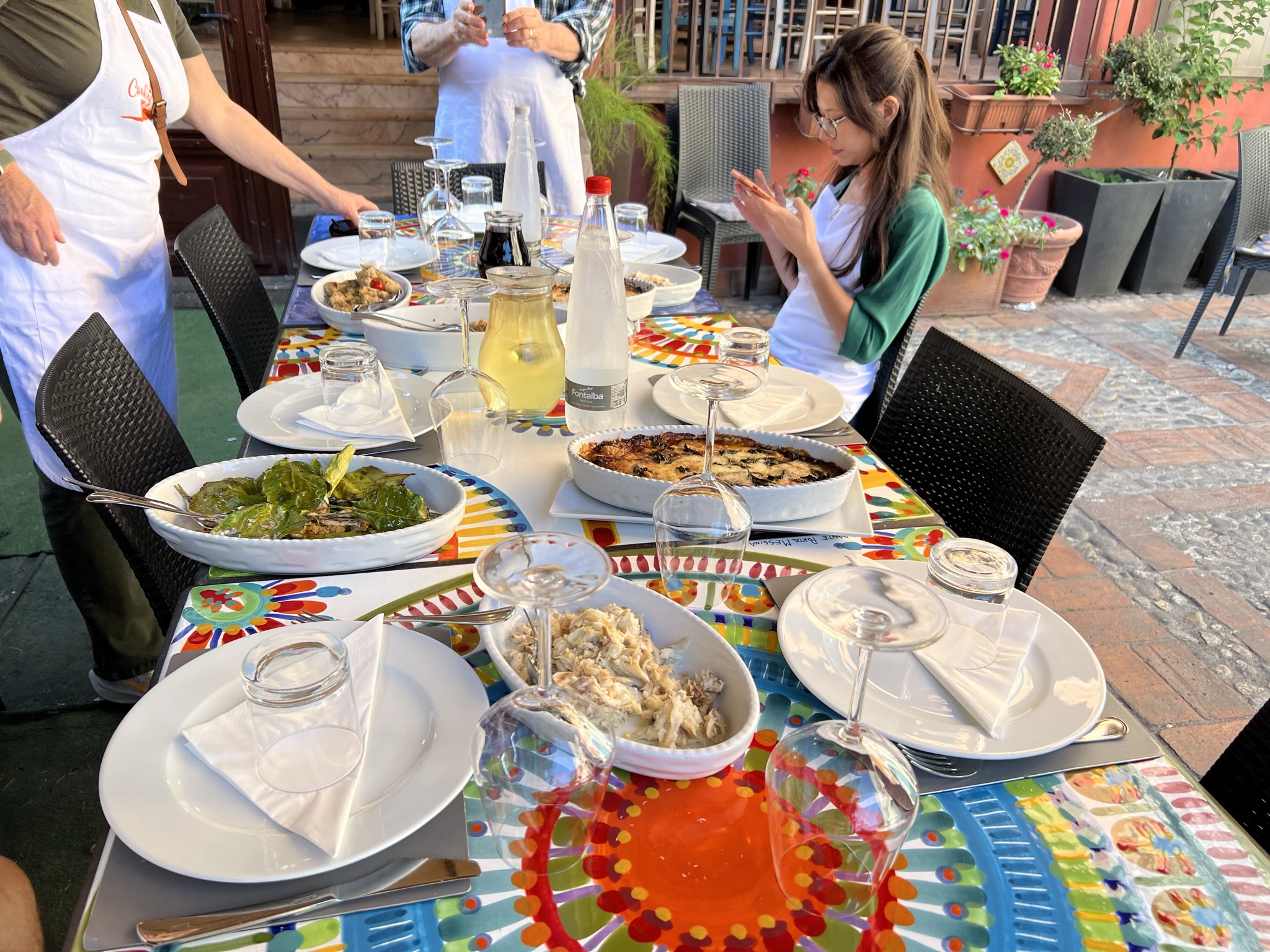 Our fun group of fellow cooks talked about where we would meet next year.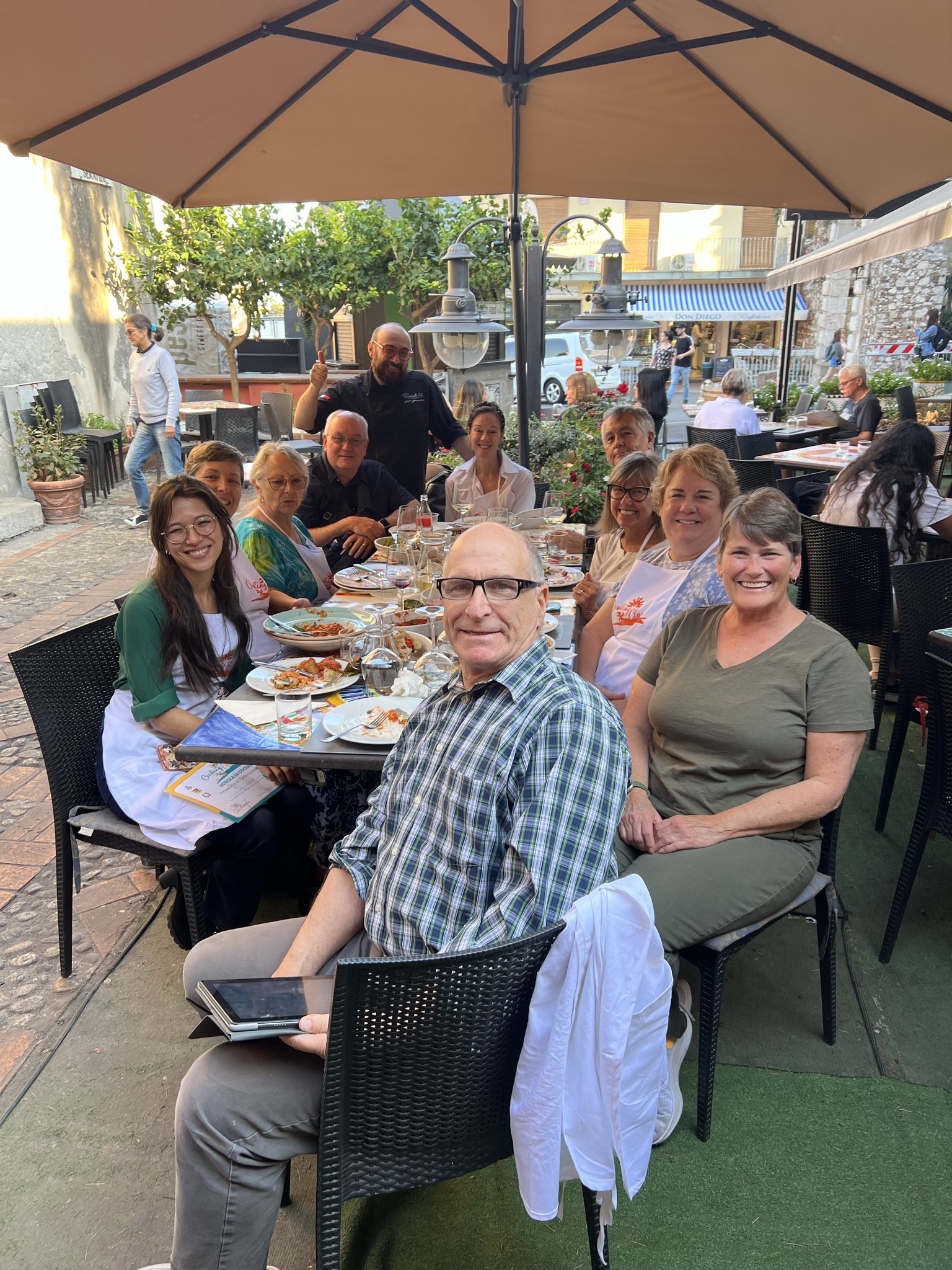 Granita
When I started reading about Sicilian food I knew I wanted to have granita and brioche for breakfast at BamBar. We never made it for breakfast, but I wasn't going to leave Taormina without eating granita at BamBar. Granita is a wonderful semi-frozen mixture of sugar, water and flavorings. So, after enjoying our huge Sicilian feast, we walked around a bit and then went to BamBar for granita and brioche, a classic Sicilian combination. Paul had almond and I had strawberry.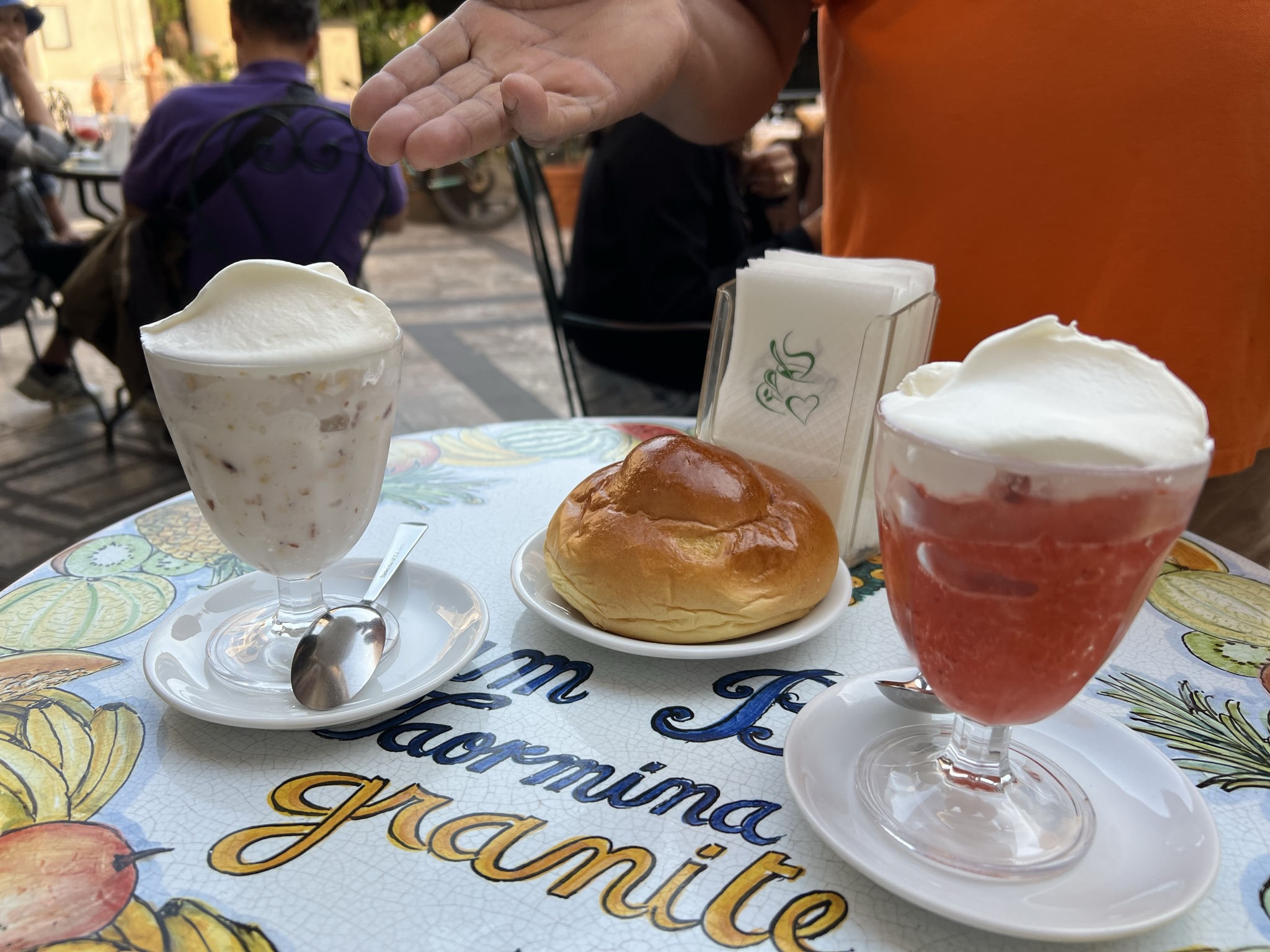 You have to love a culture that eats a sweet, icy, delicious concoction for breakfast.
Although many places serve granita, BamBar is the best. Everything I read and everyone I talked with said go to BamBar. The Sicilians consider granita to be a ritual of togetherness and social interaction. We loved sitting at our little outside table, enjoying our special Sicilian treat and savoring our last afternoon in Taormina. Tomorrow we take the train to Siracusa to enjoy three days in another beautiful Sicilian town.