Only in Firenze is the Town Hall an amazing palace and former home of the Medici family.  We took a guided tour of Palazzo Vecchio today and learned a lot about the building and the Medici family.  The map room was lined with maps of the world as they knew it in 1550.  There was a map that showed Florida.  Although Florida was shorter and fatter than it really is, it was hard to believe that a little less than sixty years after Christopher Columbus landed on America the Italians were able to construct a map of the country.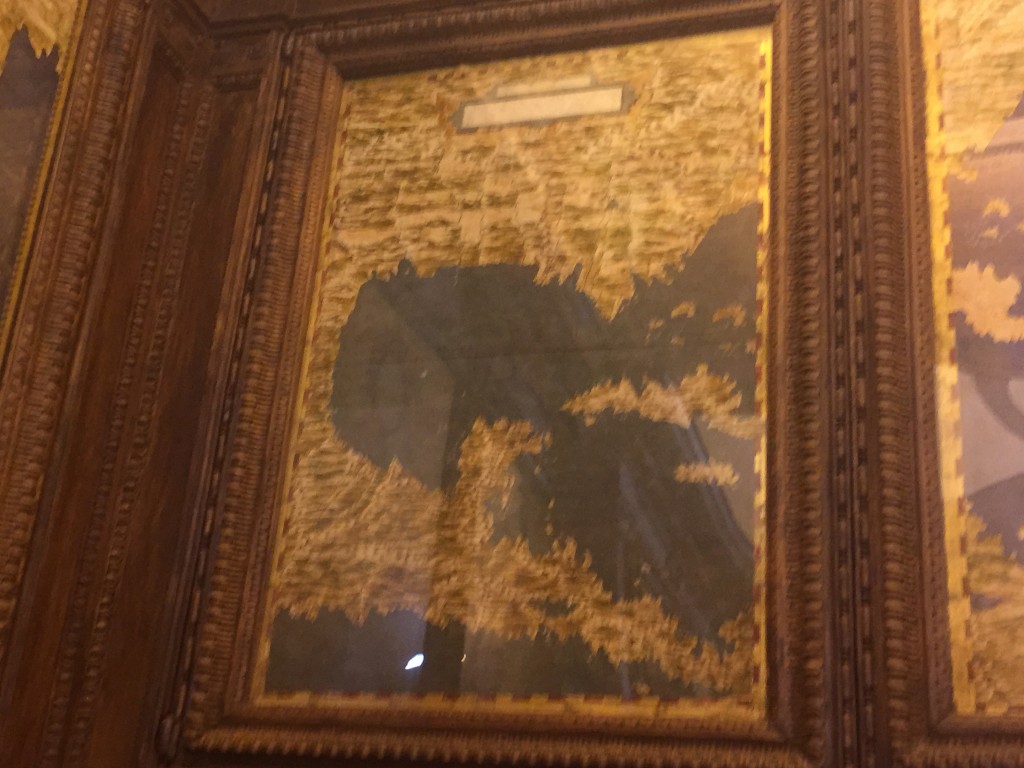 Because we were on a guided tour, we had access to the secret rooms behind one of the map-room panels.  Our guide opened a hidden door and we walked through a dark passageway and entered a charming little room.
The decor was amazing.  The Hall of Justice and the Hall of Lilies had ceilings that were totally covered with gold leaf and lapis lazuli.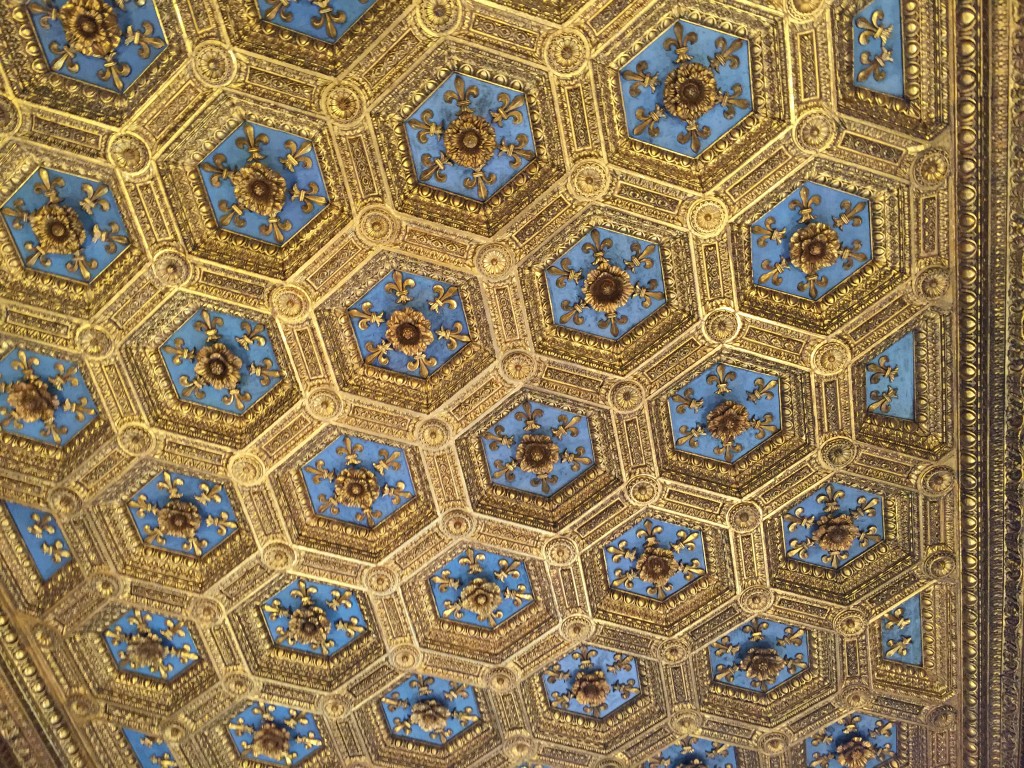 The great hall is a reflection of Cosimo I de Medici's confidence and power.  The painting in the center of the building shows him being crowned by an angel.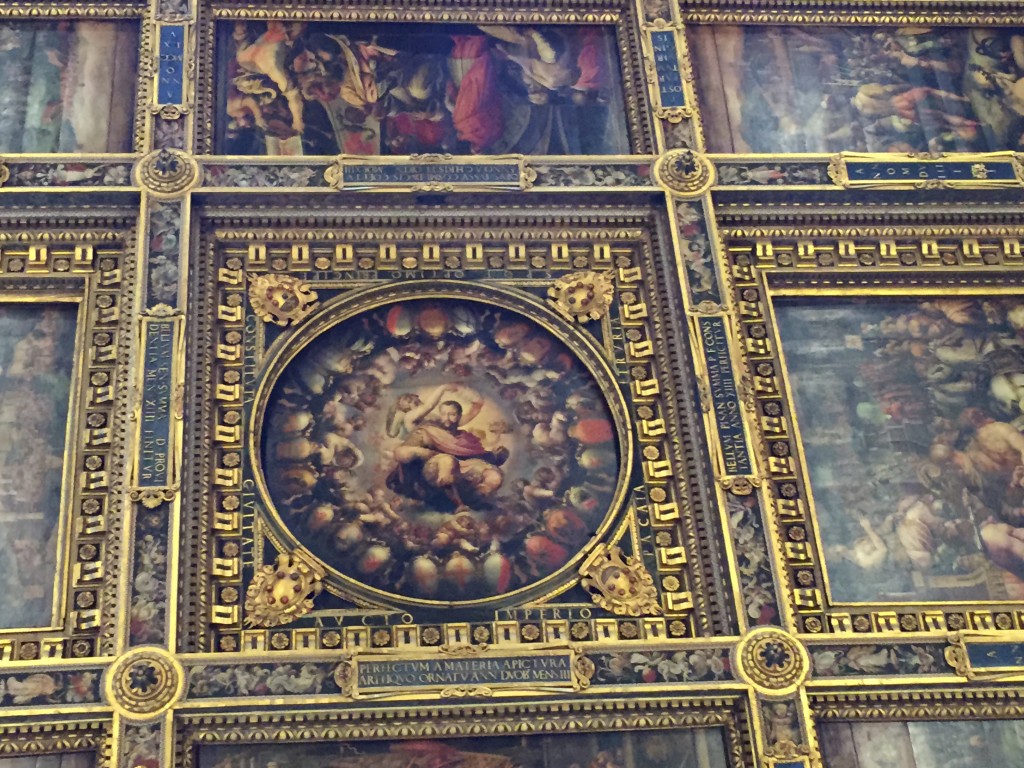 Large frescoes on the wall depict his victories over neighboring towns such as Pisa and Sienna.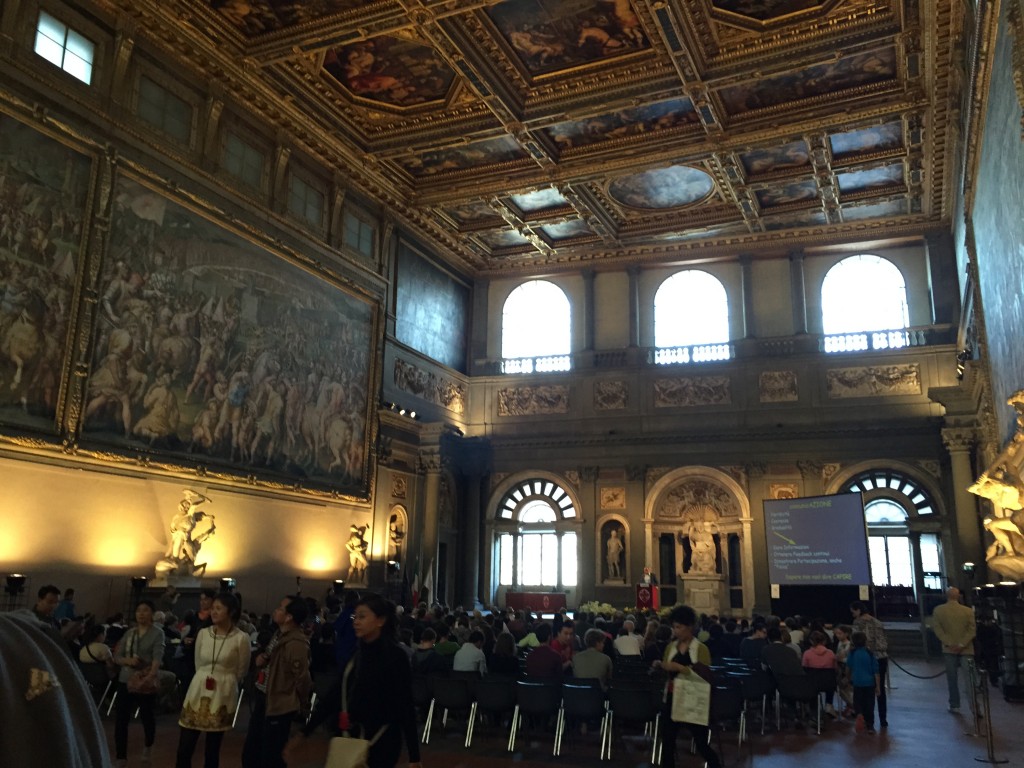 One of the statues, "Winged Boy with Dolphin" in the palazzo is by Andrea del Verrocchio, the teacher of Leonardo da Vinci.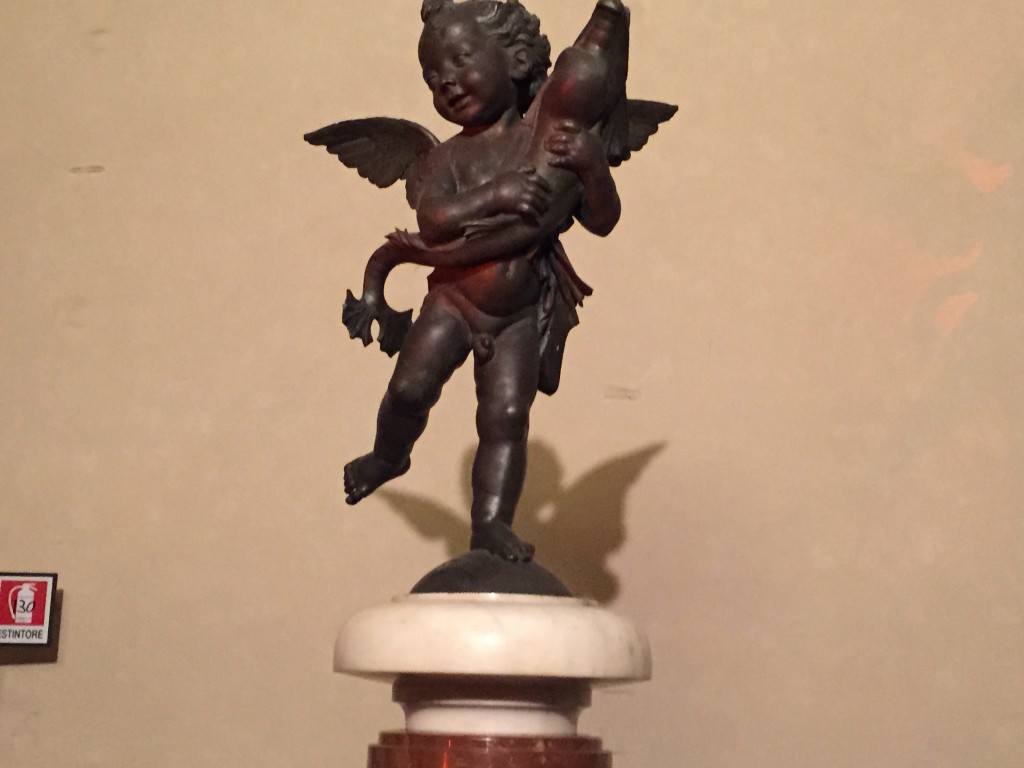 Earlier in the day we took David on one of our favorite walks up a gazillion steps to San Mineato, a beautiful Medieval church.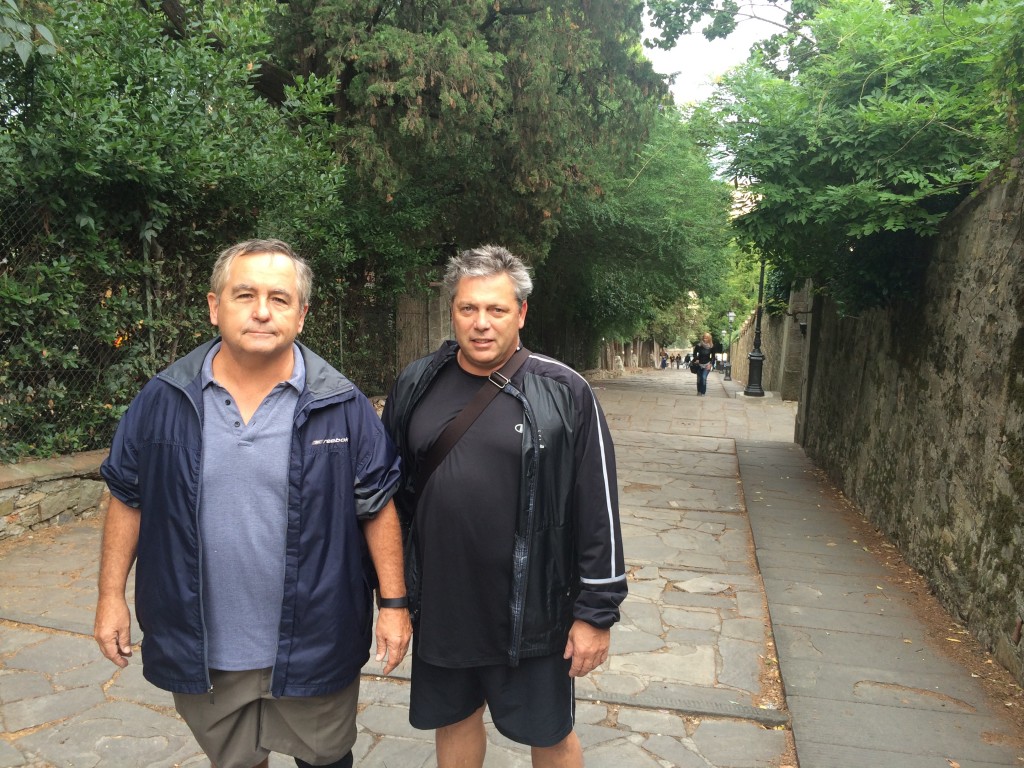 This time we were able to walk around the cemetery that surrounds the church.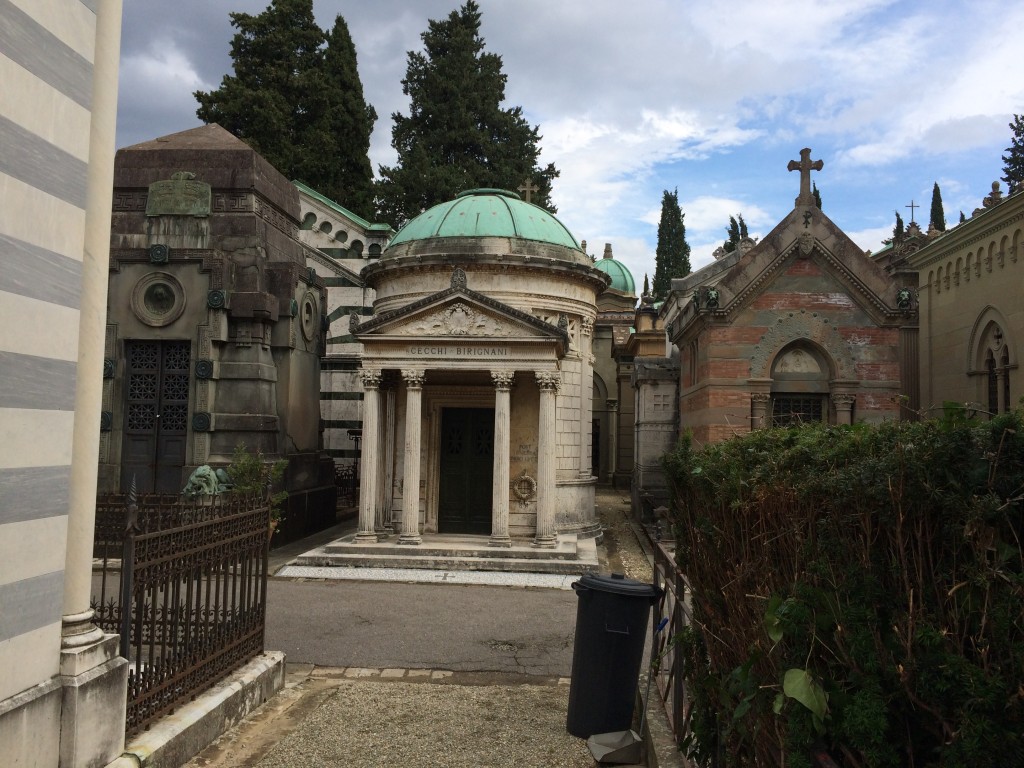 When we went inside, a monk was near one of the alters.  I thought her was preparing for a service, but then he pulled out a vacuum cleaner and started cleaning.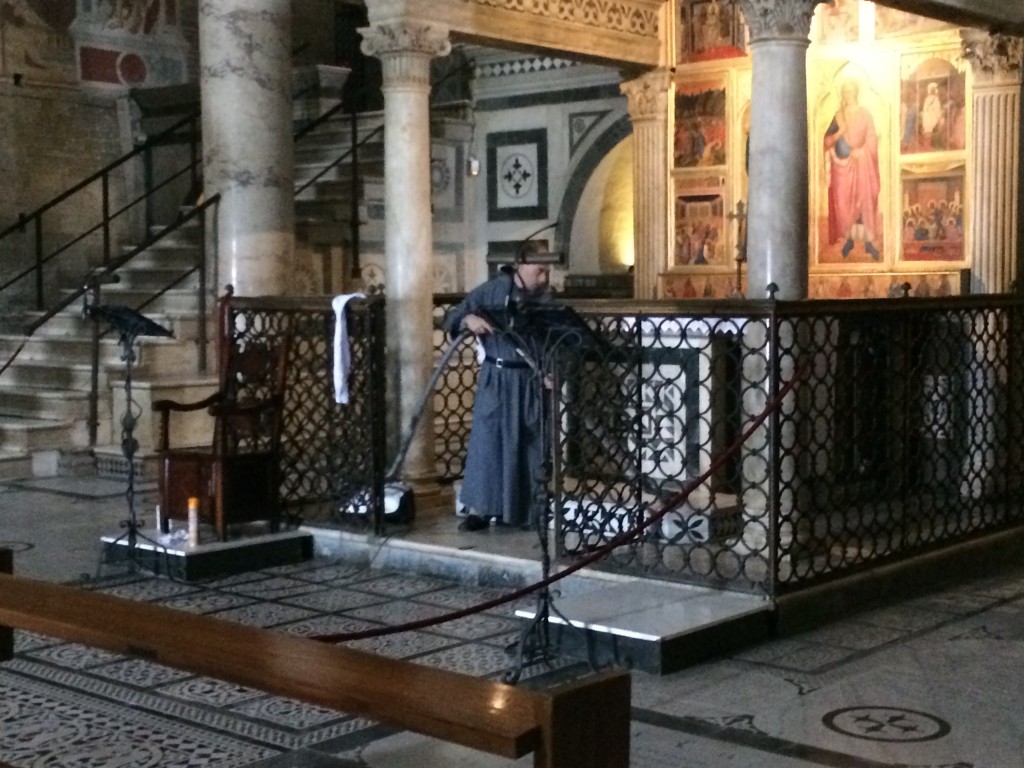 In the evening we took David and Julie to our favorite opera find, Love Duets at St. Mark's Church.  There were about fifty people there, a few more than when we went earlier.  A couple we know from Bemidji, our northern MN home of thirty years, was in the same audience.
Tomorrow we leave for Sienna, and I am feeling sad to say good-bye to Firenze.  i was starting to feel like I lived here.  The owner of my favorite gelato place remembers what I like and gets it ready when I enter. In the last two days, a waiter we have gotten to know stopped his car and called out to us as he drove by that we still hadn't met for a coffee.  Then a few blocks later the owner of another restaurant we like was out with friends and recognized us and greeted us as we walked by.