Ever since I shared a bottle of Chateauneuf du Pape with three good friends when I was just starting to enjoy wine, it has been my favorite red wine. Enjoying wine involves both the senses and the emotions, and our fabulous wine tour covered both. Thanks to our wonderful guide/sommelier, Pierre Fernandez owner of wineprestigetour.com, we experienced one of our best wine tours ever.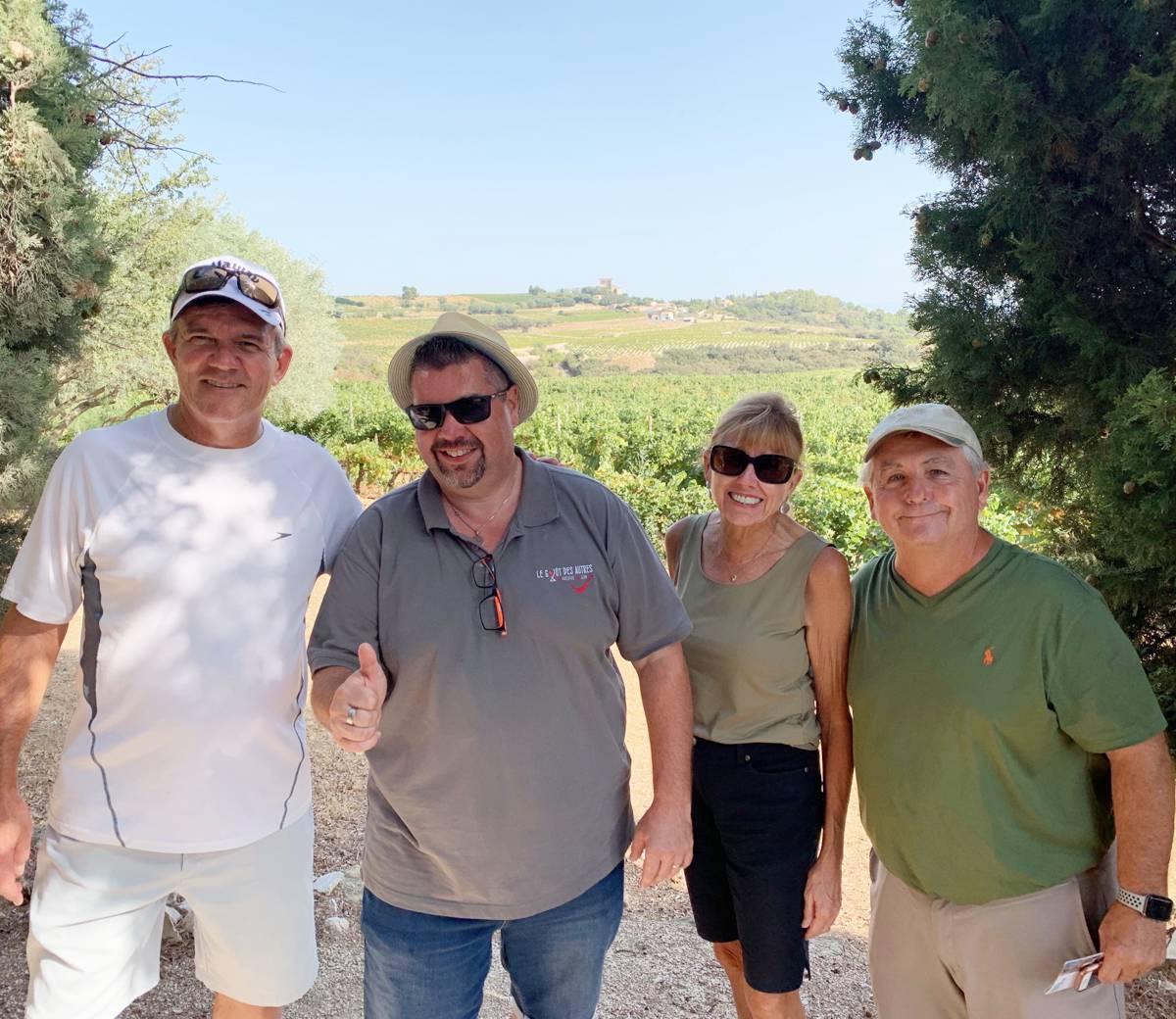 We took the TGV train to Avignon where Pierre picked us up. While waiting for the other four people in our group to arrive, we visited an art exhibition in an old chapel. I got to practice my French with a charming French woman in the chapel.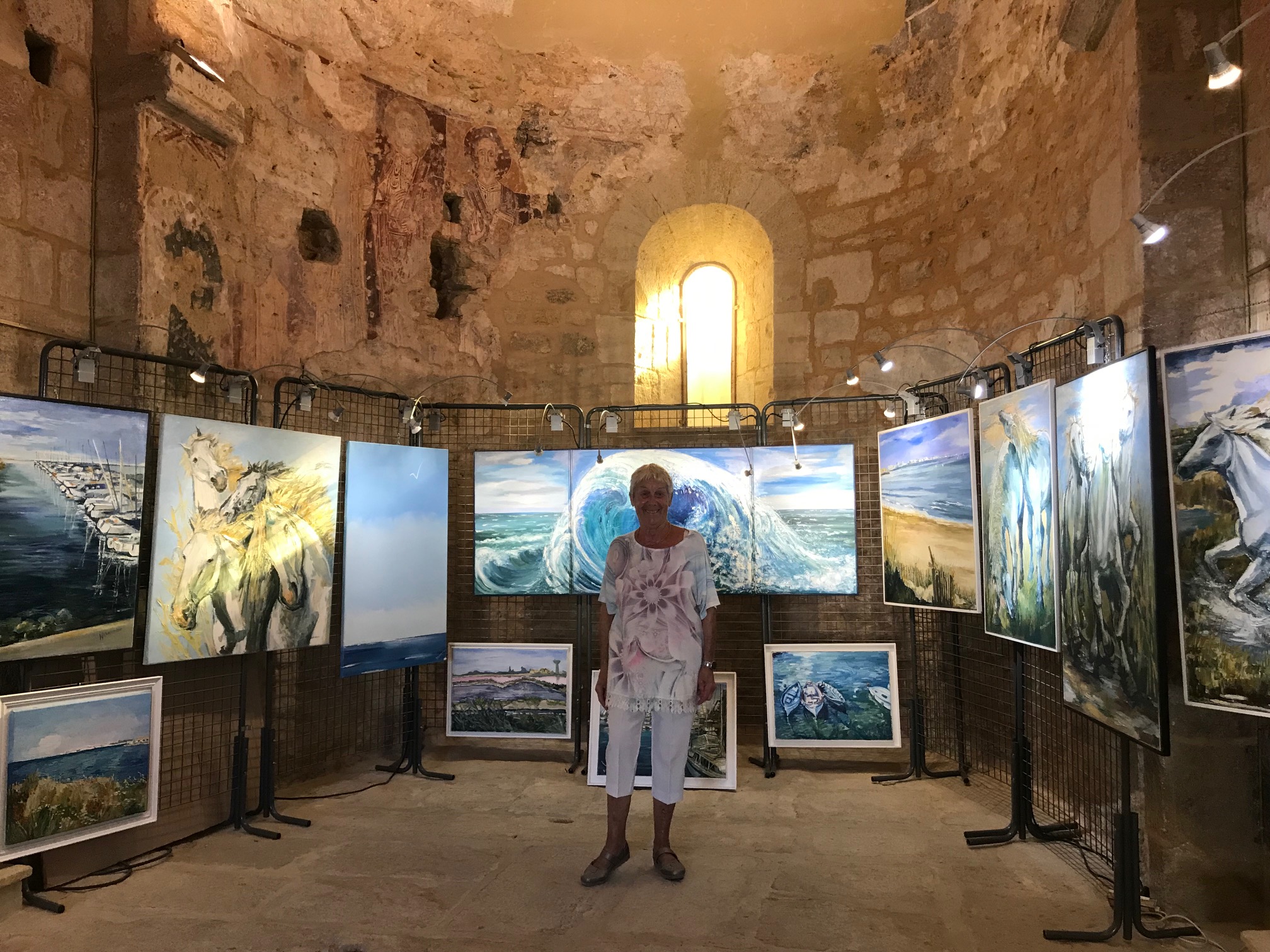 Pierre was born in Chatueaneuf du Pape to a family that has been making wine for 600 years. The local winemakers trust him so much they literally give him the keys to their cellars. He took us to three wineries, and at each one he unlocked the door, got out the wine and glasses and told us about the winery. He provided amazing tasting notes for each wine we tasted.
Before the tastings, he took us into the vineyards and explained the importance of terroir (the soil and climate that affect the taste of the wine) and the unique terroir of the Chateauneuf du Pape region.  The French believe that terroir is more important than the grape in making wine. The Chateauneuf du Pape region is unique because the soil changes frequently from sand to clay to limestone to river rock.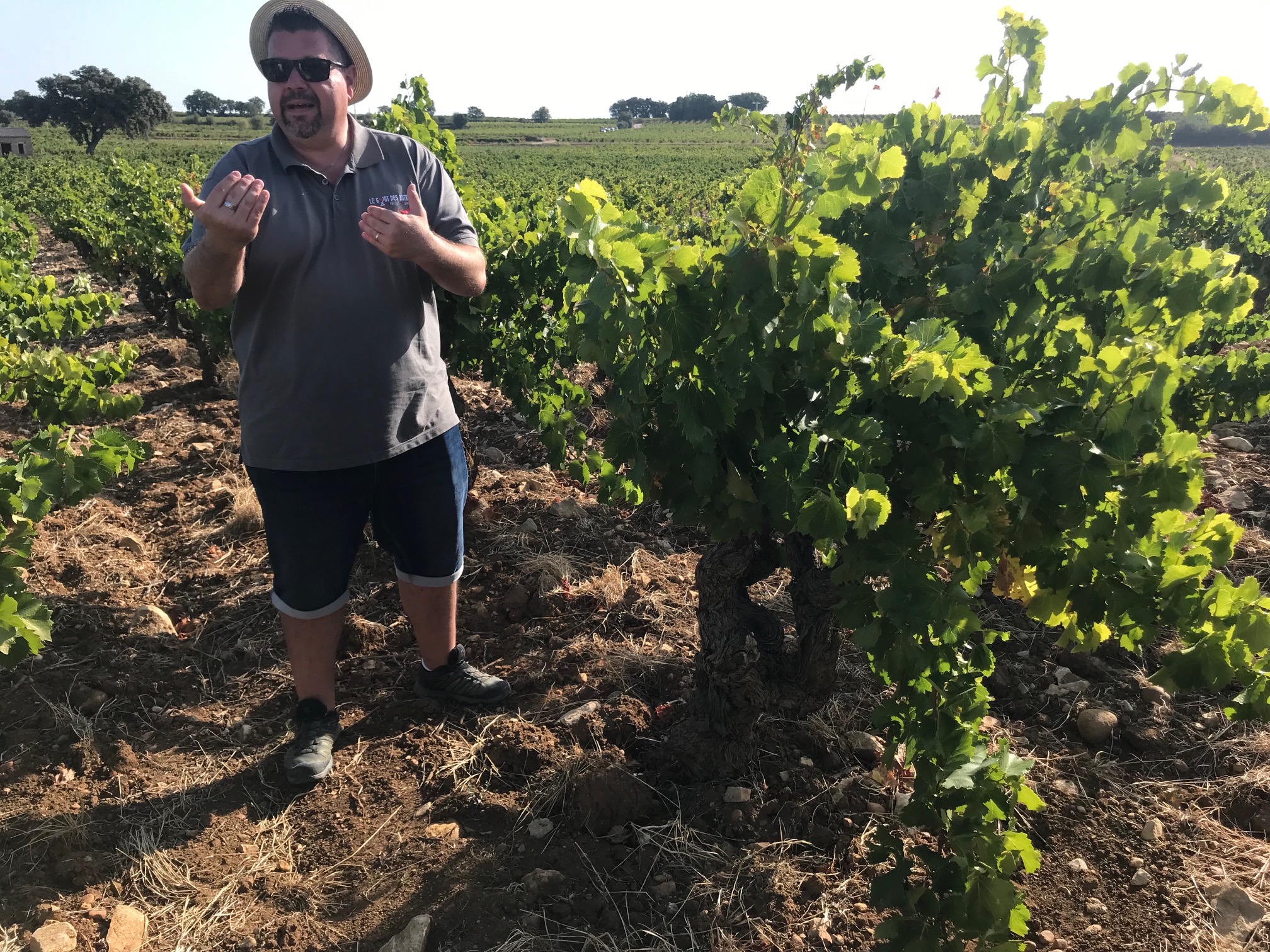 We were surprised that river rock entirely covered some of the vineyards. As a result of geological forces millions of years ago, Chateauneuf du Pape is the only place in the world where river rock covers the fields as it does here. Who would think to plant anything in an area covered with rock? The winemakers did because they knew the rock kept moisture and heat in the ground and provided an ideal setting for the grapes.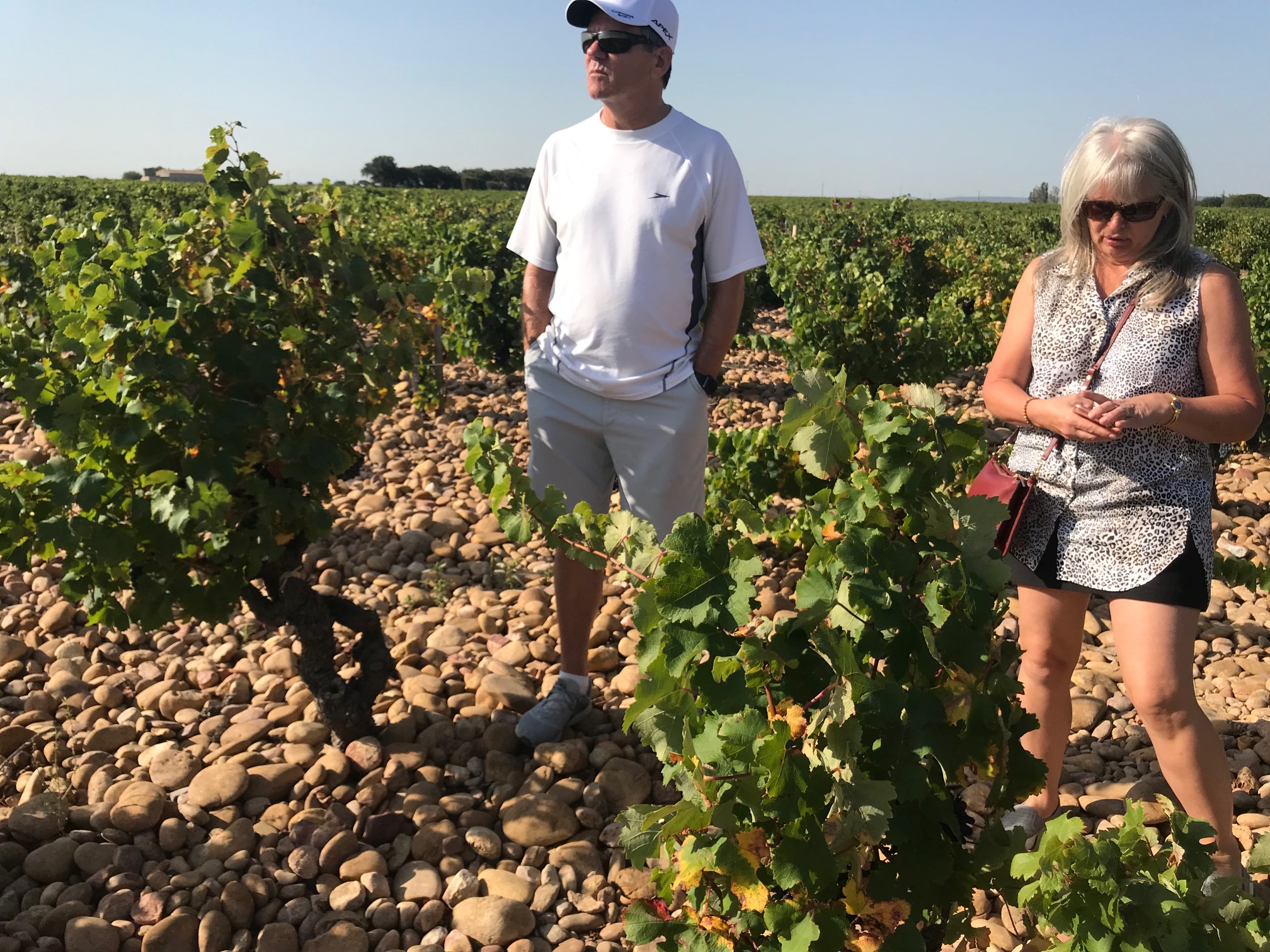 I noticed that most of the vines were bushier than the usual trellised vines I had seen before . Pierre explained that because all of the grapes are handpicked (required for all Chateauneuf du Pape wines) there is no need for space between the rows for machines.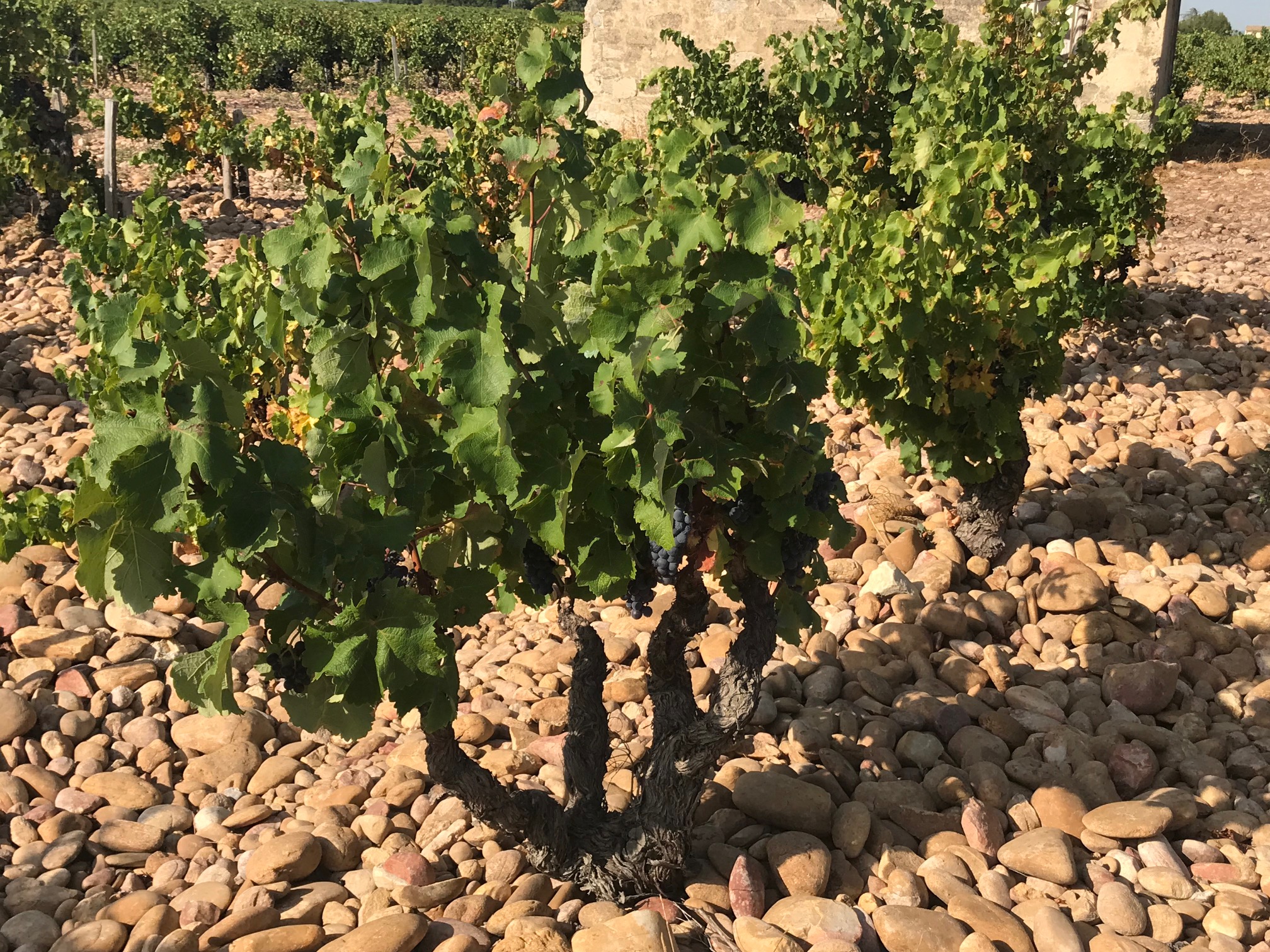 Chateauneuf du Pape means "new palace of the Pope." During the 14th century the Pope lived in a palace in Avignon and built a summer palace in a village 18 km away. That village became known as Chateauneuf du Pape.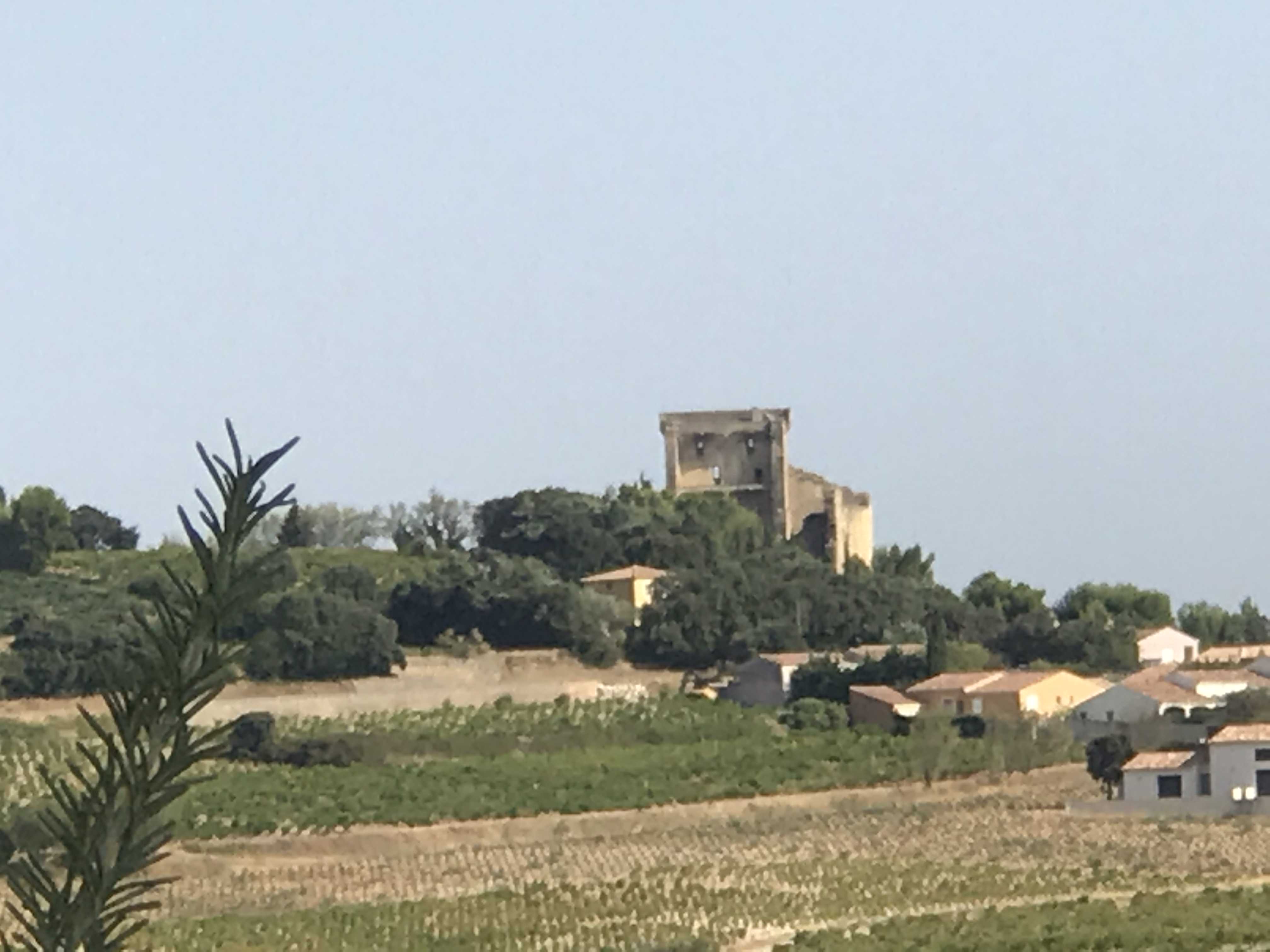 Our last tasting was at Chateau de La Gardine winery in the family tasting room  that is not open to the public. Once again, Pierre's relationship to the winemaker's opened the doors to a very special experience.
We were very happy wine tasters at the end of the day. We had learned a lot, enjoyed a great lunch, tasted great wine, and of course, ordered some wine to be shipped home.