After our aborted trip to Notre-Dame de Paris yesterday, today we went to visit the iconic cathedral.
Notre-Dame represents the heart of Paris for me. I remember being so moved by the holiness inside the cathedral the first time we visited Paris in 1993 that I returned for a second visit a couple of days later.
Like so many people around the world, I was devastated to see the fires that damaged so much of the cathedral on April 15, 2019. I was anxious to see what had been done to restore Notre-Dame.
As we got closer to the cathedral, I kept looking around each corner for my first glimpse of Notre-Dame. Finally, we turned down a street leading to the cathedral and I saw scaffolding and a giant crane.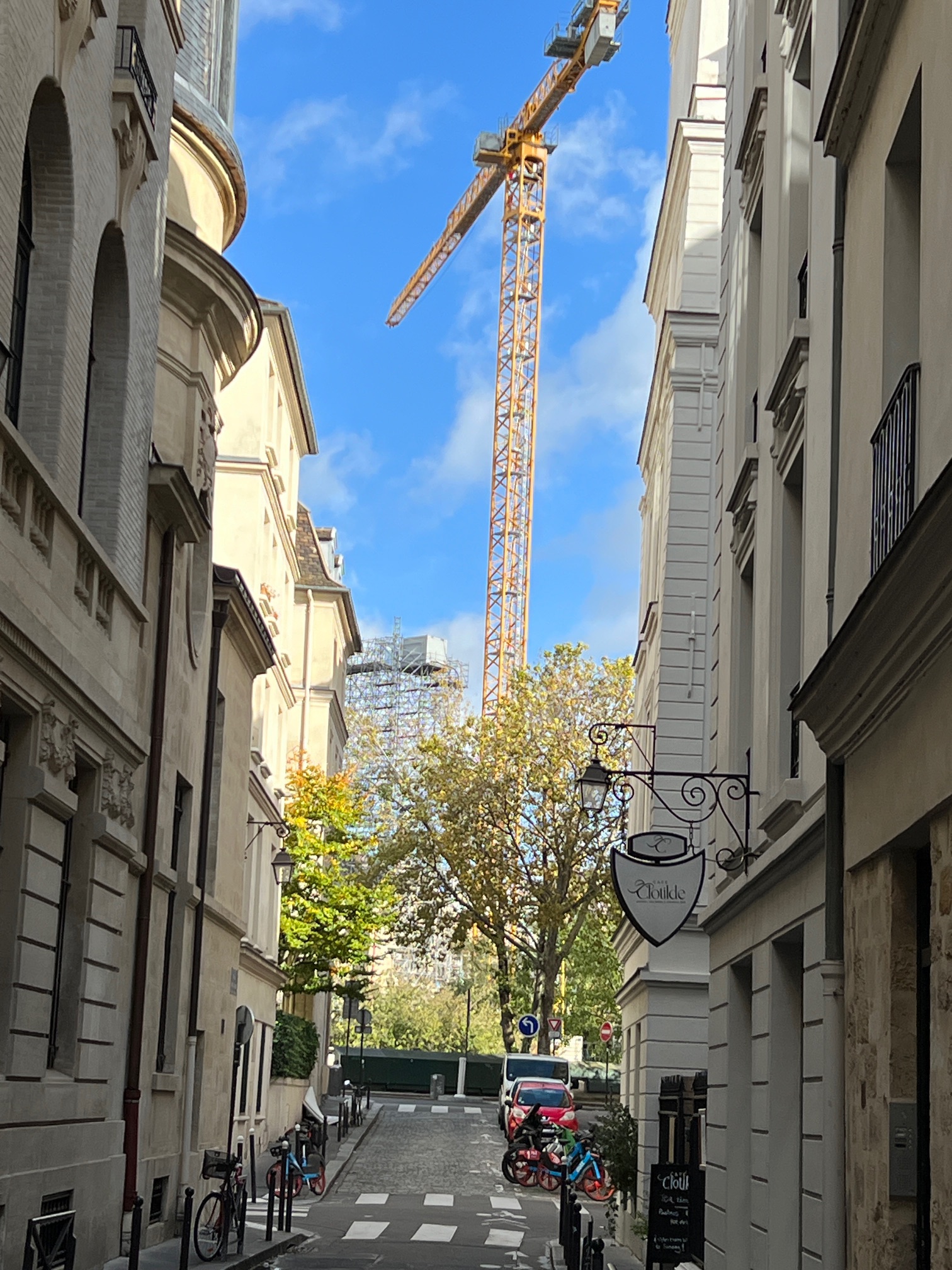 The closer we came to Notre-Dame,the more scaffolding and equipment we saw.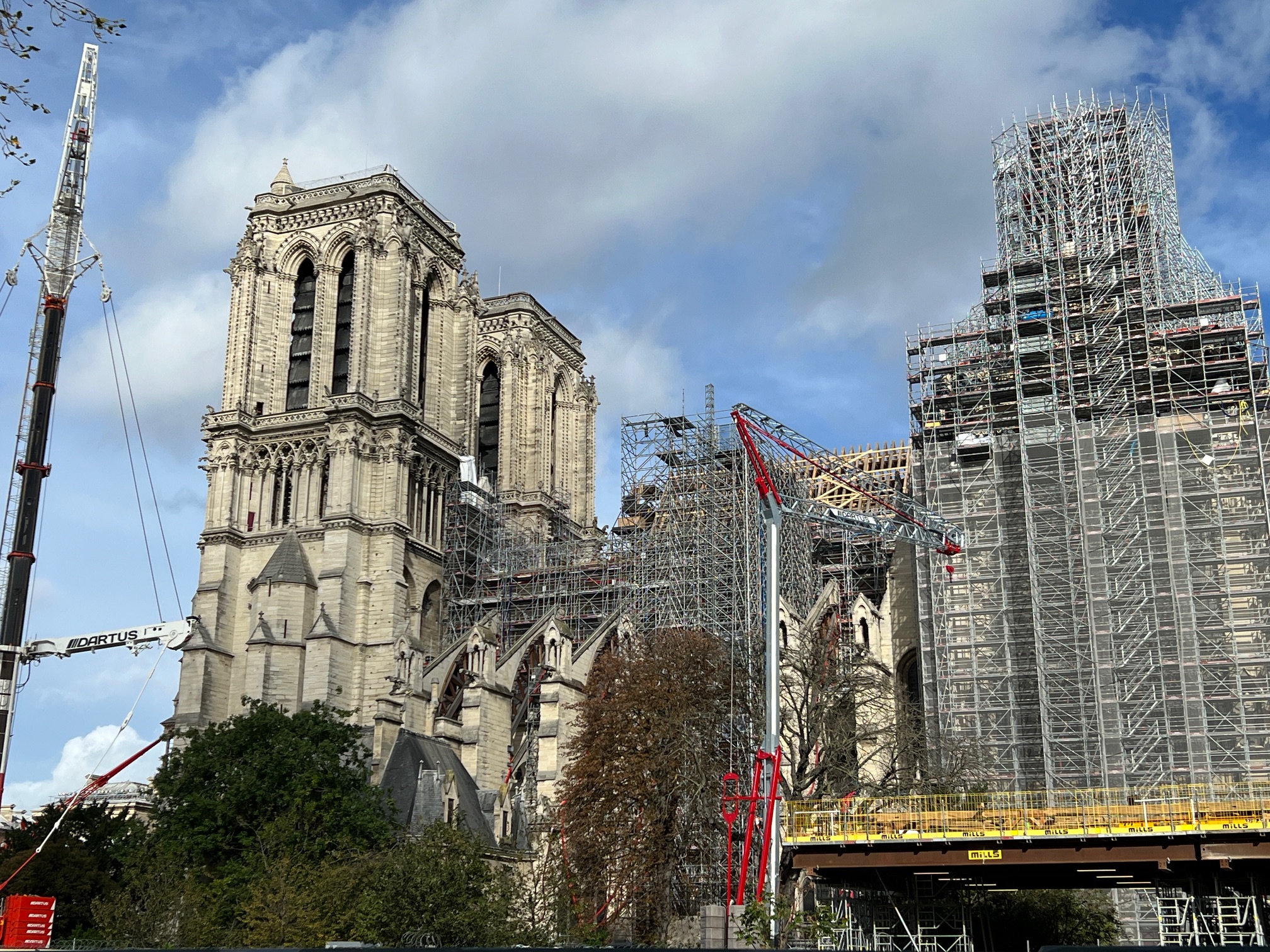 Until I saw it, I could not imagine the enormity of the restoration project.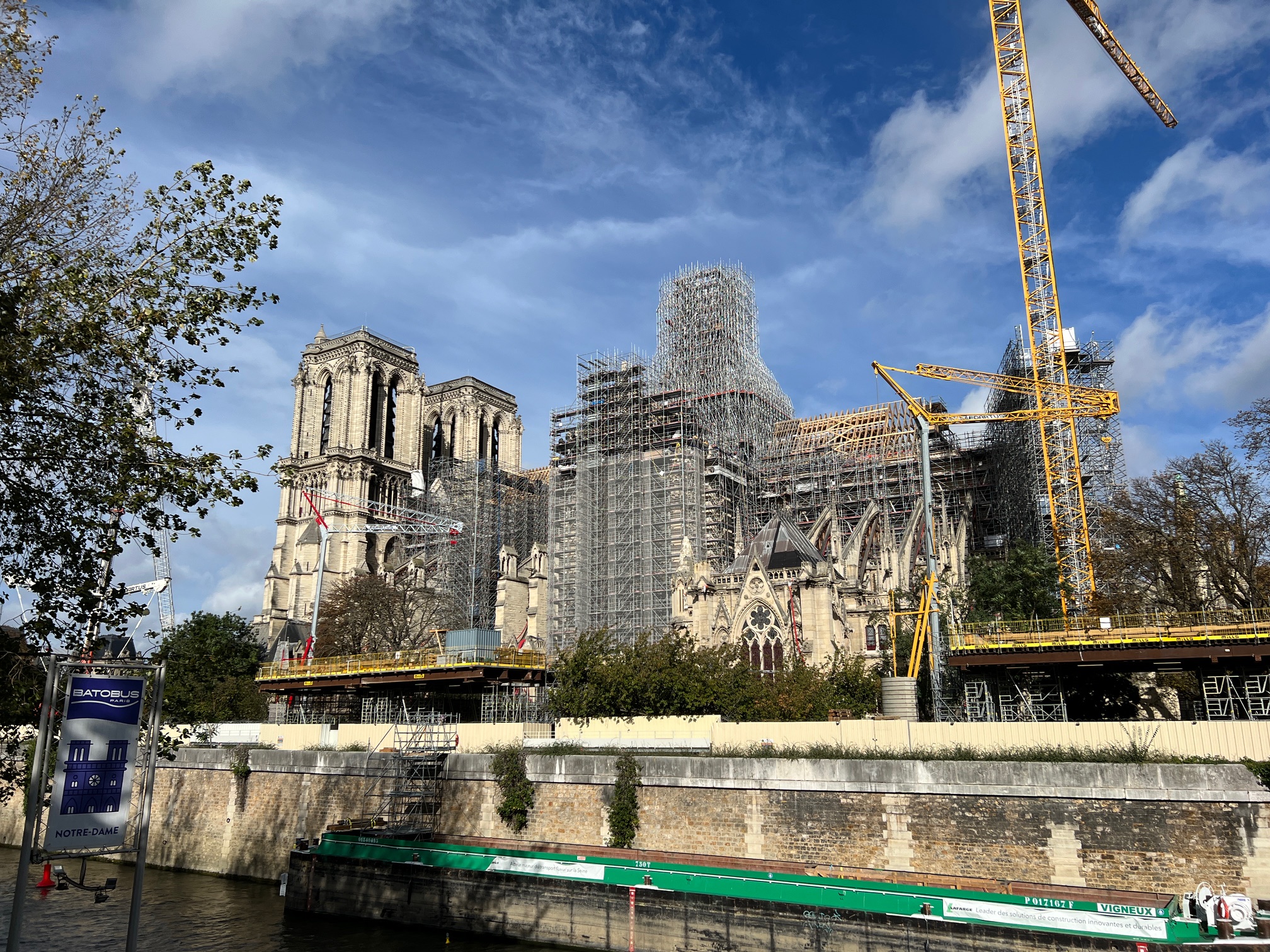 An impressively detailed timeline of the the scope and progress of the restoration project lines the sidewalk by Notre-Dame.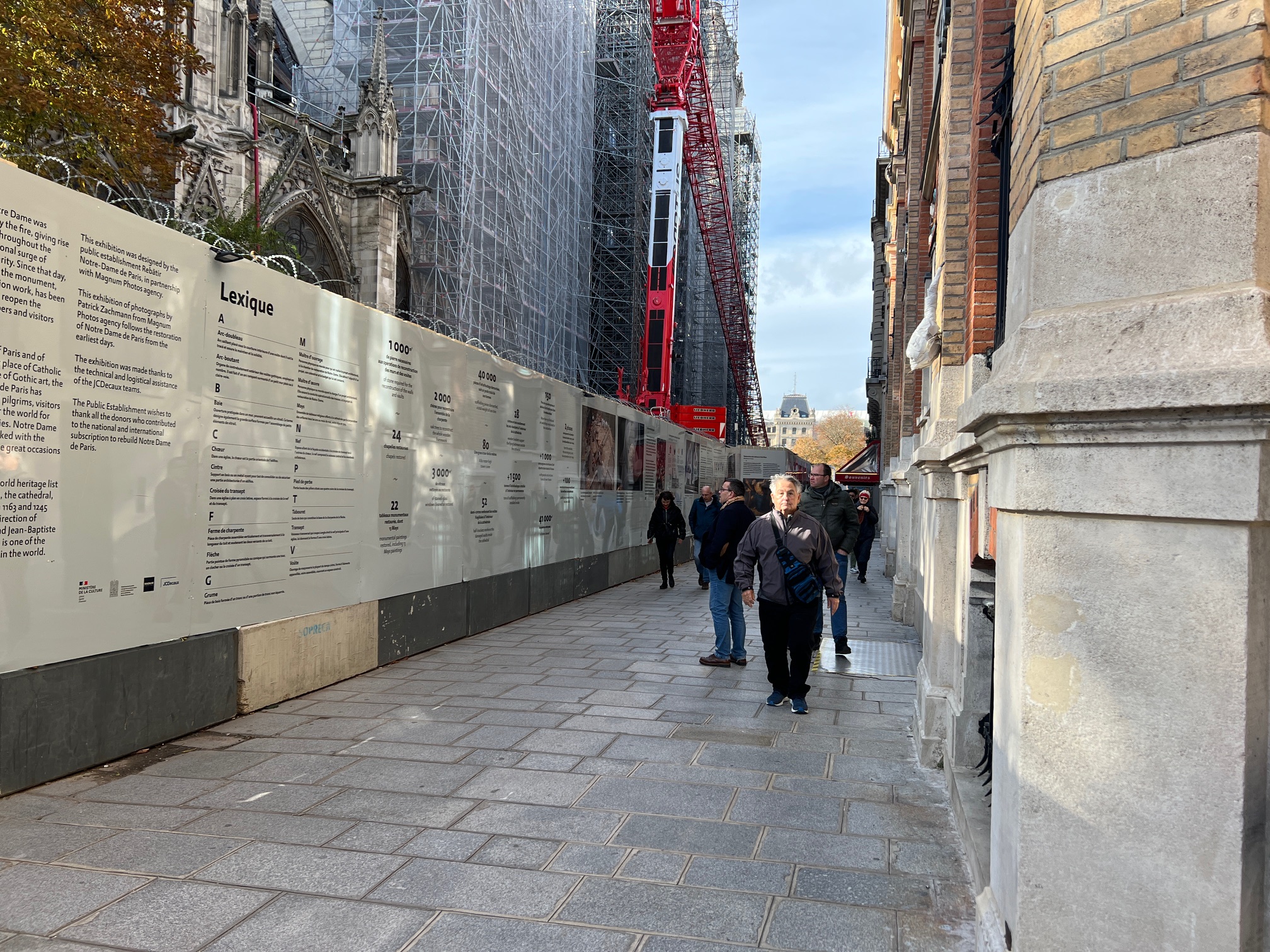 I felt sad about the damage to the cathedral but inspired by the supporters and talented craftspeople who were working together to restore Notre-Dame. Estimates for the restoration cost range from 860 million to over one billion euros. The wealthy French families behind LVMH and Kering pledged 200 million euros and 100 million euros respectively. LVMH owns brands Louis Vuitton and Christian Dior.
The crowd visiting Notre-Dame seemed more subdued than in past years. An accordion player by the cathedral added a sweet touch to the day.
Lunch in the Marais
Leaving Notre-Dame we walked to the Marais district for lunch. We found an interesting bistro that promoted food transparency and organic food. I had soupe à l'oignon that was both tasty and healthier than any I had ever eaten.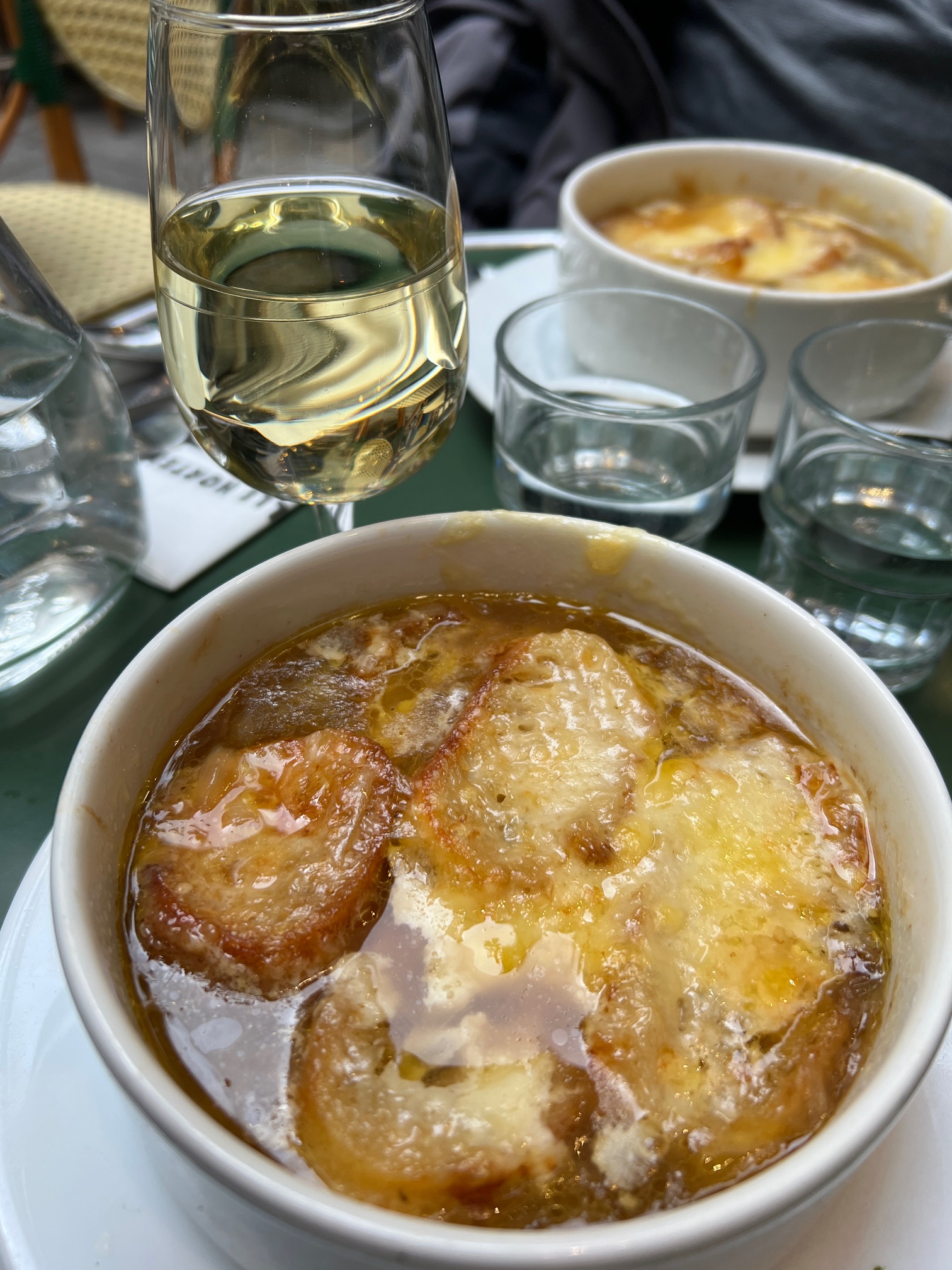 The busy servers were personable and friendly.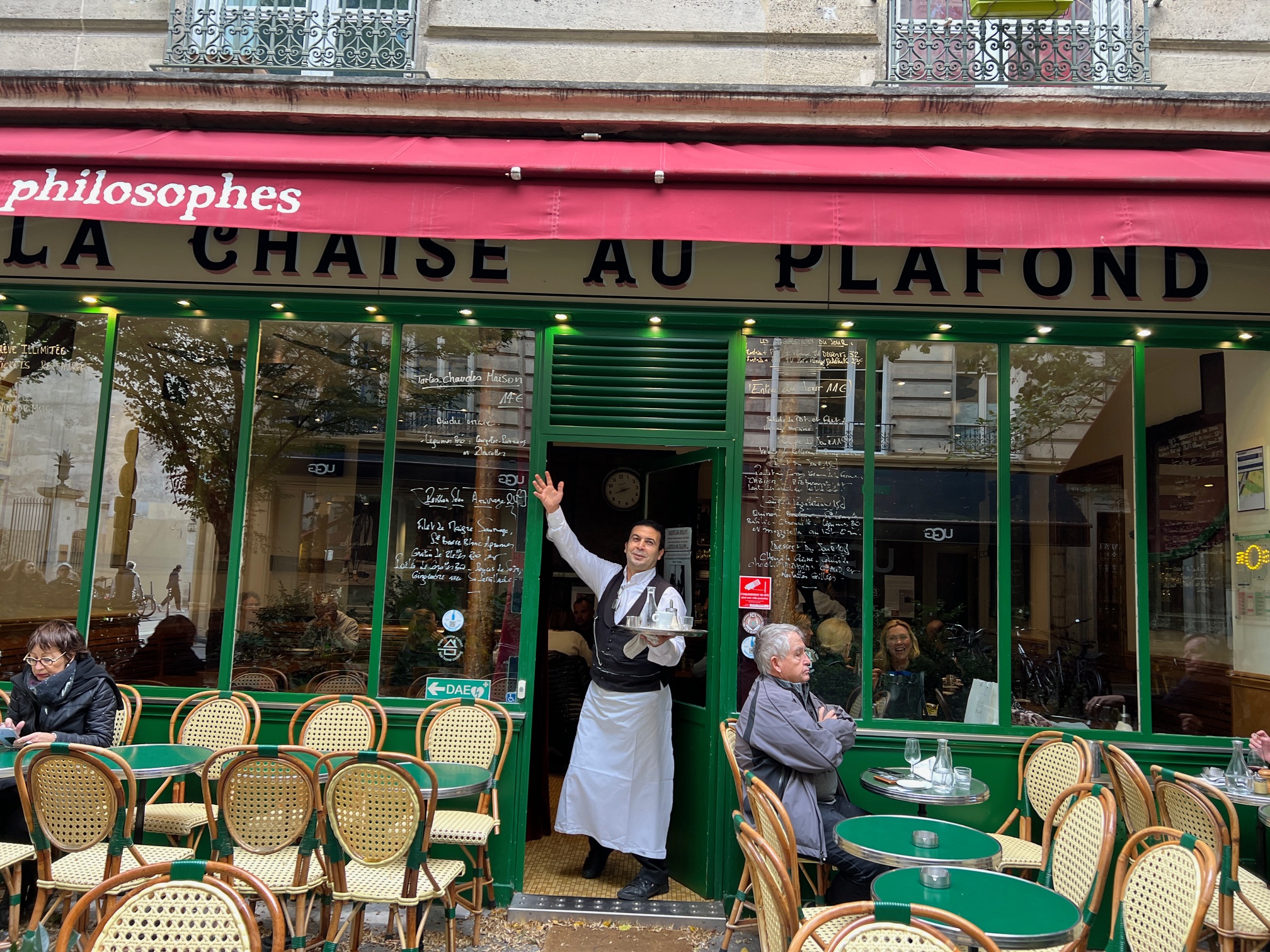 More Adventures with French
After amusing the servers with my French the night before, I was happy to have a more successful communication experience today. Paul wanted to visit some wine shops and see about shipping wine home. I think I asked the right questions and understood the answers, all in French!
I was a little humbled when went to get cheese for dinner, however. Communicating what we wanted was no problem, but I did not communicate very well when it came to how much we wanted. No matter what I said, the fromager seemed to be telling us he couldn't give us a larger amount. It was definitely a "lost in translation" moment. In spite of my French challenges in the cheese shop, we went home with enough cheese for a lovely dinner.