We love walking tours and we love food, so a walking food tour sounded perfect for us.
The food tour we selected focused on Le Marais, one of the two districts in Paris to escape the 19th century urban renewal orchestrated by Napoleon III in the 19th century. The Latin Quarter, where we are staying, is the other district.
Because it was overlooked in the 19th century modernization efforts, Le Marais is one of the few Paris neighborhoods to retain its original medieval streets and architecture.
We met Toma, our guide, in a small park in Le Marais to begin our day exploring the hidden gems of small family-run food businesses.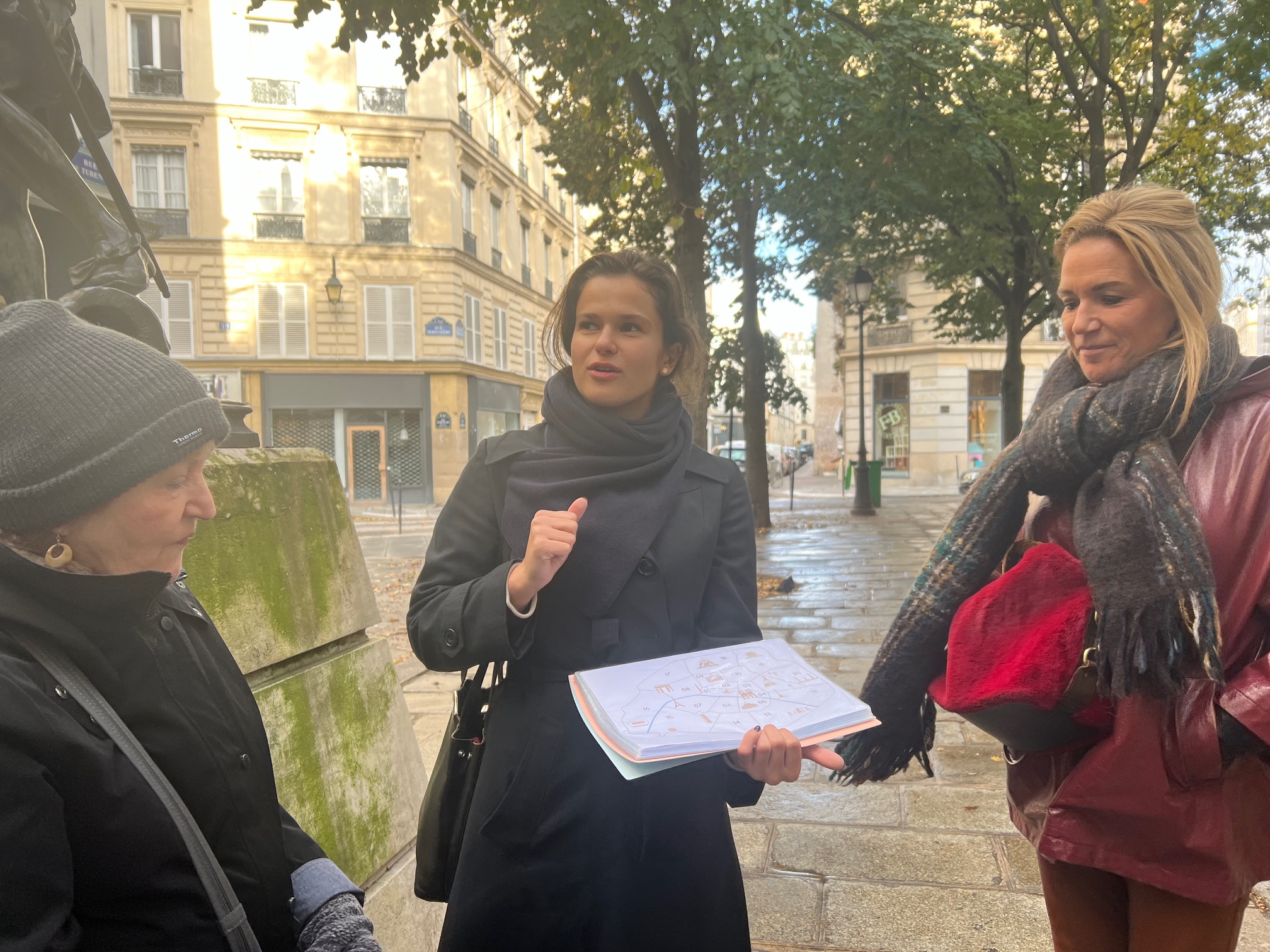 Bread
Toma first took us to Poilane, a third-generation bakery that makes traditional bread. Unlike in most other French bakeries there was not a baguette in sight. We tried croissant, pain au chocolat, and shortbread cookies.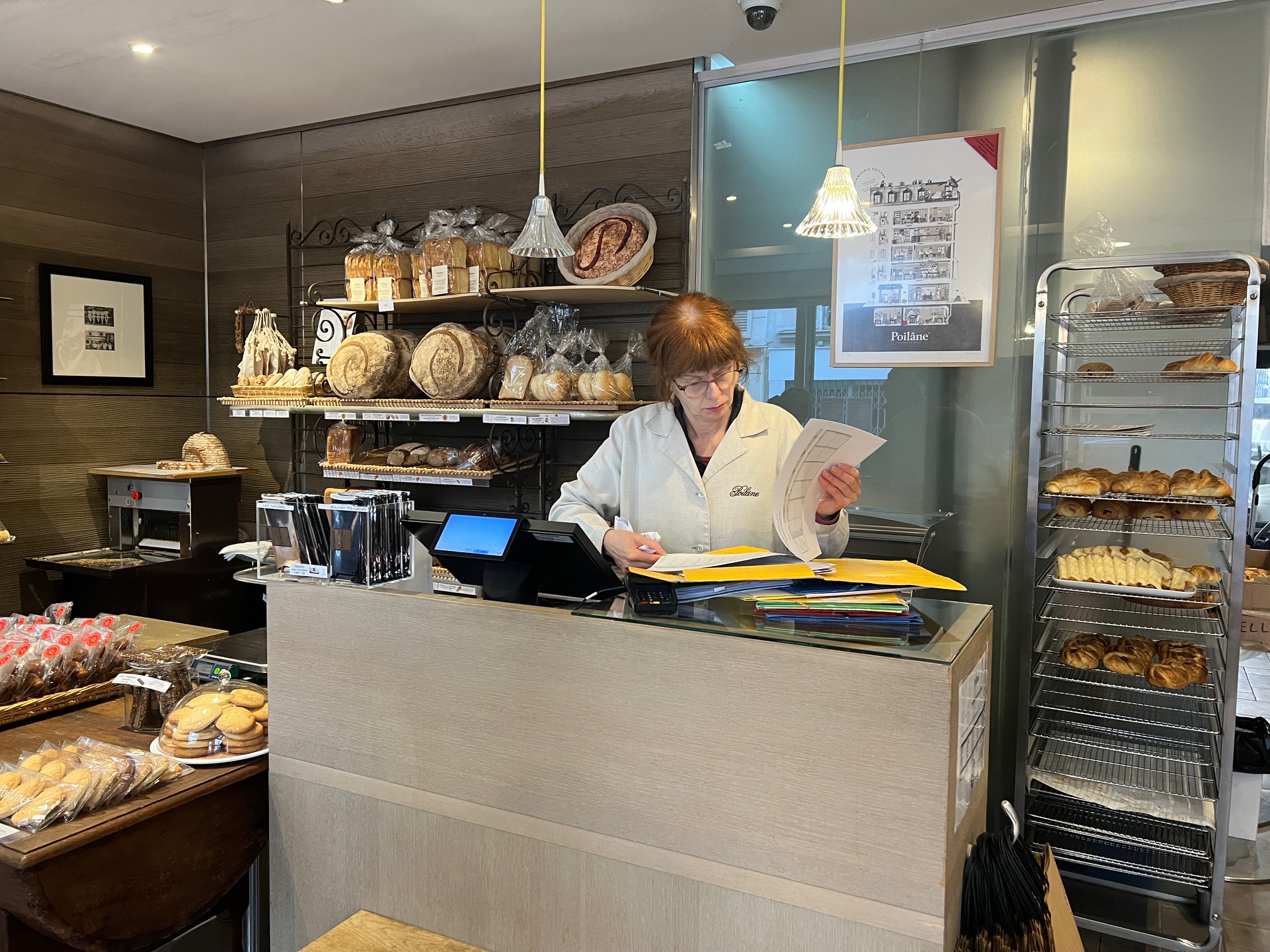 I learned that a bakery must bake on-site to use the words "boulangerie" or "patisserie" on their sign. Poilane can not use either designation because it bakes off-site in a big wood-fired oven.
Toma explained why there was a large, somewhat strange-looking box in the tasting room. One of the Poilane sons was friends with Salvador Dali who inspired him to make furniture out of bread. The bread armoire we saw will last about three months and then be replaced with a different bread-dough creation..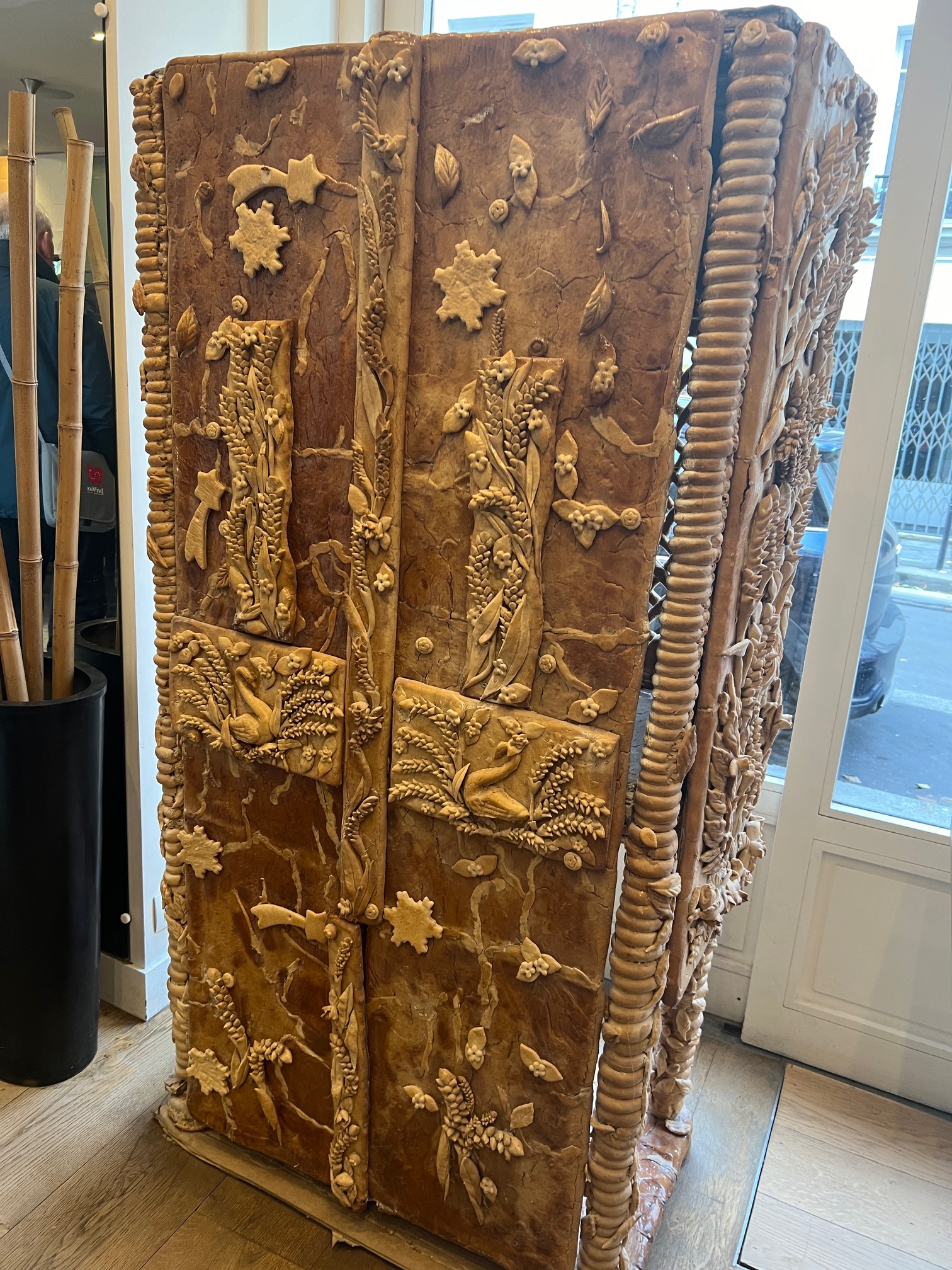 Market
Leaving the bakery we walked a short distance to Marche des Enfants Rouges, the oldest covered market in Paris. Established in 1628, the name (Market of the Red Children) refers to the site of an orphanage that was near the market. The children in the orphanage were clothed in red, the sign of charity.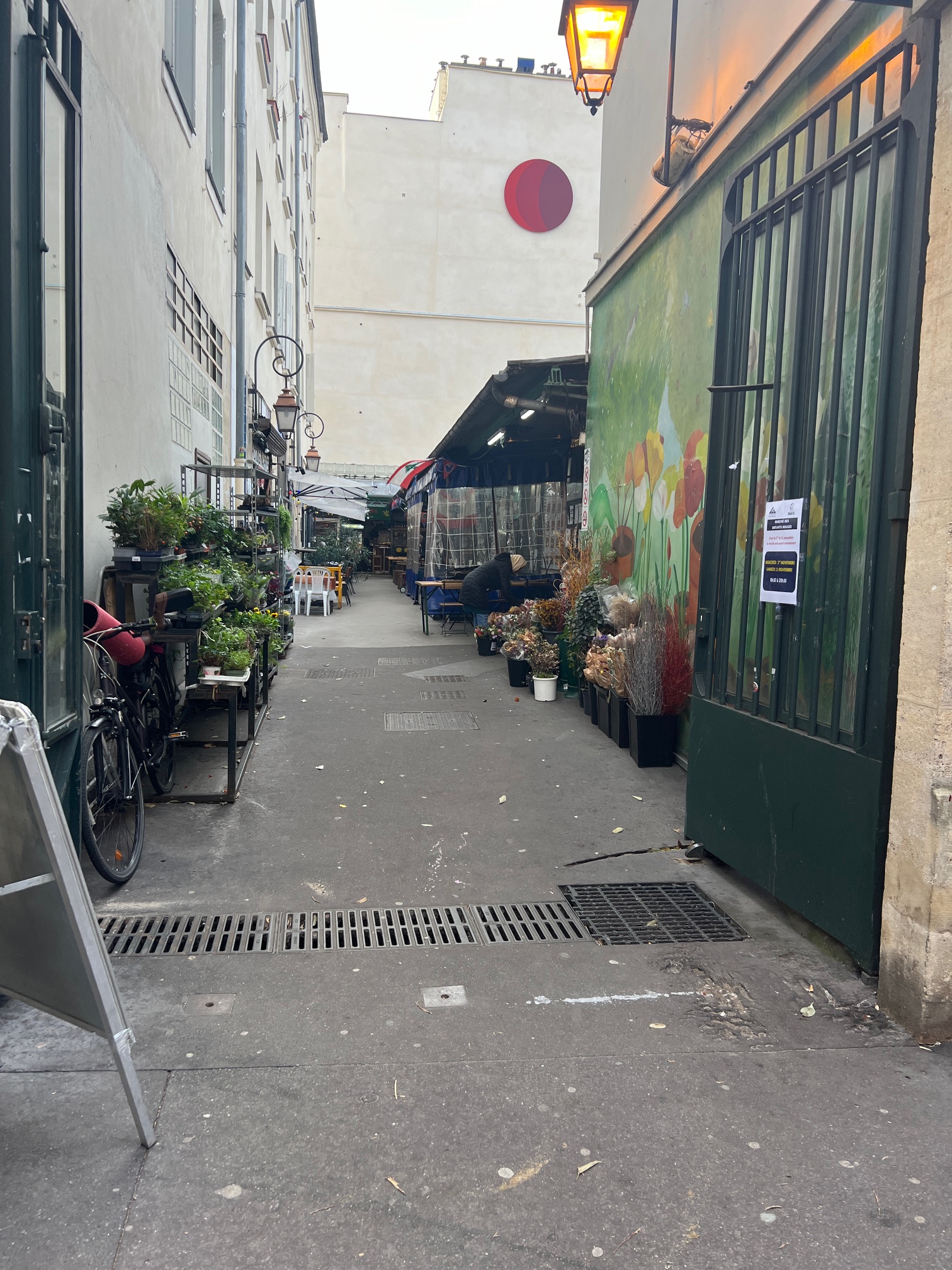 Other than a few exotic fruits, every product in the beautiful market is made in France.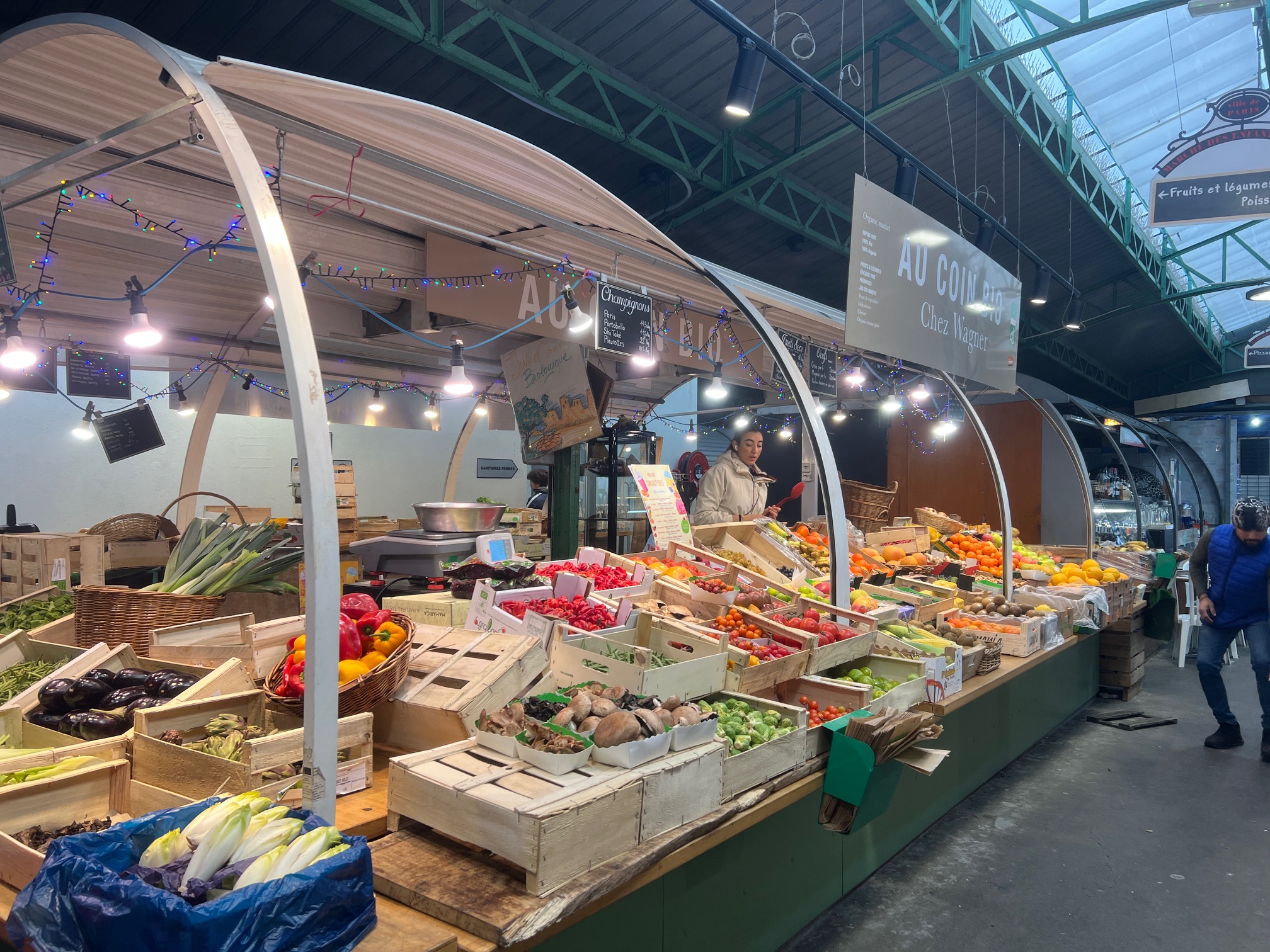 Because there is a large Moroccan influence in Paris, the Moroccan stand was larger than most of the others. We had Moroccan green mint tea, poured the traditional way in a long stream above the cup. Drinking the wonderful tea took me right back to my time in Morocco.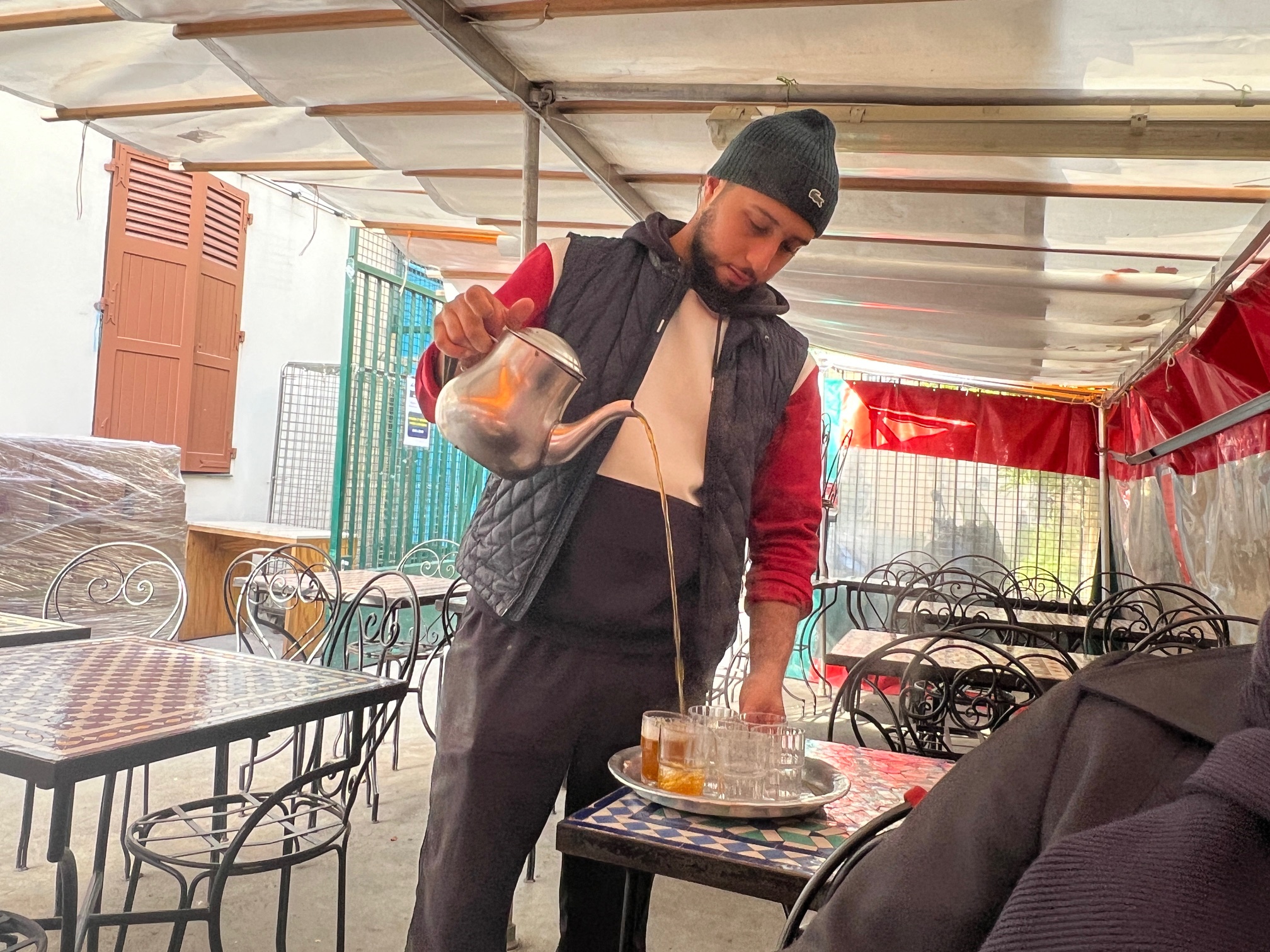 We also tried a Moroccan crepe, a delicious fusion of French and Moroccan cuisine.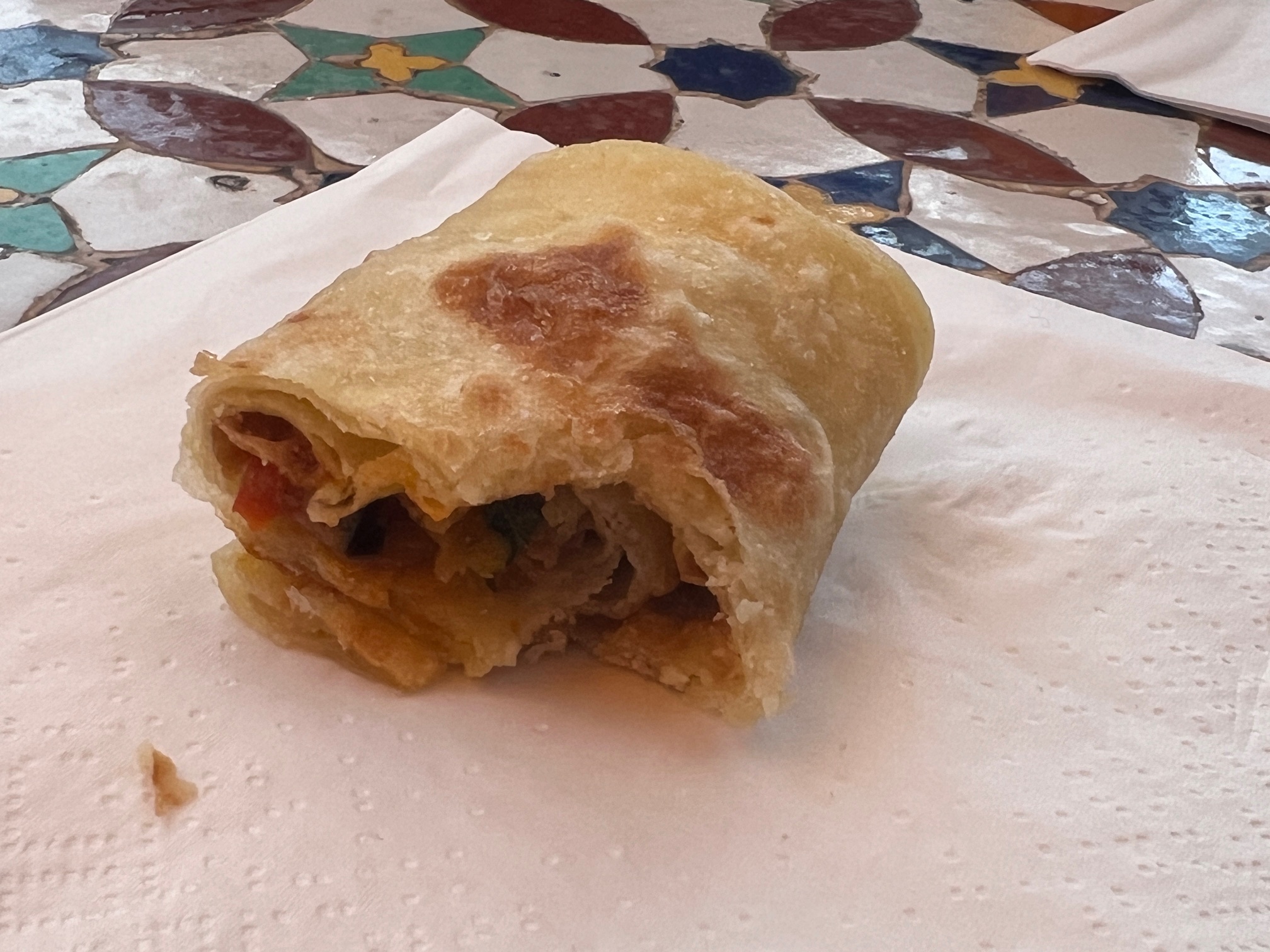 Chocolate
My favorite stop of the day was Jean-Paul Hevin Chocolatier, winner of the best French chocolatier award for 2023-24.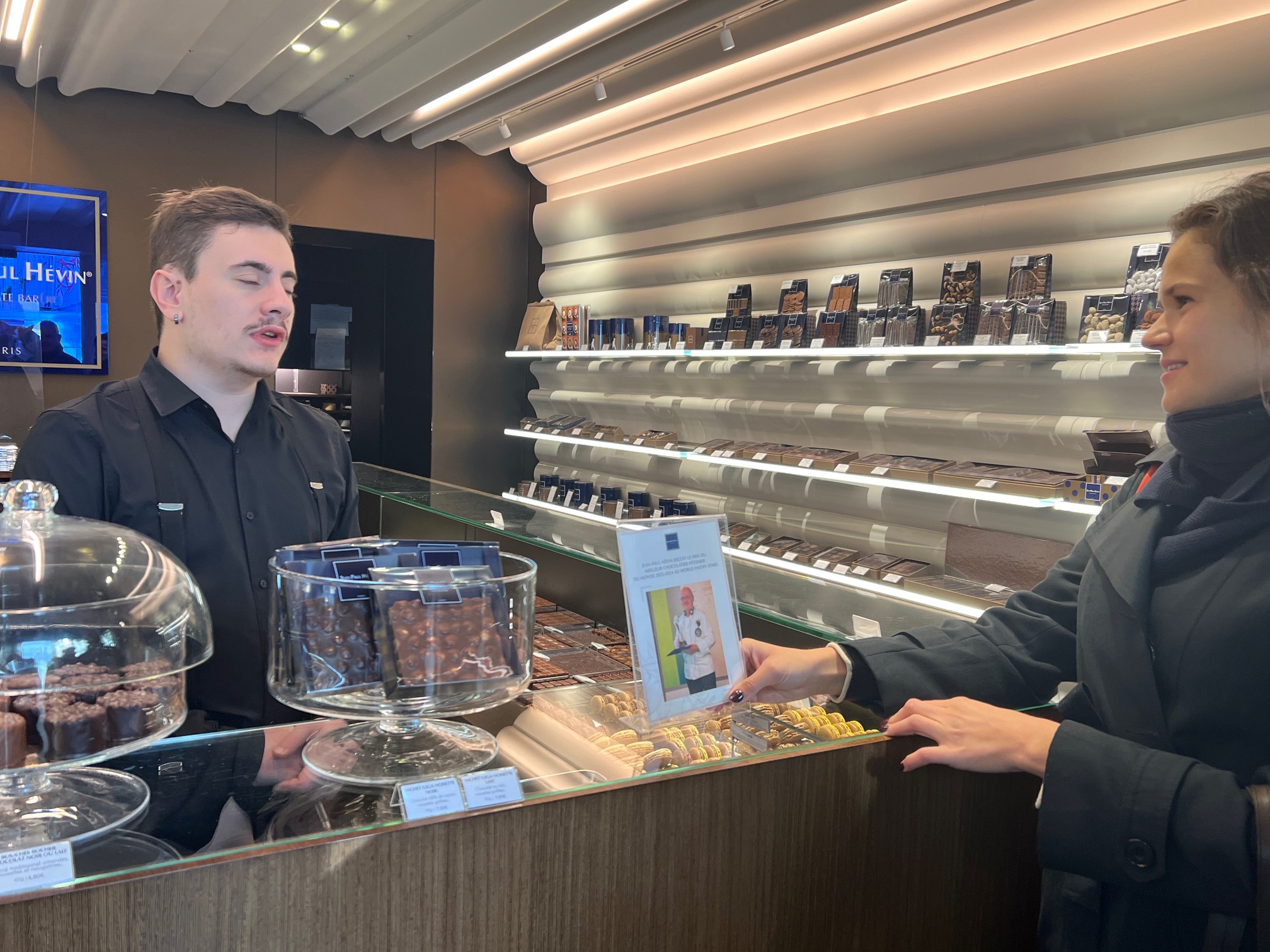 We sampled a milk chocolate, a dark chocolate and a French macaron. I didn't love macarons until I tried Jean-Paul's. It was heavenly. Perhaps because a macaron is only good for three days and I'm pretty sure previous ones I had were older than that.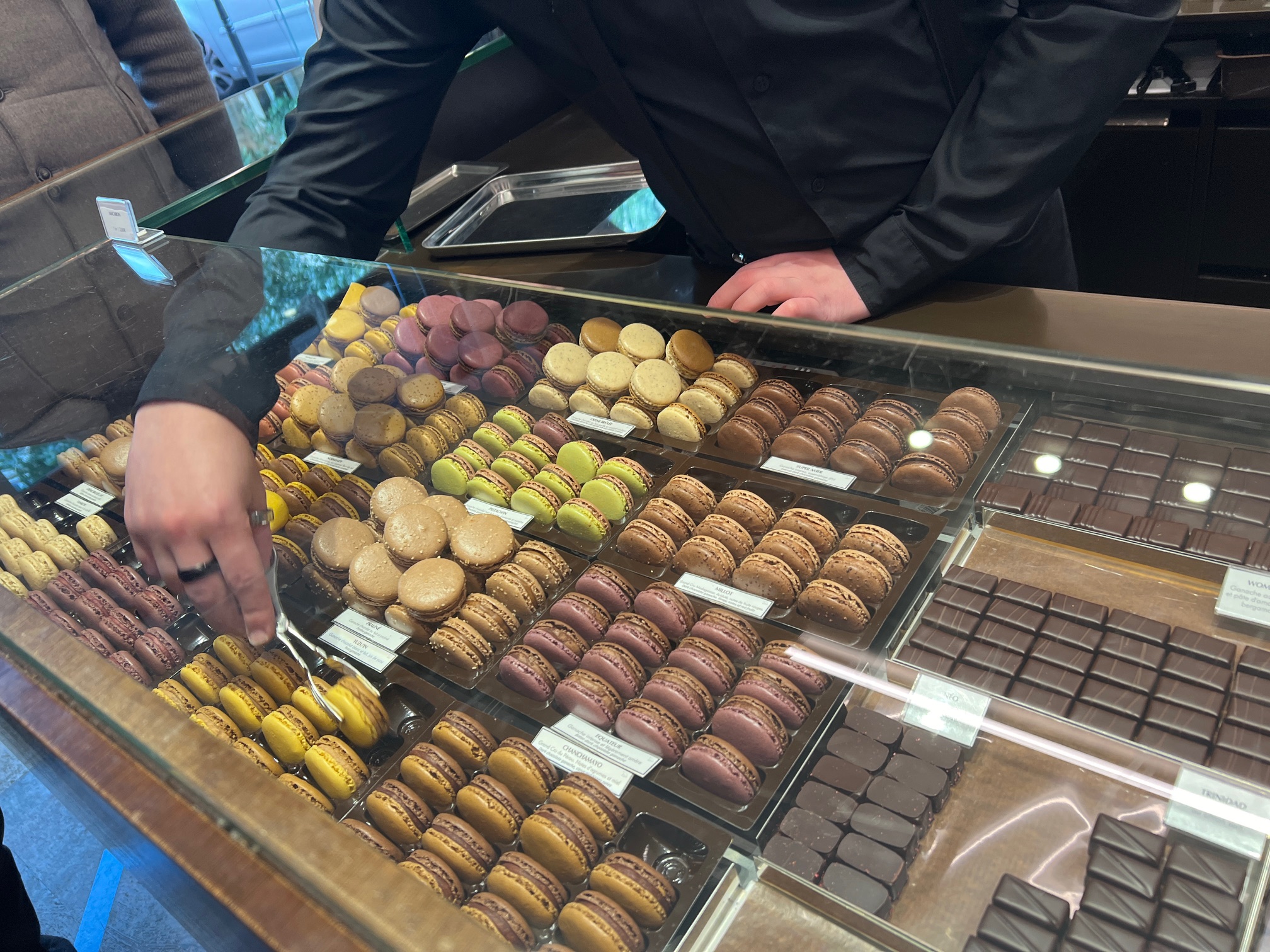 Jewish Quarter
From the chocolate shop we walked to the Jewish Quarter in Le Marais.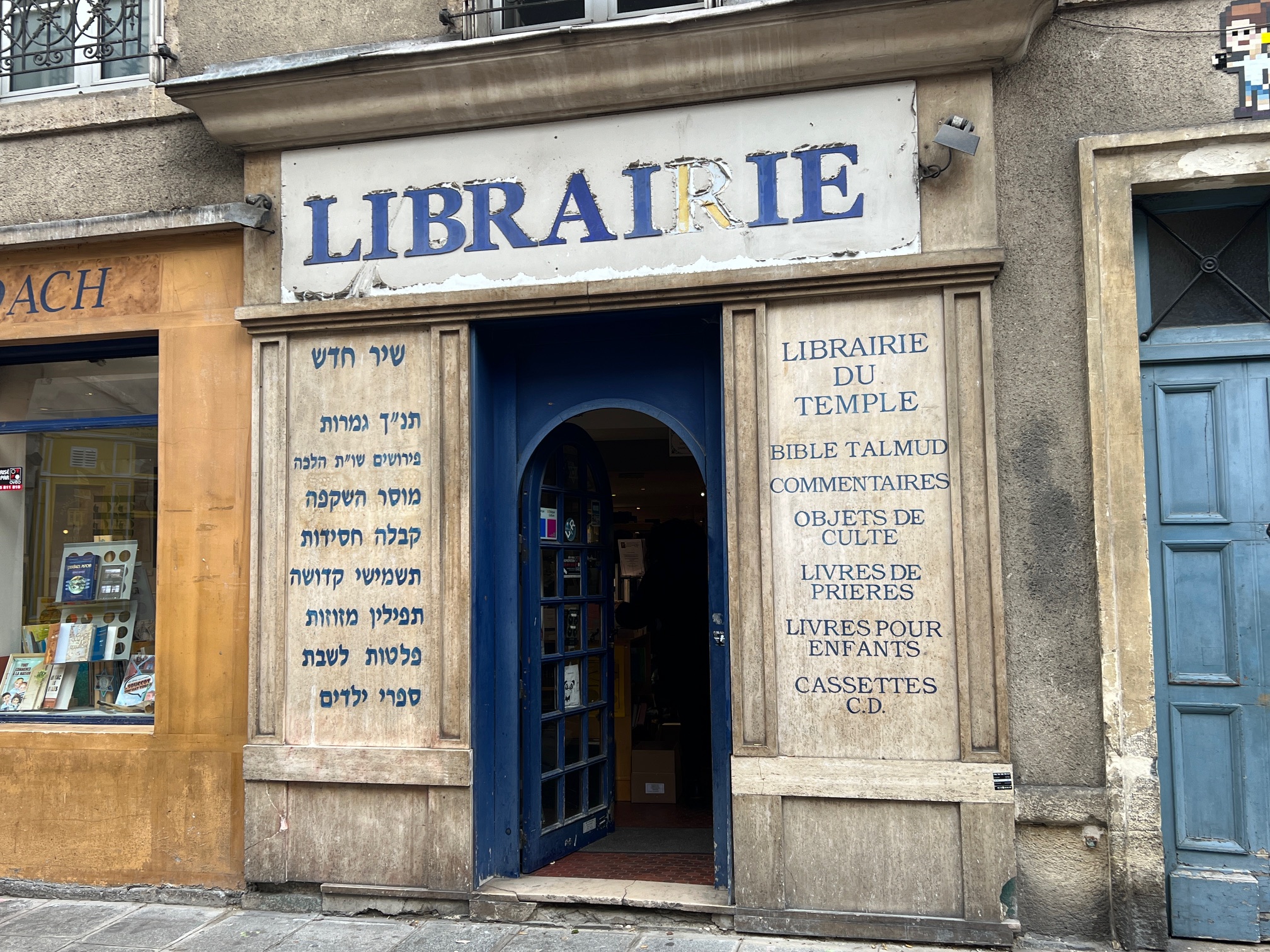 After Israel and the US, Le Marais is home to the third largest population of Jewish people. Quaint shops and restaurants line the narrow streets.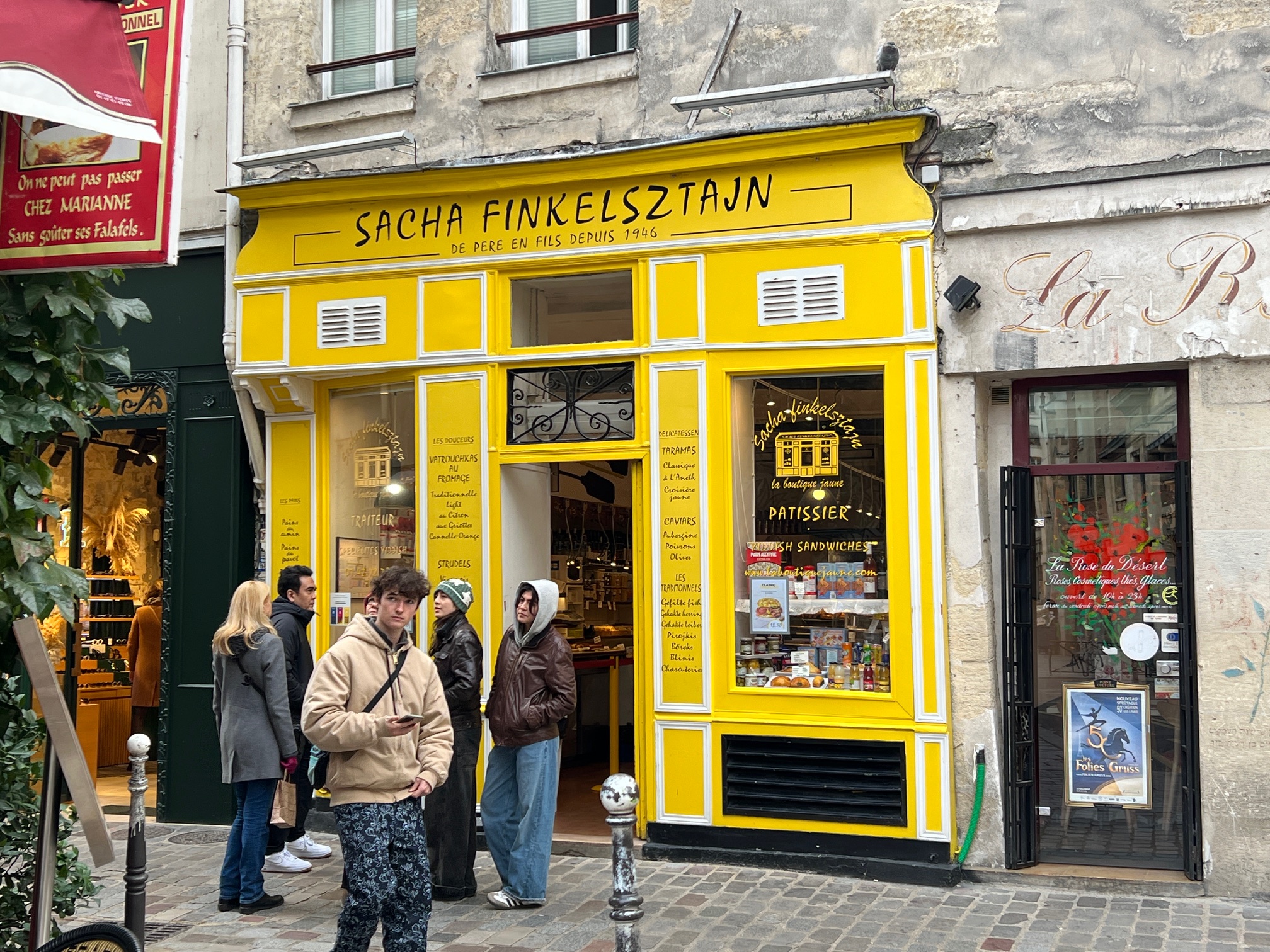 We ate bourekas, a little handheld Jewish pie that looked like an empanada. Paul loved it and wanted to return later for another one.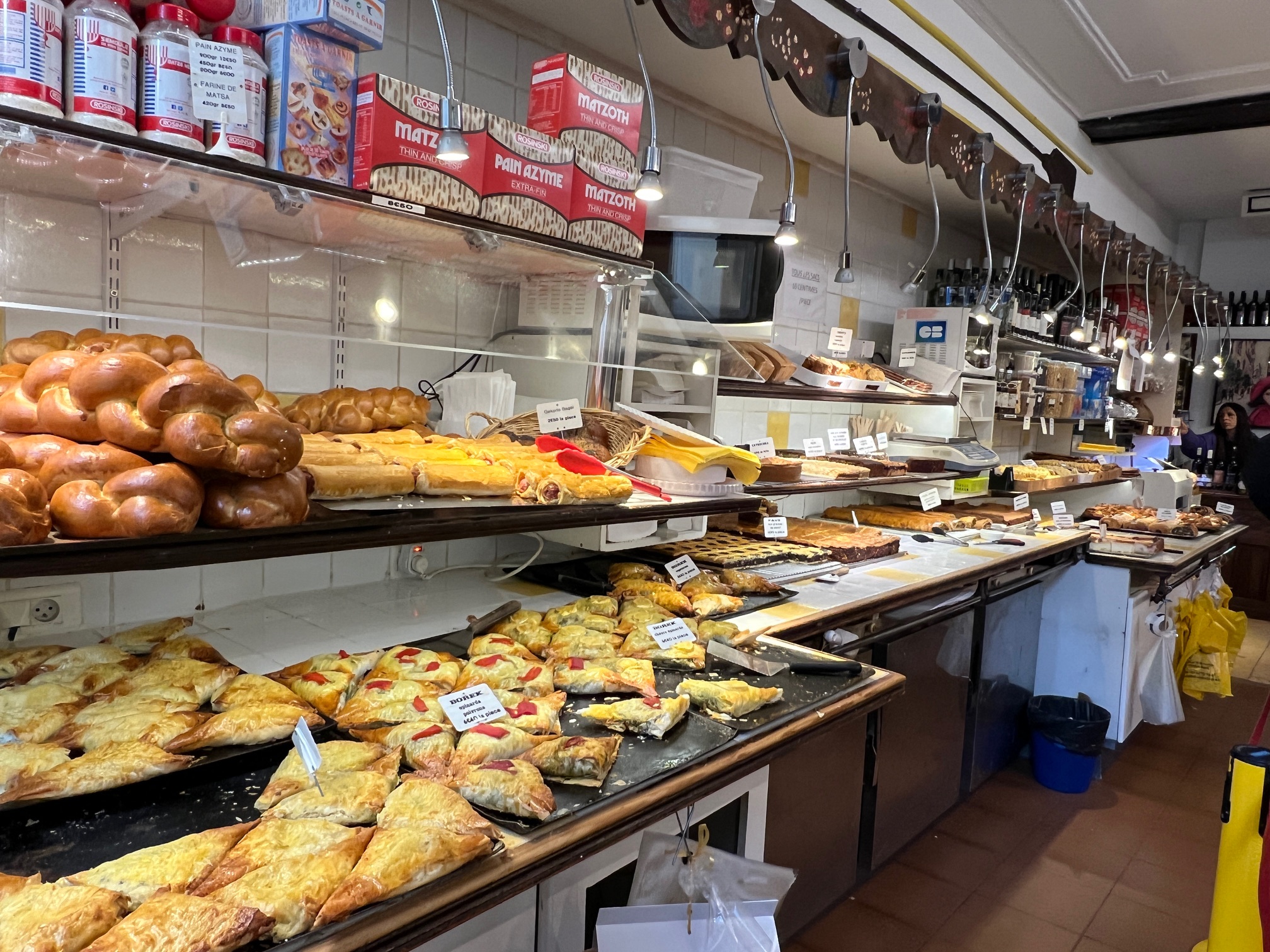 Lunch
As we walked to our lunch place, we noticed the neighborhood looked familiar. We were surprised to find our food tour stop was where we randomly stopped for lunch the day before. Little did we know that we had previously eaten at such a noteworthy restaurant.
We did not notice the double awning when we were there the day before. Although I didn't quite understand Toma's explanation, it is because there are two of chef Xavier Denamur' five restaurants together on the same corner.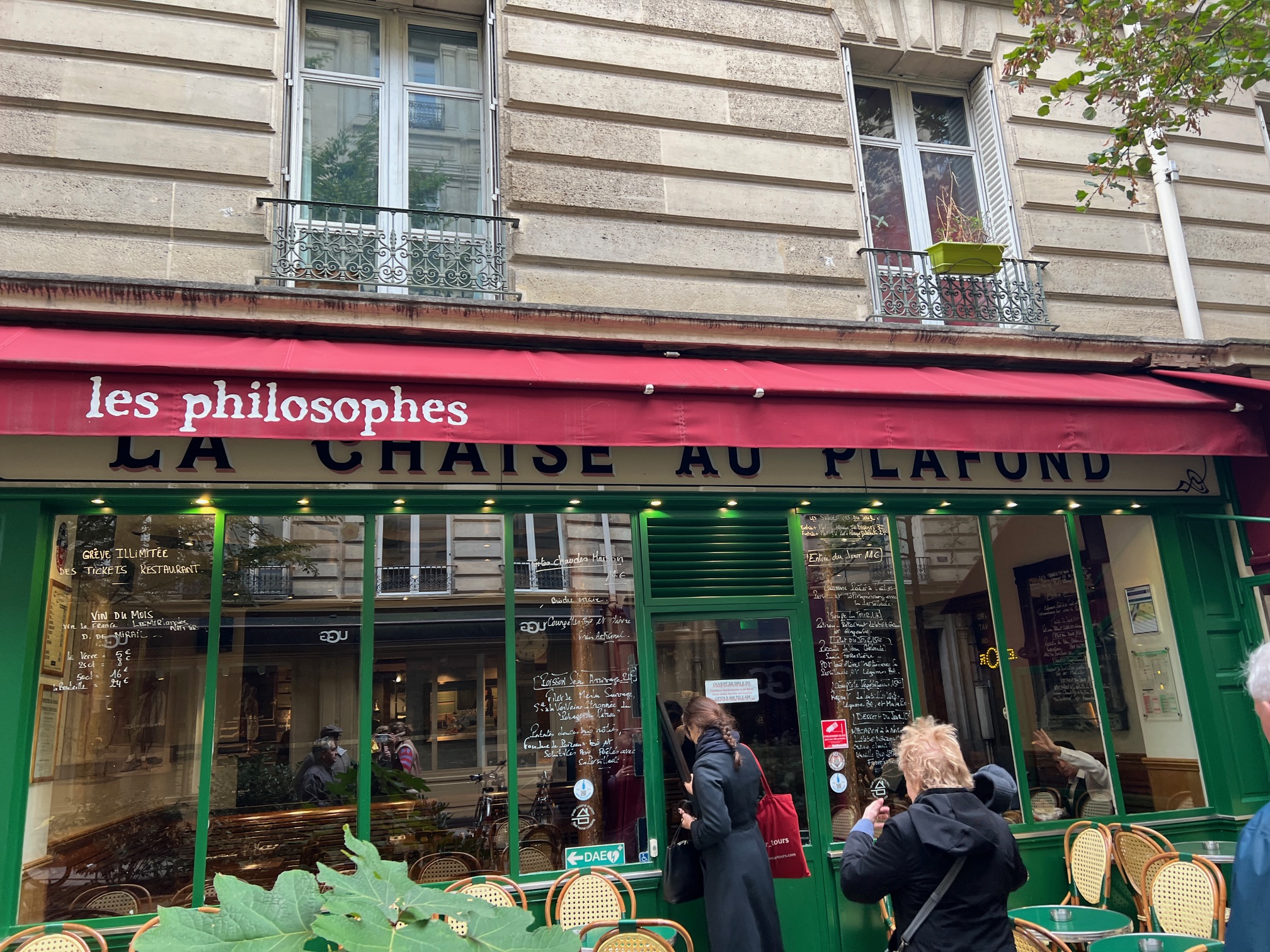 Our delightful server from the day before remembered us and came over to give us a high-five. And surprise, surprise, we had more soup a l'oignon. We loved it the day before, so eating it again was fine with us.
Dessert
Paris is a wonderfully diverse city whose food culture has been influenced by many ethnic groups. Aleph, where we went after lunch, is a perfect example of this beneficial fusion.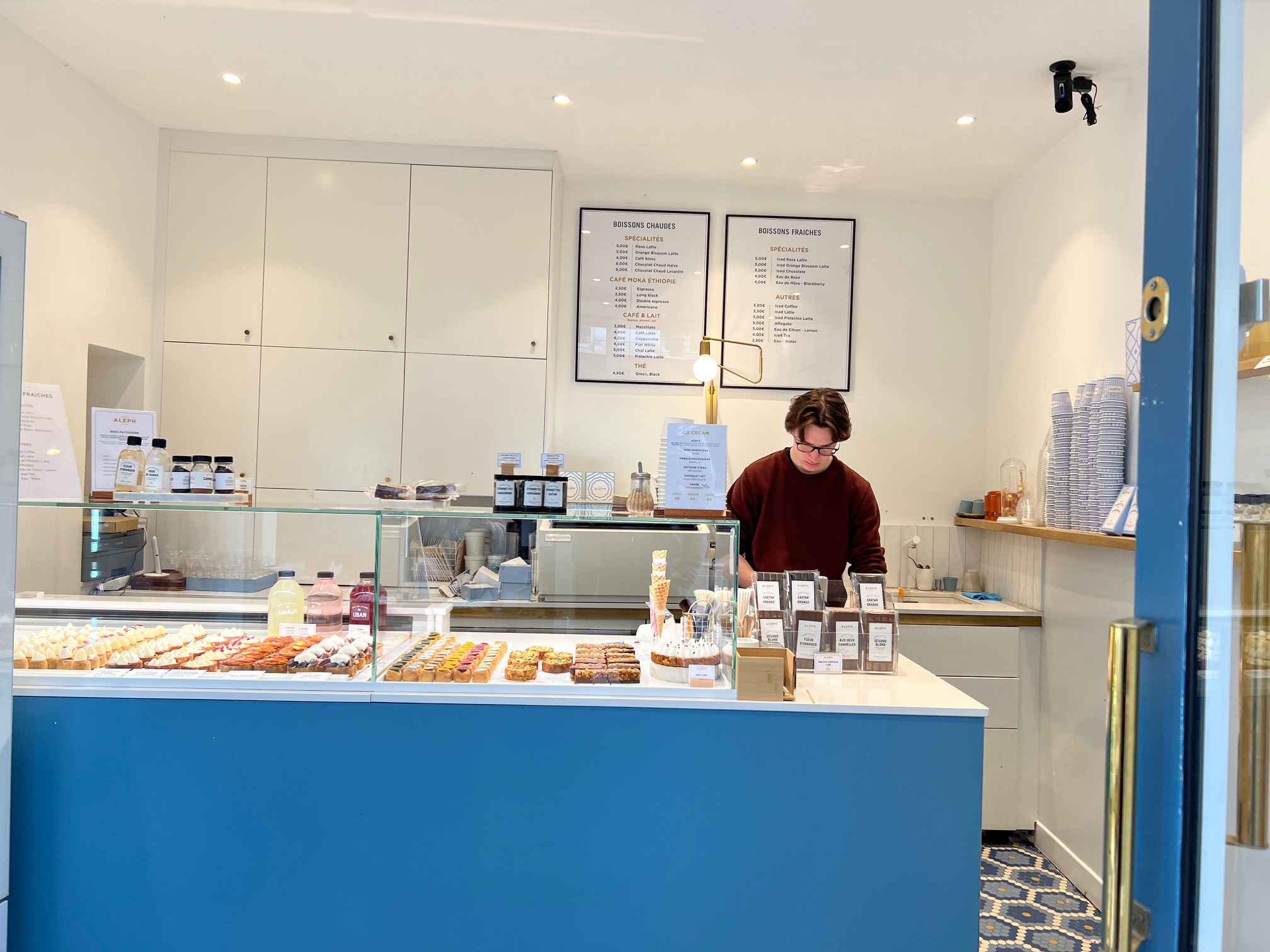 The owner is a Syrian pastry chef who combines elements of Syrian and French pastry traditions to create unique little desserts. We tried an amazing angel-hair filo dough nest with a little dollop of cream on top. Mine was lemon and bergamot.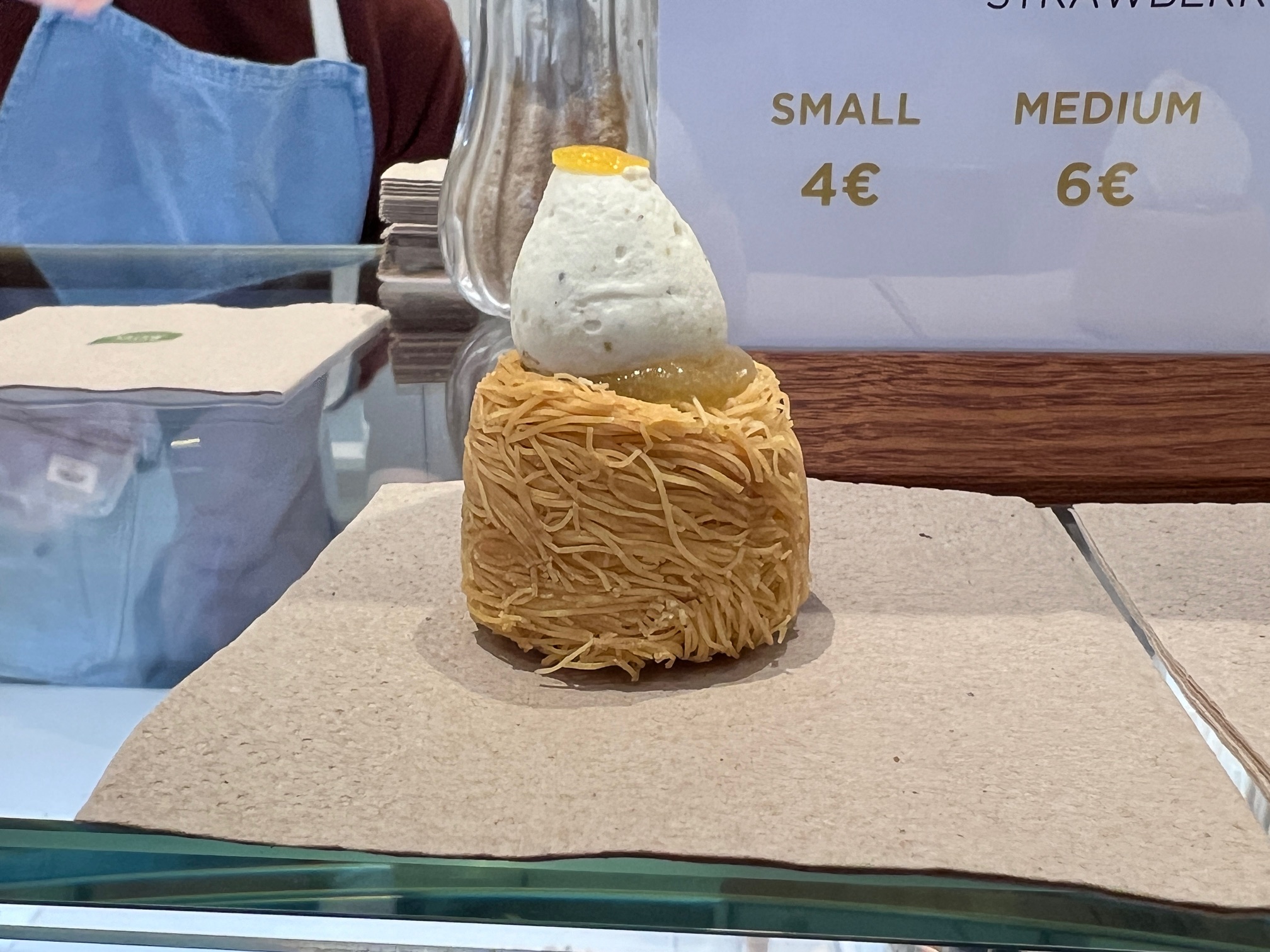 Hard to believe we had more food to sample, but we did and our next stop was at Lauren Dubois Fromagerie, an amazing cheese shop.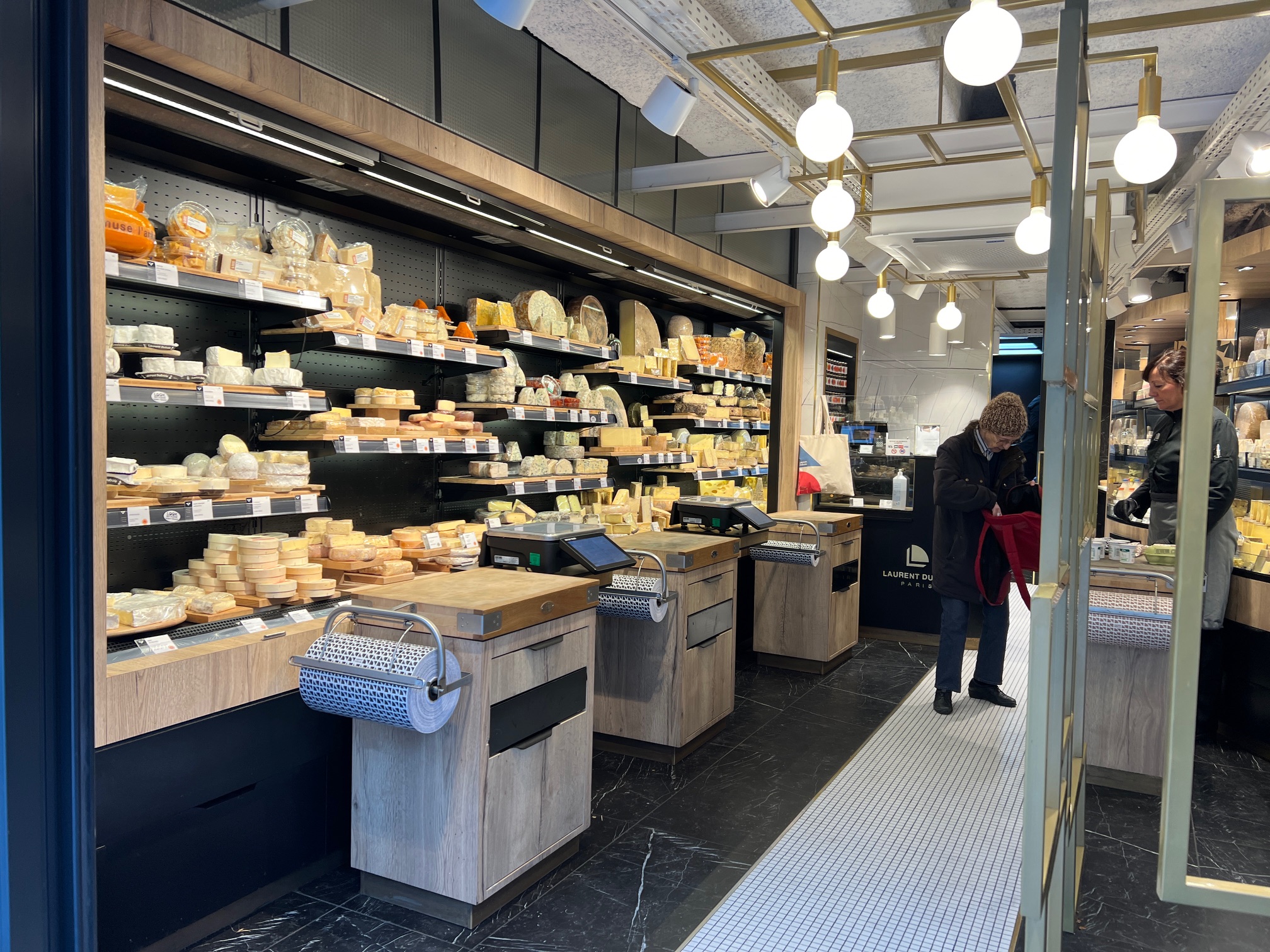 Toma chose three cheeses: compte, brie, and goat cheese with an ash rind.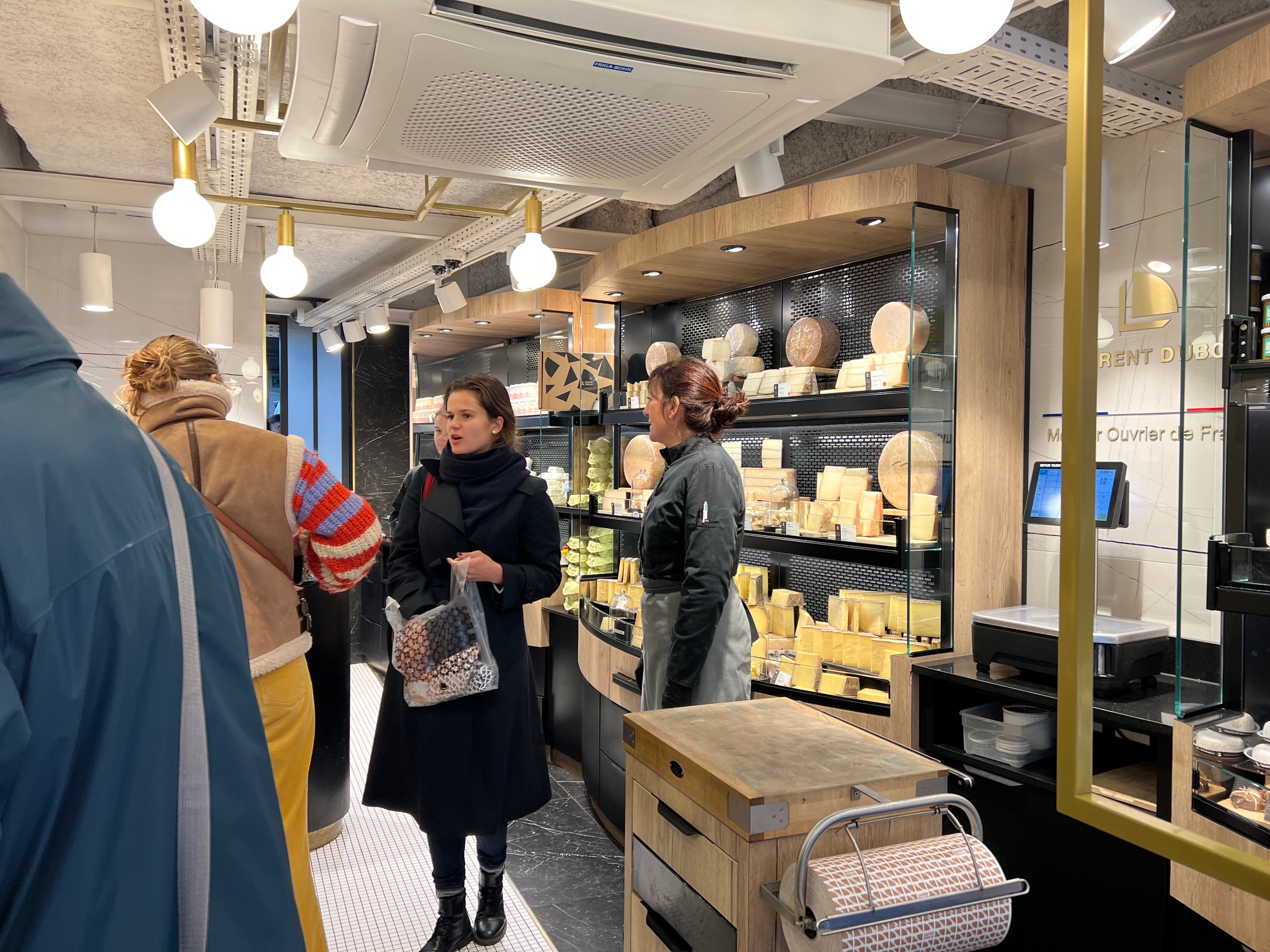 We then walked to our final stop, a wine shop, to enjoy cheese and wine. In a cozy little room above the wine shop, Toma consulted with the owner and chose a white and a red wine.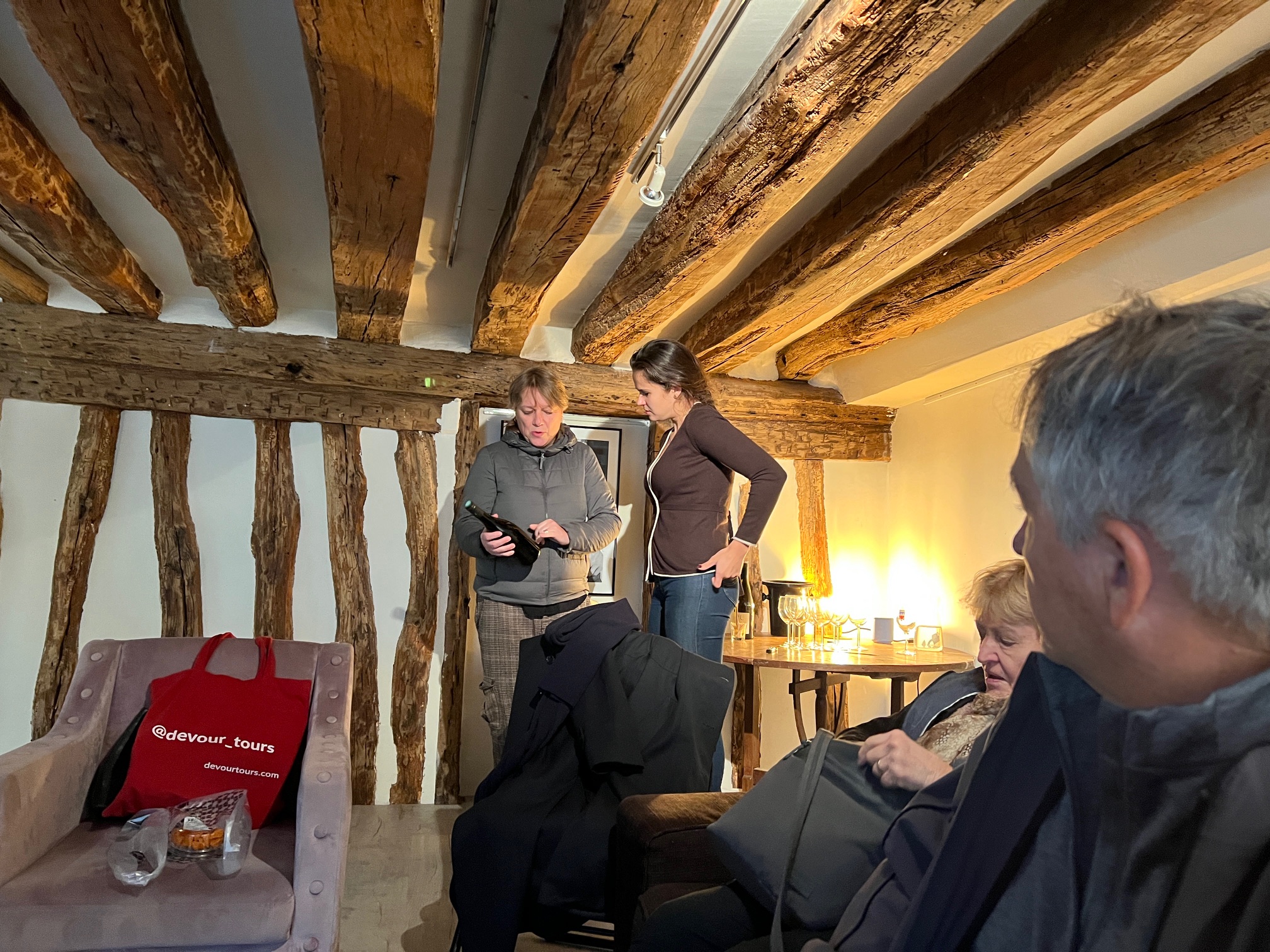 Taking bread and cheese from her little red bag, she created a lovely tasting board for us.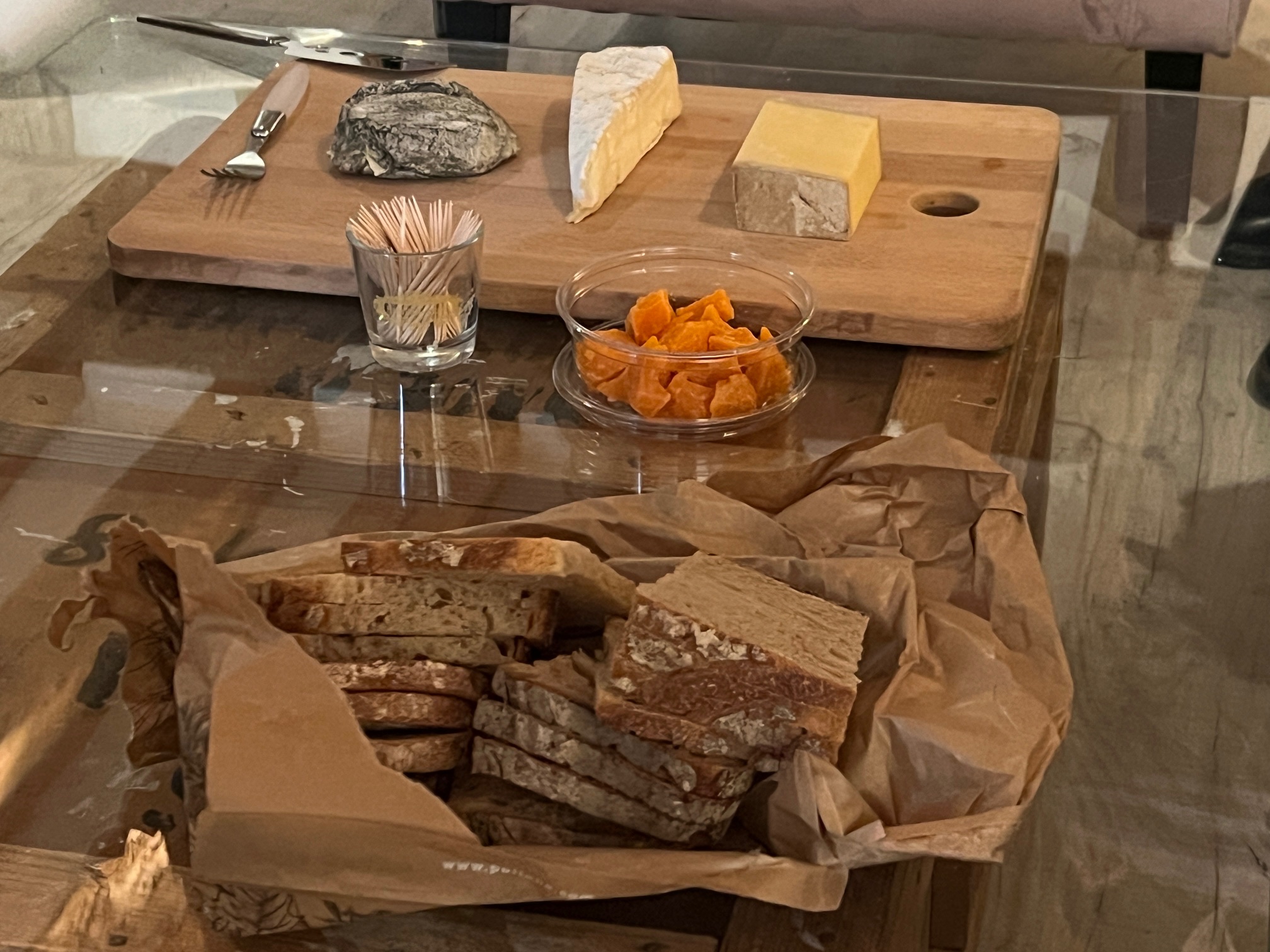 We spent almost four hours tasting our way around Le Marais, learning about the wonderful French cuisine.
Baguette Baking Class
I make bread. I make pretty good bread. But I do not make a good baguette. We decided to take a baguette baking class and see if we could recreate the wonderful bread we love here.
We didn't plan to take the bread class the same day as our food walking tour, but a few days before the class we got an email asking if we could come a day early. Since we had a few hours between the tour and the class, we explored more of Le Marais and enjoyed a cappuccino at a little cafe.
Expecting a large group since we thought we had been added to another group, we were surprised to find we were the only people in the class. And we had two, not one, Parisienne bakers to teach us.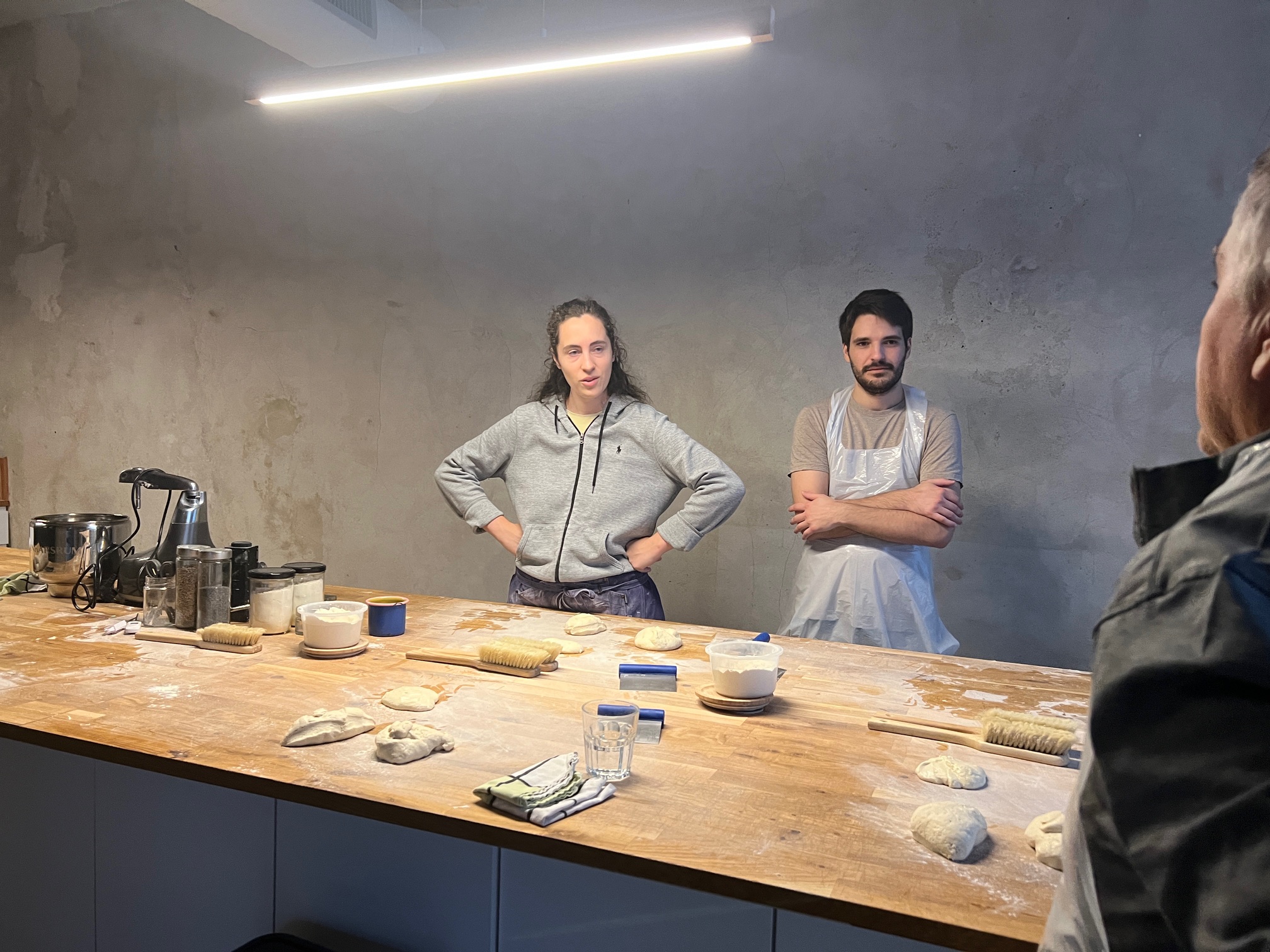 It was a good thing we had one-on-one instruction because working with the dough was trickier than I thought it would be. A big no-no , which I often did, is adding more flour when the dough feels too sticky.
Transferring the baguette on to the linen baking cloth is a delicate process and the only time you don't need to worry about using too much flour.
Taking the baguette class definitely increased our bread-making confidence. Hopefully our results at home will come close to our class results.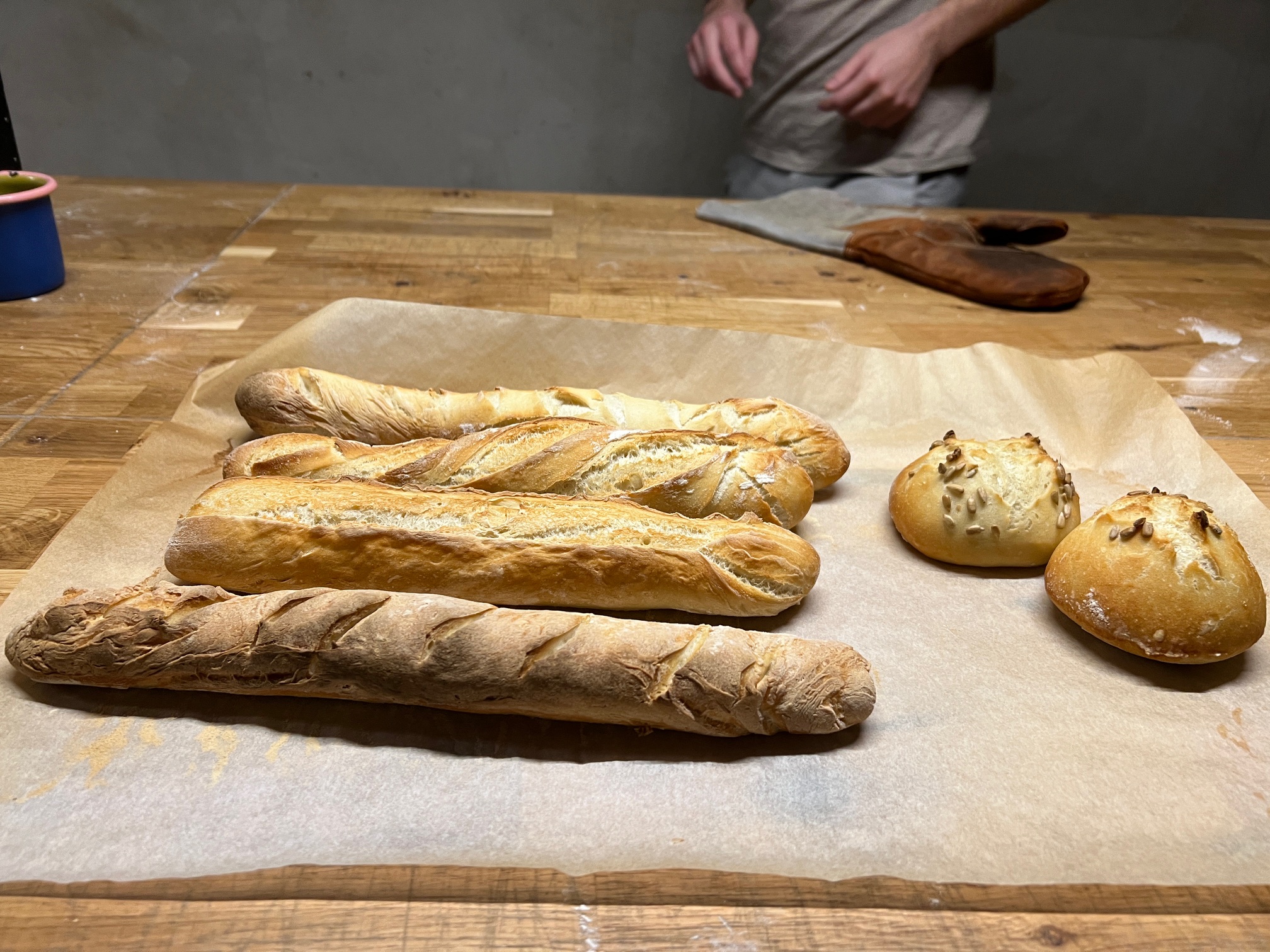 After walking more than eight miles, we returned to our apartment, a little tired and very full. Since we had pretty much been eating non-stop all day, we skipped dinner and instead savored the memory of the wonderful French foods we had eaten .