Today we leave Peru and fly to Ecuador for the second half of our trip.  I will take so many wonderful memories of this beautiful country with me.  Yesterday our guide told us that South American countries like Chile and Argentina have no real history before the Spanish invasion.  But countries like Peru, Ecuador and Bolivia have strong ties to their early histories and have preserved much of their pre-Spanish culture.  In Peru, it was partly a result of the steep mountain trails that the Peruvians could use to escape on foot but the Spanish on horseback found difficult to follow.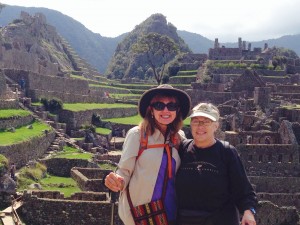 Tourism is new to Peru, and the revenue from the outside is helping to restore many of the ruins.  Our guide stressed that we came to Peru at a good time because we were seeing authentic culture, not performances to entertain tourists.
There are flowers everywhere-growing wild on the mountainside, planted in pots and town squares and around every building.  The vegetation is lush and varied.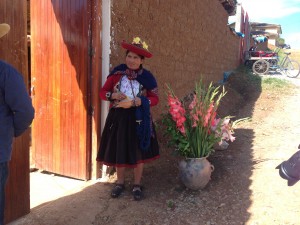 I especially enjoyed our guide talking with pride about the accomplishments of the Incas and the spirituality of the people.  Our trip was designed to enable us to meet the people and see how they lived.  Some of the experiences were planned and some were spontaneous.  I was impressed with how industrious and welcoming the people were.  The woman below was threshing quinoa on the side of the road.  When our guide noticed her, we stopped and had the opportunity to visit with her and try threshing the quinoa.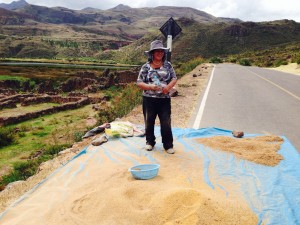 Because I got sick while I was here, i got to experience part of Peruvian health care.  My most courteous and solicitous doctor made three different house calls to my hotel room and brought a lab tech with him on the second call.  He patiently and thoroughly explained what I had and what I needed to do to get better.  Someone from the hotel went to the pharmacy to get my prescriptions filled.  And when I rejoined the group, our guide ordered special food for me.
Sometimes I did get caught up a bit in the Inca mystique.  At one meal, our guide brought me a drink and said, "This is your medicine." When I excitedly asked what it was, thinking I was getting another Inca healing potion, he told me it was tea, just tea.
Although I am used to making my own travel arrangements and not going on a tour, traveling with this group and wonderful guide has been the perfect way to see Peru.  Now I am looking forward to my next adventure in Ecuador and the Galapagos.