We left Quito at 4:30 AM to fly to Baltra, our first stop in the Galapagos. I immediately knew I was in a special place when I saw a sign in the airport that asked "Do you know why we are the first ecological airport?" Galapagos is a group of sixteen main islands and other smaller ones for a total of sixty-three islands about 600 miles off the coast of Ecuador. The population of Galapagos is about 25,000 people who are allowed to live on only four of the islands. The Galapagos National Park strictly controls how many people can visit each island each day.
From the airport, we took a bus to the dock, got in a panga (an inflatable boat) and rode a short distance to Archipel II, the sixteen passenger ship that would be our home for the next four days.
After lunch and some time to get settled, we headed out for our first island exploration to North Seymore. Our guide had told us some of the wildlife we might see. Before we even landed, we saw a beautiful male frigate bird with his bright red throat fully expanded on the side of a cliff. Our panga driver maneuvered close to the cliff, and the frigate bird seemed to pose for us. Because there are more male frigates than females, the males are showing their bright red throats year round in the hopes of attracting a mate.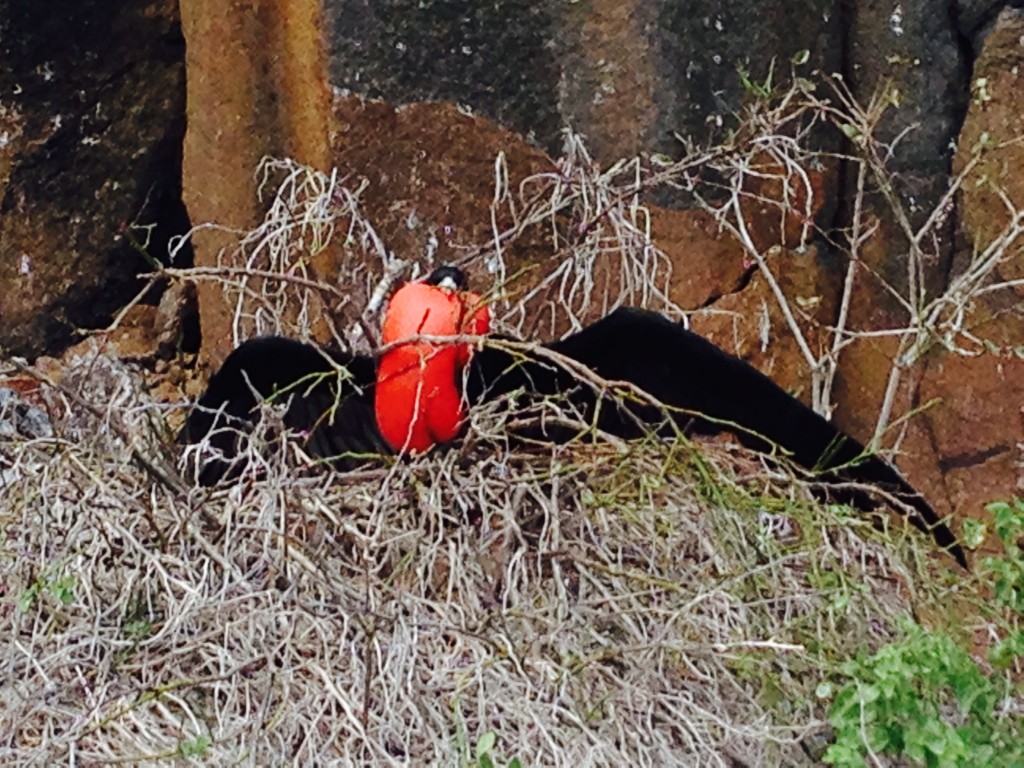 Our first landing was a "dry landing" which means we go from the panga to dry land. On North Seymore we got off on a steep rocky incline and climbed about five steps to get to flat land. Our guide directed us to follow him and stay on the path as he led us around the island. The very next bird we saw was the famous blue-footed boobie. These lovely birds with their light aqua feet are only found in the Galapagos.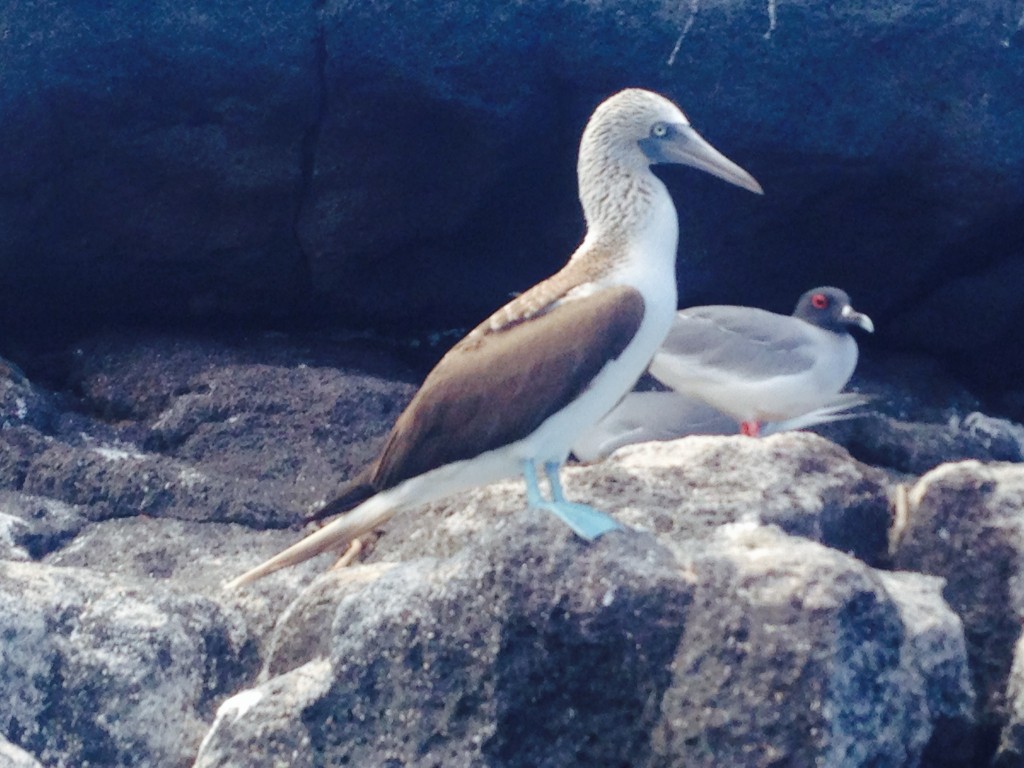 Hiking around the brown, rocky island we also saw sea lions, land iguanas, and red-footed boobies. After feeling so excited to see our first preening frigate bird, we rounded a corner and found a large expanse of preening male, female and juvenile frigate birds. It was especially interesting to see a mother feeding her young frigate bird.
Returning to our boat, we were greeted with ice cold fruit drinks by the crew. Then it was off to our first snorkle. The snorkeling was great, and my wet suit kept me nice and warm. When I looked at our schedule I had been a little worried about getting bored at night because there didn't seem to be anything to do. Our guide assured us that after dinner we would probably be ready for bed. He was so right.