With great navigation tips from Juliette and Jean Claude, owners of Only France Cookies in Sarasota, we were able to easily drive from Colmar to Strasbourg, park on the edge of town and take the tram into the city.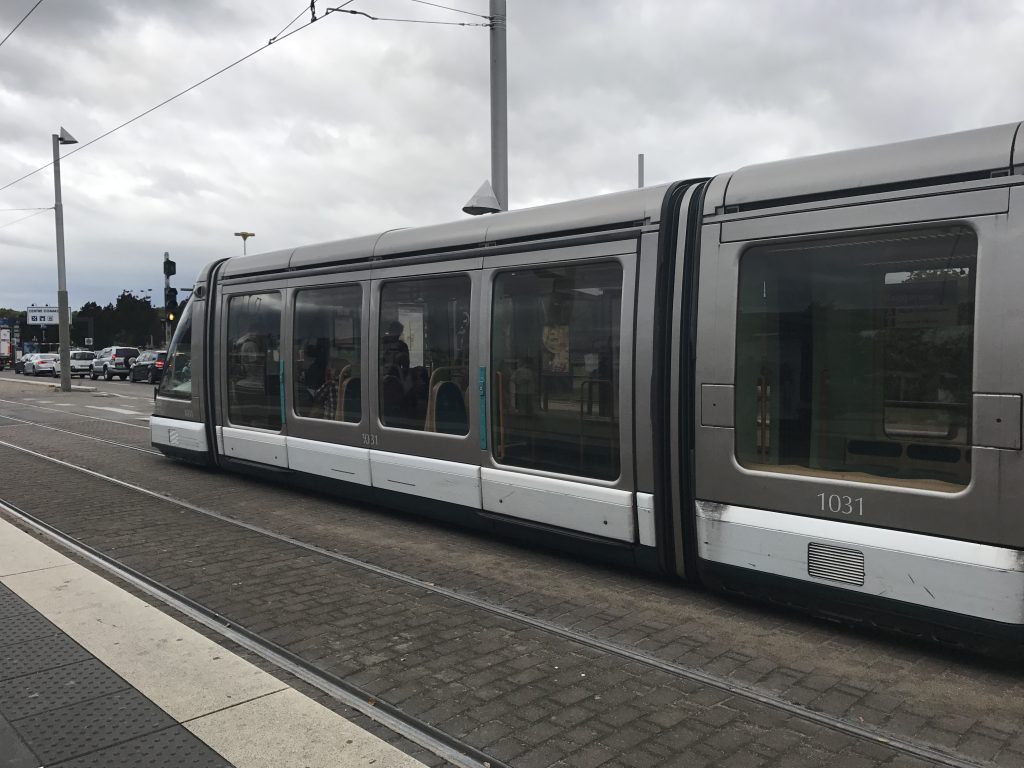 First stop was the beautiful Strasbourg Cathedral.  Completed in 1439, the cathedral's spire was the highest of all Christian churches until the 19th century.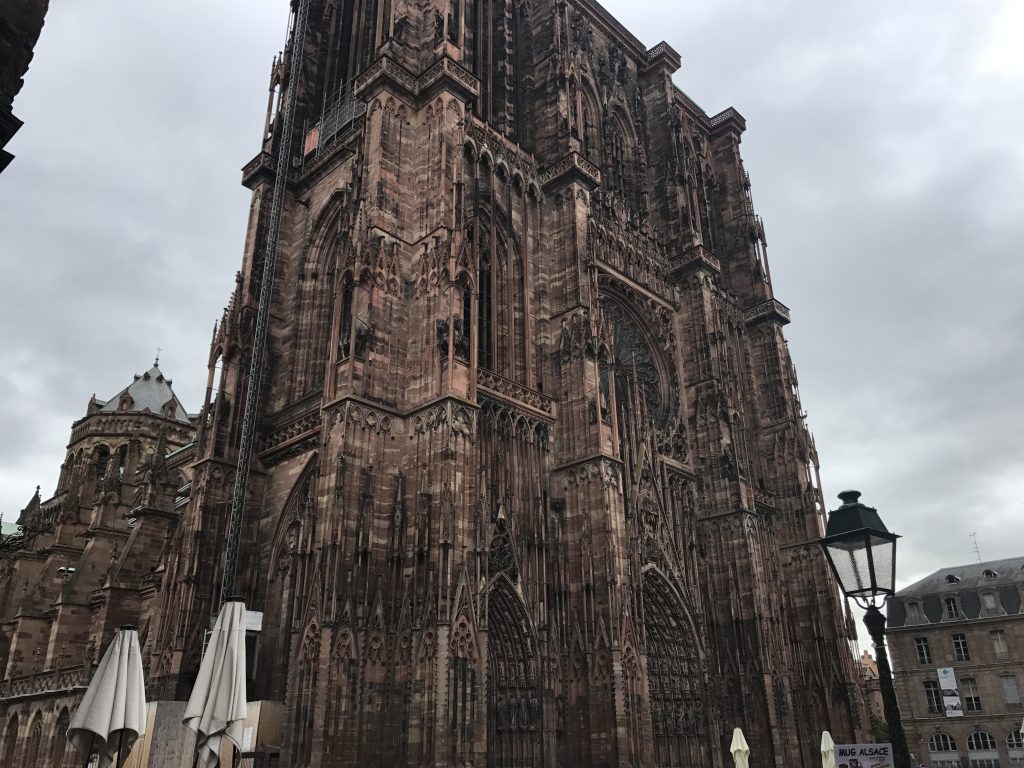 Our timing was perfect to be able to go inside to see the procession of the apostles on the Astronmical Clock, which occurs every day at solar noon, approximately 12:30 PM.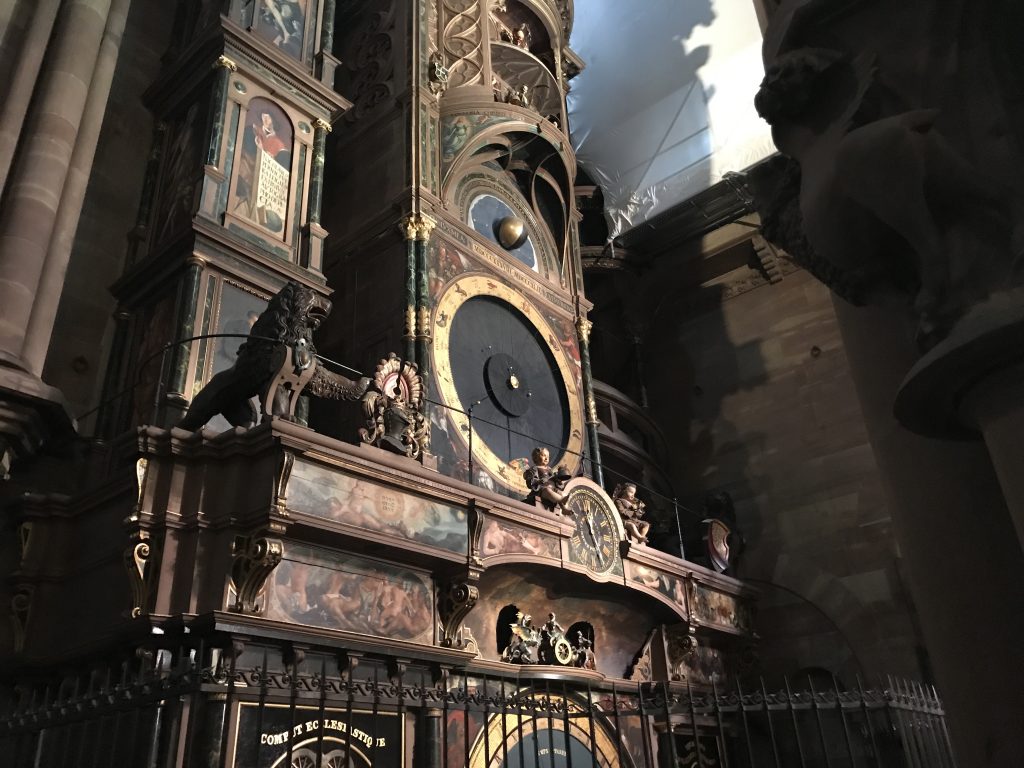 The beautiful cathedral is known for its stained-glass windows and suspended organ case.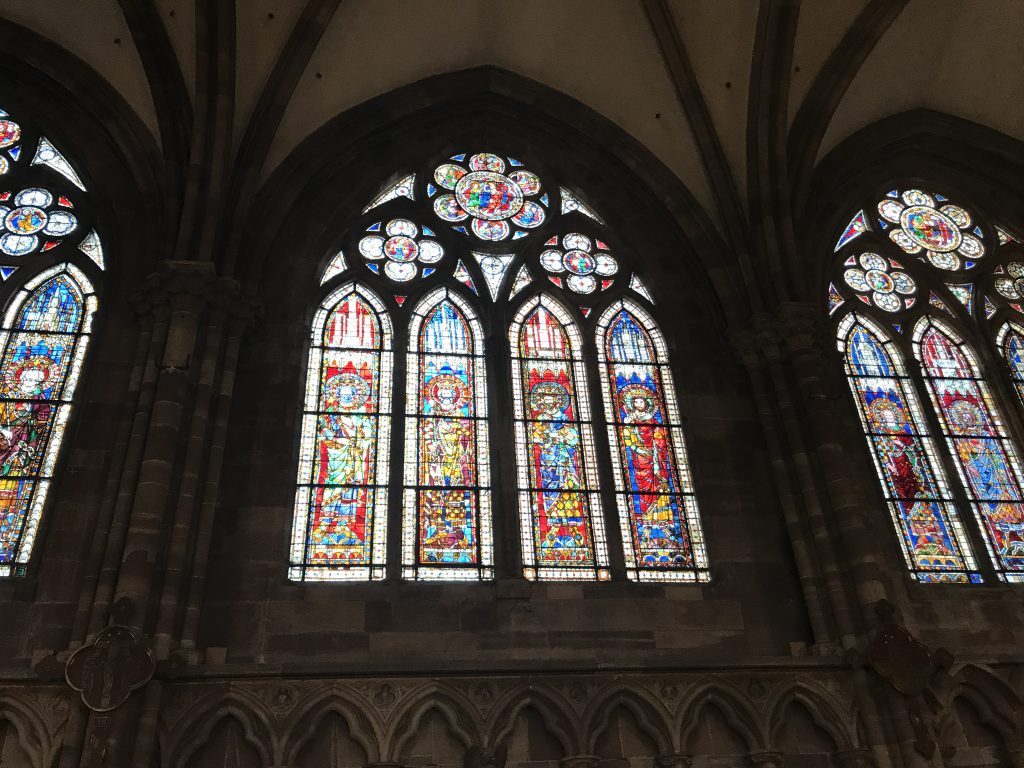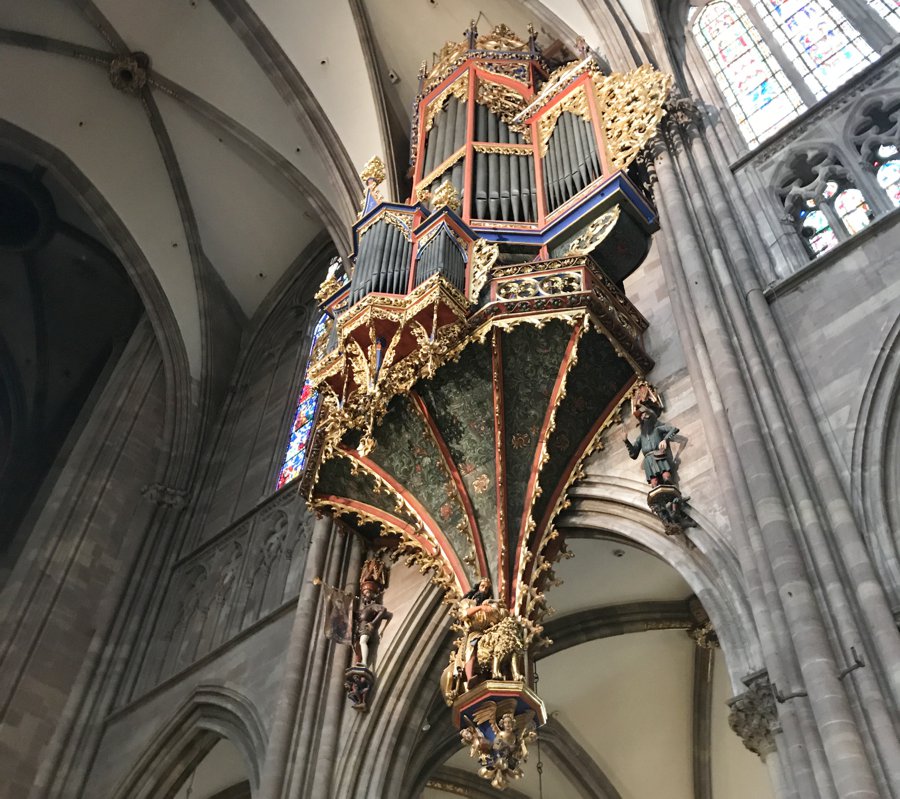 We strolled through Gutenberg Square and saw the statue of Johannes Gutenberg who invented the Gutenberg press in Strasbourg.
Albearo, our wine tour guide, told us we had to go to La Cloche a Frommage to eat when we were in Strasbourg. Cloche is French for "bell", and the first thing you see when you walk in is a giant cheese bell-the largest in the world according to the Guinness Book of World Records.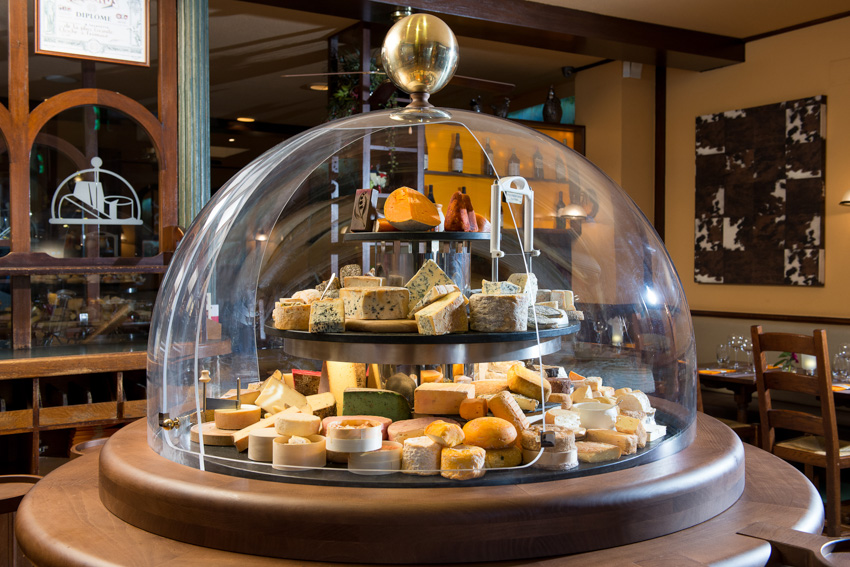 The restaurant owner is a cheese master who buys all of his artisanal cheese made from unpasteurized milk and ages it in his own cheese cave.  Needless to say, the menu was all about cheese. We chose raclette, which is a cheese from the Jura region of France that is usually melted and scraped off. Our half round of cheese was placed in a special warmer and as it melted, we scraped it onto our plates.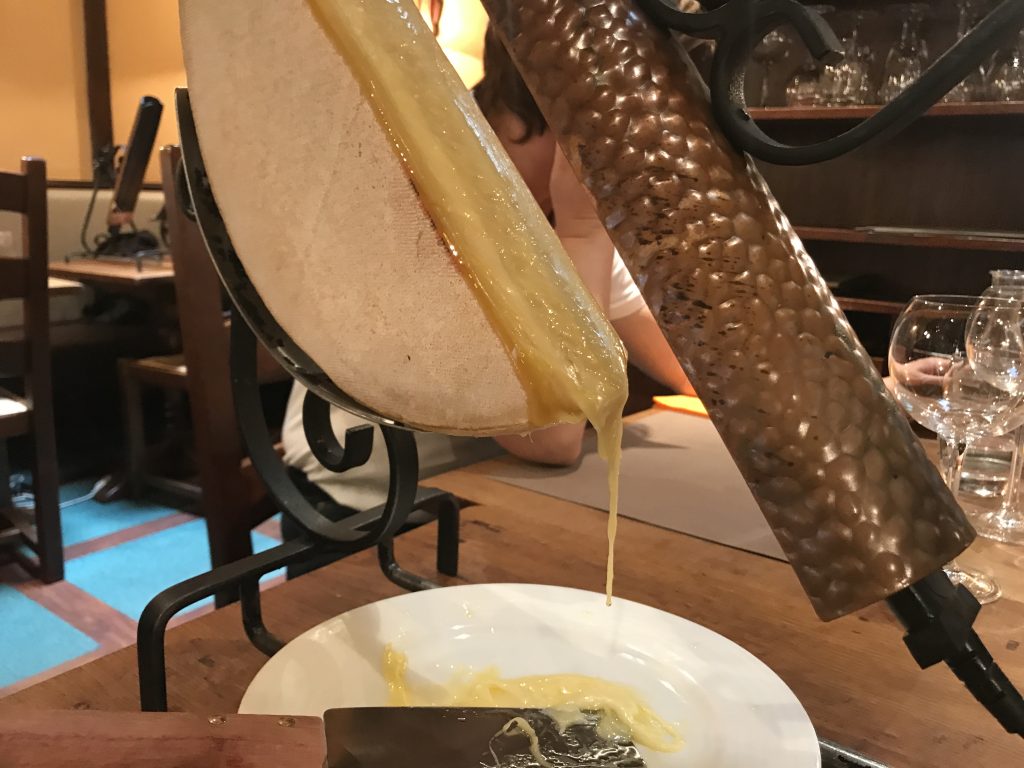 We could move the warmer closer or farther from the cheese depending on how much cheese we wanted. Our meal consisted of fingerling potatoes, dried meat, pickled vegetables and various breads.  Lunch was a cheese-lover's delight and paired wonderfully with the Riesling recommended by our waitress.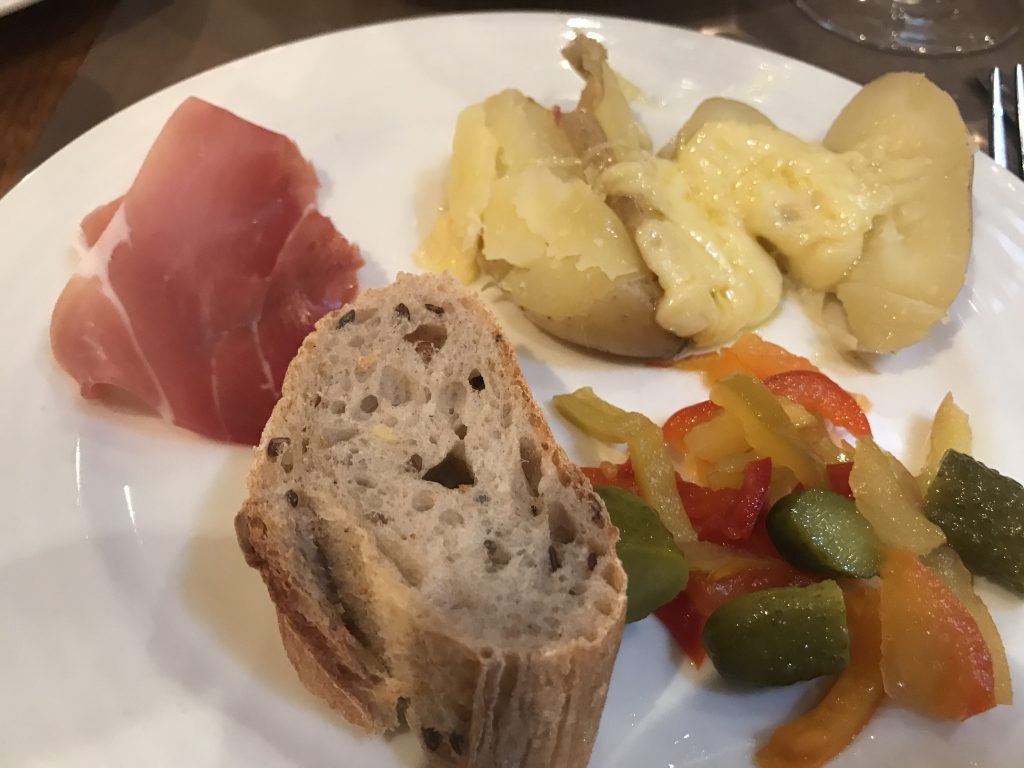 After our very substantial lunch we explored some more of the city. We walked through La Petite France, a lovely area of 16th and 17th century houses and on top of Le Barrage Vauban, a dam that was built in the 17th century to fortify the city. Floodgates could be closed and the southern part of the city flooded, protecting it from attackers.