Today was devoted to helping us experience life in the Sacred Valley. Our guide gave us each a food item to purchase at the market and taught us how to ask for it in Spanish. The market was filled with beautiful produce, including about thirty different kinds of potatoes. The vendors were so helpful and directed us to the right part of the market to find our item. Here is Gail paying for her tarwi, a type of white bean.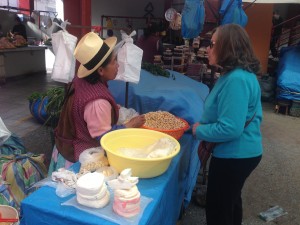 After that we went to a school that is partially supported by the travel company we used. After driving up a narrow, steep dirt road, we were greeted by twenty enthusiastic fourth graders who grabbed our hands and escorted us to their room. Free education is still relatively new and the children value the opportunity to attend school. Some of the children walk an hour each way to get to school. Juan, my guide read to me and showed me his workbooks and gave me a big hug when I left.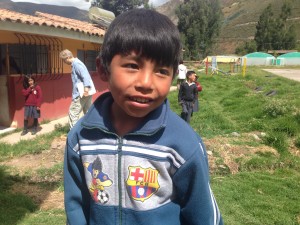 From the school we went to Ollantaytambo, the Inca fortress which is one of the few places the Spanish lost a battle during the conquest of Peru. Climbing up the huge terraces that guarded the ancient hill-top temple, I saw good friends Jon and Trish from Bemidji. I also got to test my altitude endurance.
On the way to our home-hosted lunch we stopped at a little bar for a demonstration and taste of ajha, a mildly alcoholic (.5%) drink made from corn. We tried both the yellow and pink versions.
The highlight of the day was lunch in the home of a middle-class family and a chance to observe the preparation of cuy, the traditional dish served on very special occasions. Since cuy is guinea pig and the preparation starts with a live guinea pig raised by the family, I wasn't sure if this was an activity I wanted to experience. But preparing and serving cuy is an important part of Peruvian tradition, so I decided to give it a try. It was easier to watch and tastier to eat than I expected.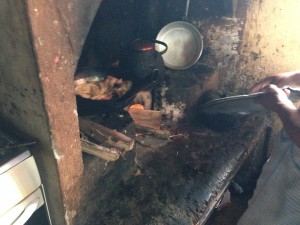 We ended the day at the pottery studio of Pablo Seminario, an artist who has researched traditional Inca techniques and has his work in the Smithsonian Institute and Field Museum.