Touring the Tuscan countryside, wine and olive oil tasting, an authentic Tuscan lunch in a small village, and a day with a charming Italian sommelier created a perfect day in Italy.  Castello di Gabbiano, a winery housed in a castle was the first stop on our "Castle and Chianti" wine tour from Italy and Wine .  We had taken a Brunello wine tour from this company five years ago and knew we wanted to do another wine tour with them on this trip.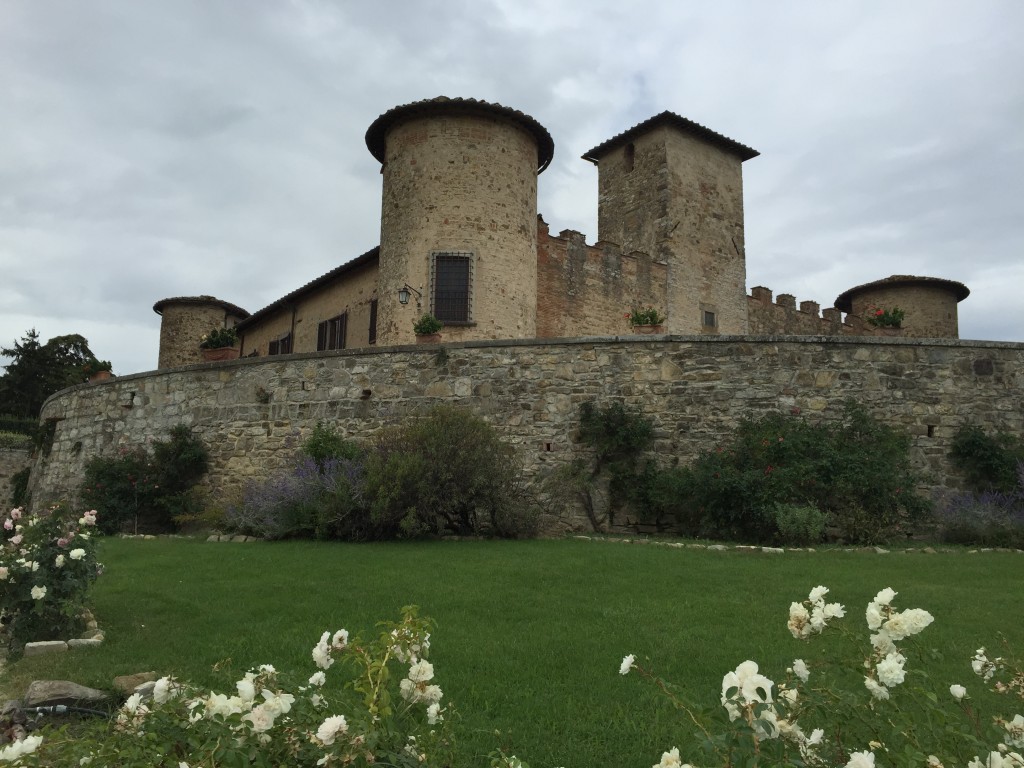 The sommelier showed us around the lovely estate and described their wine-making process.  We tasted Chianti, Chianti Classico, and Chianti Classico Reserva and learned the governmental regulations for each.  We also tasted ten-year-old balsamic vinegar.
After our first tasting, we went to lunch in a tiny Tuscan village.  Tuscans place great importance on eating seasonal, locally-grown food.  Many restaurants put asterisks next to dishes that may contain frozen ingredients when fresh are not in season.  We ate black cabbage pasta (because it is black cabbage season) and white bean and bread soup.
My favorite stop of the day was at San Michele a Torri, an organic farm and winery where we tasted the three different classifications of Chianti, a Super Tuscan, VinSanto (a sweet dessert wine), olive oil and dried meats, all made on the farm.  Out of hundreds of olive oils produced in Tuscany, theirs is one of only twenty-two to get the highest rating.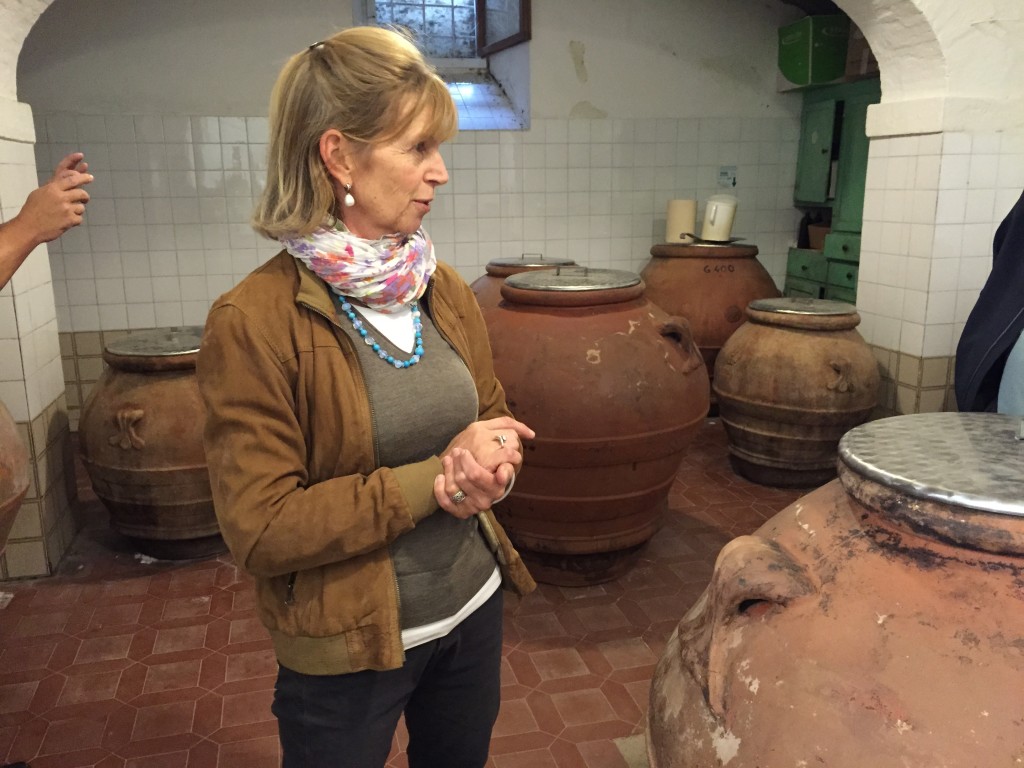 In addition to providing great Italian wine instruction, our sommelier/tour guide Hillary gave us wonderful insight into Italian culture, such as:  Italians love Americans and still greatly appreciate what the USA did for them in World War II.  Holocaust Remembrance Day was established by the Italian Parliament in 2000 as a "Day of Memory" of the Italian persecution of the Jews.  There are forty-one American universities and a large American population in Firenze.  Italian men spend more time on their appearance than Italian women.  Firenze is a culture of craftspeople, making many beautiful products by hand.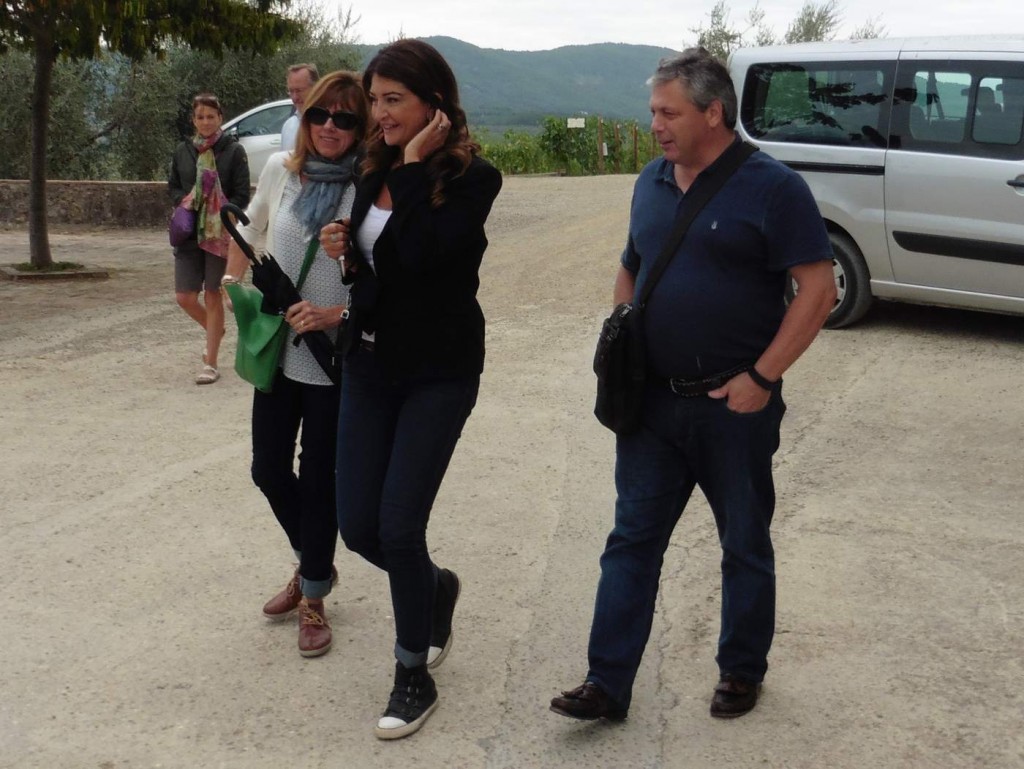 The Day Before Castles and Chianti
We  had no specific plans the day before our wine tour.  Wanting to share some of our favorite places with our friends, we started the day with a seven-mile hike up to Piazalle Michelangelo for a beautiful view of the city.  We could see pink shirts everywhere as thousands of runners participating in Corri La Vita to raise money for breast cancer research ran along the river and over the bridge.  After lunch at Trattoria Marione, we came outside to find many families waiting to get in for Sunday lunch.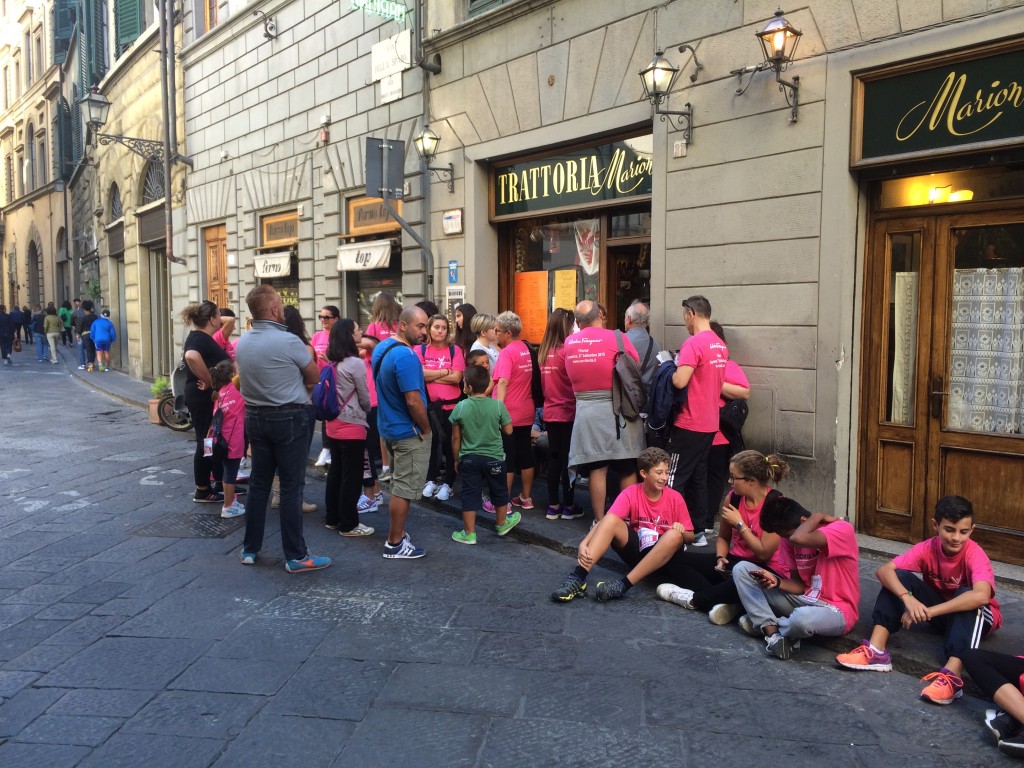 We had another great dinner at Oesteria de Pazzi, where David and Julie got to meet Paulo, the charming, singing owner.