This morning we left Amsterdam for Bruges, Belgium.  Our favorite Amsterdam taxi driver, Farid, took us to the train station and Edwin's nephew Zeus helped us get our luggage down the steep stairs.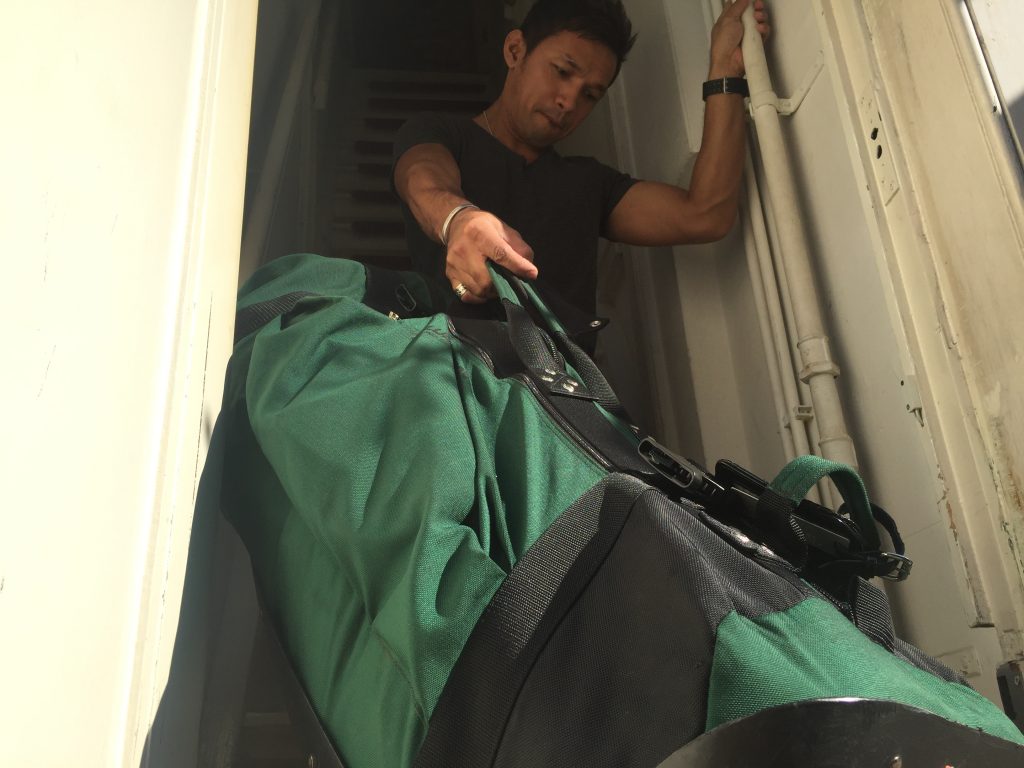 We took one last look at our second floor apartment and noted the hook on the top of the building.  All of the old houses in Amsterdam have these hooks to bring furniture in through the windows because the stairs are so narrow and steep.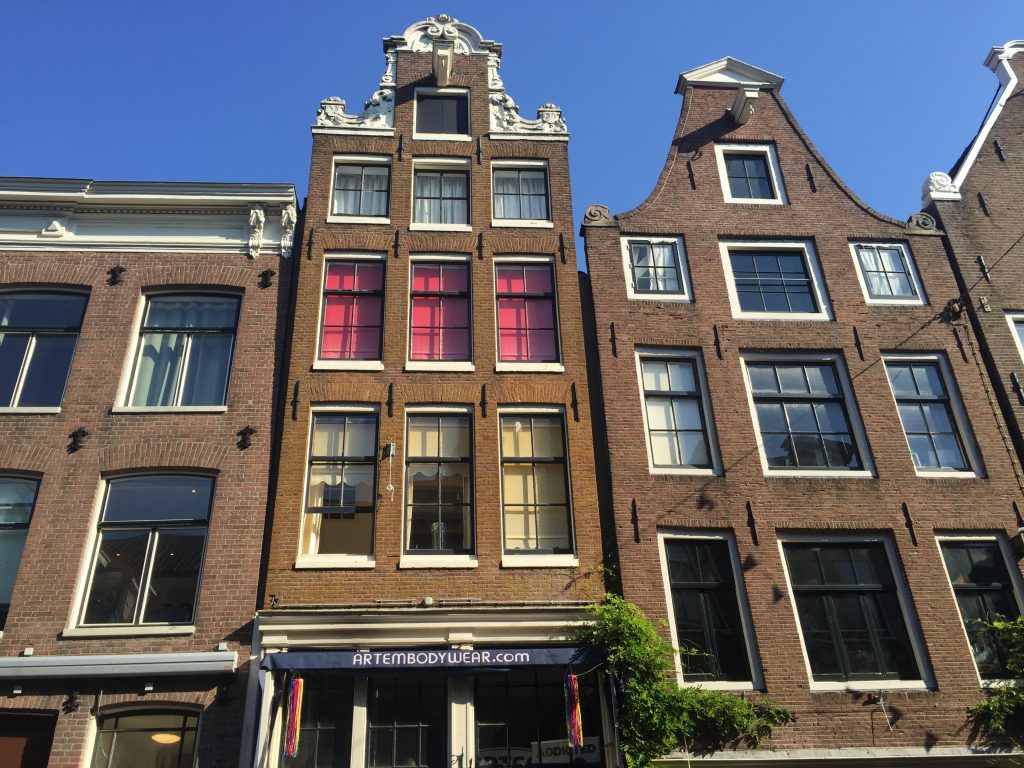 In addition to all of the wonderful experiences we had and the places visited, when I remember Amsterdam,  I will remember the canals, the narrow, crooked houses and how well we were treated.  People went out of their way to be helpful, from giving advice about using the trams to cutting in half a waffle the server knew we were going to share.  I think Amsterdam would be a great first destination for someone who wanted to plan their own trip to a non-English-speaking country.  Almost everyone here speaks English, and they are so friendly and  helpful.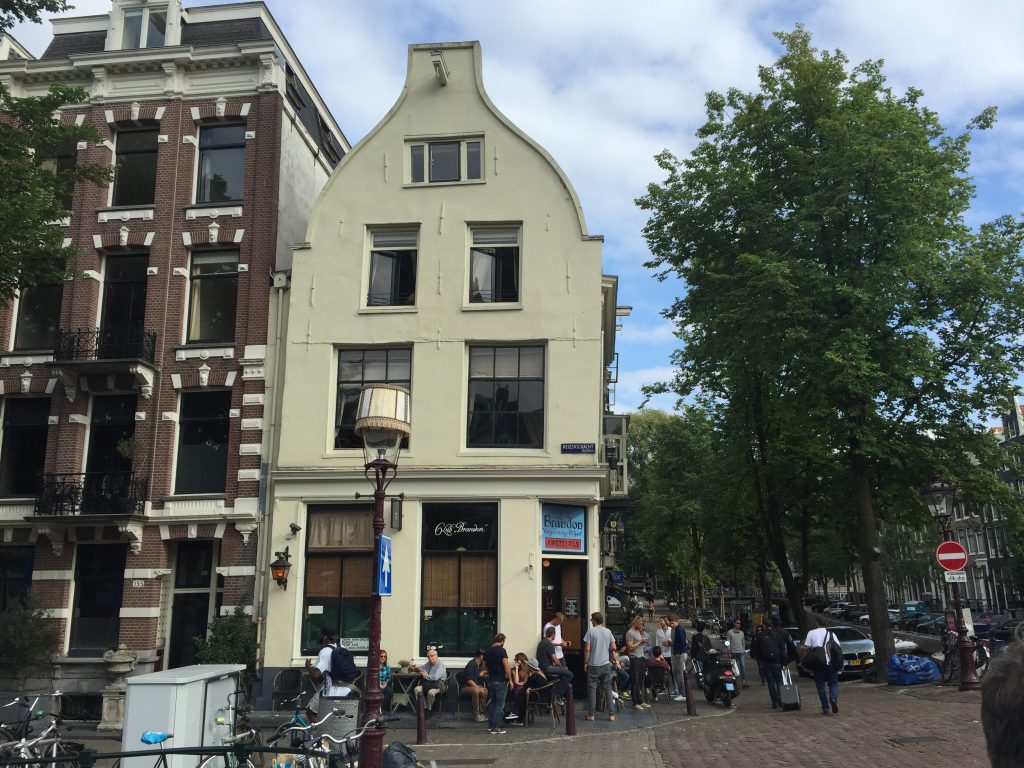 I will also remember our lively street.  Beginning at noon, the street was closed to cars and  filled with people having a good time.  After noticing stickers on some of the windows that said "Member of Secret Village", I started doing some research to see what that meant.  I discovered that our street,  Reguliersdwarsstraat,  was the most famous gay street in Amsterdam and four of the most famous gay bars in the city were next door to us.   The "Secret Village"  business initiative was launched in 2016, to position the street as an open-minded and tolerant shopping and entertainment area with an international reputation.  Although it got a little noisy at night, I thought it was pretty cool to discover we were staying on such a historic street.
On our train ride to Bruges we met a man who live in Bruges and works in Brussels.  He gave us a great restaurant recommendation – Pottekijker and insider information about Bruges-like don't eat and drink on the square.  Except for the fries, the food and drink are overpriced and not as good as at other parts of the city.  A big soccer fan, he told us about the Champions League game on Wednesday between Bruges and Leicester City, England.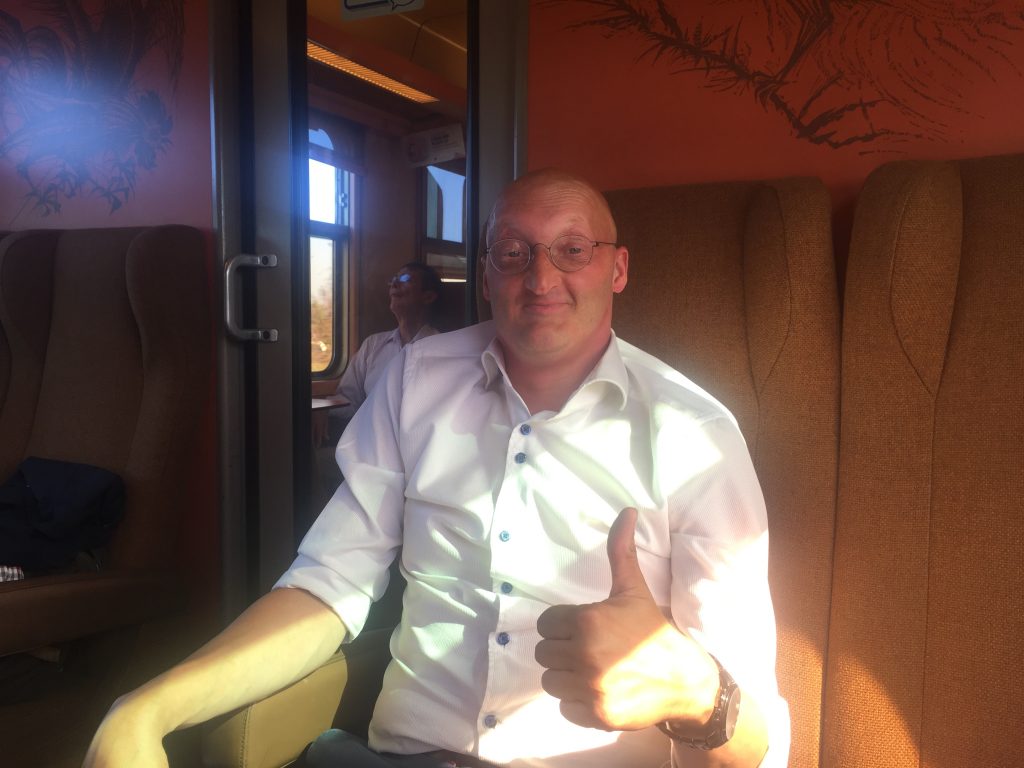 We discovered that the three guys sitting across the aisle from us were sports writers from England going to Bruges to cover the game.  I had just read an article in the New York Times about the Leicester team and shared it with them.  They were friends with the writer for the NYT article.  We all had a great time talking about traveling and sports and the US.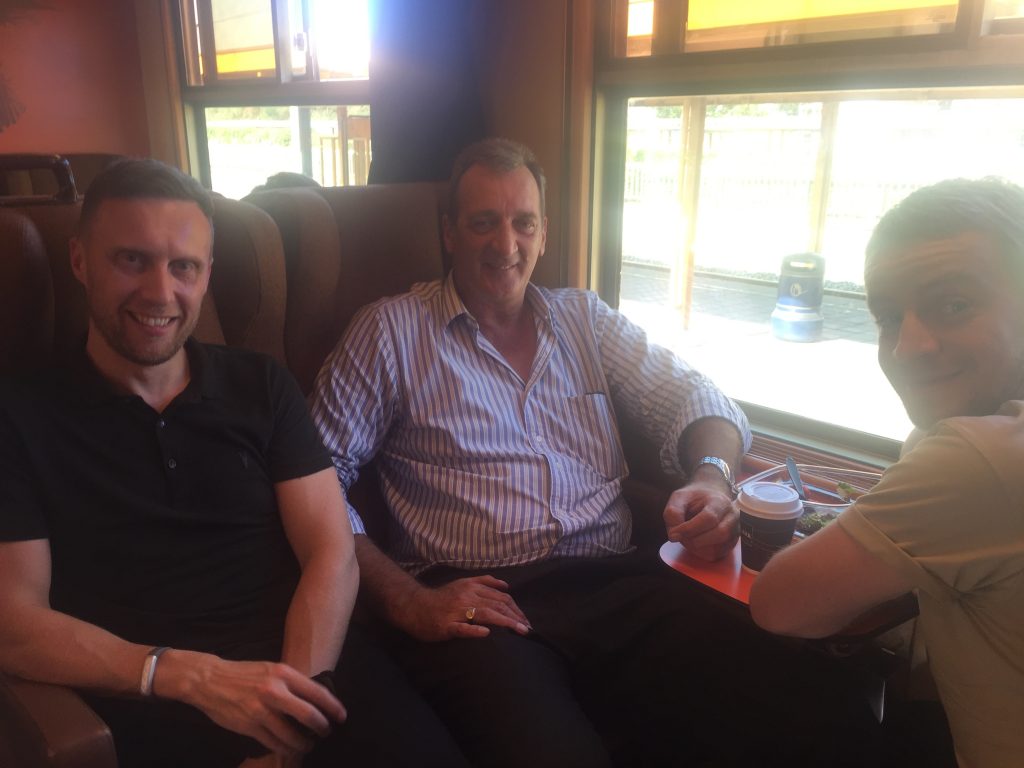 And then suddenly we were in Bruges.  Michel, our Bruges host picked us up at the train station and oriented us to our beautiful Bruges apartment.  Called "Silent Bruges" it is a lovely change from our lively Amsterdam apartment.  Although the main house was built in the seventeenth century, the part we are in is "only" 150 years old. Michael gave us an extensive summary of the history of Bruges and mapped out a slightly-off-the-beaten-track walk for us.
We did part of Michael's recommended walk and stopped for dinner at a little cafe on one of the canals.  We had wonderful mussels and my new favorite beer, Bruges Zot.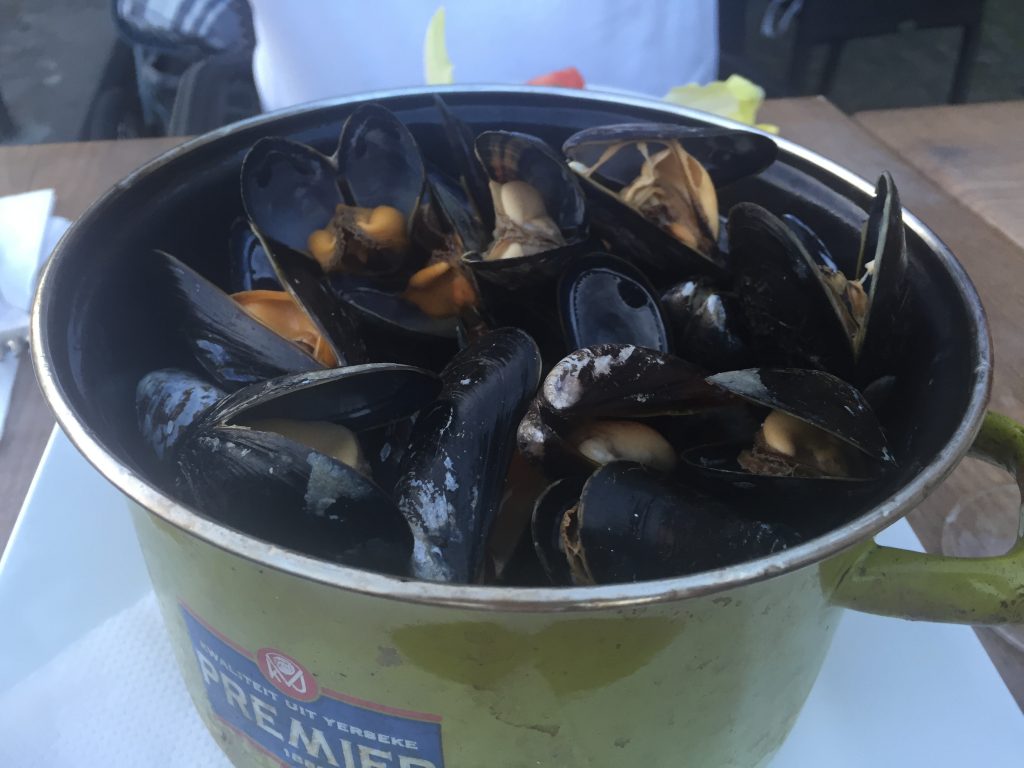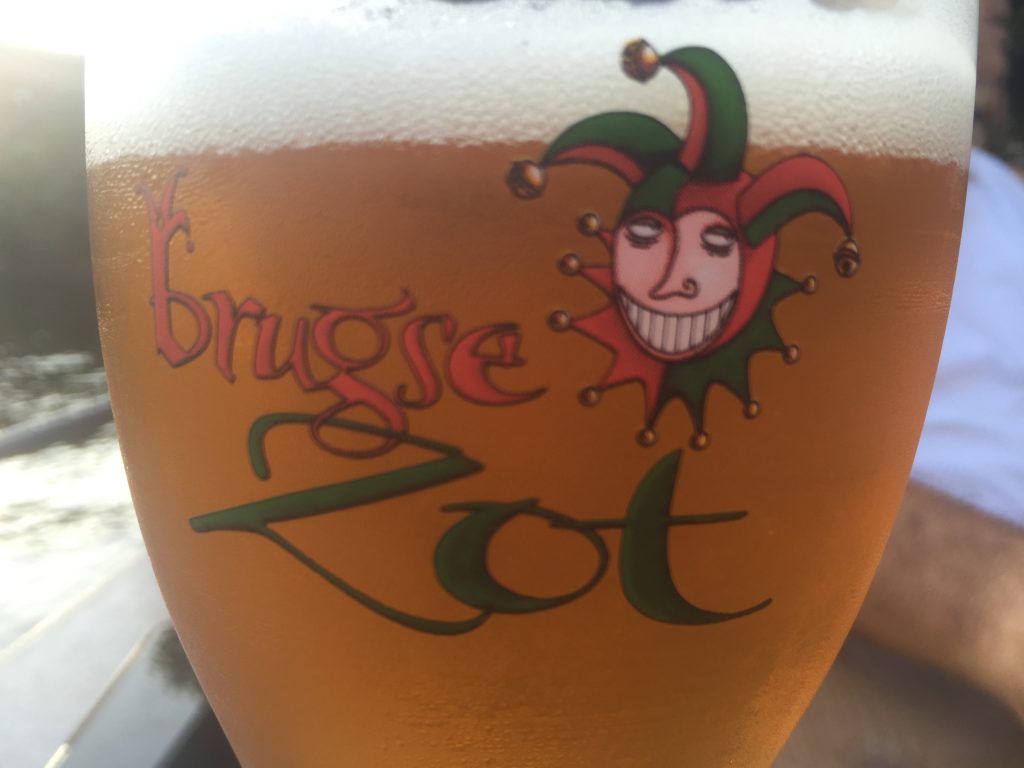 Lucky for us, a little chocolate shop was still open, so we had our first taste of wonderful Belgium chocolate.