After a last-minute flight cancellation and a great deal of time on the phone with Delta, we arrived in London this morning-thirty minutes earlier than our  cancelled flight would have arrived.  London welcomed us with sunny skies and temps in the low 80s, not the London weather I remembered.
The weather was not the only thing different from my memory.  The skyline was different-more modern buildings with lots of curved and slanted edges and cranes everywhere.  London is in the midst of a building boom.  Our cab driver explained to us that foreign investors think London is a safe place for their money, and they are the ones responsible for most of the new building.
London skyline view across the River Thames and Mellenium Bridge for the Tate Modern balcony.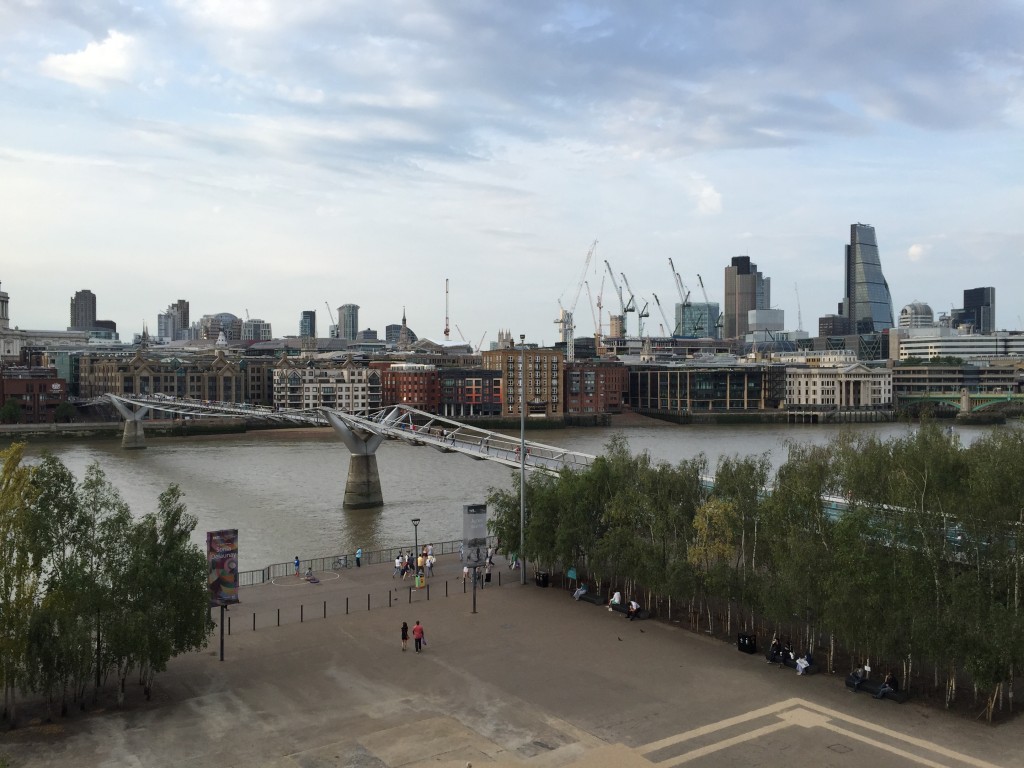 We explored our neighborhood a bit, then visited the Tate Modern. The Tate Modern is a huge museum housed in a converted powerhouse on the River Thames.  Arranged by theme, not artist or period, each piece of art had helpful information about its artistic significance and contribution to the theme.  Paul and I came pretty close to that delicate balance where we are in an art museum long enough for me and not too long for him.
Crossing the Thames on the Mellenium Bridge, we could see Londoners strolling on both sides of the river, enjoying the beautiful weather. The Mellenium Bridge, the first bridge built in London in over a century, shook when people first crossed it. The city closed the pedestrian bridge, spent eight million dollars repairing it and re-opened it twenty months later.
We walked back to our apartment via the Jubilee Walkway along the Thames and had a wonderful Indian dinner.  London has great ethnic restaurants, and we plan to enjoy many different types of cuisine.