Today we explored Ballycastle, a lovely seaside town about 25 miles east of Portstewart. Since so many towns in Ireland have "bally" as a prefix., I assumed the word meant town or city. Not quite. Bally is derived from the Gaelic phrase "Baile na", meaning place of. So Ballycastle means "place of castle." However, even though there are many castles and ruins in Ireland, there is no trace of a castle in Ballycastle. In 1856 Charles Kirkpatrick, of Whitehall, removed the ruins of the castle that was built there in 1564 .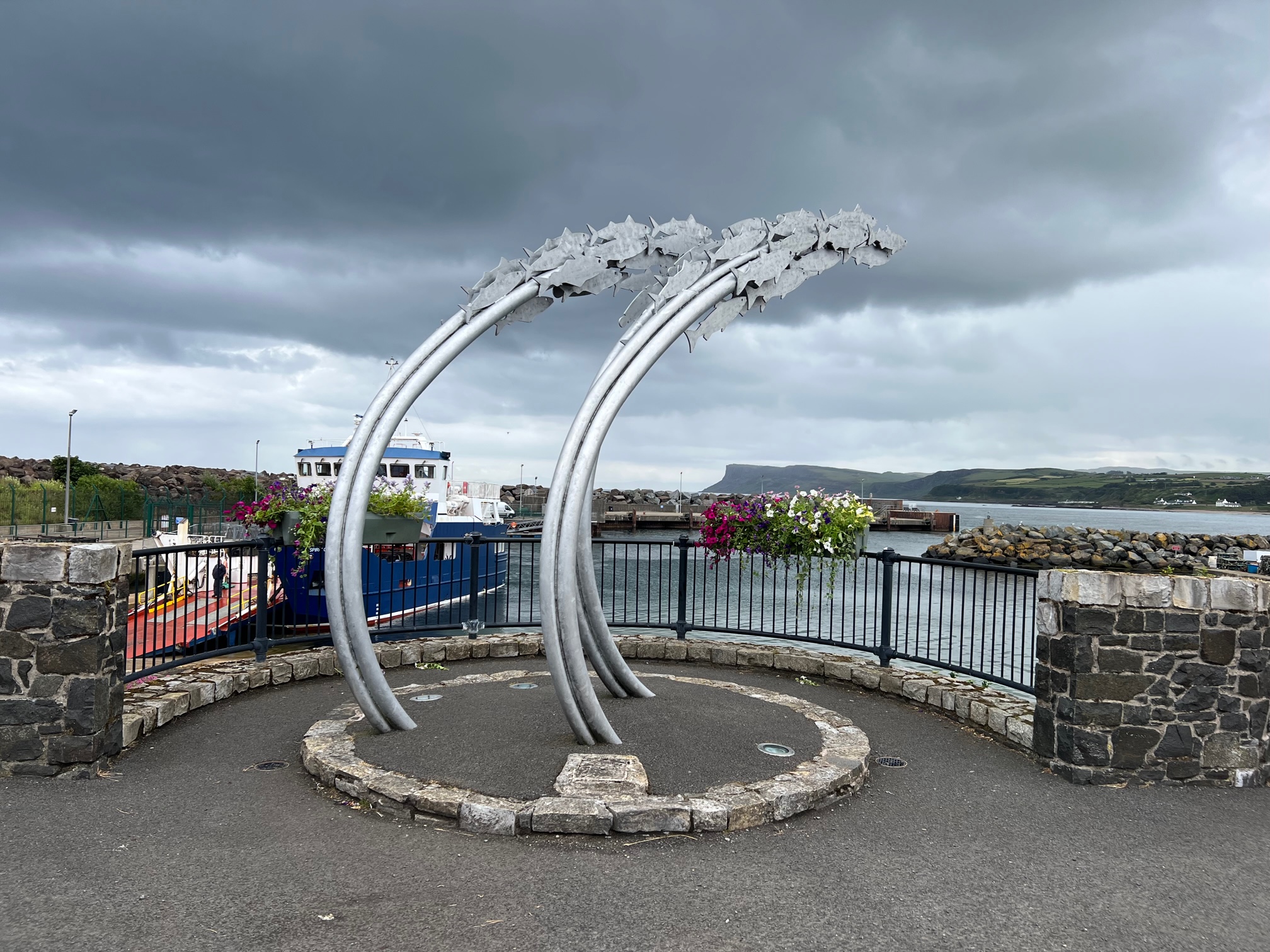 We stopped first at the Visitor Information Center located right on Ballycastle Harbor.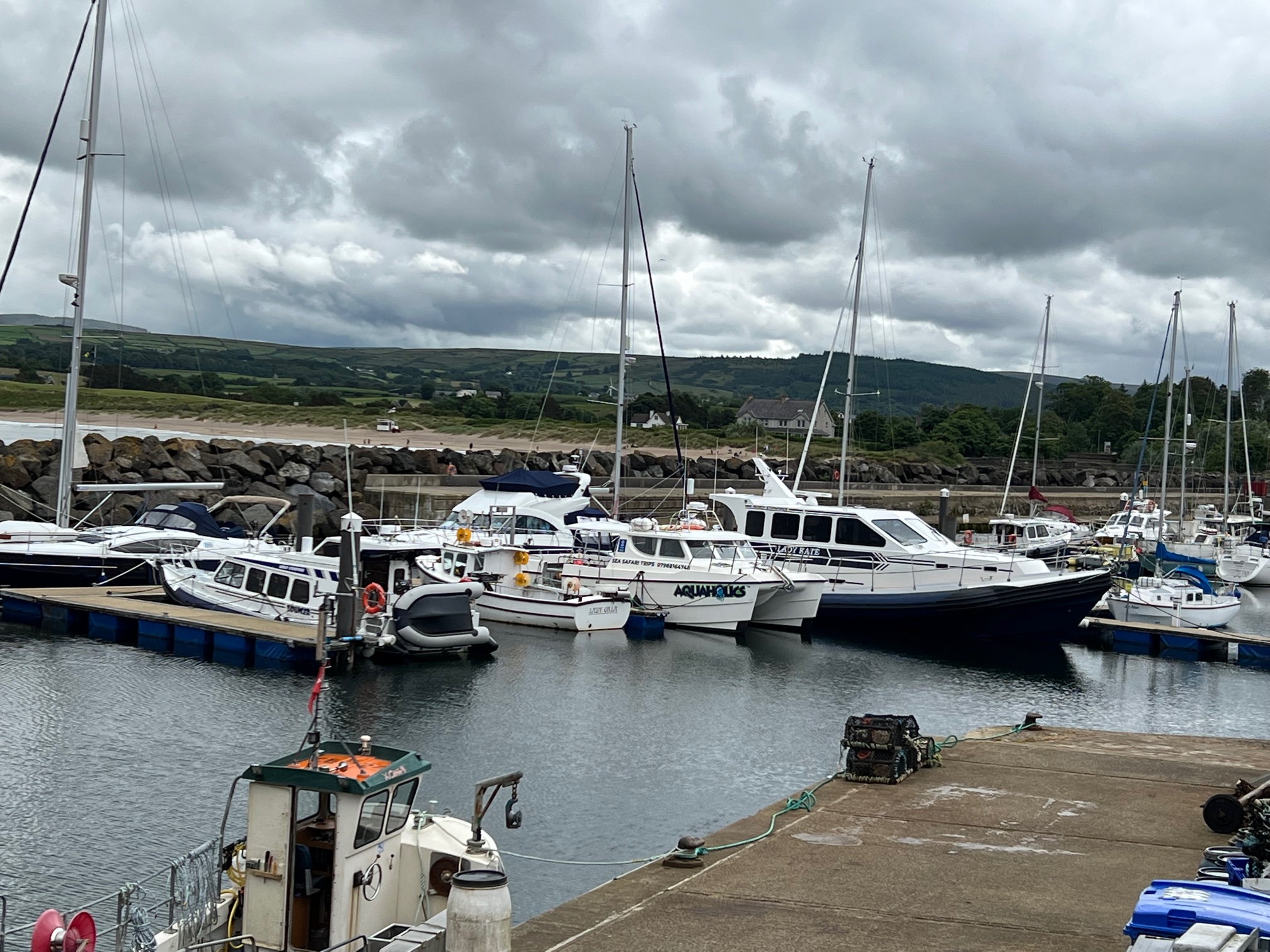 Fair Head Cliffs
Supplied with maps and recommendations, we headed to Fair Head Cliffs. Rising 643 feel above sea level, they are the highest cliffs in Northern Ireland.
We parked in a farm car park, so named because it was literally in a farm, and started hiking down the nearest path. Just as I was sure we would see the cliffs over the next ridge, we came to a sign warning that a guard dog was on the private property. We made the prudent decision to turn around and find a different path.
Taking the wrong path was a lucky mistake because we discovered the ruins of Dun Mor, which means the Great Fort. An interpretive sign informed us that most likely settlers occupied the site from 800 AD to about 1300 AD.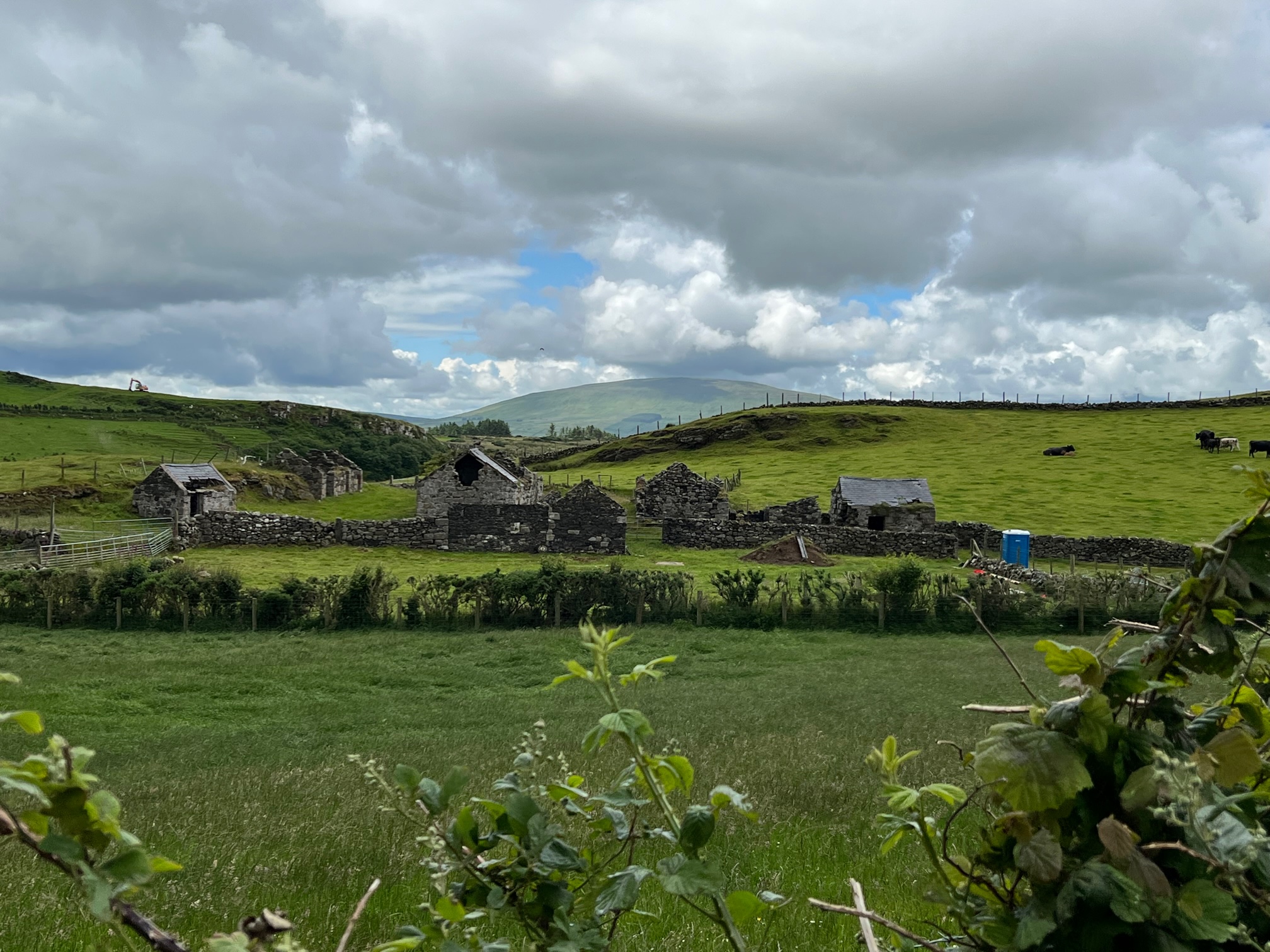 We returned to the car park and discovered another path going in the opposite direction. Unlike other areas of the coast that are owned by the National Trust, Fair Head Cliffs is on private land owned and farmed by 12 generations of the McBride family. Hikers and climbers share the cliffs with cows and sheep.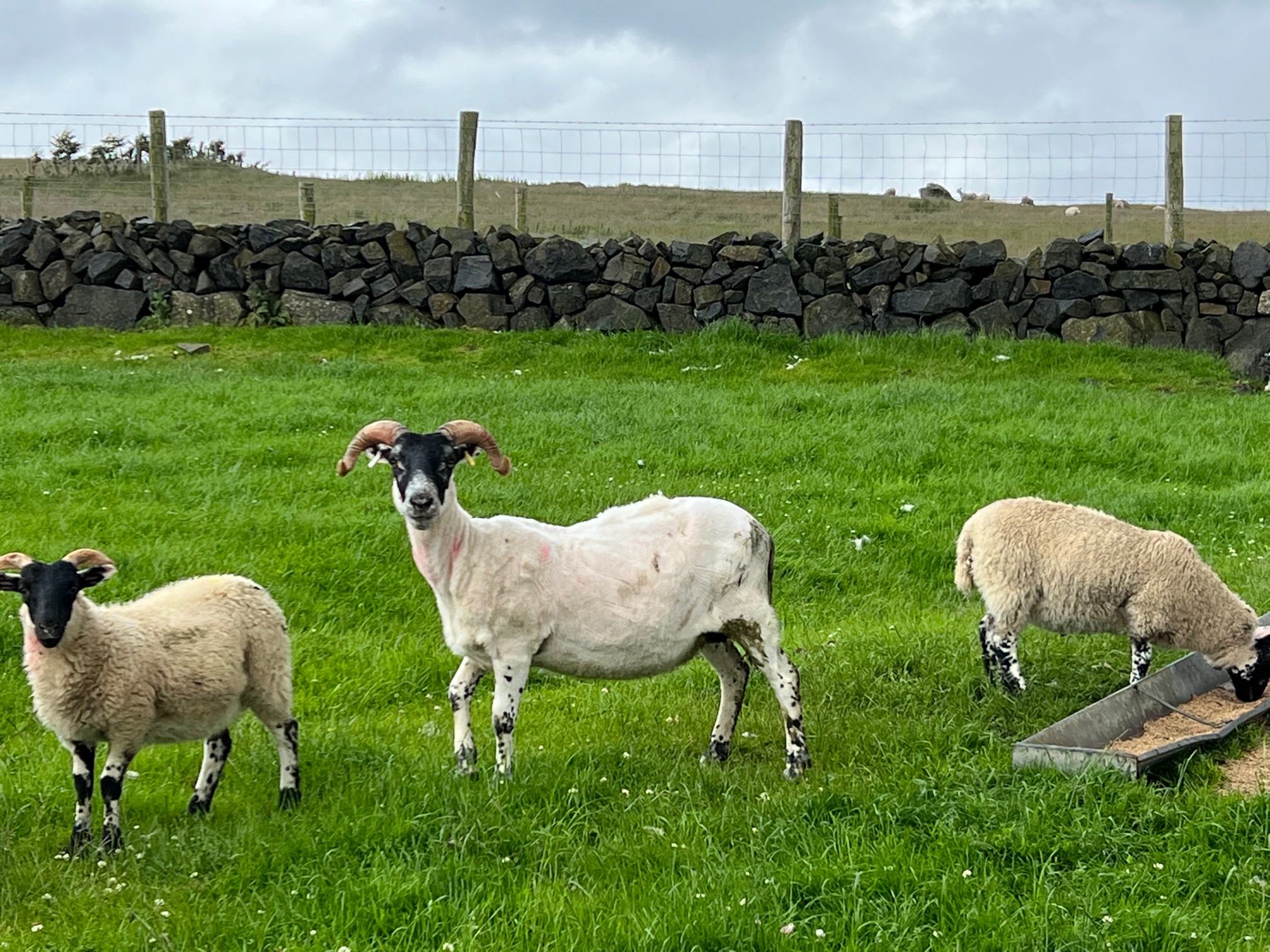 We had to climb a few stiles to get over the fences that keep the sheep and cows where they belong.
When we arrived at the top of the cliffs we met three climbers who were going to climb earlier but had a rain delay. One was a professional climber from Belfast, and the other two were semi-professional climbers from Dublin. They told us such interesting stories about their climbs and people who who had climbed Fair Head Cliffs, including Alex Honnold, the climber in Free Solo. One of them told me he had an extra harness if I wanted to try it. I am pretty sure he felt safe knowing I would not take him up on his offer.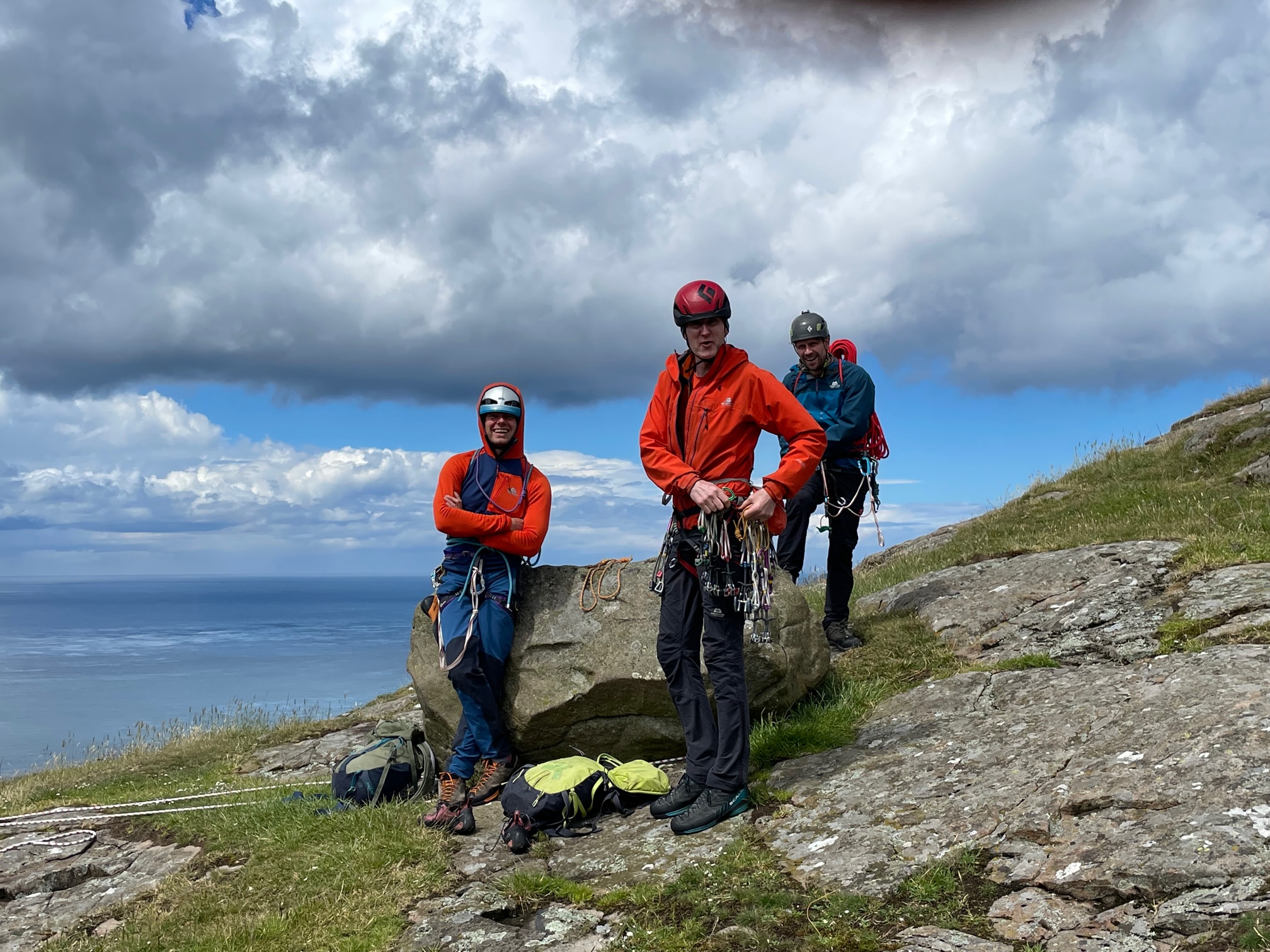 After they began their descent, I was able to hike down a portion of the trail so I could watch them on the cliff.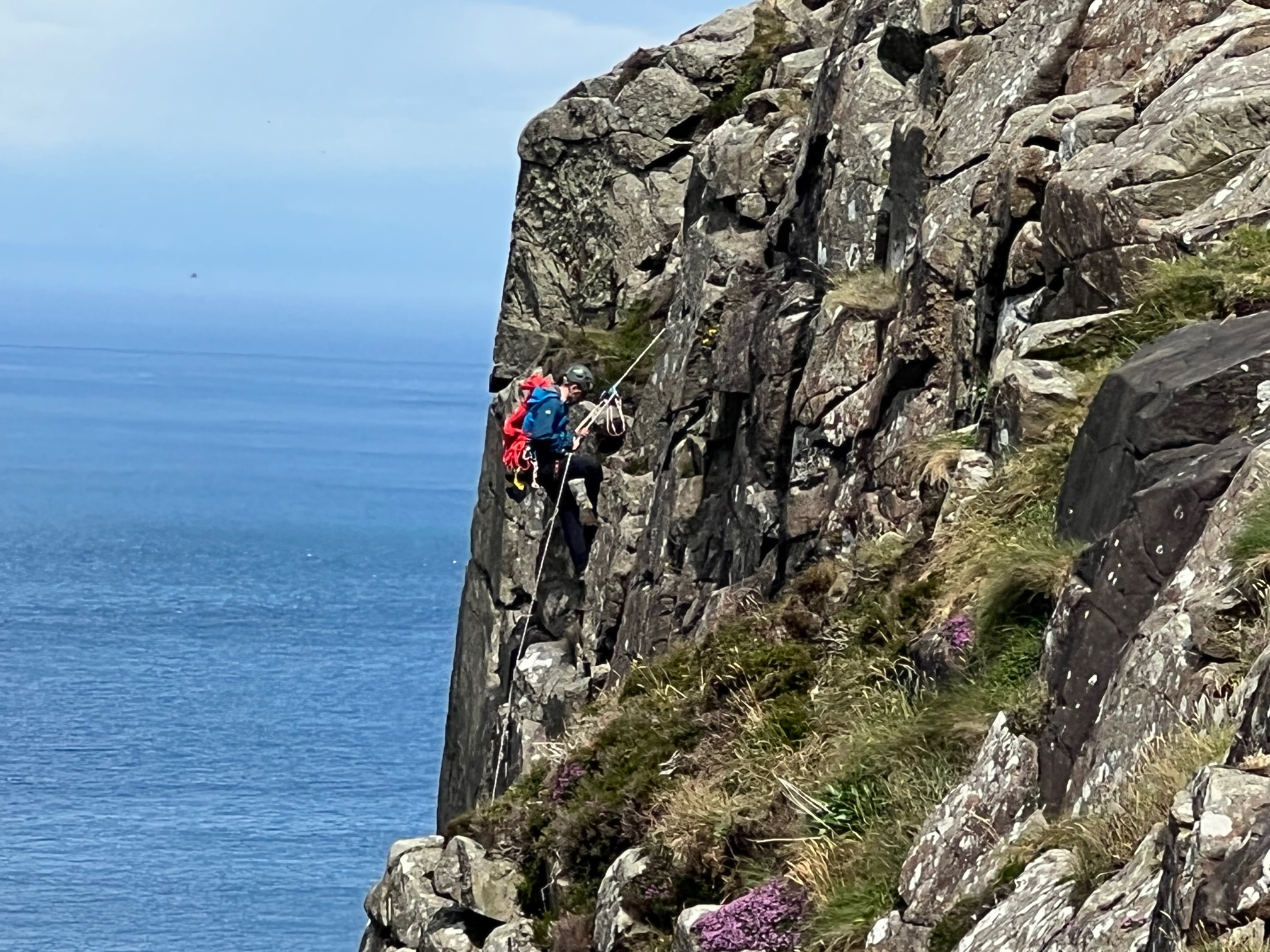 Lunch
After our hike we went in to the darling town of Ballycastle for lunch at O'Connor's Bar.
I had another variety (mushroom) of the wonderful soup I have found in Ireland. Soup and great bread has become my favorite lunch option here. I am inspired to up my soup game when I get home.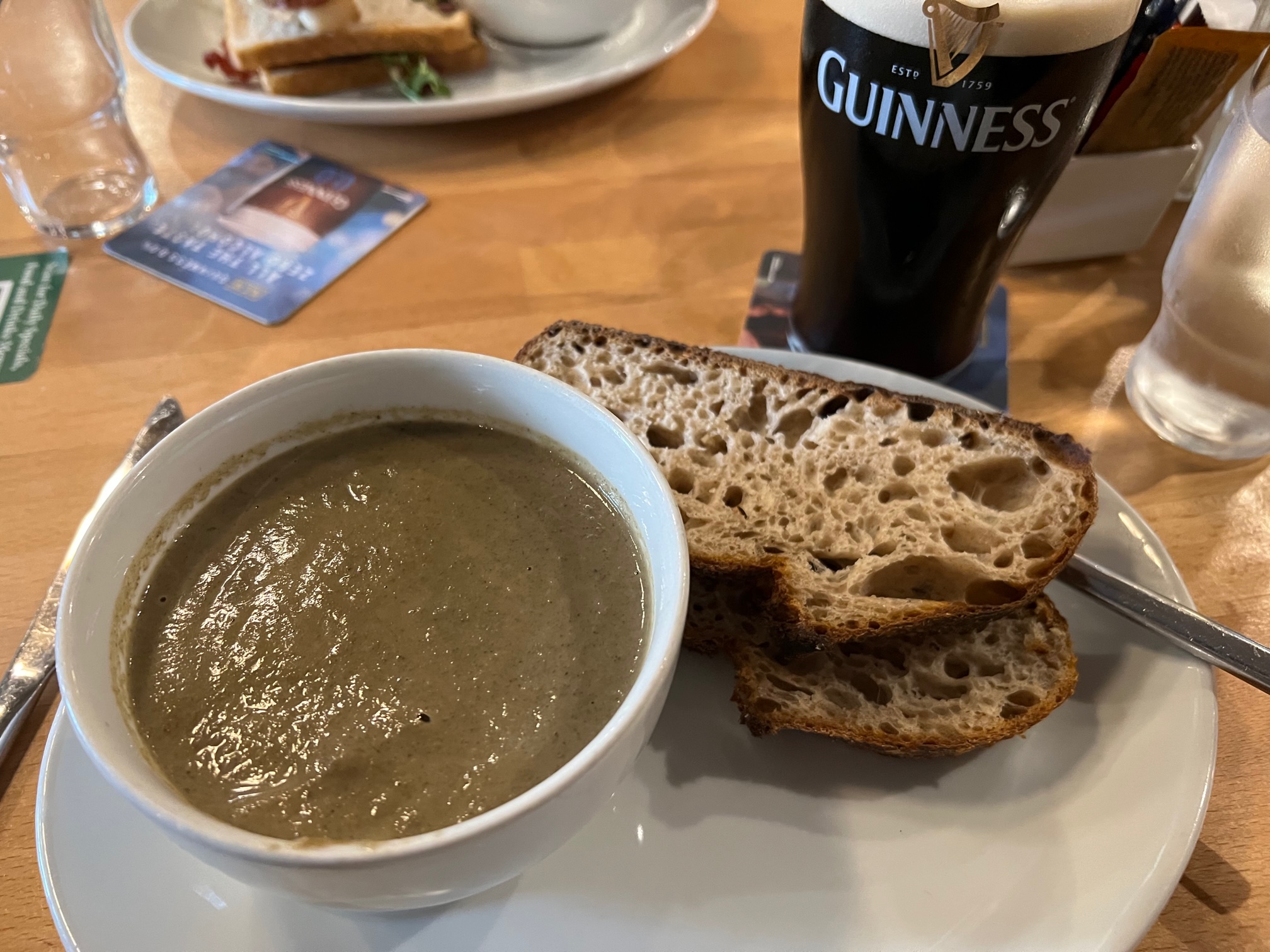 We planned to spend some time walking beautiful Ballycastle Beach after lunch, but the rain that started during lunch changed our plan to a quick visit.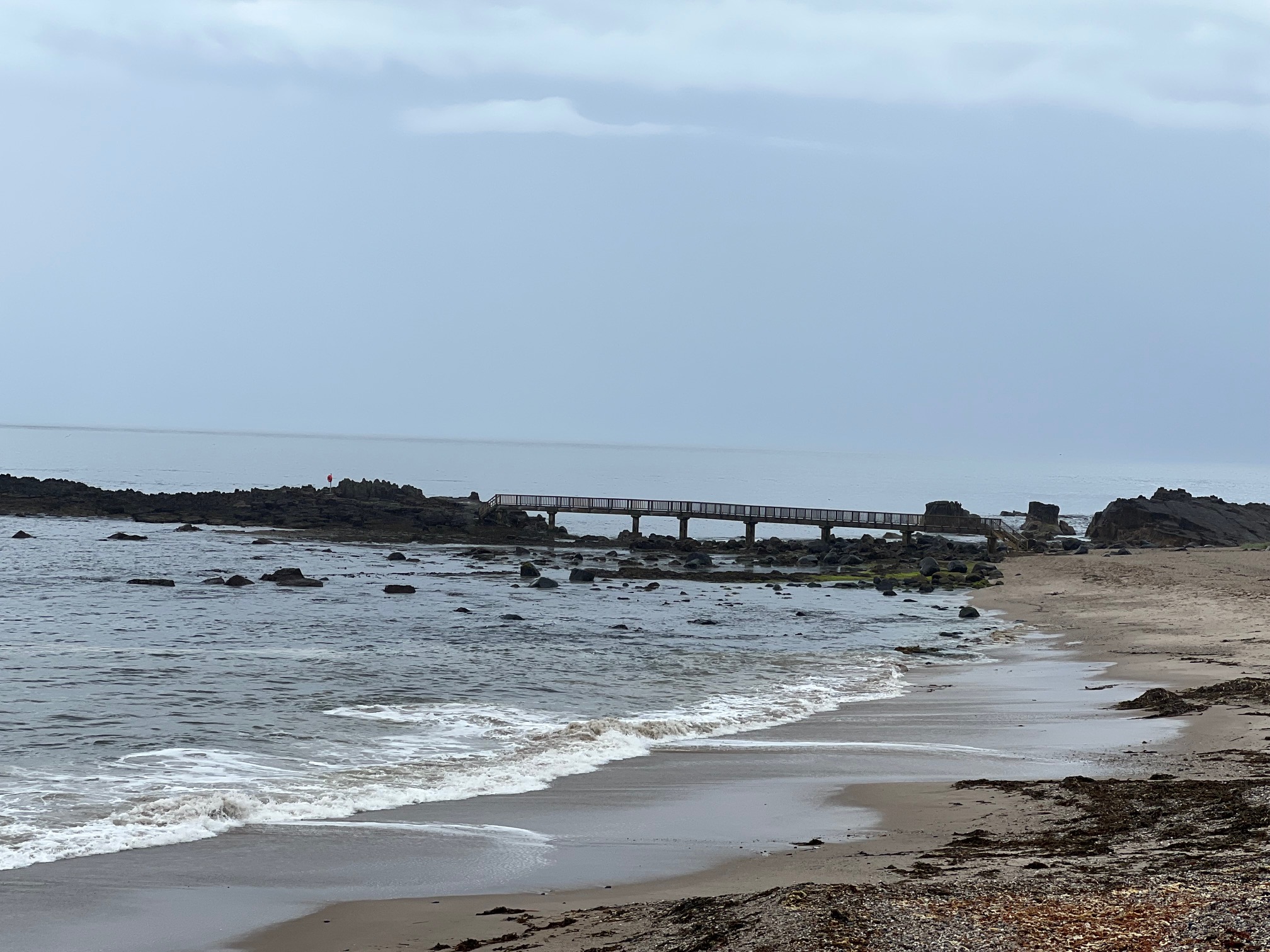 Dinner
After two friends recommended the Bushmill Inn, we decided to return to Bushmill for dinner. It was a great choice!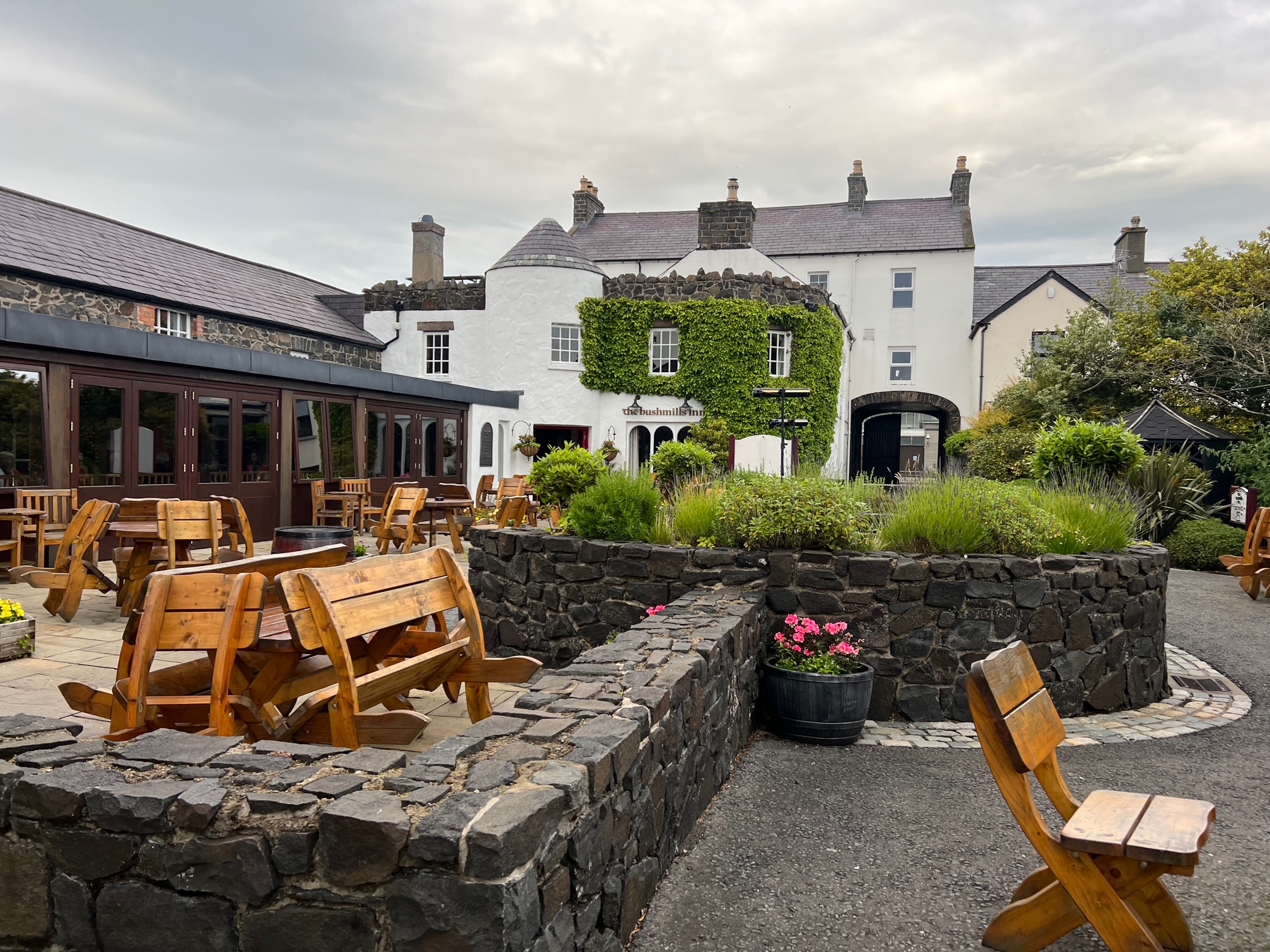 Like most of the restaurants we have enjoyed in Northern Ireland, Bushmill Inn prides itself on using locally grown and sourced food. I had a crispy garlic cauliflower steak with sauce gribiche, sweet potato Parmentier and garlic and chive cream.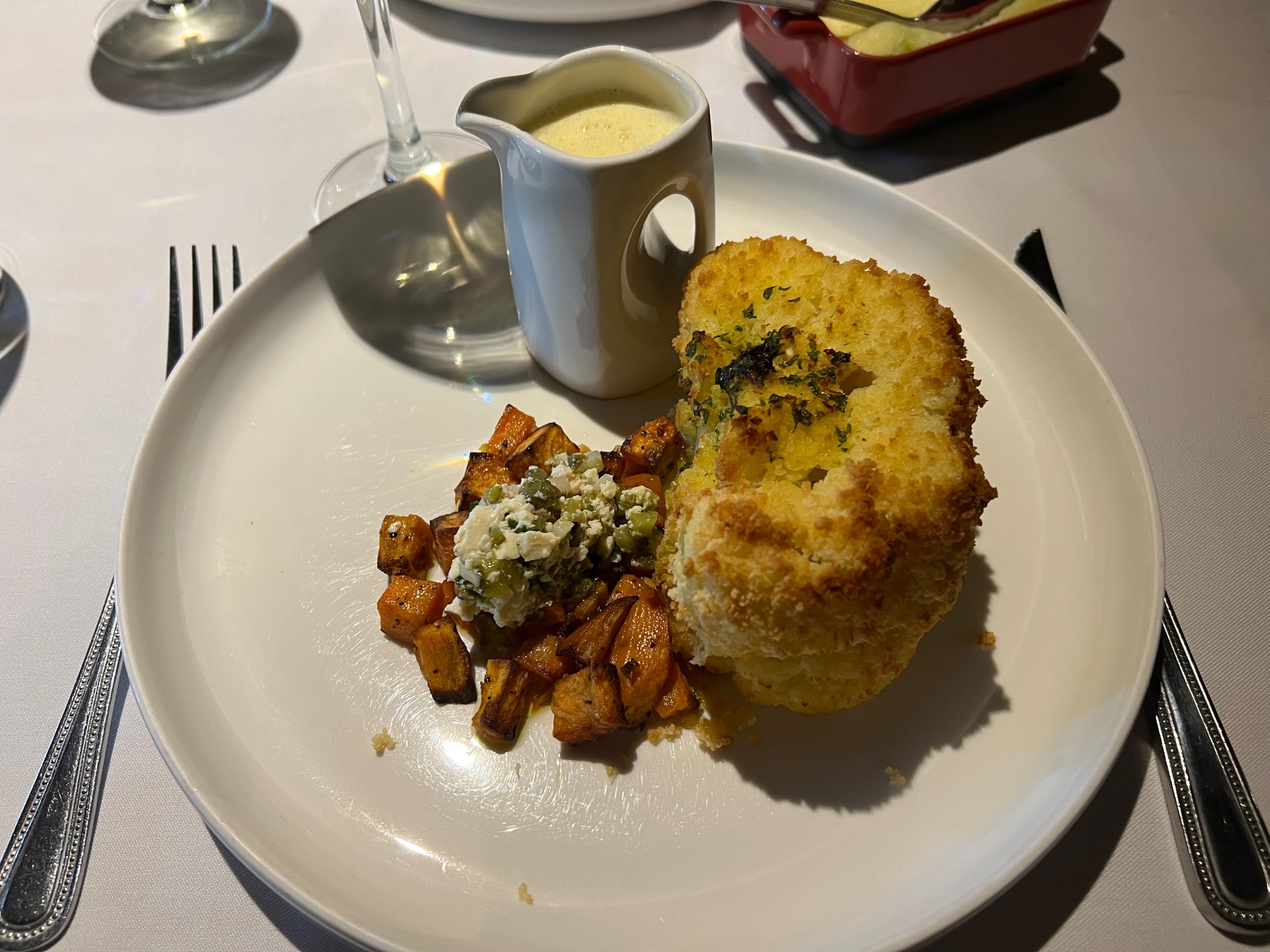 Paul had sea bass that was caught not far from Ballycastle.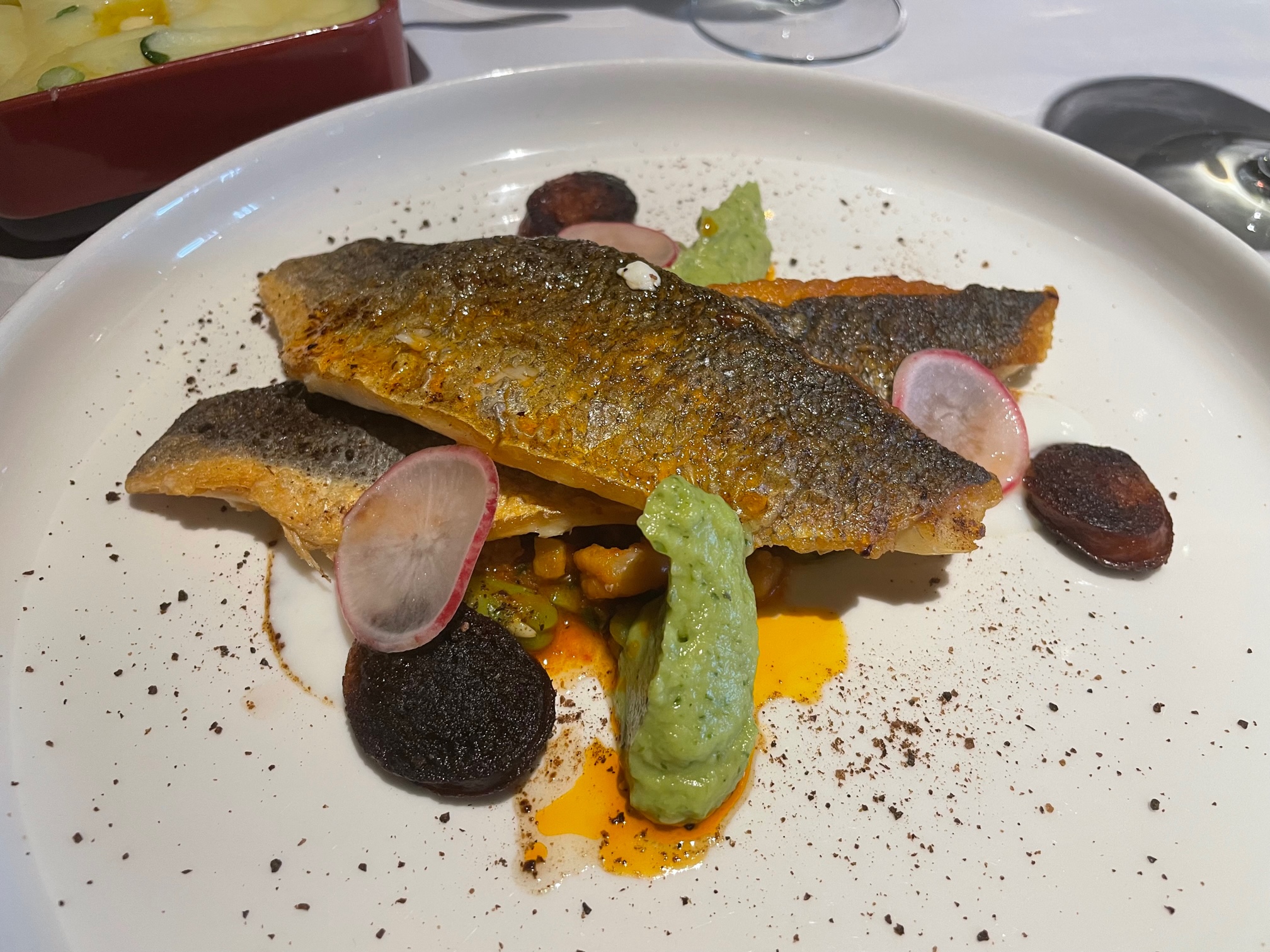 Although our waitress told us their sticky toffee pudding was better than the one we had at Amici, we decided it was too much two nights in a row. We opted to share a small salted caramel and chocolate fondant with clotted cream ice cream. Unfortunately, we started eating it before I remembered to take a picture.