Our flying tweaks worked! We arrived in Rome on time with all our baggage. Feeling a bit caffeine deprived, I was thrilled to see a beautiful coffee bar as we entered the terminal. Cappuccino and a fresh, warm pistachio croissant were the perfect welcome to Italy.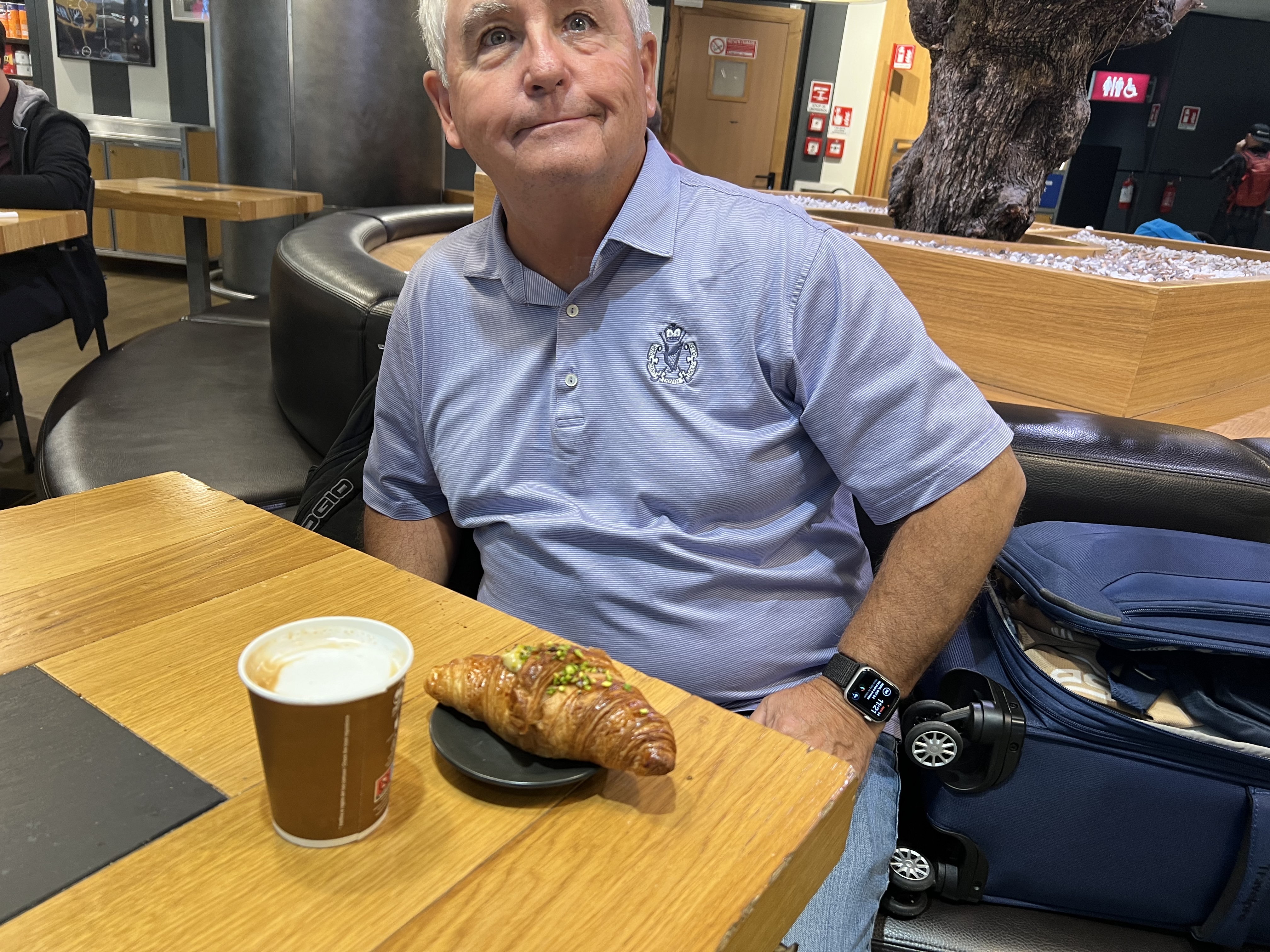 Martina Franca
My amazing husband, who can drive anywhere, drove our rental car seven hours from Rome to Martina Franca with no problems. Well, no problems until we arrived in what we expected to be the small, peaceful village that would be our home for the next four nights.
We had no idea Martina Franca was such a busy city, and the street signs were hard to find. After twice driving around what we were pretty sure was our apartment block, we called Martino, our host. He graciously met us at our car (we were so close), escorted us the apartment and drove our car to the car park a few blocks away. What great service!
Our apartment is part of a palazzo that Martino's great-grandfather built in 1881. Martino's family has lived in the palazzo since it was built. After creating an apartment in the palazzo (lucky for us) Martino and his wife Lucia live in the rest of the home.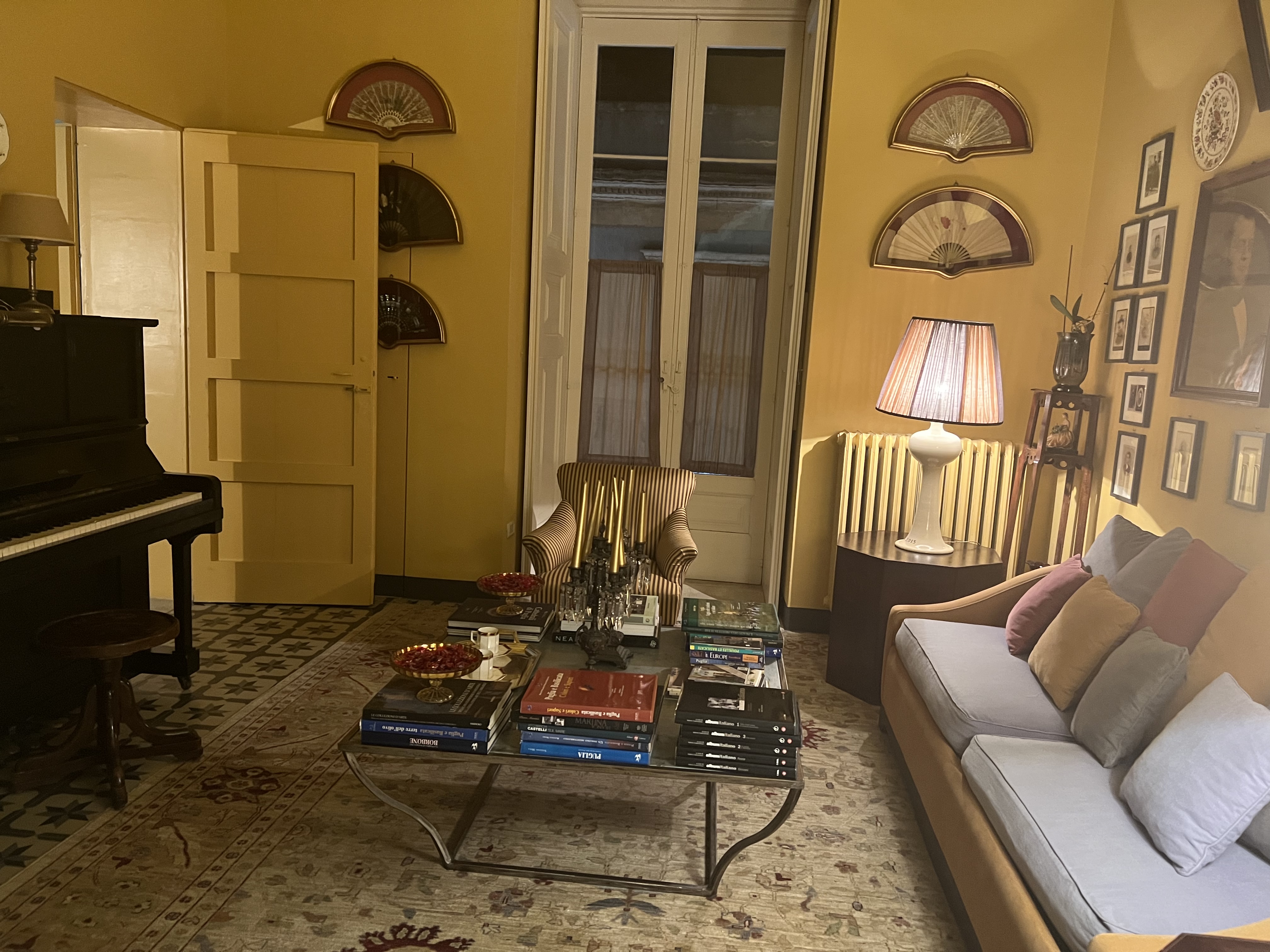 Martina Franca will be our home base in Puglia. Located in the heel of the Italian boot, Puglia is becoming more well-known to tourists. Olive oil, primitivo grapes, gorgeous beaches, and the Trulli, ancient huts dwelling back to the Middle Ages, are highlights of this beautiful area.
Bari
Bari, the largest city in Puglia, wasn't originally part of our plan. But we had two good reasons for adding it to our itinerary. A friend whose family came from Bari had talked about wanting to go there, and we had to go to the Bari airport to pick up our friend who is joining us for part of the trip.
I am so happy we added Bari to our list of Puglia stops. Thanks to Nicholas from Lokafy Tours we spent a delightful two hours exploring the city. Lokafy is a bit different from many other tours. As stated on their website, they believe that by "discovering the world through the eyes of the people who live here, we will see the inter-connectedness of it all. That we're more similar than we are different." Walking the streets of Bari with Nicholas was like exploring the city with a knowledgeable friend.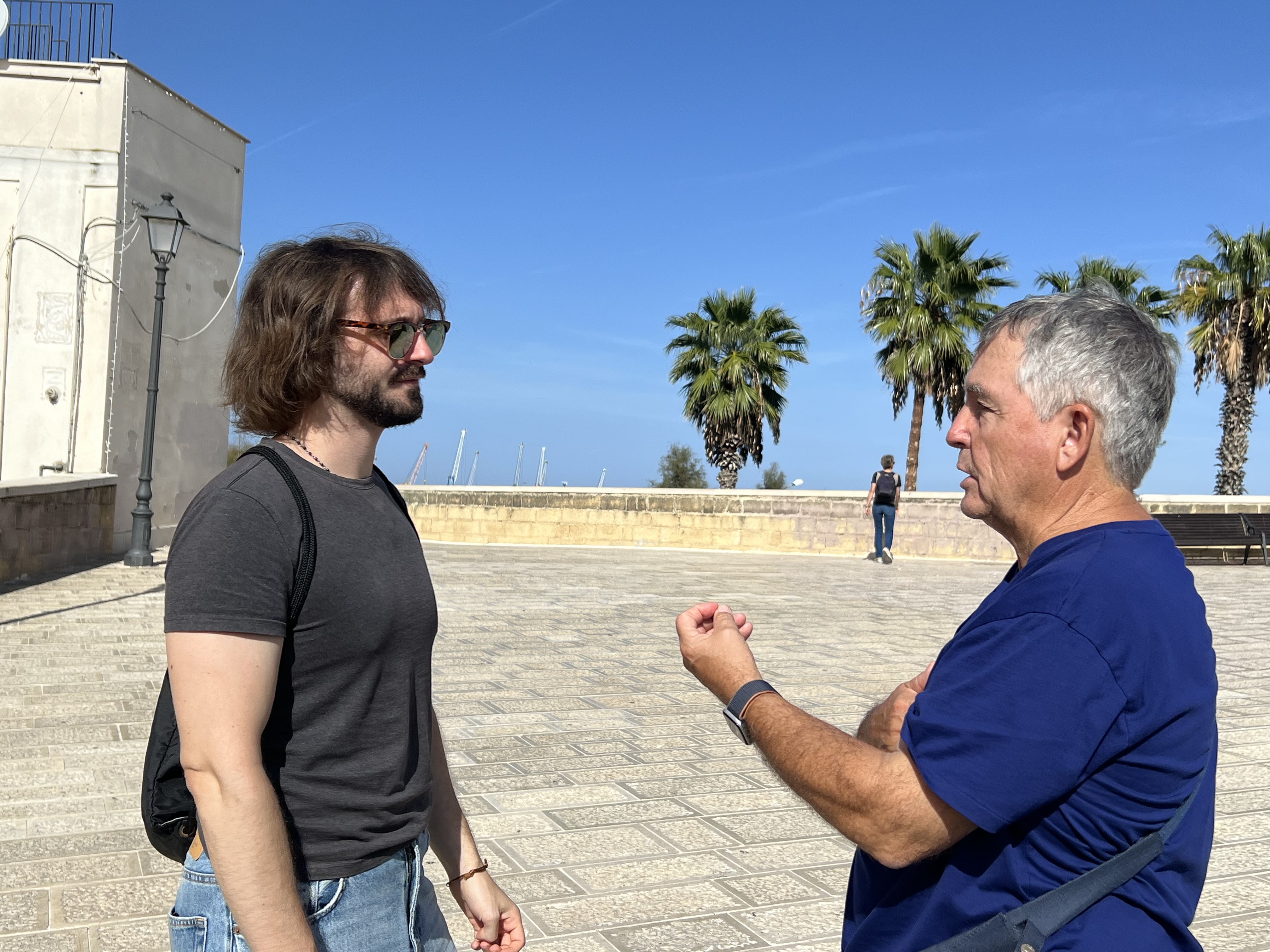 Nicholas met us at the Bari train station and we walked down the main road to the Adriatic Sea.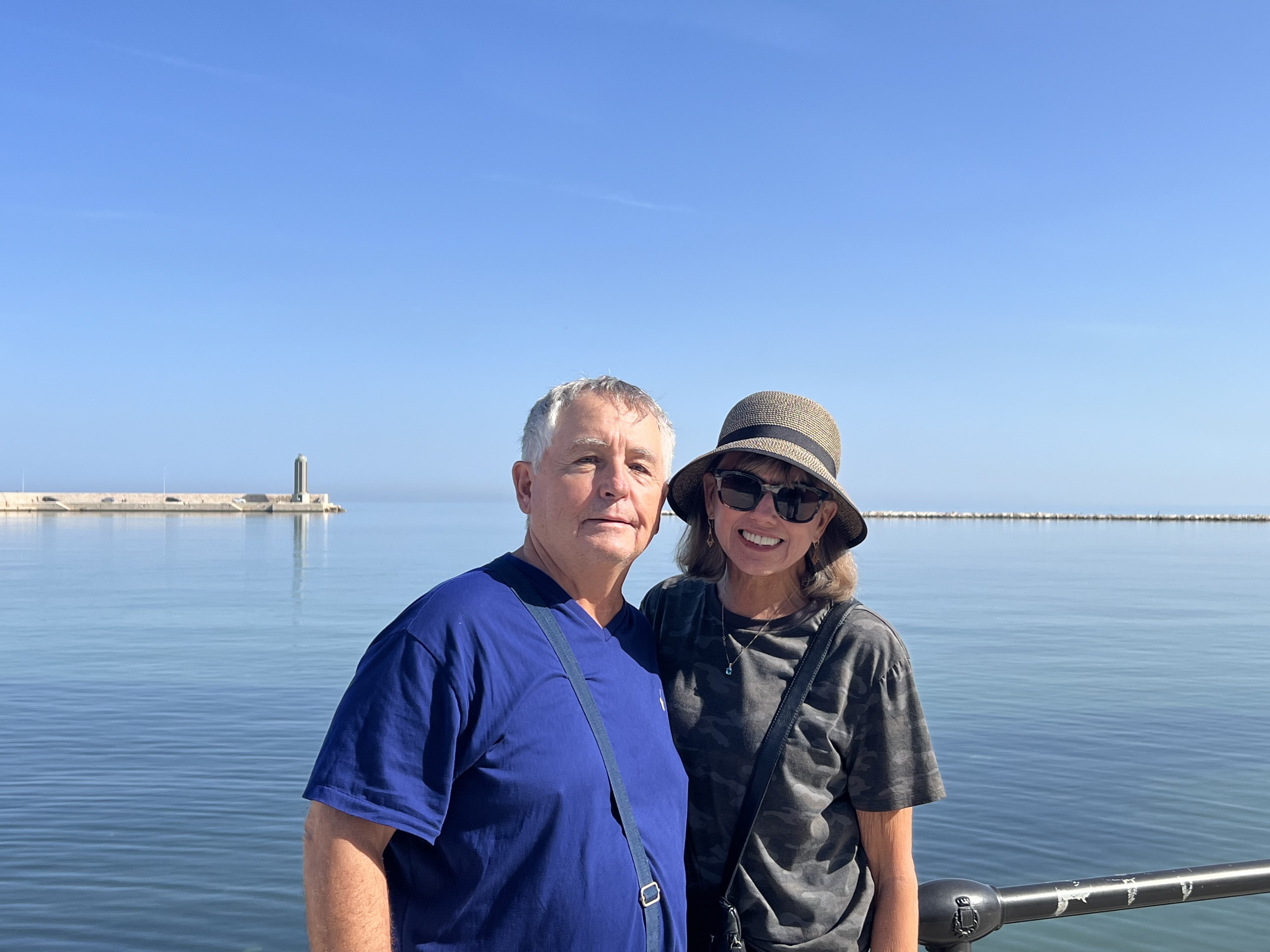 Bari is divided into three areas-the old old, the new old, and the new new. Like much of Italy, the old old is really old. This lion and pillar is from the middle ages. Sinners were lashed to the pillar and stoned to death.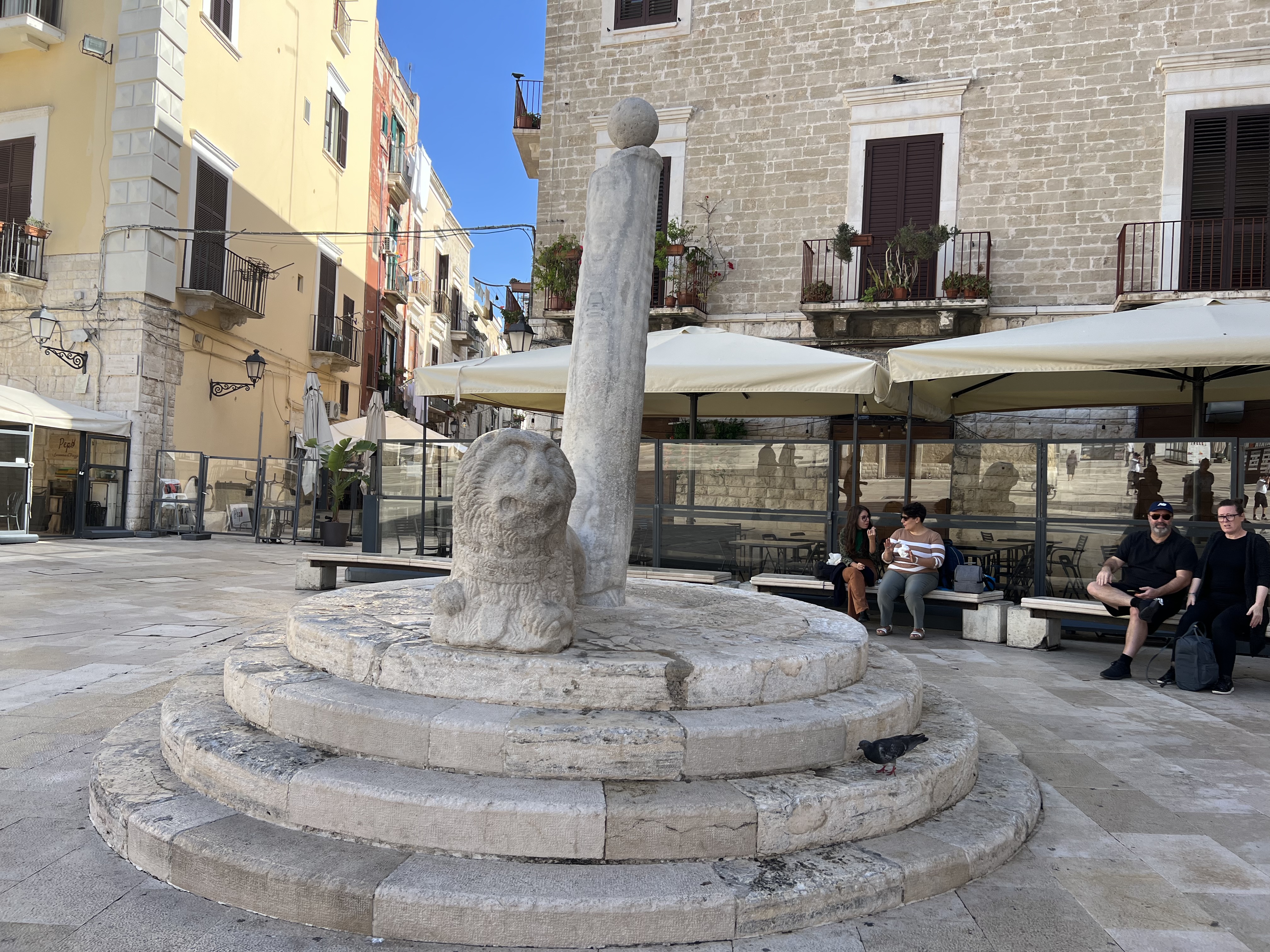 A section of the Via Traiana, an ancient Roman road built by Emperor Trajan (98-117) is displayed under a newer roadway. Cart tracks are still visible.
The fish market was winding down by the time we got there. Only one fish stand was still open. Behind the stand one of the fishermen was tenderizing the squid by repeatedly throwing the pieces against a stone wall.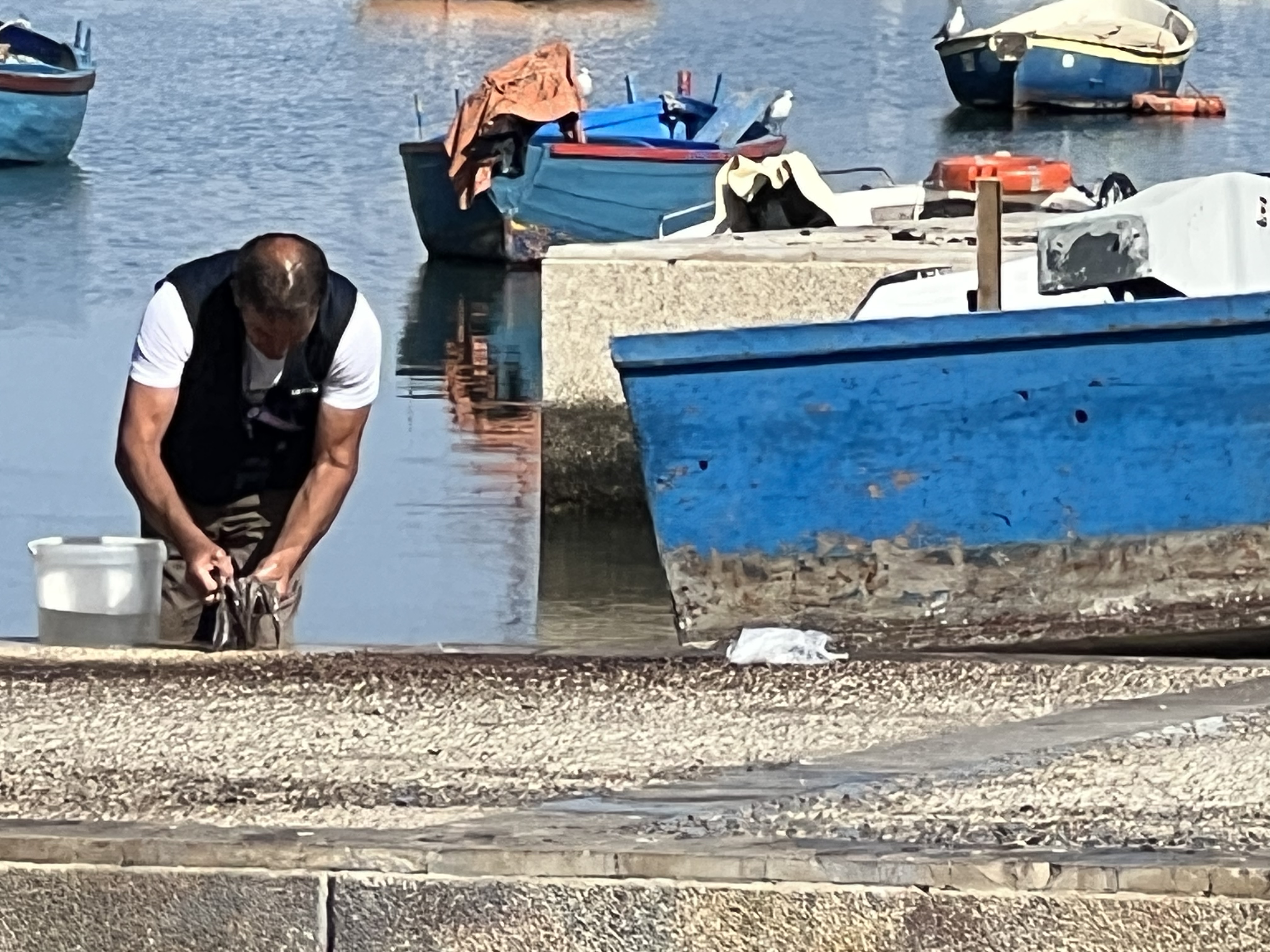 Orecchiette is the pasta of Puglia. Nicholas took us down pasta lane where the "pasta ladies" make and sell fresh orecchiette.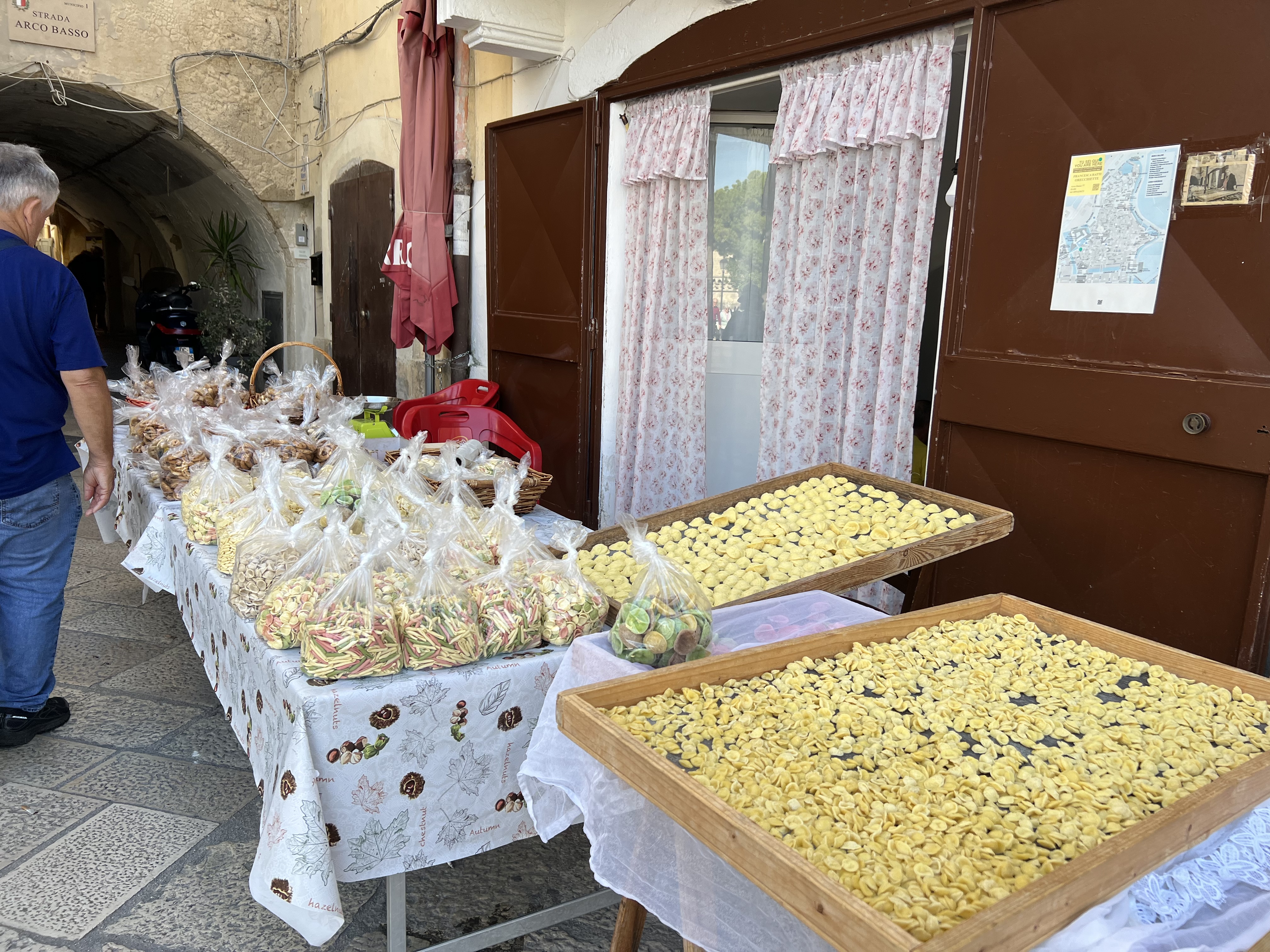 We talked with Nicholas about the mafia and crime in general in Bari. NIcholas credited the mayor with making Bari a much safer city. His response to our question about the mafia was a shrug and the comment, "This is Italy."
Bari is a beautiful city, and we definitely spent too little time there.
Perfect Evening
Our friend, Scott's plane arrived on time, so we are feeling like our travel karma is looking good. Scott is the reason we came to Puglia. After seeing Puglia on the wine label of a bottle he enjoyed, he thought it would be a good place for our next Italian adventure.
We had a wonderful evening at Coco Pazzo, the top restaurant recommendation from our host. The food was wonderful, and the staff was amazing.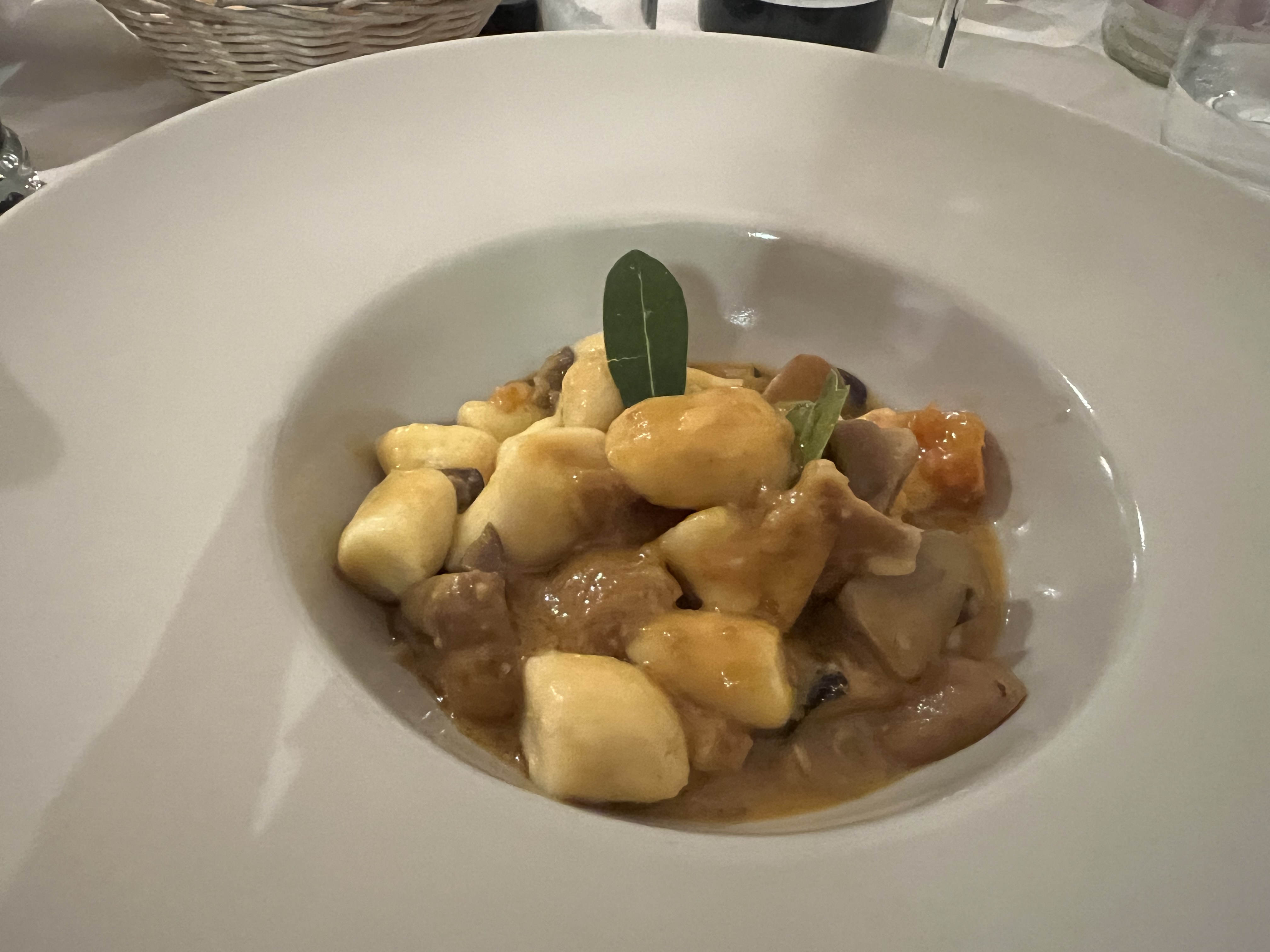 Stephano, the chef owner, was excited to learn that we lived in Sarasota and kept returning to our table to chat with us. He has visited Sarasota to see his good friends who own two restaurants in the area. We loved listening to his insider stories about chefs and traveling the world.
I will go to bed feeling like the first day of our trip was pretty wonderful.